Northern Aegean
Northern Aegean
(
Kuzey Ege
) is the northern part of
Aegean Region
,
Turkey
.
Cities
— town with an ice-cold seawater, and hub for visiting the waterfalls of Hasanboğuldu on the hills
— one of the major resort towns on the northern coast of the Gulf; the site of ancient Antandros
, also known as Behramkale — a pleasant village with stone houses and the temple to Athena with impressing views over the Aegean
— major town of the region with much elegant neo-classical/Greek architecture
— a village on the westernmost point of mainland Asia with a citadel
— town near the well-preserved Roman ruins of Pergamon, as well as a great place for some authentic carpet shopping
— slightly inland town with an archaeological museum and historical core
— fishing town with a charming old centre of cobbled streets, surrounded by rarely visited historical sights (including one of the rare fully wooden mosques) and a great nature
— city near the regional airport
— town with thermal springs
Other destinations
— island with attractive architecture and streetscape, a citadel and a Greek community
Kaz Dağı National Park (Kaz Dağı Milli Parkı) – Named Ida in ancient times, with its summit at 1,774 m above sea level, this is the highest mountain in Troas, and according to Homer's Iliad, this was where the Gods watched the Trojan War being fought below in the lowland. In Greek mythology, it was also the venue of the first ever beauty contest in which Aphrodite beat Athena. The national park is rich in fauna and flora. Especially endemic, rare, and endangered Trojan fir, also known as Ida fir trees, are of interest. It's possible to pitch a tent or RV-camp within the park, but only in designated areas. The park lies just north of Edremit/Güre/Akçay/Altinoluk and is 92 km west of Balikesir.
Understand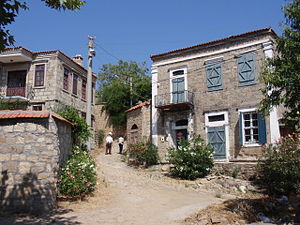 More or less corresponding to the ancient region of
Aeolia
, this region, occupying northern and southern coasts of the large, V-shaped Gulf of Edremit (
Edremit Körfezi
), is a less travelled alternative to the
southern Aegean coast
with silver-green olive groves everywhere. While there is not much in the way of a big city or industry in the region—except, of course, the occasional olive oil factory—most of the coast is heavily built up, especially by summer houses of Turks from other regions. In fact, the series of towns and summer houses lining the whole coast from
Küçükkuyu
to
Ayvalık
can be argued to form one large conurbation, albeit one that is somewhat spaced, low-rise, leafy, and fairly deserted in winter. However, take just one step inland, and you will quickly be amidst grooves of centuries old olive and cypress trees, and picturesque villages with traditional stone architecture dotting the hillsides—the ultimate Mediterranean landscape.
The climate is slightly cooler than the south, but it almost never snows here, neither.
The pine-covered Mt Ida (
Kaz Dağları
) separates this region from
Southern Marmara
to north.
Get in
Sole airport in the region is Edremit Körfez Airport (EDO) located south of Edremit.
Highway numbered E87 connects Northern Aegean with Çanakkale to the north and Izmir to the south. It's a quite winding and narrow road when passing through the Mt Ida (Kaz Dağları) when arriving from north, although the pine woods which the highway traverses make it more appealing to drive (and especially to ride) this stretch of road than it would otherwise be.
See
Go next