Northern Arizona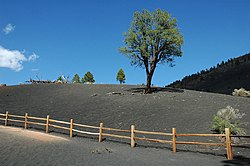 Northern Arizona
is a region in
Arizona
, a state of the
United States of America
. It is most famous for the
Grand Canyon
but includes a wide range of other destinations that are notable for their scenery and diversity.
Cities
— the largest polygamist community in the US may also be the remotest town in the lower 48, both geographically and culturally (though this is rapidly changing)
— A more populated city close to the Red Rock region of Sedona and the Verde River Valley
— the biggest city in the area
— gateway to the Grand Canyon
— gateway to Nevada and California
— slot canyons and Lake Powell
— Red Rock mountains and crystal healing energy vortices
— largest town in the Navajo Nation
— gateway to the Grand Canyon and Route 66
Other destinations
— a "living ghost town" just off the road to Vegas
- Lake Powell
Wine Country, Northern Arizona's answer to the Napa Valley
- A site of historical interest near Fredonia.
- Preserves a recent (11th century) volcanic cinder cone of scenic and scientific interest.
- An important archaeological site in a scenic setting.
- Also with a number of interesting archaeological sites.
Understand
For purposes of this article, North (Arizona) is taken to be everything in the state north of Interstate highway 40 (following the historic
Route 66
), west of (and including)
Winslow
and east of
Kingman
. The region also extends southward along I-17 from
Flagstaff
toward
Phoenix
, to include attractions within 20 miles or so of the highway north of
Greater Phoenix
. This definition is arbitrary, as region definitions for this state vary.
This is a geographically diverse area that contains not only the famous
Grand Canyon
but also some mountainous country near Flagstaff and lesser canyon/mesa terrain to the east and west. Part of
Navajo Nation
falls within this region. There are a number of
national parks and monuments
here, many of them either clustered around Flagstaff or within Navajo Nation. Flagstaff makes a good base of operations from which to explore these attractions, most of which do not feature lodging themselves.
The northernmost part of this region is separated from the rest of it by the Grand Canyon and is known as the "Arizona Strip" - no relation to the "Strip" in
Las Vegas
, although that city isn't far away as the crow flies. Getting to the Arizona Strip from elsewhere in northern Arizona can be tricky owing to the obvious logistical difficulties imposed by the Canyon, and as a result, it has acquired a cultural identity that in many regards has more to do with southern
Utah
than with the rest of Arizona. First settled by Mormon pioneers, the area features several areas of interest such as
Pipe Spring National Monument
, a onetime Mormon outpost, and
Colorado City
, a polygamist community on the Arizona-Utah border.
Talk

English in the state of Arizona represents a blend of North Midland and South Midland dialects without clear regional differences. Although English is the primary language of Arizona, many primary and secondary Spanish speakers are prevalent due to the state's proximity to Mexico. Much of the regional language and place-names are directly influenced by Spanish and the local Native American languages. With the possible exception of the Navajo word hogan (earthand-timber dwelling), the linguistic influence of Arizona's Yuma, Papago(Tohono O'odham), Pima(Akimel O'odham), Hiaki (Yaqui), Apache, Navajo(Dine), and Hopi tribes is strongly limited to place-names, including Arizona itself, Yuma, Havasu, Tucson, and Oraibi.

Get in
There is commuter air service to
Flagstaff
, connecting to the major airport at
Phoenix
. Air service to the airport at the Grand Canyon has existed in the past. One can also reach the region via train; the
Southwest Chief
, Amtrak's main line through the southwestern United States, runs east-west through the region, with a major and well-centralized stop in Flagstaff as well as smaller stations in Winslow, Williams and Kingman. Primary access, however, is by road. Historic
Route 66
follows the route of I-40 along this region's southern edge, with points of interest along the way and reasonably good roads leading north and south. I-17 connects Flagstaff and Phoenix (and can be a complete zoo on the weekends as Phoenicians get out of town). Access from the north is distinctly limited by the daunting terrain of the Grand Canyon, but US highway 89 enters from
Utah
at
Page
and eventually connects to I-40 near Flagstaff.
Drink
Flagstaff
and
Sedona
are the only towns in this region large enough to have significant nightlife. Visitors to the region should note that alcoholic beverages are prohibited within
Navajo Nation
.
Go next