Northern Baden-Württemberg
The
Northern
part of the German state (
Bundesland
) of
Baden-Württemberg
is largely urbanized, with important and famed cities such as
Heidelberg
,
Heilbronn
,
Karlsruhe
and
Mannheim
. They are located mostly in the western part of the area, close to the border with
Hesse
and
France
. In the eastern part, the region has more free nature, with a bit of mountains, hills and propular hiking trails, but also other larger cities like
Schwäbisch Hall
.
Understand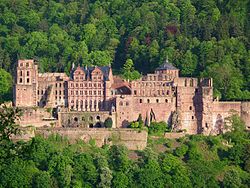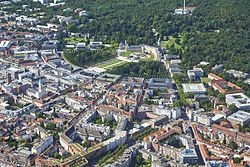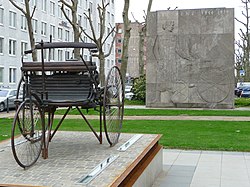 Northern Baden-Württemberg combines the northern parts of the historic lands of Baden and Württemberg, north of
Stuttgart
and the
Black Forest
. Considerable parts of the region were only annexed by Baden or Württemberg in the early 19th-century when
Napoleon "cleared up"
the rag rug of petty states and scattered territories. Even two centuries later, some inhabitants of these regions stiffly insist on being neither Badeners nor Württembergers, but
Kurpfälzer
(in the northwest, around Mannheim and Heidelberg) or
Franken
(in the northeast), also speaking very distinct dialects.
The fertile lands along the rivers
Rhine
and Neckar have been quite densely populated and prosperous since the Middle Ages. The multitude of principalities, counties, baronial and knight's estates, abbeys, but also free imperial cities, that were ruled by merchant and craft guilds, has resulted in many castles, palaces, churches and monasteries as well as old towns from medieval to early-modern times.
The
Kurpfalz
(Electoral Palatinate) was heavily hit by a French punitive expedition during the Nine Years' War in 1688. The ruined Heidelberg castle is the most prominent example of that experience. In the early-18th century, the rulers of both Baden and Palatinate founded new capitals from scratch:
Karlsruhe
and
Mannheim
. Both are planned cities, designed on the drawing board, resulting in a very regular layout (square grid in the case of Mannheim, fan shape in Karlsruhe) that is rarely found in European cities.
Northern Baden was an epicentre of the 1848/49 revolution. After the revolution was defeated, many of the insurgents emigrated to the United States, becoming known as "Forty-Eighters". Some of them rose to prominence, like Franz Sigel of
Sinsheim
, who was a Union general during the
American Civil War
. As the industrial revolution set in, cities like Karlsruhe and Mannheim also became heavily industrialized, and to a large part remain so today. Several groundbreaking inventions were made in this region, including the bicycle, elevator, and automobile. On the other hand,
Heidelberg
has largely preserved its historic character.
In the eastern part of the region, which historically belonged to Württemberg, is the southeastern end of the historic land of Franconia, which is reflected in the today's macroregion name of Heilbronn-Franken. Gently hilly, as a result of being a continuation of the
Swabian Mountains
, and including a part of the valley of the meandering river of Neckar, this part provides many beautiful natural landscapes, sprinkled with historic cities like
Heilbronn
and
Schwäbisch Hall
.
Cities
;Kurpfalz region (northwestern part)
– picturesque old town core, impressive castle ruin, top university
– racing circuit
– former residence of Kurpfalz with a square grid layout; later an industrial powerhouse, birthplace of bicycle, elevator and automobile; multicultural population
– quaint old town, castle ruin
– Baroque palace and gardens, classical music festival
– vintage car and aircraft museum, waterpark, Bundesliga football (soccer) stadium
;Franconia region (northeastern part)
;North Baden (southwestern part)
– former capital of the Grand Duchy of Baden
;North Württemberg (southeastern part)
Talk
In rural areas you can encounter people speaking Kurpfälzisch, a traditional variation of German very different from Hochdeutsch. Regardless of the variation of German spoken everyday, almost everybody you meet should speak German. The larger cities are the seats of many companies with international reach, as well as internationally-renowed universities, while tourism is also an important sector for this wealthy region, so finding speakers of English and French should not be a problem either.

Get in
There is no major
airport
within Northern Baden-Württemberg, so arriving by plane requires using one of the nearby airports.
Frankfurt
(
FRA
) and Stuttgart (STR) both have busy international airports. From Frankfurt Airport, there are direct rail connections to Mannheim (30 min) and Karlsruhe (1:05 h). Rail transfer from Stuttgart Airport requires at least one change at Stuttgart main station or Stuttgart-Bad Cannstatt, taking a total of about 1½ h to Heilbronn, Heidelberg, Karlsruhe or Schwäbisch Hall. Karlsruhe is also served by the minor Baden Airpark in Baden-Baden (FKB), which is mainly used by low-cost carriers like Ryanair.
Mannheim is one of Germany's busiest high-speed rail hubs with ICEs from Frankfurt, Stuttgart (taking just 40 minutes each), Cologne (1½ h), Basel (2:15 h), Dortmund (2:50 h), Munich (3 h), Hamburg (4:20 h) and Berlin (5 h) calling at least once an hour, plus direct connections with Paris (3:10 h) and Zurich (3:15 h) at two-hourly intervals. At least once a day you may arrive from as far as Interlaken or Chur in Switzerland, Amsterdam in the Netherlands, Lyon or Marseille in France, Graz or Salzburg in Austria, or Milan in Italy without changing trains. Some of these trains also stop in Karlsruhe or Heidelberg. The eastern part of the region is not as well-connected: Apart from the two-hourly intercity Karlsruhe–Stuttgart–Nürnberg, stopping in Crailsheim, there are only regional trains, the nearest high-speed hubs being Stuttgart or Würzburg.

Get around
The most common way to get around the region is by train, as the public transport system is pretty good here. The different regions and cities have different public transport companies with different tickets and pricing. The most important ones are:
There is also a special ticket, which is valid for all regional trains (referred to as
S
,
RB
or
RE
) in Baden-Württemberg, the
"Baden-Württemberg Ticket"
. This is a good choice when travelling across more than one region.
See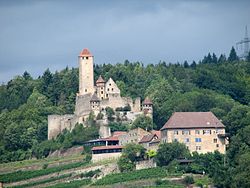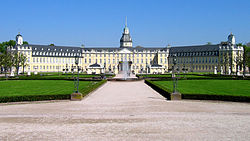 The old town and castle of Heidelberg is the most well-known highlight for visitors. It is considered a picture-book example of a traditional German town. Although tourists do come in flocks, it is also a lively university town; thus not having the "open-air museum" atmosphere of Rothenburg ob der Tauber.
Numerous medieval castles, especially along the Neckar river between Heilbronn and Heidelberg (e.g. Guttenberg, Hornberg, Zwingenberg) or Steinsberg castle near Sinsheim. Comburg near Schwäbisch Hall is named like a castle and looks like one at first sight, but is actually a former monastery. Schloss Stetten and Schloss Weikersheim (near Bad Mergentheim) are combinations of medieval castle and Baroque château.
Religious art of the Renaissance period in the churches of Creglingen (Tilman Riemenschneider's carved altarpiece) and Stuppach (Matthias Grünewald's Madonna painting), both near Bad Mergentheim
Karlsruhe and Mannheim are both planned cities of the Baroque era, recognisable by their regular layout: Mannheim being the "city of squares" (unlike in any other German city, addresses in the centre of Mannheim are not determined by street names, but by a letter and a number, like squares on a chessboard) while Karlsruhe is known as the "fan city" (the streets run radially from the palace, crossing semicircular avenues). However, both cities were heavily bombed during World War II, so much of the Baroque architecture was replaced by mid-20th century buildings, while the respective layout remained.
Itinerary
Bertha Benz Memorial Route – follow the tracks of the world's first long-distance journey by automobile (Mannheim–Heidelberg–Pforzheim).