Northern Cape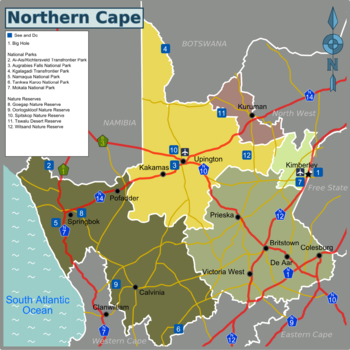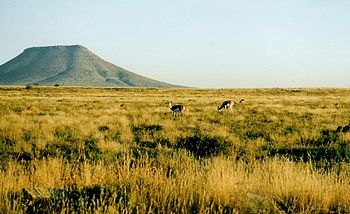 The
Northern Cape
is situated in the north-west corner of
South Africa
. Although it is the largest of the nine provinces (361,000 km²), it has the smallest population (900,000).
Regions
The Northern Cape can be divided into the following regions: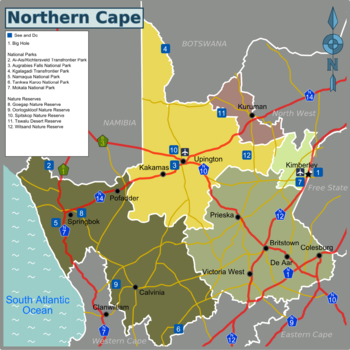 Eastern edge of the Northern Cape
Cities
Other destinations
National parks
- Newest park in South Africa, replaces the old Vaalbos National Park.
Other nature reserves
Understand
Originally the Northern Cape was part of what used to be known as the Cape Province. However, after the 1994 elections the old provincial boundaries were redrawn, and the Cape Province was split into the Northern Cape, the
Western Cape
and the
Eastern Cape
Provinces.
The Northern Cape is a dry and sparsely populated region, and much of it is semi-desert. Nevertheless, it has a beauty of its own and is a popular destination for South African and international tourists alike.
Get in
Get around
Public transport is limited, so your best option is by car. Remember to fuel up whenever you can, as distances between gas stations can be long.

See
Do