Northern Chile
The
Northern region
of
Chile
is among the driest regions in the world.
Cities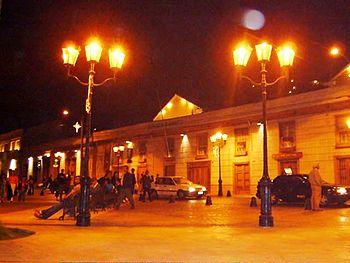 — a relaxed mining city with lots of leisure activities and a large car industry
— "copper capital" of the country with the giant mine of Chuquicamata nearby
– gateway to Bahía Inglesa, a picturesque and lovely beach to just enjoy the sun
— gateway to Bahía Inglesa and Desierto Florido
— includes the Union Flag of the UK in its coat of arms
— a seaside city with long beaches and a picturesque city centre
— gateway to the Pisco Valley
— famous for the national schnapps produced here, Pisco
— gateway to Lauca National Park
— gateway to popular attractions such as Salar de Atacama, El Tatio Geysers and Valle de la Luna
— supposed to be best star gazing in the world, but nowadays just a regular town on the way to Pisco Eqlui
Other destinations
– in the Andes with large volcanic mountains
– an impressive dry desert landscape
Understand
Northern Chile has been thriving on the mining industry since the middle of the 19th century. It started with saltpetre which came to an abrupt end at the beginning of the 20th century when the synthetic production of nitrates was invented. The remains of the old production sites are still impressive and provide an insight into the hard life of the workers. Nowadays copper has taken over the role of Chile's main export good and is mined in giant open pits. Furthermore some minerals like lithium are produced in the salt lakes.
Many visitors come to see the spectacular landscape of the Andean Highlands. Snow-covered mountains more than 6000 m high contrasting with blue lakes, mountains showing all shades of red and brown due to their volcanic origin, and a number of geothermal areas with hot springs and geysers are among the natural attractions of the region.
On the more relaxing side, Arica and Iquique offer long sandy beaches at the Pacific coast.

Get in
By plane
Airports in this area are Antofagasta, Arica, Calama, Iquique (IQQ) and La Serena which all have several flights daily from Santiago. Arica and Iquique have connections from Bolivia, Antofagasta from Peru.

By car
The national highway #5 (Panamericana) is the main artery of the region connecting central Chile with Antofagasta, Iquique, Arica and Peru. Access from Bolivia (La Paz and Oruro) is via highway #11 passing Lauca National Park and Putre towards Arica. The alternate route from Oruro via Colchane and highway #15 towards Iquique is less used and thus in better condition (at least on the Chilean side). Access from northwestern Argentina (Salta) goes along Chilean highways #23 or #27 to San Pedro de Atacama and Calama.

Get around
The highways outside of the highlands are generally in good condition as are the main highways through the highlands to the neighbouring countries. Other roads in the highlands can be very rough. Before moving along such roads individually it is best to enquire locally about road and weather conditions.
Buses connect all cities and also provide connections to neighbouring countries. There are no longer any passenger trains in Northern Chile.

See
Atacama DesertThe driest place in the world.

Bahía InglesaA picturesque and lovely yet windy beach if you just want to enjoy the view, sun and maybe a beer at one of the bars facing the sea.

Desierto FloridoA desert area and nature reserve that becomes a beautiful and impressive field of flowers once a year when the rain has fallen.

Gigante de AtacamaThe largest geoglyph in the region. A remarkable planning effort considering that it is hundreds of years old. You get the best overall picture when looking on Google Earth though; therefore you could stop there if you are driving along these roads any way but it's doubtful whether it really pays to come here from a long distance.

La PortadaThe yellowish rock gate stands in the sea at along a picturesque and wild cliff coast. If you bring a mattress and sleeping bag, there are many dry places to camp and stay over night.

Nevado Ojos del SaladoWith an altitude of 6,893 m, it's the highest point in Chile, and second highest outside Asia. Sitting at the Argentinian border, the mountain has a second, almost exactly as high summit on the Argentinian side. Some 500 m below the summit you can see a lake, which is believed to be the highest lake in the world. Ojos del Salado has remarkably gradual slopes and the surrounding dry Atcama desert means that there's usually very little snow and ice. This has made the mountain a popular place for setting world altitude records for cars, indeed cars and even a truck have been driven up to altitudes above 6,000 m. Maybe more importantly, it's possibly the highest place in the world you can reach by just hiking (30 km from the nearby road, plus 2,400 m ascend; only the very last part to the summit is a somewhat challenging scramble). This high, altitude sickness is most certainly a risk — don't ascend too fast! Because of the general extremeness of the high-altitude-low-humidity environment, it's quite problematic to undertake the 8-15 days long adventure solo. Various travel agencies offer support services (such as the catering and transportation), prices per person seem to start at around CLP$2000-2500.

Oficina HumberstoneAn old residential and production site from the days of the saltpetre era. Few residential houses are furnished, but most of the site is still in remarkable condition due to the dry atmosphere. Allow 1-2 hr to stroll around the huge area.

Parque Paleontológico Los Dedos

phone: +56 976160891

In the hot middle of nowhere about 1 km from the beach, an outdoor museum for fossils of penquins, sharks, crocodiles, whales and much more.

Rocas NegrasA set of pitch black rocks in between sand of shells along the beach, where you can find many pecten shells of up to 10 cm in diameter.
Stay safe
Be aware that you can easily get up to more than 4,000 m of altitude on normal roads. Get accustomed to this by getting higher in reasonable steps. If you join one of those one-day excursions from Arica to Lauca National Park then you are very likely to suffer from mountain sickness which must be taken seriously.
In the mountainous areas mobile phone coverage is usually limited to the vicinity of towns. If you set out on a track road other than one which connects towns or popular tourist attractions then it might be a good idea to take a satellite phone with you. Filling stations are rare so make sure you know your options.