Northern Finland
Northern Finland
is the northernmost part of
Finland
. Administratively it comprises
Finnish Lapland
and the provinces of
Kainuu
and Northern Ostrobothnia. This region is very sparsely populated even for Finland - while it covers almost half of the country it has a population slightly larger than the city of Helsinki.
Regions
Other destinations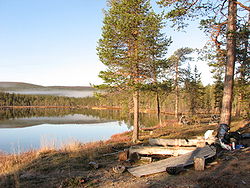 offers the highest hills and beautiful scenery.
Finland's largest national parks and strict nature reserves are located in the northern parts of the country.
, with good services near the roads and large backountry wilderness.
, with even better services, and somewhat closer to Rovaniemi.
Most major ski resorts are located here too, and Finns who want to ski down a "real" hill usually choose a ski resort in Lapland or Kainuu.
Understand
Northern Finland is mostly a destination for people who want to experience wild nature and various outdoor activities.

Talk
Most of the area is unilingually Finnish, but in northern
Lapland
Sami is also spoken. Most Finns under the age of 50 speak English reasonably well. Areas near the borders usually receive some day-tripping visitors so you can usually communicate in Swedish, Norwegian or Russian there. Establishments catering specifically to travelers usually offer service in at least Swedish, Russian and German, and in Rovaniemi, perhaps the most "touristy" destination outside Helsinki, some service and travel information is available even in Romance and Far Eastern languages.
Get in
There are several daily flights from Helsinki to Oulu and Rovaniemi around the year, and also flights to smaller airports like Kajaani, Kemi-Tornio, Kuusamo, Kittilä and Ivalo. While many people fly via Helsinki, there are also some international flights to Oulu and charter flights from Central Europe and the UK to major ski destinations in the winter.
If you prefer to travel overland (car, bus, train), allow for a whole day or night of travel between southern and northern Finland (the possible exception is the Pendolino bullet train from Helsinki and Tampere to Oulu). If you plan to take your car with you from the south but don't feel like driving around 600 km or more, you can take the overnight car train – a place for a car and a sleeping cabin for two persons from Helsinki to Rovaniemi will cost you €200–300 depending on season.
There are border crossings from all the neighbours Finland share a land border with – Sweden, Norway and Russia – and a couple of international bus connections. Although the rail network extends to the borders, there are no international passenger trains here.

Get around
Generally the only flights are to Helsinki and further away. Trains take you to Oulu and further to Kemi from where the track is divided into one branch going straight north to Kolari and another to Rovaniemi and Kemijärvi. The train line up to Kajaani continues westwards to Oulu. For most places, bus or car is the most practical way of getting in and around. Don't expect buses to run every half hour, plan your trip well ahead and consider using taxis also for quite long distances unless you only visit towns.
If you're fit, have plenty of time and love being outdoors,
hiking
or
biking
between places is also an option (in the summer, that is). In the winter there are snowmobile routes and tracks spanning most of Northern Finland and stretching down to Central Finland and Northern Karelia (see
Lapland
for maps and rules), and
cross-country skiing
replaces hiking by foot. The
Right to access
allows you to pitch up your tent almost wherever you like outside populated areas and also open wilderness huts offer free shelter to hikers on some routes.
See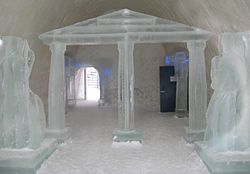 The biggest snow castle in the world, built yearly in Kemi.
Oulu waterfront.
The wind power plant in Hailuoto.
The central point of Finland in Siikalatva and the northernmost point of the whole European Union in Nuorgam.
The ruins of Kajaani castle.
Kukkola rapids near Tornio.
Santa Claus in the Santa Claus village at the Arctic Circle.
The oldest scuba gear in the world in Raahe
Reindeers in Lapland and Kainuu
Old town in Ii
See maybe the most recognized mountain of Finland, Saana, in Kilpisjärvi
Do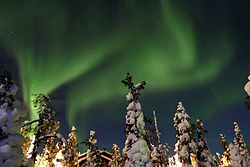 Eat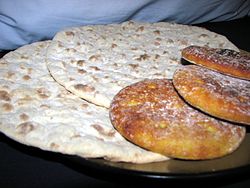 The most prominent local specialties are
sautéed reindeer
served with mashed potatoes and lingonberry jam as well as other reindeer dishes,
leipäjuusto
(a kind of fresh cheese) served with cloudberry jam, dishes made from game (mostly moose) and salmon soup. The white flat bread
rieska
is also native to Northern Finland. Oulu region's own dish (and an opinion-divider) is called
rössypottu
which is a soup made of potatoes and blodpalt (or "blood puddding").
Stay safe
Violent crime against travellers is rare. When driving on highways, look out for reindeer on the roads and remember that roads might be covered by ice and slippery from October to May. If an accident happens on a more remote road you will likely have to wait long before anyone notices you. If you go hiking in the wilderness be sure that you carry appropriate clothing and other equipment. Remember that in Lapland cell phone coverage isn't as good as in southern Finland (don't be fooled by the mostly good coverage on major roads).
If going off the road outside main towns – which you should do – make sure you note the direction. A road or river should be easy to find if you go in the right general direction, but if you panic and go farther instead, you might not find any trace of humans for tens of kilometres. If you loose your company, stay where you are and shout for them, or use a whistle, instead of getting lost in unknown terrain. A map and compass should of course be carried on any longer hike or sidetrip.