Northern Greenland
The Far North of
Greenland
is sparsely inhabited and exceptionally cold. Even getting here is an achievement, and getting around is an exercise in planning, as the tourist infrastructure found in other parts of Greenland simply is not present here.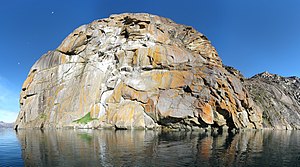 Other destinations
is a tiny uninhabited island (about 10 meters across and 1 meter high) in the Arctic Ocean, north of Greenland, and is considered the northernmost piece of permanent land on Earth—though there are a couple of unconfirmed potential islands further north. So far the only sighting of the island was in a 1996 exploration; beyond that you'd have to be incredibly resourceful and adventurous to make it here and back alive. The nearest city is Qaanaaq.
Get in
Air Greenland is basically the only option for tourists. Tickets are expensive and the schedule is sparse. Airports exist at Qaanaaq and Upernavik.
There is also the Thule Air base, which belongs to the U.S. It has flights directly from the U.S., but only for people working there or invited.
Get around
Air Greenland operates helicopter flights from the airports to settlements without airports.