Northern Louisiana
North Louisiana,
also known as the "Sportsman's Paradise" region, comprises the portion of
Louisiana
north of Sabine, Natchitoches, Grant, LaSalle, Catahoula, and Concordia Parishes. Bordered by Texas to west, Arkansas to the north, and Mississippi to the east, this region of Louisiana has a far more rural feel to it than the Acadiana region or southeastern Louisiana.
With the exception of Shreveport, Bossier City, Ruston, and Monroe, towns are much smaller in this portion of the state and spread further apart. Towns have fewer amenities and local residents will often drive to Shreveport, Monroe, or Alexandria in central Louisiana for "big city" amenities.
This area of Louisiana has become more renowned in recent times due to the popularity of the television show "Duck Dynasty," in addition to movies that often use towns in north Louisiana as a backdrop. Another claim to fame for this region is the Air Force base around Bossier City and its status as a backup landing location for the President's jet, Air Force One.
Other destinations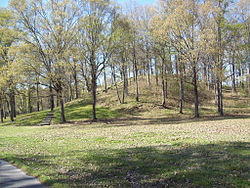 Poverty Point World Heritage Site

phone: +1 318-926-5492

address: 6859 LA-577, Pioneer

The monumental earthworks, which are some of the largest and oldest mounds in the Western Hemisphere. Operated by the Louisiana State Parks system.
Understand

Unlike the southern portion of Louisiana, northern Louisiana has more in common with the remainder of the American South. The Anglo culture of the American South is more dominant here, with the predominant religious practice being Evangelical Protestant Christianity, versus the French Roman Catholic culture and practices of southern Louisiana. Many points of interest and tourist sites are closed on Sundays, so it is necessary to plan accordingly. Landscapes vary drastically compared to the southern portion of the state. Bayous and swamps are replaced with rolling hills and pine forests in the northwestern areas around Shreveport and Mansfield, while open farmland, rivers, and lakes cover the north central and northeastern areas near Ruston, Monroe, Columbia, and Winnsboro.

Talk

English is almost universally spoken. French, while not uncommon in parts of southern Louisiana, is almost unheard of in northern Louisiana.

Get in
By plane
The two main commercial airports in northern Louisiana are
Shreveport Regional Airport
(
SHV
) and Monroe Regional Airport MLU.

By car

Interstate 20 and Interstate 49 are the main highways into northern Louisiana. US Highway 84 enters Louisiana from the west in the city of Logansport, and from the east in the city of Vidalia.

By bus or train

There are bus stations in the cities of Shreveport, Ruston, and Monroe. There are no train stations in northern Louisiana, except for a bus stop in Shreveport that provides transportation to and from the Amtrak station in Longview, TX.

Get around

Traveling by car is the best way to see northern Louisiana. Interstate 20 runs east-west across northern Louisiana, linking Shreveport-Bossier, Ruston and Monroe. There is bus service between the major cities in northern Louisiana.

See
Rural Sights
Bonnie and Clyde Ambush Museum

phone: +1 318-843-1934

address: 2419 Main St, Gibsland

The notorious Bonnie and Clyde were shot and killed a few miles south of Gibsland.

Caddo LakeLarge lake on the Louisiana-Texas state line. Boating, fishing. Access to the Louisiana portion from Oil City and Mooringsport.

Driskill MountainHighest point in Louisiana. Located on private property, but the trail to the top is open to the public. Two miles round trip,100 ft. of elevation gain.

Eddie G. Robinson Museum

phone: +1 318-247-6337

address: 126 Jones St., Grambling

Dedicated to the life and career of the late Grambling State University football coach. Opened in February 2010.

Pleasant Hill Battle Park

address: 23271 Louisiana Highway 175, Pelican

Site of the Battle of Pleasant Hill, April 9, 1864; historic markers, picnic area, old historic cemetery, annual reenactment on the second weekend of April.
Do
Outdoors
Northern Louisiana has several state parks that offer boating, camping, fishing, hiking, picnicking, and swimming.
The National Forest Service also maintains a district of the Kisatchie National Forest near Homer that offers hiking and camping opportunities.
Eat
The cuisine in the northern part of Louisiana differs from the south in that Cajun and Creole cooking does not have a major presence. Instead of gumbo, crawfish etoufee, or red beans and rice, a more likely meal here would be a fried catfish and fries plate. However, this area has several unique dishes and foods that gives it a unique identity. Some examples would be Shreveport's icebox pies from Strawn's and "Muffy" sandwiches from Fertitta's Deli, fresh peaches from the farms around Ruston, and fried catfish and cornbread from Monroe and the northeastern part of the state.

Drink
Have a glass of iced cold Coca-Cola or a sweet tea (which is often as sweet as a soda, so be prepared)!
Alcohol
There is a developing microbrew scene in Northern Louisiana, as well as a couple of vineyards. But by and large, this region of Louisiana does NOT have the same laid-back attitude towards alcohol that you find in the southern half of the state. Abstinence from alcoholic consumption is encouraged by locals and one may often find religious literature distributed that preaches on the issue.
Religious views in Northern Louisiana often shape the public perception on alcohol, and as Baptist Christianity is the largest religious group in this area, there is an extremely conservative attitude towards the consumption of alcohol (refer to the "Drink" section in the article on
Christianity
for further info).
It is most common in the rural communities of Northern Louisiana. This is also noted by the fact that there are still many parishes (Louisiana equivalent of counties) that are still dry, a vestige of the Prohibition Era of the 1920s and 1930s. While drinking is not downright illegal, understand that depending on where you are, the consumption of alcohol in public may be frowned upon and get you more than a few negative looks. If spending time in
Shreveport
,
Bossier City
,
Ruston
, or
Monroe
, drinking is far more acceptable and likely will not draw any attention from onlookers.
Stay safe
Crime

Don't be fooled by the relatively small size of the major cities in northern Louisiana; Monroe and Shreveport-Bossier have crime rates on par with much larger metro areas.

Weather

The weather can be hot and humid in the summer, and severe thunderstorms are common in the summer and fall. Tornadoes, while not as common as in "Tornado Alley", do occur. Snow falls occasionally in the winter, and causes more havoc than might be expected by people from colder climates. Hurricanes rarely make it this far inland, and are generally no stronger than a severe thunderstorm when they do.

Go next