Northern Mexico
Northern Mexico
is a vast desert region bordering the
United States of America
. The north is sometimes referred to as "unknown Mexico" or "lost Mexico" because it is ignored by the vast majority of tourists.
==States==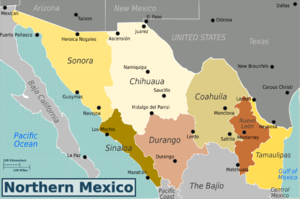 Cities
- home to the original "burrito", Juárez is also a practical entry point for Americans going to Copper Canyon.
- the tourist center of NW Mexico and an area that is increasingly compared to Moab, Utah for its excellent biking opportunities.
- The capital of the state of Sinaloa. It is located at the center of the state.
- a large, vibrant young city, it is the center of industry in Mexico.
- originally called "Rocky Point" by the British, it is the nearest beach resort to Arizona.
- small city with colonial charm, capital of the state of Coahuila.
- busy port city on the Gulf of Mexico.
- a colonial city, capital of the state with the same name, it has a cold climate and a growing economy.
Laguna metropolis - consisting of three cities with a desert climate, La Laguna is the industrial engine of the states of Coahuila and Durango. Torreón, in the state of Coahuila, is the largest and most modern of the three, with a vibrant night life. Gómez Palacio and Lerdo belong to the state of Durango: Gómez Palacio is a midsize city, the economic engine of the state, while Lerdo is the smallest of the three. With a colonial charm, Lerdo is famous amongst the people of La Laguna for its abundant vegetation.
Other destinations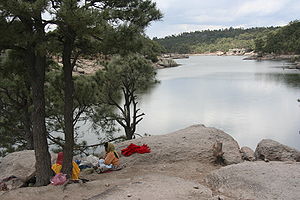 - world famous for good reason.
- the largest Island in Mexico, located in the Sea of Cortez and a part of the state of Sonora.
just across the river from Big Bend NP. This is the largest wilderness area in Latin America north of Patagonia. Owned and preserved by Monterrey's CeMex corporation (which has a strong tradition of conservation projects). No tourist infrastructure in place, but if you're self-sufficient this area is certainly worth exploring.
- archaeological site at Casas Grandes in a remote area of Chihuahua. Related to Pueblo culture of southwestern United States.
- protected nature preserve with unique desert oasis ecosystem. Snorkeling and swimming is allowed in some pools.
- unusual subtropical rain forest in Tamaulipas, just a few hours drive south of U.S./Mexico border
==Understand==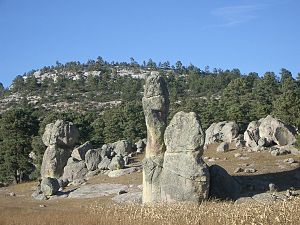 This is not the tourist Mexico of the Colonial altiplano or the southern beach resorts. Rather the Norte is the Mexico of popular imagination. A place of
vaqueros
, horses and small towns, soaring mountains and sweeping deserts. But at the same time with some of the more modern cities in the country. Truly this is a very rich and virgin region. Visit Chihuahua or Coahuila and you will be far off the well worn gringo path. In many ways traveling to the north is like traveling through an old Western movie.
Northern Mexico is one of the country's most wealthy and modern regions. Maquiladoras(factories) are located along the northern border. America's music, television, and other forms of entertainment are present near the American border. A lot of Mexicans cross the border to shop or work.
Talk

As in the rest of the country, Spanish is the predominant language among the population. The variety of Mexican Spanish spoken in the region distinguishes itself from the rest of the country with its strong intonation and contraction of words. Due to its proximity to the United States, it receives a great deal of influence from English. For example, English words such as troca (truck), lonche (lunch) and bai (bye) are of common usage.
Education in English is widespread among the middle and upper economical classes of the population, albeit with varied degrees of fluency. Students and business people would the best bet if you need to ask something in English on the street.
Northern Mexico has the lowest concentration of indigenous communities of all regions in the country. There is no a single indigenous language that surpasses 100,000 speakers. Some of the most significant indigenous languages include Tarahumara, Mayo, Huichol, and Paipai. Please note that is not essential to learn any of these languages unless you go into a very remote area or you want to be immersed in the local culture. The great majority of indigenous people are bilingual in Spanish as well.

Get around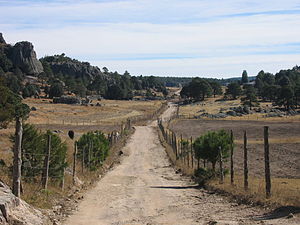 Northern Mexico has the best highway system in the country. Additionally, the area's sparse population means heavy traffic congestion is seldom an issue (outside of the Monterrey area). As a result, taking the bus or finding a few friends to carpool with are probably the best option for getting around. If you are short on time there are many regional flights between the larger cities. If you have plenty of time buying a horse or bicycle would really allow one to slow down and absorb the region's unique scenery, culture and lifestyle; it could be the travel experience of a lifetime.
See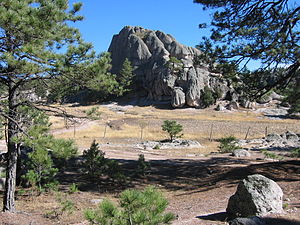 Do
Explore a largely overlooked area that is several times the size of Spain.

Eat
Fajitas - Chicken or meat strips usually marinaded with lemon, salt and Worcester sauce and often served as a burrito filling.
Coyotas - Round, flat and oversized sugar cookies filled with brown sugar and traditionally prepared at Villa de Seris, Sonora.
Tortillas de Harina - The most popular tortilla in Northern Mexico. Unlike corn tortillas, a traditional flour tortilla is at least twice the size of a corn tortilla.
Machaca con huevo - Traditional scrambled beef and egg dish served with flour tortillas.
Quesadillas - Tortillas grilled with white cheese and salsa.
Burritos - flour tortilla wrapped around a wide variety of fillings.
Chimichanga - a fried burrito usually filled with shredded chicken and covered by lettuce, sour cream and spicy sauce.
Nachos - Snack consisting of fried tortilla chips covered with melted cheese and jalapeño peppers.
Cabrito - Young goat.
Ensalada Cesar - originated at Tijuana's Hotel Cesar, it's a romaine lettuce with croutons salad mixed with olive oil, sliced garlic, wine vinegar, lemon, raw egg yolks, parmesan cheese and Worcester sauce.
Asado de chile colorado - Pork with ancho and guajillo chilies and cumin.
Charro beans - Cowboy-style beans with bacon and chilies.
Coahuila sausage' - Made of pork seasoned with ancho chiles.
Enchiladas de olla - Ancho chili, tortillas, poblano and grated cheese.
Menudo norteño - Tripe soup with ancho and guajillo chilies.
Cajeta de membrillo - Carmelized milk candy flavored with quince.
Empanadas de Santa Rita - Stuffed with pork fried with onions, almonds, raisins.
Drink
You might wish to try L.A. Cetto Wine, world-renowned wine produced in Baja California and known for its outstanding quality of Merlots and Cabernets.