Northern Niger
Northern Niger
covers
Niger
's Saharan territory.
Cities
— the largest city in Saharan Niger.
— the second largest city in the region.
— gateway to the remotest reaches of the Ténéré Desert.
— gateway to the Djado Plateau.
Other destinations
— beautiful desert landscapes that have long been a major draw for travelers in Niger, although sadly at present the area is not safe for travel.
Do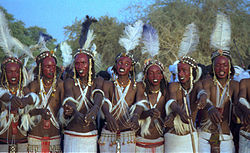 If visiting in mid-September, just after the rainy season, be sure to participate in the
Cure Salee
, translated as the Salt Cure because of the nearby salt flats and also known as Festival of the Nomads. It's a yearly gathering by the nomadic Tuareg and Wodaabe peoples that inhabit northern Niger and Mali taking place at the village of
In-gall
, 115 kilometres west of Agadez. The festival is part market, part social gathering. For the Wodaabe peoples Cure Salee is the most important
guérewol
, or courtship ritual, of the whole year. The guérewol is a much fascinating, that is for the western traveller, ritual where the men perform dances that can go on for days wearing elaborate make-up for women to courting a potential husband.
Stay safe
Because of Malian troops, it is not recommended to go here.