Northwest Ohio
Northwest
Ohio
includes areas of the state bordering
Michigan
and
Indiana
.
Counties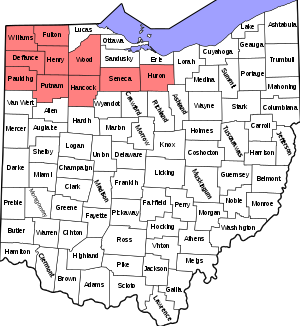 Defiance County, Fulton County, Hancock County, Henry County, Huron County, Paulding County, Putnam County, Seneca County, Williams County, Wood County
Cities
- Flag city USA, and the seat of Hancock County.
- A quiet village with a large state park.
- An industrial city and seat of Seneca county.
- A college town, and seat of Wood County.
- A small city and suburb of Toledo.
- The seat of Defiance county in the far northwest.
Other destinations
State Parks and Resort Lodges
For camping and getaway rental reservations on any of Ohio's Parks tel. 1-866-644-6727.
Understand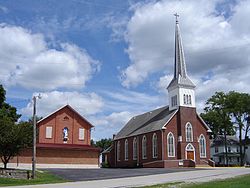 Geography
Due to glacial movements, the land here is incredibly flat, and low lying - It is easy to see for miles, and it isn't uncommon to hear some locals call inclines as short as several feet hills.
Agriculture
Northwest Ohio was one of the last areas of Ohio settled by Europeans, due to the vast
Great Black Swamp
that dominated the land after the glaciers receded. The swamp was slowly cut down and drained over time, and was re-purposed as fertile farmland. To this day, the majority of the land in this area is used to grow corn, soy and other crops. Bits of the swamp still exist in some parks, and it's common to see businesses, public art, and sports team mascots named after or inspired by the swamp.
Industrialization
In the 1880's oil and natural gas was discovered in this area, leading to a few boom towns becoming proper small cities. Though none grew into a metropolis, they often have grand public buildings and Victorian painted ladies that were paid for with a glut of oil money. Though the oil dried up due to wasteful practices the initially cheap gas attracted industry to the area, particularly companies in the glass and energy sectors. A few of these companies stuck around to this day - a few towns are known for their glassware, and early wind farms were established in this area.
Get in
By plane
The nearest airport with regularly scheduled flights is the
Toledo Express Airport
(
TOL
) in Toledo. Most travelers will fly in at a major airport in a neighboring region such as the Cleveland Hopkins International Airport (CLE) or the Detroit Metro Airport (DTW)
For travelers who are pilots, there are a number of minor General aviation airports in the area, most of which offer paved runways, fueling, and hanger services.

By car
I75 is a major interstate that goes through this region from north to south.
I80/I90 goes east to west as the Ohio Turnpike, a toll road. The turnpike is well maintained, and has large plaza rest areas with convenience stores, restaurants, and restrooms. Tolls are based on distance traveled, so don't loose the ticket provided on entry.
Two lane paved country roads are the primary links between cities in this area.

By train
Amtrak has a stop in Bryan, Ohio, and a larger station in Toledo.

Get around
By car
The majority of area travel is done by car. Parking is usually free. In the few downtown areas that use meters it is relatively cheap.
Electric cars may have difficulty finding dedicated charging stations outside cities on I-75.

By bike
The geography of Northwest Ohio is noticeably flatter then the rest of the state. This makes cycling a breeze provided there is no significant headwind, and changing gears is rarely needed.

See
Museums
Ashland
Ashland County Historical Society

address: 420 Center St.
Findlay
Hancock Historical Museum, 422 West Sandusky.

address: 100 N. Main St.

Only teaching gallery specializing illustration/art in chidren's books.

Black Heritage Library and Multicultural Center

address: 817 Harmon St.
Norwalk:
The Firelands Museum

address: 4 Case Ave.
Tiffin:
Seneca County Museum

address: 28 Clay Street.

Tiffin Glass Museum & Shoppe

address: 25-27 S. Washington St.
Do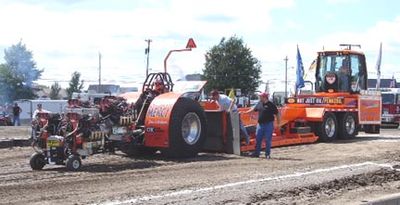 National Tractor Pulling Championships, in Bowling Green.
Summit Motorsports Park in Norwalk.

address: 22611 St. Rt. 2 Archbold, OH 43502

Visit with costumed guides about how families lived over 100 years ago. Marvel at craftsmen blending skill and creativity in glass, metals, fabric, wood and clay. Enjoy scrumptious homemade goodies and the warmth of genuine, old-fashioned hospitality.
Eat
Northwest Ohio is not known for any particular dish. However, as a breadbasket region, the food here is very fresh. Farmer stands are a chance to try very fresh corn on the cob, apple cider, and other agricultural produce.

Drink
Beer is king here, though spirits, cider, and wine are also widely available.

Sleep
Along I-75 and Turnpike exits, there are plenty of hotels to choose from, from family hotels to the lower end of luxury. Outside these areas lodging options are typically limited to campgrounds, farmhouse bed and breakfasts, motels, and smaller hotels.

Stay safe
Due to the flat terrain, winds can get rather high, and areas near rivers can flood easily. Be aware of the weather.

Go next