Northwest Pelion
Mount Pelion
(also spelt Pelio or Pelium; Greek, Modern: Πήλιο, Ancient/Katharevousa: Πήλιον) forms a hook-like peninsula between the
Pagasetic Gulf
and the Aegean Sea.
North West Pelion lies near the Pagasetic gulf.
The mountains are entirely forested, with beech, oak, maple and chestnut trees. Pelion is a tourist attraction throughout the year: the mountain includes trails and sidewalks for walking within small and large beaches with sand or pebbles.
Located near the city of
Volos
, in the prefecture of
Magnesia
.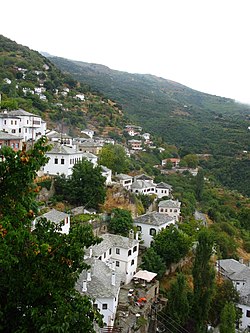 Get in
North West Pelion is the area of Pelion which is closest to
Volos
.
There are frequently buses from
Volos
Interurban Bus Terminal ("Yperastiko KTEL") (
KTEL Volou
) to most of the villages in that area. Details on buses,
can be found online here
Get around
Villages
Villages are grouped together in clusters of nearby villages:
See
Many of the
villages
slightly further in land, and of higher altitude, are themselves sights to see. Built on terraces cut into the side of the mountain, with many large traditional archontika buildings, which were the former homes of wealthy merchants.
Makrinitsa
and
Milies
that are particularly worth exploring.
There are various
museums
in the region. The
Olive Museum
in
Ano Gatzea
explores all things olive, and the
Pelion Museum of Folklore and History
in
Makrinitsa
explores regional history.
Do
Walk along the recognized hiking routes.
Take a journey on the little train of Pelion. A little train's fascinating story and the mythical tales of Mt. Pelion, all combined in a single journey. This historical train used to operate the between Volos and Milies, but now only the final portion is running, departing from Kato Lechonia. Whilst the original locomotive was steam powered, the current locomotive is a diesel disguised as a steam engine - the steam engine kept on starting fires along the route.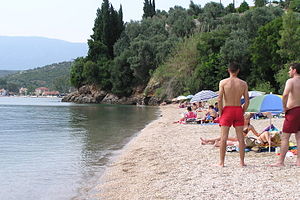 Enjoy the beaches. This western side of Pelion, with a coast on the Pagasetic Gulf, has smaller sandy beaches with calm waters than the Northeast Pelion coast. Afissos, has three main beaches: two with organized facilities, including beach bars with music that are popular with youth. Afissos beaches are considered among the best in North West Pelion. Lefokastro, just after Afissos, has four beaches. The road from Afissos is narrow with high slopes, it can be difficult to drive if you find cars coming in the opposite direction. There is a much better road from the main road to Argalasti. The first two beaches after Afissos have shallow waters. There is a nice beach in front of the campsites at Kato Gatzea.
Buy
To Trainaki

address: Boulevard Kala Nera

Local sweets from Pelion, ceramics, handmade art, post cards, Greek recepies books and that special gift.
Drink
Sleep
There are
camping
options near the beaches around
Kala Nera
, as well as
regular hotels
and
holiday lets
in the various coastal villages there and around
Platanidia
. If you stay further up Mt Pelion, in places such as
Portaria
and around
Milies
, there are more traditional options, with rooms available in the
traditional stone built Archontika buildings
, previously the old homes of the wealthy merchants of Volos.