Norwich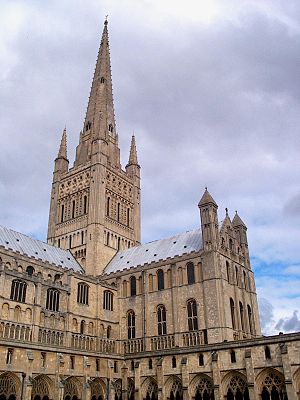 Norwich
, a two-cathedral city, is the capital city of the
English
county of
Norfolk
, within the larger region of
East Anglia
. It lies some 185 km (115 miles) north-north-east of
London
, with the A11 linking the two cities, and is a convenient base for exploring the
Broads
, the North Norfolk Coast, along with the whole county of Norfolk.
Understand
Norwich has a population of about 125,000. At over 800 years old, it was one of the main cities of medieval England, and retains a significant heritage of medieval buildings. In the 1960s, it became a university city with the foundation of the University of East Anglia (UEA), which has helped the flourishing of local culture. This was further enhanced n 2013 when Norwich's second university, Norwich University of the Arts (NUA) was established from the much older College of Art and Design.

Get in
By road
Norwich is directly served by two major trunk roads. The A11 travels in only a south-westerly direction, through Thetford, then near to Cambridge, and then via a more southerly direction onto London via the M11. The other trunk road is the A47, and this is primarily orientated in an east-west direction. To the east, the A47 ends at the once significant maritime town, and now primarily holiday destination of Great Yarmouth. To the west, the A47 links the Norfolk market towns of East Dereham and
Swaffham
, and then onto King's Lynn (where it links with the A10 and A17). The A47 continues westward, leaving Norfolk, onto
Peterborough
, where it links nearby with the A1 (also known as the 'Great North Road'), and terminates at the Roman city of
Leicester
, linking with a number of significant roads including the M1, M69, A6, A46 and A50.
Other major trunk roads to the wider Norwich area include the A14 (via the A11 to
Cambridge
), A12, A140 (via
Ipswich
) from
London
, the South East of England and the ferry port of
Harwich
.
Parking
Parking in the city includes a wide variety of surface and multi-storey car parks, along with on-street parking - all fee-based, some operated by the local authority (Norwich City Council), others operated by private companies.
There is also a very good 'Park and Ride' (P&R) service
National Park and Ride Directory
. There are six P&R car parks served by six colour-coded lines numbered 601-606. P&R buses run every 15 minutes throughout the day but stop around 7pm. Tickets are purchased from machines at the car park and are valid for a group of up to 5 people. The prices regularly change but there's generally a 25% discount for tickets purchased after 12pm. You'll be issued two tickets - one is to display inside the windscreen of your car and the other is to show the bus driver when boarding/alighting the bus. Note that the yellow line and car park is adjacent to the airport.
By train
Despite the city's size, there is only one large railway station, Norwich station (known locally and historically as Thorpe) is a terminus, and all services start/finish here. The two main routes run south to
London
(1hr50) via
Ipswich
(40min) and
Colchester
(1hr); and west/southwest towards
Cambridge
(1hr) and
Peterborough
(1hr45), with some services continuing to other major cities in the Midlands and North. Connections to
Scotland
and East Coast cities are available at Peterborough. There are also a handful of local services to destinations including
Sheringham
,
Cromer
,
Great Yarmouth
and
Lowestoft
.
address: Station Approach, Norwich, NR1 1EF

Bus connections to the university and the airport. The station forecourt carpark has a taxi rank, and is usually full of black cabs which can be hailed without any advanced booking. For details on all UK national railway services, call National Rail Enquiries line, tel +44 8457 48 49 50 or +44 20 7278 5240.
By bus
Norwich's new flagship Surrey Street bus station is a major hub for local, regional and long-distance bus and coach services. There are regular
National Express
services to/from
London
- although the journey takes roughly twice as long as the train and can sometimes be almost as expensive. There are also regular coaches services to London's Stansted, Heathrow and Gatwick airports. All surrounding towns are served by regular (but slow) regional buses - these are mostly useful for reaching towns/villages with no train connection. Tickets for National Express buses can be purchased from the ticket counter at the bus station or booked online. For information on all bus services, call Traveline on +44 871 200 22 33.
By plane
phone: +44 1603 411923

Norwich is home to a major regional airport – with over 300 worldwide connections via Manchester, Edinburgh or Amsterdam.
To/from the airport - a taxi will cost about £7 from the airport to the city centre. Park&Ride Yellow Line buses run every 7–8 minutes from the airport car park to Surrey Street bus station non-stop, however the one-way fare is £2.50 so if there's a group it's easier to buy a park & Ride ticket from the machines as this covers up to 5 passengers. Local bus 23 runs every 15 minutes from outside the airport to the city centre and costs about £1.70.
London Stansted
is also within easy reach by road (65 miles), and regular coaches from Surrey Street bus station serve all four major London airports (Heathrow, Luton, Gatwick and Stanstead).
By boat
The city is on the River Yare which is part of the Broads National Park (the river being in the Broads and not the city itself).
phone: +44 1603 612980
address: Riverside Rd, Norwich, NR1 1SQ
Mooring for 50 boats (approx.). Toilets & showers. Free water. Pump out facility £12 for 1 tank, £15 for 2 and £18 for 3. electricity charging point (£1 cards sold). Rubbish disposal.
By bicycle
On foot
There are several long distance footpaths connecting Norwich to other towns and cities.
Get around
Norwich city centre is fairly compact and can be explored easily on foot. It is also a cycle-friendly city, with most major streets having separate bike lanes and also several cycle tracks along the two rivers. Whilst on paper there appears a significant network of cycle lanes, in practice many of these are just where somebody with a pot of white paint has marked a narrow strip in the gutter for bicycles or painted an arrow suggesting cyclists share a pavement with pedestrians which just wide enough for mother and baby buggy. Don't let that discourage you from cycling around, just be aware of the limitations of the mapped "cycle network".
City buses are mostly operated by
FirstGroup
and are handy for reaching the train station and riverside entertainment district, the university and the airport. Fares change regularly but expect to pay around £2.30 for a single-trip adult ticket. Return tickets and day pass tickets are also available - buy tickets from the driver (change available) or from the ticket machines located at the bus stops.
Metered taxis are fairly cheap (by British standards) and are of the purpose-built 'black cab' variety as in London, whilst telephone-booked minicabs are cheaper for longer trips.
See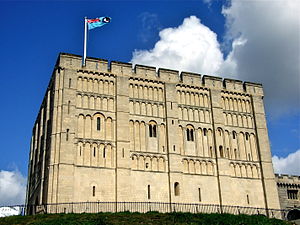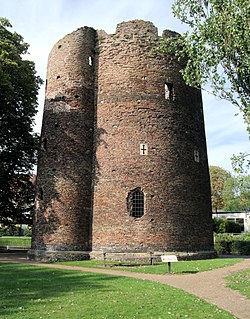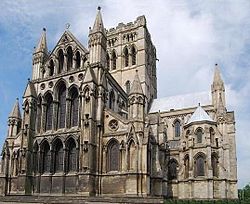 address: 65 The Close, NR1 4DH

The 900-year old Norman cathedral church. Don't miss 'old As I Am', a grinning skeleton on the south aisle wall.

Norwich Castle Museum and Art Gallery'Pop in for a pound' in the last hour of opening.

Dragon HallRestored trading hall from medieval era, unique in England. Guided tours available once or twice a month.

Many fine medieval churches including St John Maddermarket, St Peter Mancroft by the Forum, St Stephens, all of which are usually open

The ForumA landmark building opened in 2001, architecturally dynamic, housing one of the best public libraries in the UK, BBC East, arts and information centre along with the large and popular Cafe Bar Marzano and a branch of the pizza chain Pizza Express. There are regularly changing events and exhibitions that are almost always free.

Sainsbury Centre for Visual ArtsLocated on the campus of the University of East Anglia (UEA) - well worth the visit, lovely building and an underground section with changing exhibitions in art, ceramics, textiles...creative and imaginative. It was designed by Norman Foster and it is an example of an early work of his in the 1970s. Housed in the building is a permanent exhibition of the Sainsbury supermarket family pottery and sculpture with a lot of rare Chinese and tribal stuff - worth spending at least half a day there.

address: Cotman Fields, off Bishopgate, Norwich, NR1 4AA

A fortified gun tower built between 1398 and 1399; inside not open to public.

phone: +44 1603 677183 (only when museum open)

address: Whitefriars, Norwich, NR3 1SH

Small printing museum.

phone: +44 1603 622022

address: Bishopgate, Norwich, NR1 4EL

Built in the 1200's the site is an Almshouse for the citizens of Norwich. It is open to visitors only once a month with tours that must be booked in advance and start at 10:00.

The Cathedral of St John the Baptist

phone: +44 1603 624615

address: Cathedral House, Unthank Rd, Norwich, NR2 2PA

Tower tours Saturdays from early May-late Sept (tel:+44 1603 724381 email:heritage@sjbcathedral.org.uk, age and height limits apply)

City of Norwich Aviation Museum

phone: +44 1603 893080

address: Old Norwich Road, Horsham St. Faith, Norwich, NR10 3JF

Houses a collection of 19 military and civil aircraft, plus aircraft engines and other artifacts
If you want some peace and tranquility in the middle of the city, "the plantation " is a small nicely formed private garden. Walking downhill from the Roman Catholic Cathedral (not the Church Of England one) the gardens are on the left between the two parts of the Beeches Hotel. If there is no one there pop your £2 in the box and enjoy.
Do
Norwich is the key site for the Norfolk and Norwich Festival held every year in the month of May.
Watch football ie soccer at Norwich City FC. They were promoted in 2019 and now play in the Premier League, the top tier of English football. Their home ground (capacity 27,000) is Carrow Road NR1 1JE, half a mile south of the railway station.

phone: +44 1603 485000

address: 62 Whiffler Rd, Norwich, NR3 2AY

PADI & SSI courses, dive centre, dive trips and shop.

phone: +44 1603 592398

address: University of East Anglia, Norwich Research Park, Norwich, NR4 7TJ

Swimming pool, gym, climbing wall, martial arts, squash, etc.

phone: +44 1603 628477

address: St Andrews Plan, Norwich, NR3 1AU

Originally a Friary complex.

phone: +44 1603 451686

address: Newmarket Road, Norwich, NR4 6SF

phone: +44 01603 660352

address: 51 St. Benedict's Street, Norwich, NR2 4PG

Music and comedy venue housed in a 15th century, former church. A small venue, yet it has hosted well known bands such as Nirvana, Oasis, The Stone Roses, Manic Street Preachers, The Libertines and Coldplay.

Norwich & Norfolk CAMRA Beer FestivalHeld every October in The Halls (see listing above).
Theatre
phone: +44 1603 630000

address: Theatre St, NR2 1RL

phone: +44 1603 626560

address: St. John's Alley, NR2 1DR

phone: +44 1603 629921
Parks
Norwich also hosts some fine parks and gardens. Many of these parks were built in the early 20th century, as a form of unemployment relief:
Eaton Parkone of the city's finest green spaces, lying west of the city.

Catton Parka nationally important green space located to the north of the city.

Waterloo Parkan 18 acre park with a wide range of facilities located north of the city centre.
Buy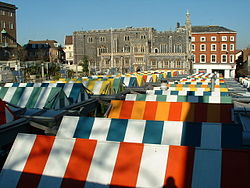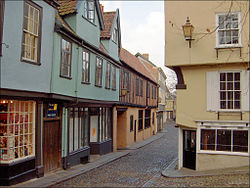 Norwich punches above its weight in retail terms and is regarded as one of Britain's major regional shopping centres. The Castle Mall shopping mall was joined in 2005 by a major new city-centre development, the Chapelfield mall, on the site of a former chocolate factory. It has a big "Cigar entwined in a wire frame" sculpture on top to serve as a visible landmark.
Other than the shopping centres there is a big John Lewis, Marks and Spencer, Debenhams and local department store Jarrolds. This particular store is unusual in that it is still locally owned and gives 25% of its profits to the John Jarrold Trust - a charity that grant aids worthy causes. London Street is nearby and was England's first pedestrianised street. A wide range of independent specialist stores is concentrated around the Upper Goat Lane/Pottergate/St. Benedict's area of the city centre. This area is known as the Norwich Lanes.
One street not to miss is Elm Hill. It's a medieval cobbled street near Norwich Cathedral that backs onto the River Wensum and is renowned for its antiques and tea shops. These include the Britons Arms, an excellent coffee house and restaurant in a delightful thatched building dating from 1420.
That leaves us with the market! Apparently the largest permanent outdoor market in Europe, and one of the finest city markets in the UK. Its roofs are a riot of primary colours. The market is home to over 150 stalls with an ever increasing variety of street food options and an ever changing series of pop up stalls. It was designed by the same architect as the Castle Mall, Michael Innes.
Just outside the city centre are a number of shops worth a look. Upper St Giles is home to a number of independent shops, restaurants and delicatessens. Over the bridge and down Earlham Road towards the University of East Anglia (UEA) is a fine independent organic and local food shop called the Green Grocers. You will find a good range of locally sourced food as well as catering for vegetarian and vegans. They have a Farmers' Market outside the shop every second Sunday of the month.
Eat
Restaurants in Norwich are getting better.
Malaysian Delights

address: 11-15 Timber Hill, NR1 3JZ

A Malaysian buffet. The food is good but rather toned down for the average British palate. It has a reasonable range for lunch and a bigger range for dinner. The best thing though is that you can eat as much as you want for £5.50 for lunch and £9.99 for dinner.
There is a range of Chinese restaurants in the city. Mainly they seem to be run by one family under the banner of Lucky Star. They run two well-priced 'all-you-can-eat' buffets (Riverside and above a car park at the top of St Stephens Street). They are all much of a muchness but Riverside is the most popular and therefore busiest. There are some others (mainly of Prince of Wales Road).
Near the market, between Gentlemans Walk and Rampant Horse Street is a small Lebanese restaurant that does excellent lunchtime falafels or evening meals.
There seem to be loads of Thai restaurants in Norwich. Not sure why it has more than its fair share but since most of them are good we shouldn't complain. The best are
Silk Thai
and
Lam Thai
.
phone: +44 1603 766755

address: 4 Opie St, Norwich, NR1 3DN

Restaurant and takeaway

Thai Silk

phone: +44 1603 666223

address: 17 St. Benedicts Street

This Thai restaurant seems to always be quiet. Very well decorated with lovely fixtures and fittings. It has a good range of food and but is slightly more expensive than Sugar Hut.

phone: +44 1603 622884

address: 131 Magdalen Street, NR3 1NF

Although not cheap, the quality of food is very good.

phone: +44 1603 667 341

address: 24 Tombland, Norwich, NR3 1RF

Thai food
Indian restaurants in Norwich have, over the past decade or so, been engaged in a fierce price war which has seen menu prices stay low - sometimes, it has to be said, at the expense of quality.
There are several other Indian restaurants on Magdalene Street, including Ali Tandoori, Spice Lounge just down the road on Wensum Street, a good place on St Benedict's called Bengal Spice and just to the west of the inner ring road there is City Spice located on Dereham Road.
The standard Cafe Uno, Pizza Express etc. are all present but are of a fairly chain restaurant standard so go if you want but there are some better choices.
Zizzis
in Tomblands is nicer than average with a traditional big wood burning oven so they do some nice flavoured pizzas and baked pastas. The best value for money is probably
Figaro's
. Pizzas around £6-£7 and generous toppings and some very good calzone.
Two worth trying are
Pedro's
(Mexican)in Chapelfield gardens and
Mambo Jambo's
. Pedro's is more about the quantity than the quality, but it's still a good restaurant. Mambo Jambo's on the other hand is great. Don't go expecting great food but you get loads of it. It also has a cheap bar and is always full of groups of friends, work parties and birthday parties. This may be because for a reasonably price you get loads of drinks and huge portions of food.
phone: +44 1603 767222

address: 7 Pottergate, NR2 1DS

fantastic for mussels and does very good food at reasonable prices. They also do a variety of different beers: cherry beer is definitely worth a try.
If you enjoy pub fare, there is an excellent location on Ipswich Road in the South end of the city. The
Marsh Harrier
will fill you to the brim. For a quintessential dinner of fish and chips, the Marsh Harrier cannot be beat, with their "whale of a fish". Selection of beer was also excellent. Staff is courteous and service is excellent. The Golden Triangle area to the west of the city centre has more than its fair share of pubs serving good quality food, probably in no small part to the large student population of the areas. The
Unthank Arms
and
The Mad Moose
serve good quality though not inexpensive food, whilst the likes of
The Belle Vue
and
The Garden House
sell decent pub fare.
For vegetarian restaurants try
The Greenhouse
, an environmentally friendly cafe and shop on Bethel Street or
Pulse
on Guildhall Hill. Also on Guildhall Hill is
The Waffle House
, a daytime and late-opening classy, but low priced, waffle emporium, offering a variety of sweet and savoury Belgian waffles. Some are vegetarian, some not, but the produce used is almost all organic. There's great coffee there too, and the service is generally quick.
phone: +44 1603 617199

address: 52 St Giles Street

Italian restaurant.

phone: +44 1603 633056

address: 5, Orford Street, NR1 3LE

Independently owned Italian restauran owned by chef patron Oliver Boon, a former 'Masterchef Professionals' finalist & previously head chef at the prestigious The Landau restaurant in London, run by Albert & Michel Roux Jnr. Private dining room for exclusive parties of up to 8 people.
Drink
Norwich was once famous for having a church for every week in the year, and a pub for every day of the year. It had the highest number of pubs per square mile in the UK.
For
real ale
enthusiasts, Norwich is home to the multi award-winning
Fat Cat
, a real ale paradise serving over 25 ales, and the only pub in the UK to twice win the prestigious
CAMRA
National Pub of the Year. Other popular real ale pubs in the city centre include The Coach & Horses and the historic Adam & Eve. North of the city are the King's Head in Magdalen Street, the Shed (with Fat Cat Brewery), and the Duke of Wellington, all real ale pubs with an extensive selection of ales and some cider.
There is a major beer festival, organised by the local branch of CAMRA, held every year in St Andrews Hall. Beware that it gets extremely crowded though.
The local real ale of choice is Woodforde's
Wherry
. Woodfordes also brew
Nelson's Revenge
among others. Also popular in pubs around the area are the two popular Adnams ales, The Bitter and Broadside, brewed in the Suffolk coastal town of Southwold.
phone: +44 1603 625777

address: 17 St Benedicts Street, Norwich, NR2 4PE

A lovely new addition is The Bicycle Shop bar/restaurant. Great for lunch or a drink in its downstairs bar. Good wines and local beers.

phone: +44 1603 618902

address: 19 Bedford Street, Norwich

Cafe-bar in central Norwich filled with good food, top drinks, marvellous music and general chilled-outness. You can enjoy Frank's Bar in a range of different ways, whether it be with a coffee, glass of wine, tasty meal or nibbles. Sunday's are special as well with a fantastic Sunday Breakfast menu (served from 11.00 – 6.00) and a classic afternoon film (screened in the back room) along with the usual selection of great coffee, good papers to peruse and general loveliness.
Sleep
There are a couple of new chains hotels in town. On Duke Street, next to a new car park, is the
Premier Inn
, clean, cheap and central but very bland.
Out of the city there are some larger golf-type hotels.
Dunston Hall
(owned by the De Vere group) just south of the city, and
Sprowston Manor
(owned by the Marriott group) just north of the city. Both are OK and generally get 4 star ratings but they are hardly hotels you would choose to go on holiday to. They have lots of facilities (spas, gold pools etc.) and are the best place to stay around Norwich if you don't need to be in the city centre.
Stay safe
Although Norwich is generally a safe city to visit, caution should be taken when wandering the city centre at night. Use common sense and avoid back streets; staying in groups is always a good idea. Areas to avoid during the night would be Anglia Square and Eaton Park, although there is not much to do there at night. Prince of Wales road has lots of bars and clubs, so it can get rather busy there in the evening.

Stay healthy
Go next
Although Norwich is a comparatively small city by international standards, there is still plenty to do.