Nosy Tanikely
Nosy Tanikely
is a small, uninhabited island and marine sanctuary located southwest of
Nosy Be
in
Madagascar
.
Understand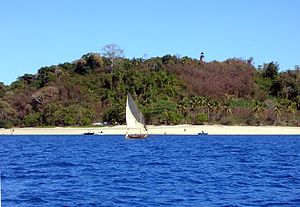 History
Landscape
Flora and fauna
Climate
Get in

Almost everyone visiting the island arranges transport with their hotel or through an agency. Prices can vary considerably depending on how far you are travelling to reach the island, what type of boat you are using, etc - consider asking around and compare prices.

Fees and permits

There is a park fee that must be paid by everyone who visits the island. In most cases this fee is included in the trip cost and your guide will pay the ranger on duty, but verify in advance whether it is an expense that you will need to cover in addition to your transportation costs.

Get around

While on the island you can travel by foot along the beaches and on the trails that lead up to the lighthouse. The only other option is to travel by boat - a circumnavigation of the island takes 15-20 minutes and passes through incredible blue waters and past beautiful beaches.

See

The island is a marine sanctuary, and offers snorkeling that is truly world-class. While in the water you will see all manner of healthy and colorful corals, with vast numbers of reef fish. Sea turtles are almost certain to be seen as well, but sharks are a rarity in the waters throughout the Nosy Be area.
On land, a troop of introduced brown lemurs inhabit the trees at the island's center and can be reached via a short set of stairs that ascend from the beach. There is also a at the island's peak, which can be ascended via a spiral staircase. An adjacent to the lighthouse provides information about the area's nature in several different languages.
Along the beach, a small trail leads up to a tree that is home to a , also known as Madagascar flying foxes. When visiting the bats be sure to keep your distance to avoid disturbing the colony.

Do

Snorkeling is the primary activity here, and it is a great place for it. Facing the water, the is everything to the right of where the boats anchor. You can easily spend hours exploring the marine environment, so remember to frequently re-apply sunscreen, and wear a swimshirt if possible.

Buy

There are no services on the island. You may encounter a villager attempting to sell trinkets, but since many tourists leave their wallets back in their hotel rooms you shouldn't expect too many opportunities for shopping.

Eat

You can either bring a lunch, or arrange to purchase food from villagers who will arrive at the island and prepare a lunch on the beach.

Sleep

It is not permitted to spend the night on the island, so you must depart before dark.

Stay safe

The main danger on Nosy Tanikely comes from the sun - it is all too easy to lose track of time while snorkeling and emerge from the water dangerously sunburned. Remember to frequently reapply sunscreen, and wear a swimshirt to limit exposure on your neck, back and arms.


Go next
Nosy Be - Nosy Be is offers everything from budget accommodation to luxury resorts located on pristine beaches.
Nosy Komba - Nosy Komba lacks roads and offers a laid-back alternative to Nosy Be.