Noto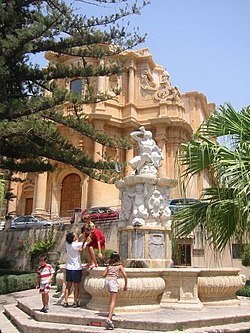 Noto
is in
Sicily
,
Italy
. The city is one of the eight
world heritage
listed "Late Baroque Towns of the Val di Noto".
Understand
Noto was once situated on Mount Alveria but destroyed by an earthquake in Val di Noto in 1693 and was rebuilt in another site in Baroque style.
Tourist information
Get in
Get there as a daytrip from
Syracuse
or a stopover from
Syracuse
to
Ragusa
(1½ hour),
Gela
, or
Enna
.
By bus
By train
The railway station is further from the town centre than the bus station. The station appears to be unmanned at least some of the time with no automated ticket machines (see below for some details).
Combined with some difficulty with getting a return ticket at the station it may be more convenient to take a bus on a return trip despite it takes a bit more time.
You can buy tickets for travel on Regional trains at the ticket offices of the station, at the ticket vending machines, at the authorized travel agencies and points of sale of the circuit Lottomatica, Sisal and Punto Servizi, from the
Internet site
, or with the App Trenitalia, available for iPhone and iPad, and also for devices with the Android operating system.
A ticket can be also purchased on board with a supplement of €5 to the cost of the ticket. On departure from the station, notify the train crew before getting on.
See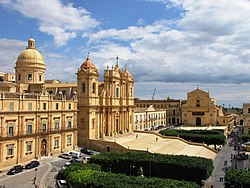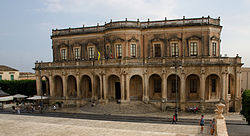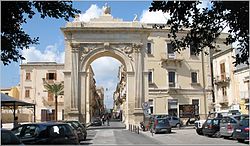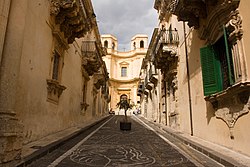 Noto is a World Heritage Site and billed as the most attractive of the Baroque towns in south east Sicily. In fact it's a really nice small town where the most of significant buildings are aligned along a single street.
Unfortunately some of them are closed and/or being restored. It feels, like in many other places in Sicily, there is not enough money available to bring the town back to what it once was.
Cattedrale di San NicolòThe cathedral stands on the summit of a magnificent staircase consisting in three flights of steps dating back to the 18th century but restored at the beginning of the 19th century. The facade is closed off by two imposing bell towers and it is topped by two late 18th-century statues

Porta RealeThe entrance into the town and its main street – the Corso Vittorio Emanuele.

Palazzo Ducezio18th-century building designed by Vincenzo Sinatra with Neo-Classical frescos by Antonio Mazza. It now hosts the Town Hall.

Teatro Comunale "Tina Di Lorenzo"

address: Corso Vittorio Emanuele, 83

Sometimes referred to as "La Scala di Milano in miniatura".

Palazzo Nicolaci di Villadorata

phone: +39 338 7427022

address: Via Nicolaci

Well-restored 18th-century palazzo. The ground floor is home to the town library "Principe di Villadorata" (Prince of Villadorata). The palace is still inhabited by some members of Nicolaci family.

Chiesa di Santa Chiara

address: Corso Vitt. Emanuele,149

It consists of two parts: archaeological collection and Galleria d'arte contemporanea E.E. Pirrone (Contemporary Art Gallery). The building also said to have a nice roof terrace with wonderful views.

Chiesa di San Domenico
Some other
palazzi
:
Palazzo Landolina

Palazzo Di Lorenzo del Castelluccio

Palazzo Astuto

Palazzo Trigona

Palazzo Impellizzer
Do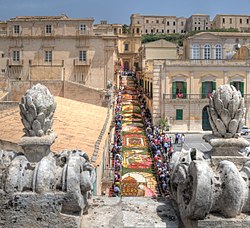 address: Via Nicolaci

A festival which attracts thousands of tourists every year, the third Sunday of May. A street covered with splendid mosaics made with flower petals, in a corner dream. This new painting technique allows teachers infioratori to make a flowered carpet along the way Nicolaci.
Buy
Local specialties include marmelades, jams, honeys, biscotti, and granite.

Eat
Trattoria del Crocifisso

phone: +39 0931 571151

address: Via Principe Umberto, 48

Very good small restaurant of famiglia Baglieri. Very honest prices.

Neas Ristorante

phone: +39 0931 573538

address: Via Rocco Pirri, 30

Nice restaurant and outdoor serving in little courtyard. Local seafood.

phone: +39 0931 835013

address: Corso Vittorio Emanuele, 125

Run by Corrado Assenza of Netflix fame, the gelati is said to be the "best" in the world.

Ristorante Manna Noto

phone: +39 0931 836051

address: Via Rocco Pirri, 19

In the wine cellar of the Nicolaci Palace, and with period furnishings, the restaurant serves traditional Sicilian dishes surrounded by hundreds of bottles of wine. Expensive, but excellent.
Sleep
B&B Geranio Vacanze

Not Sicily B&B

Macrina B&B - Friendly proprietor (though not English-speaking) with good sized rooms a pleasant garden to have breakfast in.

Sicily Villa RentalSea front holiday home in Marzamemi, nearby Noto. Old warehouse 10 meters from the sea, it can accommodate up to 17 guests. Weekly rentals available.

phone: +39 388 1944339

address: SS115, 2KM west from Noto