Nova Scotia
Nova Scotia
is one of
Canada
's
Atlantic Provinces
. With around 950,000 inhabitants, it is one of the least populated. As a peninsula exposed to the Atlantic Ocean, Nova Scotia has a more maritime climate than mainland Canada, with mild winters and cool summers.
Regions
Cities
— Capital of the province and economic and cultural hub of Eastern Canada. There's history to explore, culture, beaches and friendly laid-back East Coast hospitality.
— Closest city to the Joggins Fossil Centre, a UNESCO World Heritage Site.
— The "City of Lakes" across the harbour from Halifax.
—
— Historic fishing village with the brightly painted houses and picturesque townsite. UNESCO World Heritage Site.
—
— Largest city on Cape Breton Island and close to the ferry to Newfoundland
—
—
Other destinations
Tobeatic Wilderness & Southwest Nova Biosphere Reserve. The largest protected wilderness area in Atlantic Canada. The Tobeatic is a large natural area that spans five counties and more than 104,000 hectares of central southwestern Nova Scotia. Nine major rivers flow from the Tobeatic and over 120 lakes are found within the wilderness area. The wilderness area is available to the public for canoeing, birding, and other outdoor pursuits for the enjoyment of nature. The Tobeatic features numerous species of interest including the last native population of moose, black bear, southern flying squirrel, Blanding's turtle, Eastern ribbon snake, Bald Eagle, brook trout, Lady Slipper orchids, and various carnivorous and non-chlorophytic flowering plants.
Brier Island in the Bay of Fundy. Brier Island is a unique destination situated off the end of ancient basalt formation (Digby Neck) jutting out into the world famous Bay of Fundy. This area is rich in marine life (Whale watching, Atlantic flyway for migrating birds and has a resident seal colony) The area has been long visited by naturalists who regularly spot rare and endangered plants. Rock hounds will be impressed with the many types of rock formations and can find quartz, agate jasper, amethyst and even zeolite. An area truly unspoiled, off the beaten track and deeply steeped in maritime tradition. (Home of the famous Joshua Slocum, the first person to sail solo around the world in 1895 on the Spay a 37' sloop.) Brier Island offers many trails to explore both easy and challenging for hikers on short or extended visits. The island is accessible by two short ferry rides from the end of Digby Neck.

Kejimkujik National Park and National Historic Site

address: Maitland Bridge, Annapolis County, Nova Scotia

Named for the Kejimikujik Lake, it contains beautiful scenery as well as ancient native Mi'kmaq petroglyphs, habitation, fishing and hunting sites, travel routes and burial grounds
Understand

For a population just under a million Nova Scotia is remarkably diverse: Mi'kmaq, Scots descendants, black Nova Scotians, French Acadians, Annapolis Valley farmers, Cape Bretoners and Haligonians all form distinct groups with their own unique quirks, culture and language. The novel "Rockbound" is written entirely in the South Shore dialect of the fishermen of that region, a fusion of Shakespearean English, German and unique local idioms.
Champlain named Nova Scotia "Acadie" and claimed it for France in 1604. French immigrants settled the area and became prosperous farmers and fisherman. However, they were expelled by the British in the mid 18th century, with their lands, especially on the South Shore, repopulated with "foreign Protestants", meaning mostly Dutch and Germans. Many areas still retain a strong Acadian French culture, including the largest Francophone municipality, Clare in Digby County and Argyle, in Yarmouth County. Nova Scotia hosted the World Acadian Congress in 2005. The Louisiana "Cajun" is a slang adaptation of "Acadien" in the French. Longfellow's poem "Evangeline" celebrates the victims of the expulsion, as does Zachary Richard's drum and voice song "Reveille". Because of the expulsion, French is far more commonly heard in New Brunswick.
Halifax, the capital, is one of the oldest cities in North America and was a critical sea link during World Wars I and II. The infamous "Halifax explosion" caused by collision of two ships in Halifax Harbour in 1917 was the worst man-made explosion on Earth until Hiroshima in 1945. Halifax today is an education and high technology centre, with over a dozen post-secondary institutions including Dalhousie University and substantial operations by major high-technology firms. Academics have unusual influence in Nova Scotia, perhaps because of their concentration in the capital. Many have even written legislation.
Unless you are a winter surfer, or like to snowshoe, then it is probably best to visit Nova Scotia sometime between June and October, when the weather is warm, the skies are blue and the water may be less frigid. The main byways are along the coast, and a lot of small shops and restaurants are open around the coast during the summer months. Watch out for mosquitoes and horseflies in the summer, however, especially after a storm.

Get in
By plane
Robert L. Stanfield International Airport
(
YHZ
), at Halifax, is the main international airport in the province. Flights can also be made to Sydney, via JA Douglas McCurdy Sydney Airport (YQY), from Halifax, or periodically from Boston, Toronto, or other Maritime cities.

By car
Nova Scotia is part of the Trans-Canada Highway linking it with New Brunswick at Amherst. It is roughly a three hour drive from Moncton to Halifax and 3.5 hours from Charlottetown to Halifax.

By bus
Two bus companies — Greyhound Canada and Maritime Bus — provide inter-provincial bus service to Nova Scotia. They can be useful if your destination is along the Trans-Canada highway or the Truro-Halifax corridor, but service does not extend far elsewhere. For more structured bus trips / transport there is also Out Here Travel a backpacker focused hybrid bus transport / tour company which picks up passengers in the Toronto and other nearby locations - heading east primarily. For trips to national parks, such as Algonquin Park, there is also Park Bus.

By boat
Ferry service is available from Prince Edward Island to Pictou, Digby to Saint John, New Brunswick, and Newfoundland to North Sydney. A service to the US is available between Bar Harbor, Maine and Yarmouth (from December 15, 2009 to June 21, 2019 it sailed between Portland and Yarmouth).

By train
Via Rail provides service connecting Halifax to Montreal three times a week. The trip takes 22 hours and also stops at Truro and Amherst.

Get around
By car
Nova Scotia has a comprehensive road network, with three tiers of highways:
Provincial (100-series) highways

— The fastest and most direct routes as they tend to by-pass the towns and villages, but not as scenic as the other highways. Some of them, such as the 102 and much of the 104, are expressway/motorway standard.
Trunk highways

— Two lane highways with the occasional passing lane. These routes connect the towns and villages so are slower than the 100-series highways but more scenic.
Collector highways

— Generally narrow, windy and variable quality (may be paved or gravel), but are best for taking you off the beaten path.
The
Trans-Canada Highway
(Highway 104 on mainland Nova Scotia and Highway 105 on Cape Breton) and
Highway 102
form the backbone of the road network connecting most of the province's main centers with
New Brunswick
and the ferries to
Newfoundland
. Highways 101 and 103 connect
Yarmouth
to
Halifax
via the
Annapolis Valley
(Hwy 101) and the
South Shore
(Hwy 103).
The provincial tourism department has created a number of
scenic routes
that cover specific geographic regions of the province, such as the Lighthouse Route along the South Shore or the Glooscap Trail that covers the Minas Basin region. The routes are generally well sign-posted and good to explore if you want to focus on a specific region in-depth.
If driving, be aware of road conditions in the winter, especially away from major areas.
See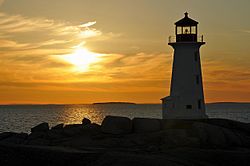 Peggys Cove Lighthouse, 35 km SW of Halifax on road 333 is a lighthouse on rounded rocks. There is a restaurant and tourist information, but otherwise it is just big rocks with a dozen small houses and 60 people living there. Outside Peggys Cove on the 333 there are plenty of B&Bs and restaurants.
Swissair Memorial, close to Peggys Cove on the 333.
Cape Breton Highlands A profoundly beautiful drive any time of the year but it is most pristine in Autumn, once the leaves change.
Bras d'Or Lake (Pronounced 'bre-dor', an inland sea within the island of Cape Breton).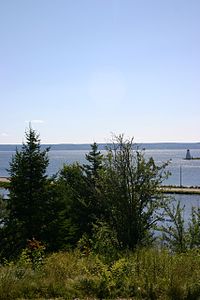 Cape George Lighthouse, on the Northeastern mainland coast, near Antigonish.
Citadel Hill, A daunting Vauban style fortification dating from the first half of the 19th century; it is called the 'Warden of the North.' Located in downtown Halifax; you can't miss it.
The Southern Nova Scotia Biosphere, Tobeatic Wilderness Area, and Kejimikujik National Park in the southern half of the provincethe largest protected wilderness area in Atlantic Canada
Fortress of Louisbourg National Historic Site, the largest reconstructed 18th-century French fortified town in North America.
Do
Fossil Collecting Many beaches along the shores of Cape Breton Island have exposed coal seams and rocks containing fossilized ferns and other flora can be found in these areas.

Tidal Bore RaftingExperience the highest tides in the world by riding on the tidal bore wave in a raft. Exhilarating fun, even when the moon isn't full.

Victoria Park

address: Truro

This 400-hectare (1,000-acre) park in Truro came into being in 1887 and attracts many visitors each year to its wooded trails, swimming pool, picnic areas, waterfalls, ball field, playground, and outdoor stage. During winter months, visitors enjoy walking, snowshoeing, skating and cross-country skiing in The Park. It's truly a year-round facility.
Hike the Trans Canada Trail in Nova Scotia.
Eat
Berries: having so much of the province in a natural state, there are many opportunities to pick wild fruit and berries. There are wild strawberries in the fields and along roads, wild blueberries, raspberries and cranberries (in coastal areas). Blueberry grunt is a blueberry baked with a sweet dumpling topping.
Deep fried pepperoni: a bar snack often dipped in honey mustard sauce.
Dulse: most of this seaweed is harvested at very low tides in parts of Nova Scotia. Locally it is dried and used as a snack.
Garlic fingers: similar to a pizza in shape and size and made with the same type of dough. Instead of the traditional tomato sauce and toppings, garlic fingers consist of pizza dough topped with garlic butter, parsley, and cheese, cooked until the cheese is melted. Bacon bits are sometimes added. They are typically eaten as a side dish with pizza and often dipped in donair or marinara sauce. They are presented in thin strips (or "fingers") as opposed to triangular slices.
Halifax donair: a pile of roasted, spiced beef (known as donair meat) with diced tomatoes and white onions covered in condensed milk sauce and wrapped in a pita. It is unique to the province and is available at almost every corner diner and pizzeria.
Hodge podge: a creamy soup of fresh baby vegetables; rarely found in restaurants.
Lobster rolls are common throughout the province.

Drink
Nova Scotia produces some very good wines. Most wineries offer free tours. Of particular note is
Jost Winery
along the Northumberland Strait north of Truro.
Try the local beers. Nova Scotia is best known as the home of "Alexander Keith's India Pale Ale", known locally as "Keith's" But there are many lesser known brews available as well. Not to be missed are the offerings of
Propeller Brewery
and
Garrison Brewing
as well as several microbreweries and brewpubs (such as the Rogue's Roost) .
Stay safe

In case of emergency, dial 911. Seat belts are mandatory for drivers and all passengers. Helmets are required by law for all motorcycle and bicycle riders. Radar detectors are illegal and will be confiscated if found by the RCMP.
If you are hiking in grassy areas you should be aware that Lyme Disease is present in Nova Scotia and carried by ticks. Tie your pant legs or pull your socks over your pant legs and watch for ticks. In wilderness areas: there are no poisonous snakes in the province but coyotes are becoming bolder and a few people have been attacked.

Go next