Novara di Sicilia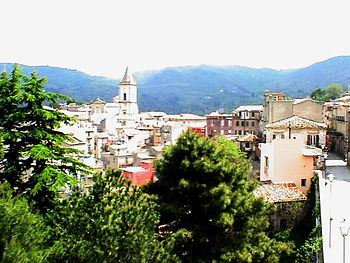 Novara di Sicilia
is a town in the Province of Messina in the
Sicily
region of
Italy
. The village of Novara di Sicilia, nestled in the mountains overlooking ancient Tyndaris and Abacaenum, is the archetype of a typical medieval town, with its friendly and accommodating people who speak a distinctive dialect. The town of Novara di Sicilia was inhabitied by the Noae until it fell under control of the Normans, who populated the town with Lombards. The intricate cobble stone street form a mosaic between the ancient small houses that stand shoulder to shoulder along the mountainside, with a breathtaking view of the
Aeolian Islands
.
Novara di Sicilia is listed among "I Borghi pui Belli D'Italia" (The Most Beautiful Towns in Italy) and provides a convenient central point for day trips to visit the
Aeolian Islands
,
Tindari
,
Taormina
and
Giardini Naxos
.
Understand
Tourist Office

phone: +39 0941 650954

address: Communal Palace, Public square Girolamo Sofia, 2
Get in
From Messina: 75 km
From Catania: 95 km
From Taormina: 55 km
See
There are five churches. The 16th century Cathedral is in the Piazza Duomo. The Churches and palace ruins were constructed by the craftsmen of the town. Other churches include Santa Maria di Noara, S. Nicolò, S. Antonio, S. George and Annunziata. There are also palaces from the 16th-18th centuries.
The Anthropological Museum, which features tools of local farmers and artisans as well as displaying the early culture of the local people, is also of note.

Teatro ComunaleA community theater presenting music, comedy and theater.
Do
Sculpting Seminars are held in May and provide a great chance to meet local artists and see new works in the making.
The Festival of Saint Anthony Abbot is celebrated in January, with a parade of horses and livestock and a "Blessing of the Animals" in the bell tower.
Events during Carnival include the Gioco of the Maiorchino, where wheels of maiurchèa (a seasoned pecorino cheese) are rolled along a predetermined route, the Carnival of the Children and a masked ball which takes place in the recently renovated Communal Theatre.
Pastoral rituals with a silent procession of the Confraternite occur during Holy Week.
In July there is a Flower Festival and the "Climbing of the Rocca Salvatesta", which is seen as a test of character.
The Festa dell'Assunta (the assumption of the Virgin Mary) is the largest annual event in the town, attracting thousands of visitors. The festivities run from July 31 to August 15, when a procession is held with a statue of the Virgin (the patron saint of the town), illuminated with more than 150 candles, is carried through the streets on the shoulders of more than 30 men. The relics of Saint Hugh are also included in the procession and each every five years statues of other saints also join in. The event is followed by a firework display.
In the first few weeks of August an exhibition is held of vestments, church furnishings, handicrafts, paintings, photographs and local handicraft.
A "Living Manger" is displayed during the Christmas period.
Buy
Bacelleria Antonella

phone: +39 0941 650692

address: Via Nazionale

Local cheeses and meats.

address: Via Benigno Salvo

Statues by local artist.

Frutta e Verdura de Campo Ferrara Salvatore

address: Via Nazionale, 406

Nice produce and they make beautiful floral arrangements.

Pasticceria Buemi Di Buemi Francesco

phone: +39 0941 650382

address: Via Nazionale, 240

Pastry shop.

San Nicola

phone: +39 0941 650580

address: Via Nationale, 119

Pastry shop.
Eat
When in Novara di Sicilia, look for the
nero e bianco
("black and white"). It is light like a mousse and incredible. Also try the
biscotti nel forno
with a nice cappuccino.
Novara is renowned for the
maiorchino
, a particular Pecorino cheese (sheep cheese).
Other delicacies are:
Ricotta infornata
Provola
Risu nirù (a mix of hazelnuts toasted with cocoa, candied orange peel and cinnamon)
Cassatelli (puff pastry with a filling of dried figs, honey, cinnamon and hazelnuts)
Raviiò (fried ravioli pasta soaked in wine and filled with fresh ricotta and scented with cinnamon)
Pignurada (fried puff pastry cut in squares and fried
Diti d'Apostolo (iiditi d'aposturu) or in English "Apostles Fingers", is a special ricotta roll with glazed pastry
The traditional dish of the mid-August festival is a kind of pasta called ncasciada served with a veal and mutton ragù sauce, crumbled meatballs, egg-plant, egg and breadcrumbs. Another typical dish with the wonderful name of Lempi e Tuoni ("thunder and lightning"), is prepared with beans, chickpeas, maize, lentils and grain, that are boiled and then seasoned. For those with more robust mountain appetites there is frittui, pork meat mixed with lard and boiled with the crackling, tripe, lung, heart and liver of the same pig.

phone: +39 0941 650812

address: Contrada Greco Strada Provinciale, 96

Restaurant and sells locally made cheese and other products.

The Pineta

phone: +39 0941 650522

address: Via National, 159

La macchia (snails) are tender and wonderful. The carne (meat) platter is seared to perfection with locally grown, tender meats.
Drink
Bar Angelina

phone: +39 0941 650100

address: Via Nazionale, 151

Cafe.

Calderone

phone: +39 0941 650277

address: Piazza M. Bertolami, 1

Cafe.

Scuderi

phone: +39 0941 650580

address: Via Nazionale, 105

Cafe.
Sleep
L'Eden of the Dreams

phone: +39 0941 650152, +39 380 2539231

address: Fulvio Rao Via Lauria Admiral, 3

Sganga Konde King

phone: +39 0941650526

address: Via National n. 163

The Sunflower

phone: +39 0941 650812

Greek Contrada. Farm Holidays. Open all year.