Novaya Zemlya
Novaya Zemlya
is an archipelago in
Arkhangelsk Oblast
, in extreme northern
Russia
. Its two major islands, called simply Severny (northern) and Yuzhny (southern), are vast.
Cities
- largest settlement in Novaya Zemlya, a few miles south of Rogachovo
- several buildings and dirt tracks in the far south of Yuzhny Island
- group of buildings at the southeastern end of the island, with a lighthouse
- collection of huts (probably abandoned) at the northern tip of Severny Island
- second largest settlement in Novaya Zemlya, a few miles from Belushya Guba
- a scattered collection of a few buildings situated near the strait between the Severny and Yuzhny Islands
- 3- or 4-building settlement near a strait on the east coast of Yuzhny Island
Understand
As a mountainous archipelago in the Arctic Ocean, Novaya Zemlya is a remote and inhospitable place with harsh weather. Due to its strategic position, it also has a history of use by the Russian (and Soviet) military, including being , which resulted in the most powerful nuclear blast ever produced by humankind.
About 80 percent of the population lives in the main town, Belushya Guba.

Get in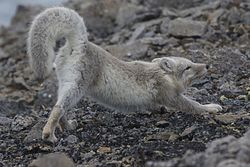 There are two weekly flights between
Arkhangelsk
and , a military airport. However, as there is restricted access to Novaya Zemlya, special permission from the Russian government (and perhaps the military itself) would be needed to visit.
Get around
The temperature is below freezing for much of the year, so travel by boat would of course be impossible, except if you can use an icebreaker. However, from June to September, it is warm enough for ice to melt temporarily, and boating would probably be possible once the ice has melted.
However, practically all of the population in Novaya Zemlya lives in two towns: about 80 percent of it lives in Belushya Guba, and approximately the other 20 percent lives in nearby Rogachovo. There is a five-mile road which connects these two towns, so getting around does not pose a major problem unless you want to go outside of this region.

See and do
Russian Arctic National ParkThe northern part of Novaya Zemlya is in the Russian Arctic National Park. Franz Josef Land is also part of the national parkland.

Numerous lighthousesThere are numerous lighthouses scattered across numerous settlements in Novaya Zemlya.
Eat and drink
The is a cafeteria in Belushya Guba.
Fregat

address: Yuzhnyy Pereulok
Go next