Novgorod
Novgorod
(
Russian
: Великий Новгород
Velikii Novgorod
) is one of the oldest cities in Russia. It was first mentioned in the manuscripts as early as 859.
Understand
The city of Novgorod The Great (Novgorod Veliky) is located between
Moscow
(530km) and
Saint Petersburg
(108 km). Its population is estimated at 230,000 people. Novgorod is inscribed on the
World Heritage List
.
History
Novgorod was first mentioned in manuscripts as early as 859. Together with
Kiev
, Novgorod was a very important cultural, social, and economical centre in Rus, and was the capital of one of the first European democracies, the Novgorod Republic, addressed publicly as "Lord Novgorod the Great". This independence came to be resented by the Muscovite autocrats; eventually Ivan the Terrible forced it into submission. It has ever since been a backwater kind of place.
Get in
By plane
Novgorod Airport is not operational. It was a busy airport during the time of the USSR. The planed replacement Krechevitsy Airport is also not open to civil aircraft.
Closest airport is Pulkovo Airport (
LED
).

By train
The Novgorod-Na-Volhove train station is located 1.5km west of the city center, the river, and the Detinets (Kremlin).
Russian Railways operates trains between the Novgorod-Na-Volhove train station and Saint Petersburg's Moskovskiy Vokzal station (3 hours, early morning and late evening, ~) as well as Moscow's Leningradskii Vokzal station (8 hours, overnight, +). The trains to/from Saint Petersburg are all seated and can be uncomfortable, although there is a lot of leg room. The overnight trains to/from Moscow feature soft berths and compartments for an additional charge.
All trains and elektrichkas make a brief stop in Chudovo, where you can get out of the train and use a very unpleasantly dirty bathroom.
Left luggage services are available at the Novgorod-Na-Volhove train station.

By bus
The bus station in Novgorod is located across the street from the train station.
Several buses run daily from Saint Petersburg's Main Bus Terminal to Novgorod (several daily, 4 hours, ~). Buses to Moscow operate only during the summer, but the trip is long and inconvenient. Buses also operate to Tver, Pskov, Riga, and other cities in the Novgorod region.

Get around
By bus
Novgorod has both bus and trolleybus systems. Running approximately every 5 minutes, buses and trolleybuses will get you to every part of the city.
Bus & trolleybus route maps
and
timetables
are available online in Russian.
By foot
Novgorod is a walking-friendly city, and if you like long walks, everything in the city is within walking distance. The advantage is also that you have a chance to see the beautiful architecture of the city.
By bicycle
Bicycles are a perfect way to get around Novgorod. Bicycle and rollerblade rental are available at the "Shooting Club" on the Main Alley of the Kremlin Park. Phone: +7 921 731 74 32.
By taxi
Taxis are cheap and plentiful.
See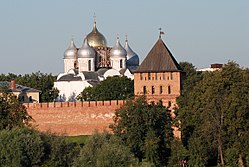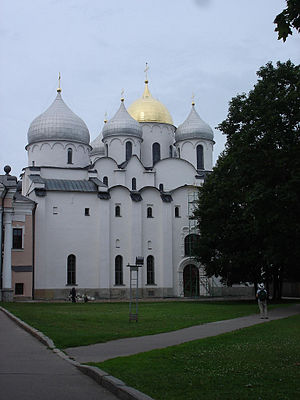 Several buildings make up the
Historic Monuments of Novgorod and Surroundings
.
KremlinNovgorod's Kremlin, or Detinets, is free to visitors and includes many of the main places of interest in the city. Admission is free, and two gates (one from the footbridge on the river; the other by Sofiyskaya Square and the Lenin Statue) are open to pedestrians. A beach along the bank of the river can be accessed from a gate inside the Kremlin wall.
Monuments
Aleksandr Nevsky Monument"Whoever comes to us with a sword, from a sword will perish..."... Prince Aleksandr has been a legendary hero for all Russians. Famous for the "Battle on Ice" against the Livonian knights. Aleksandr was canonized by the Russian Orthodox Church.

Monument of the Millennium of RussiaThis iron statue is in the park in the center of the Kremlin. It was created in 1862 and is ringed by an interesting panorama of famous individuals in Russian history up to that time. Russian Tsars and Patriarchs appear on one half of the panorama, and cultural figures on the other half.

Monument Novgorod Militia 1812

Monument to St. Peter and Fevronia
Religious buildings
Cathedral of the Virgin of the Sign

Church of Andrew Stratilat

Church of the Assumption of the Blessed Virgin at the Marketplace

Church of the Assumption on the Volotovo Field

Church of the Intercession

Church of the Nativity of the Blessed Virgin

Church of the Saint Great Martyr Fedor Stratilat on the Brook

The Church of the Transfiguration

Church Of Nikolai Bely

Church of Peter and Paul

Church of St. George at the Marketplace

Church of St. Philip the Apostle and St. Nicholas

Church of Spasa-na-Iliene

Church Simeona Bogopriimtsa

Church of Theodore Stratilates on the Brook

Demetrios Solunskiy Church

Holy Spirit Monastery

Monastery of The Virgin Nativity

Paraskeva Church at the Marketplace

The Roman Catholic Church of the Holy Apostles Peter and Paul

St. Basil's Cathedral

St. George Monastery

St. Nicholas Cathedral

St. Sophia CathedralThis eleventh-century cathedral is the centerpiece of Novgorod's religious buildings. The iconostasis and frescoes inside are especially interesting. On the north-west exterior of the cathedral, see the Magdeburg Doors, a bronze twelfth-century German creation with reliefs of biblical scenes and, allegedly, the doors' sculptors themselves in one of the scenes.

Yaroslav's CourtAcross the footbridge from the Kremlin is the old commercial district, which is marked by a long arcade along the river bank. Within the commercial district are several churches, many of which are in typical Novgorod style: a square base topped by a dome. Some wooden houses in Yaroslav's Court also hold temporary museum exhibitions.
Museums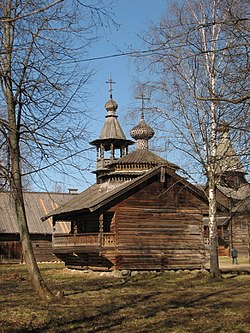 Center of Musical Antiquities

Faceted Chamber Museum

Fine Arts Museum

phone: +7 816 2 87 22 65

address: 2, Pobedy-Sophiyskaya Square

A collection of Russian art, including Repin and other 19th and 20th Century artists.

Kokui Tower Museum

Likhudov Building Museum

Museum of History and Art

Nikolskiy Cathedral Museum

Sofiyskaya Zvonnitsa Museum

State Art Museum of Novgorod Land

Vitoslavitsy Museum of Folk Wooden ArchitectureThe museum is in the forest near the shore of Lake Ilmen. It is a collection of rural houses from around Novgorod region that were transported to the area in the 1960s to create this museum. Includes wooden churches, traditional houses, and even a windmill and blacksmith's shop.

Vorotnaya Bashnya Gostinogo Dvora Museum
Do
Theatre
phone: +7 816 2 77 34 45, +7 816 2 77 74 92

address: 14 Velikaya st.

phone: +7 (816 2) 77 37 48, +7 (816 2) 77 37 34, +7 (816 2) 77 27 77 (booking office)
Other
DinoLand Family Entertainment Centre
Festivals
Christmas fortune-telling

address: Vitoslavlitsy

phone: +7 816 2 65 54 53

address: 32А Mira bul.

Mid-April. They sometimes hold performances in English

International Bell Ringing Festival

address: Vitoslavlitsy

International Music Festival and the International Young Pianists ContestApril-May

Ivan Kupala Day

address: Ilmen-lake

Summer festival "Sadko"You can see real old-Russian folklore. "Sadko" based on Russian medieval epic Bylina. Adventurer, merchant and Musician from Novgorod. Also the main character from a Nikolai Rimsky-Korsakov opera.
Cinema
Novgorod Cinema

phone: +7 816 2 62 62 43

address: 9 Lomonosova st.

phone: +7 (816 2) 77 73 36 (booking office),+7 (816 2) 77 42 55 (automatic teller machine)

address: 66 Chernyakhovskogo st
Buy

Souvenirs, particularly wooden handicrafts and birch-bark paintings, can be found at many locations, including the souvenir market on Sennaya Square (to one's right as one faces the Kremlin from Sofiyskaya Square and the Lenin Statue).

Eat
Budget
"The central cooking", dining room

phone: +7 816 2 69 32 33

address: 2/13 Fedorovskiy Ruchey st.

Dirty cheap place to eat. Self-service
Mid-range
Cafe Charodeyka

phone: +7 8162 730-879

address: Ul. Volosova 1

A comfortable, trendy cafe with excellent food and coffee, a short walk outside the Kremlin walls. For both salads and main courses, you choose your own ingredients and sauces from a list on the menu. English menu. Has a sidewalk cafe in the summer.

Derzhavnyy

phone: +7 816 2 90 58 78, +7 816 2 73 21 33

address: 5/2 Gazon st.

Freaking good food, Russian cuisine. Although prepare to wait as they tend to cook it for quite long. Portions aren't particularly big, so grab few ones.

phone: +7 911 600 66 06, +7 816 2 606 606

This is a real-size ship - restaurant with some great views over the Kremlin and surroundings

phone: +7 816 2 77 70 60,+7 816 2 77 71 92

address: 2a Gazon st.

Some OK food, small portions. They serve quite fast.
Drink

Honey mead is a local favorite.

Sleep
Budget
Yaroslav Hostel

address: Nikolskaja Street #4

Bright colors!
Mid-range
phone: +7 8162 73-69-08, +7 8162 73-69-12

address: Ul. Predtechenskaya 24

One of the less expensive decent options in the city center.

phone: +78162 77-42-36

Located in central part of a town (10 mins walk from Kremlin). All rooms are ensuite and have been recently renovated. Breakfast is not included in the price and costs pp. There is a restaurant inside hotel.

Sadko Hotel

phone: +7 8162 66-09-20

address: Ul. Fedorovsky Ruchei

Mid-range, clean, renovated 3-star hotel with restaurant.

phone: +7 8162 33-55-48

address: Ul. Predtechenskaya 24

Mid-range 3-star hotel
Splurge
Beresta Palace

phone: +7 8162 94-09-10

address: Ul. Studentechskaya 2

Novgorod's top class hotel, with the most amenities, a moderate distance from the city center.
Go next