Novokuznetsk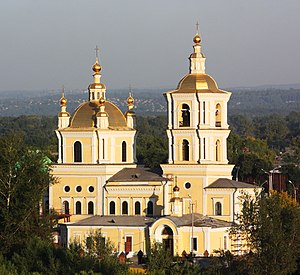 Novokuznetsk
(
Russian
: Новокузне́цк
nuh-vuh-kooz-NYETSK
) is a big metallurgy and coal city in the south of
Kemerovo Oblast
. As the oldest city in the region by far (1617), Novokuznetsk has seen its fair share of different names. It was known simply as Kuznetsk
(Blacksmith City)
until the 1930s when massive coal deposits were found, sparking the industrialization of the city under the name Stalinsk. In the Khruschev era, the city was reborn as Novokuznetsk
(New Kuznetsk)
. Novokuznetsk's age and proximity to the Kemerovo Oblast's beautiful southern region makes it the top destination in the region for tourism.
Get in
See
Novokuznetsk museum of regional studies , 24 Pionersky Prospekt.
Novokuznetsk museum of arts , 62 Kirova st.
The house-museum of Fyodor Dostoevsky, 29 Dostoevskogo st.
Kuznetsky Fortress (1780)
Spaso-Preobrazhensky Cathedral (19th century)
Do
Drama Theatre
Circus
Ice hockey palace
Skating rink
Buy
Entertainment & Shopping Centers Globus and Continent
Learn
Novokuznetsk State industrial University
NBI Kemerovo State University
Eat
Pel'meni
Bliny
Smetana
Khren
Schi
Drink
Casino & Night Clubs
Jazz Club "Gelikon" , 4 Pokryshkina st.
Vodka di Novokuzneck "Kuznechanka"
Ivan Vodka (Иван Водка)
Sleep
phone: +7 3843 46-46-47

address: 53 Kirova st

Free wi-fi at the cafe on the 6th floor

phone: +7 3843 37-79-70

address: 51 Lenina st

24h reception, sauna with karaoke, jacuzzi, billiard, cafe-bar, free wi-fi.
Go next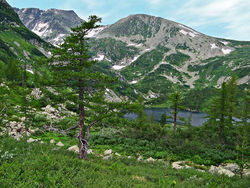 Novokuznetsk is a convenient gateway for travelers going south into the Gornaya Shoria region of Kemerovo Oblast: to Tashtagol for skiing or to the Shorsky Nature Reserve.
Kuznetsky Alatau Nature Reserve