Nubia
Nubia
was one of the notable African kingdoms that existed around the same time as
Ancient Egypt
.
Understand
Nubia existed in what is now
Sudan
(and part of modern-day Southern Egypt) along the River Nile, and was therefore Ancient Egypt's great rival to the south. Nubia was occupied by Egypt on several occasions and briefly occupied Ancient Egypt during that empire's downfall.
The Nubians have left an extraordinary, though relatively unknown, legacy. Among the ancient Egyptians, the Nubians had a fearsome reputation for being fierce warriors, and during the times Nubia was under Egyptian occupation, the Egyptian army would recruit many Nubians as soldiers in wars against its rivals. Sudan is the country with the most pyramids in the world, about twice that of Egypt.
Destinations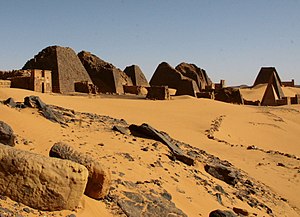 — The presumed capital of what would be the first centralised Nubian state.
— Formerly the capital of the Kingdom of Kush, and home to the Nubian pyramids, one of most impressive reminders of Nubian civilisation.
— First capital of the Kingdom of Kush, and home to the Temple of Amun at the foot of Jebel Barbal. From here, they would eventually conquer Egypt and found the 25th Dynasty, with its rulers also known as the "black pharaohs" due to their noticeably darker complexions compared to the Egyptians.
Stay safe
In more recent times, Sudan and
South Sudan
have been in conflict. However, South Sudan is south of the Nubian region. Check
Sudan#Stay safe
for more detailed information.
See also
Ancient Egypt was one of the greatest civilizations in ancient history. They're known for huge pyramids and an empire.