Nubra Valley
Nubra Valley
is in
Ladakh
region of state of
Jammu and Kashmir
in
India
, and is accessed via the town of
Leh
.
Understand
Nubra Valley lies in the old
Silk Route
from South to Central Asia. Traders and their caravans used to traverse this route from areas in Ladakh and Kashmir to Central Asian places like
Yarkand
and
Baltistan
. Now it is a military area because this region is bordered by Pakistan and China, with whom India does not have very cordial relationship. The valley is relatively warm during summers but temperature goes down to -40 °C during winters.
This region is fed by two rivers, one is
Shyok
and other one is
Nubra
. When descending from Khardungla pass, one encounters
Shyok
river and continues on its left bank. The river's entire basin is visible from road. The river is not full of water so, it has many channels. The basin is filled with sand, stones and occasional green patches of trees, shrubs and sometimes cultivated fields. Same is the case with Nubra river which originates at
Siachen glacier
. They both meet near a place called Khalsar.
Towns and villages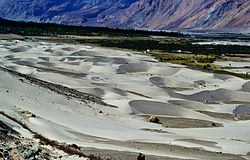 Diskit - Diskit the capital of Nubra is about 150 km north from Leh town, the capital of Ladakh district.
Hunder - Remote village that looks like a green oasis in an area of cold desert and sand dunes, famous for the Buddhist monastery Hundur gompa.
Khalsar - Located near the Shyok River.
Khardung - Small remote village roughly 25 km from the Khardung La pass.
Panamik - Situated on the Nubra River, surrounded by mountains and famous for its hot springs.
Sumur - A scenic town in the Nubra Valley. Noted for the famous Samstemling Gompa.
Turtuk - picturesque village close to the border between India and Pakistan.
Talk
The people here speak Ladakhi or Balti language and their dialects but they fairly understand and speak Hindi and a bit of English mostly due to number of foreign tourists who visit this region.

Get in
The Valley is entered by road from the city of
Leh
, which is the capital of Ladakh region. One has to climb the
Khardung La
pass (also known as
K\Top
), popularly but wrongly claimed to be the highest motorable pass in the world and descend into the valley further beyond. The road forks at a place called Khalsar, one of which goes towards towns Diskit and Hunder and further up to Turtuk and the Line of Control between
India
and
Pakistan
. The other road goes to towns like Sumur and Panamik and further up to Sosoma check point and Siachen base camp but tourists cannot go beyond Panamik.
Get around
Public transport is very intermittent and unpredictable due to remoteness and difficult terrain of the place, so your best bet is to go by your own vehicle.

See
The major attractions apart from the mountain scenery and
Shyok
river basin to this region are cold desert and
bactrian camels
of Hunder and hot water springs of Panamik. Yes, there is a desert with sand dunes around Diskit and Hunder which host bactrian camels who have two humps reminding us of old times when this region was a part of
Silk Route
to Central Asia.
Shyok Valley. The area of the Shyok river past Hundar, including the three villages of Changmar, Bogdan and Turtuk, were only opened to foreign tourists in 2010, so they are still quite new in their contact with tourists and the West, and feel rather unexplored.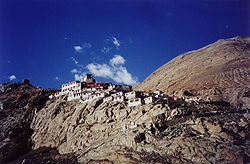 Diskit Village
Diskit Village is one of the main villages in Nubra famous for its apricot plantations and a 350 year-old monastery.
Camels The road which leads to relatively smaller Hunder Village from Diskit winds through a stretch of desert sand dunes and its here where one can spot the famous double-humped Bactrian camels.
Hunder Village, the last stop where tourists are allowed in Nubra Valley, is home to an ancient monastery which treasures old frescoes and a statue of Buddha.
Samtanling Gompa in Sumur Village has a good collection of tangkhas, Buddha idols and frescoes.
Panamik
Panamik is a village approximately 150 km from Leh. It is quite a scenic village. The road to Panamik is well laid. People are friendly and helpful. The color of the trees during the months of Sep and Oct turns to yellowish red and is a treat to watch. The gentle Nubra enhance the charm. The mountains just rise from the valley as some child has made them of mud. Snow can be seen on the peaks. There is minimal public transport available in Panamik or nearby areas. Most people (tourists) have their own vehicles. There is some movement of trucks and military vehicles, which can be of help in times of need.
Hot Water Spring. The village of Panamik is famous for its hot water sulphur springs. The hot springs are not that great with not very great amount of water oozing from mountain cervice at around 60-70 degree.
Siachan Glacier Base Camp. The road from Panamik heads to Siachen Glacier Base Camp, but civilians are not allowed to visit there.
Turtuk
Turtuk is a remote village of about 4,000 residents, inhabited by ethnic Muslims, a few kilometres from the 'line of control' (the
de facto
border) between
India
and
Pakistan
, on the Indian side. Until 1971 a part of
Baltistan
, shared strong economic and cultural ties with
Tibet
. The residents speak Baltistani, and some Ladakhi and English.
Turtuk is the penultimate village open to foreign tourists before Pakistan. You can go on for a few km to the village of Shaksey (with a single guesthouse). There is another village before the Line of Control, closed off to foreigners as of August 2012. Turtuk is on the edge of the Shyok Valley, in popular understanding a part of the Nubra Valley area. As such, foreign visitors will need an
Inner Line Permit
to visit Turtuk, as for anywhere else in Nubra. These permits are easily issued via any of the many travel agencies in
Leh
, or directly via the Magistrate Office in Leh. You will need your passport, passport copies and ₹300-450. Before setting off to Turtuk or anywhere in the Shyok Valley, prepare at least three photocopies of the permit (more if you also plan to visit the Nubra Valley, e.g. Panamik), as the checkpoints you will encounter will usually ask you to deposit a photocopy with them.
Turtuk is serviced by a local bus service from Leh a few times a week, and back. Enquire at the New Bus Stand in Leh for detailed schedule. It is a long and bumpy ride, although the road is well-paved almost all the way from Leh, apart from Khardung La, as of August 2012. Most people, however, opt to share a jeep for a 2-3 day trip to the entire valley, organized in Leh; this seems quite a short time to enjoy the beautiful village, however. Hitchhiking might be hard since there is very little traffic going on the Diskit-Turtuk road, apart from the multitude of military trucks and tourist jeeps. It can be very pleasant to motor-cycle or bicycle in here, but don't expect to buy any provisions on the ~90 km way from Diskit. The village is on the plateau above the Shyok river, not the houses around the road.
It can be extremely pleasurable to stroll around this picturesque village. The documentary film
'Prayers Answered'
by Geleck Pasang, a former student of TCV school Ladakh and Bylakupee, documents a visit in August 2005 of the Tibetan leader Dalai Lama to Turtuk. Listed as the "most viewed" in the online 'Film festival - Humanity Explored', organized by Culture Unplugged Studios.
Itineraries
Leh -> Diskit -> Hunder -> Panamik -> Leh is a possible itinerary with overnight stay at Diskit and Panamik.
Do
Lay around and roam around the bank of the Nubra.

Buy
Turtuk: You might be able to purchase some stone carvings (of animals) in the tea shop near the mosque.

Eat
Enjoying a typical Ladakhi meal in Nubra is quite a delightful experience. Chang, a local brew (type of ale or beer) and butter tea are must-haves in Nubra. Camel safaris are yet another way to see the valley. Bactrian camels, which were once used as pack animals, are quite popular today as a convenient mode of transport for the locals. There are a row of shops in Diskit. Trekking to gompas and villages rewards with endless scenic vistas from snow-covered mountains to gorges and deep valleys for the adventure buffs. Saboo to Khalsar and beyond is a good trek option to start with. Close to the village of Sumur, lies a beautiful camp site by the river. Camping is suggested for a day or two.
Turtuk: There is a restaurant on the "main drag" and also a tea shop near the mosque. Otherwise just rely on your guesthouse or homestay family for the freshest meals. Remember that if visiting in the summer, you could well be here during the Islamic holy fasting month of Ramadan (or Ramzan to the locals), in which the locals don't eat from sunrise to sunset. Your host family or guesthouse will still serve you lunch, but don't expect too much.

Sleep
Dotted with guest houses and budget hotels, Diskit is a major stop for tourists.
Turtuk
The easiest and cheapest option is probably staying with a home-stay, e.g. Kashmiri Homestay or Issue Homestay. In August 2012, this cost ₹300 per night per person, including supper and breakfast, with very nice conditions. These home-stays are easily found once up in the main part of the village.
There is a government guesthouse on the right as you enter the village.
The "Maha Guesthouse" is very nice and on the side of the village before you cross the river.
"Balti Residency" is a homestay run by Abdullah, and is in the side of the village after crossing the river. It's unmarked, and there are no signs, so it's best to ask. If you find the mosque, you are close and someone will show you the rest of the way.
There is a tent camp on the right as you enter the village but it's quite expensive (₹2800 min.