Nuevo León
Nuevo León
is a state in
Northern Mexico
.
Cities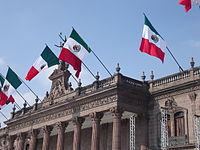 - Mexico's third-biggest city and capital of Nuevo León.
- One of the smallest municipalities of Nuevo León, the "Templo de la Advocación de Nuestra Señora de Guadalupe" is its biggest attraction.
- Founded in the XVII century, the main plaza is one of the best places to hang around.
- City between two rivers, with some interesting colonial buildings. Good place to buy carne seca (dried meat) and glorias.
- Small city in the heart of Nuevo León's orange-growing belt.
Other destinations
- Mexico's largest national park. Rugged canyons and gorges in the Sierra Madre Orientals.
- Is home to one of the unique archaeological sites in Northeast Mexico. These are numerous stone carvings, isolated from any populated area, being deep within the semidesertic area.
- If you are fanatic of extreme sports, this a place to be. It's famous for its abundant rivers, waterfalls and underground caves. Is advised to get proper equipment.
Understand
Nuevo León is bound by
Coahuila
to the west,
Tamaulipas
to the east and north, and
San Luis Potosí
to the south. It also shares a 15 kilometer border with the
US
state of
Texas
.
==Talk==
Spanish is the official language. English is widely taught as a second language. People will speak it in various levels, but within the Metropolitan area of Monterrey is where most likely fluent speakers will be found.
Get in
Car, bus, plane, and 18-wheeler are the most common ways to get to Nuevo Leon.
===By plane===
Fly into
Monterrey International Airport
(
MTY
) in Monterrey.

By car
Nuevo Leon has one checkpoint on the U.S./Mexico border, it is the Colombia Bridge just west of Laredo. Highway 85 south of Nuevo Laredo enters the state of Nuevo Leon about 32 km (20 miles) south of the border.

By bus
Most people in the region use buses heavily. Monterrey is the major hub.

Get around
People usually get around by bus, that goes to almost every place in the whole state, you can also use the subway, the taxi, or if you prefer to, you can walk to your destination

See
Grutas de Garcia - Lying just 30 minutes out of Monterrey is a delightful underground world. The caverns are reached by riding a cable car to the cave entrance where guides lead visitors on a mile-long trek through the cave system. From Monterrey, take Mexico route 40 toward Saltillo.
Huasteca Canyon, 32 km (20 miles) west of Monterrey.
Horsetail Falls (sp:Cascada Cola de Caballo) - Three mossy waterfalls.
Do
There is a lot of stuff to do in NL, like:
Museums: In the whole state there are more than 30 museums, some of them are:
MARCO
(Museum of contemporary art): The museum is located beside the government hall, with a changing exhibition of contemporary Latin American images.
Planetario Alfa
(Planetary Alfa) : One of the best museums of technology, art and science, it includes interactive exhibitions, a big observatory and an IMAX screen, where they have documentaries every week.
Museo de Historia Mexicana
(Museum of Mexican History): The museum explains the history of the state and the country starting with prehistory. It has a permanent exposition on the 2nd floor and on the 1st floor there is a different exposition.
Eat
Some
Nuevoleonense
specialties include:
Arracheras - Flank steak served with tortillas and carmelized onions , similar to what is called fajitas north of the border.
Cabrito - Young goat prepared a number of different ways wood roasted (a la lena), cooked in beer (en cerveza), or in ancho chili sauce (en chile ancho).
Chicharrones de Móntemorelos - Pork cracklings prepared in the unique style of the city of Montemorelos.
Lengua de res en pipián - Beef tongue cooked in a sauce made of pumpkin seeds.
Leche quemada - A carmelized milk candy for which the region is famous. Look for glorias de Linares, a pecan flavored version from Linares.
Machacado con huevos - Dried, shredded beef with eggs.
Sopa de col y queso - Cheese cabbage soup.
Drink
Local-made beer from Cuauhtemoc Brewery, makers of Sol, Dos Equis, and Bohemia.
Sierra Madre Brewing Co. offers a variety of locally brewed beers, certain varieties are available only on certain seasons.
Stay safe
The state police and the federales often set up checkpoints on highways. They are looking for drug traffickers, but they will occasionally ask to see your tourist permits or vehicle import permits. They are usually efficient and quick, and chances are good that if you look like tourists, you'll simply be waved on.

Go next