Nunatsiavut
Nunatsiavut
is a vast but sparsely-populated rural area in northern
Labrador
which comprises six widely-scattered native villages (Nain, Natuashish, Hopedale, Postville, Makkovik and Rigolet) and three abandoned ghost towns (Hebron, Okak and Nutak) spread across over 72,000 square kilometres of land.
Understand

This is Inuit land, vast, expansive, remote, sparsely-populated and bitterly cold in winter. In Inuttitut, Nunatsiavut means "Our Beautiful Land". It has a population of about 2,200 people (2006), and includes territory larger than the Republic of Ireland.
Nunatsiavut is an autonomous area belonging to the Inuit indigenous people (formerly called "Eskimo", a term they consider to be pejorative) in Labrador. In 2005, the new Government of Nunatsiavut was established, and was given responsibility for health, education and cultural affairs. It is also responsible for holding elections for the Nunatsiavut Assembly. A primary objective of autonomy is for the preservation of the Inuit culture and language, as well as the environment through environmental stewardship.

Get in
There are no roads. The
Trans-Labrador Highway
leads as far as
Goose Bay
, where the voyage further north is made by sea or air.
Seasonal coastal ferry from Goose Bay to the various individual coastal villages, terminating in Nain.

phone: +1 709 896-6730

Various bush planes fly north from Goose Bay.
Get around
In winter, the best way to get around is by snowmobile. In summer, there is a limited road network within each village; intercity transport is by coastal boat.

See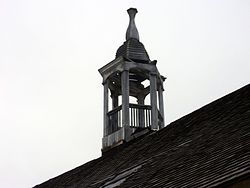 address: Rigolet

A restored 1876 Hudson's Bay Company building which once housed that company's local salmon fishery. A cultural interpretation centre, the Lord Strathcona House is a replica of "the grandest house in all of Labrador" where Donald Smith (who became Lord Strathcona) lived while working with HBC.

phone: +1 709 922-2942

address: 25 Ikajuktauvik Road, Nain

Museum and community centre.
A few national historic sites commemorate the early Moravian Mission Presence in the region:
Do
One may visit
Torngat Mountains National Park
by boat or charter plane from Nain. Mealy Mountains National Park Reserve is accessible by boat from Rigolet (pop. 269), the most southerly Inuit community in the world.
Torngat Mountains National Park

phone: +1 709 922-1290 (English), +1 709 458-2417 (French)

9,700 km² of mountains and wilderness extend from Saglek Fjord in the south to the northern tip of Labrador, eastward to the Labrador Sea and west to Nunavik in Québec. Icebergs, migratory caribou herds, polar bears and the highest mountain peaks east of the Rockies.

Mealy Mountains National Park Reserve

phone: +1 709 458-2417

A 10,700 km 2 national park reserve established 2015 to protect boreal forest, caribou, Atlantic salmon and trout, wolves, black bear, marten and fox, mountains, tundra, fjords and expansive native landscapes. A 50 km stretch of sandy beaches at the edge of the park, known since Viking times as the Wunderstrand, is suitable for hiking. Access is by boat from Rigolet or Cartwright; charter flights are available from Goose Bay.
Buy
Various native crafts (such as stone and caribou antler carvings, handmade slippers, seal skins, woven baskets and bowls) are available in the villages.

Eat
Traditionally hunting was the main source of food in this area; ptarmigan and grouse, hare, caribou, moose, ducks, goose, and seal are all harvested locally. Fishers catch salmon, arctic char, trout, smelt, cod, and snow crab. Wild birds eggs are gathered locally, along with berries such as bakeapples/cloudberry, blueberry, and partridgeberry (redberry or lingonberry).
The few grocery stores bring in a limited selection of non-local foods (starches, fruits, vegetables and meats); as costs are higher, these items normally complement (but not replace) local foodstuffs.

Drink
Each native community is able to establish an "alcohol committee" with the power to impose restrictions within its respective village.
There is one bar (a hotel lounge) in Nain.
Beer can be purchased in Nain or Hopedale. Hard liquor can't be purchased locally, but can be ordered from
Goose Bay
.
Natuashish voted by referendum to ban alcohol from the village entirely in 2008. The village, constructed as a $200 million planned community in 2002, was a replacement for a 1967-era shantytown at Davis Inlet with a painful history of alcoholism and addiction and all the social problems that go along with it. Please respect this history by refraining from smuggling drugs or alcohol into Natuashish.
Sleep
Hopedale
Amaguk Inn

phone: +1 709 933-3750

address: Hopedale

Hotel with lounge and dining room, airport transportation, fax/photocopy service, Internet, room service.
Makkovik
Adlavik Inn

phone: +1 709 923-2389

Five-room inn with small restaurant serving traditional cuisines and local harvest.
Nain
Atsanik Lodge

phone: +1 709 922-2910

address: Sand Banks Road, Nain

Full-service hotel with lounge, dining room/restaurant, banquet/meeting facilities, room service, airport transportation, Internet.
Natuashish
While (as of 2014) there was one hotel in operation (Natuashish Hotel, +1 709 478-2116), its lone restaurant was non-functional for lack of staff and all windows had been screened off with steel mesh (rendering them useless as fire exits) after a series of break-ins.
Postville
North Coast Hospitality

phone: +1 709 479-9766

address: Postville

Hotel accommodation, office space, TV and internet.

Jayda's Place B&B

phone: +1 709 479-9741

address: Postville

Breakfast, lunch, supper, TV and Internet in rooms.
Rigolet
Blake's Efficiency Units

phone: +1 709 947-3307

address: Rigolet

Four efficiency units with one or two double beds, kitchenette/living room, Internet.

Sinittavik Bed & Breakfast

phone: +1 709 947-3459

address: Rigolet

Four rooms with TV, telephone, wi-fi. Airport transportation, vehicle rental, licensed guide for boat and snowmobile tours.
Torngat Mountains
Connect
The one token GSM cellular telephone site in the region (at Natuashish, near Davis Inlet) is operated by
Lynx Mobility
(a small, specialist carrier serving remote native communities).
There is no signal elsewhere in Nunatsiavut.
Go next