Nuremberg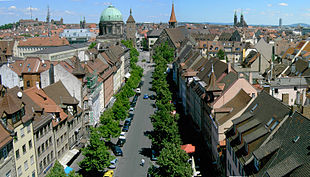 Nuremberg
(German:
Nürnberg
) is
Franconia
's largest city, and thus the undisputed economic, social and cultural center of Franconia. The city lies on the Pegnitz River and the Main-Danube Canal. It is about north of Munich with a population of around 520,000 making it the second-biggest city in the
Bundesland
Bavaria and the biggest city in the region of Franconia. The town is the center of the
Metropolitan Region Nuremberg
. Long a
de facto
independent "freie Reichstadt", the city was an early center of manufacturing and proto-industry and had a golden era during the 16th century when people like Albrecht Dürer, Hans Sachs or Martin Behaim called the city home. Annexed into Bavaria in the early 19th century, the city later came to host Germany's first railway, linking it with neighboring
Fürth
(this railway has since been replaced first by a tram and then by a subway line; the current route to Fürth follows a different alignment). It is probably most famous for being the site of numerous Nazi rallies and later the trials against the main war criminals. Extensively bombed as an industrial center and a symbol of Nazism, Nuremberg was rebuilt after the war and thus managed to retain much of its medieval charm.
Understand
When people think of Nuremberg, they usually think of gingerbread, toys, Christmas, the Reich Party Rally Grounds or the Nuremberg Trials (see
World War II in Europe
and
Holocaust remembrance
). But the old town of Nuremberg in the shadow of the towering imperial castle is more than that. Gothic churches, splendid patricians' houses and romantic corners and spots. An atmosphere of lively co-existence between medieval and modern, between the past and the present, prevails in Nuremberg. In medieval and early modern times, Nuremberg was a rich center for trade and early industry and it is no coincidence that the first railway in what is now Germany was built to link Nuremberg and
Fürth
. Despite World War II destroying much of it, the city's former wealth is still visible. And with its position on the crossroads of two major Autobahn and railway routes, the old saying "Nürnberger Tand geht in alle Land" (stuff from Nuremberg goes everywhere) still rings true.
Orientation
Nuremberg's
old town
(
Altstadt
) is encircled by massive city walls (
Stadtmauer
), which will therefore be the first thing you encounter whichever way you approach. The town within is divided by the river Pegnitz. The northern half,
Sebalder Altstadt
, clusters around St Sebald Church and the Town Hall, and is dominated by the Imperial Castle. The southern half,
Lorenzer Altstadt
, clusters around the Lorenzkirche. Several charming little bridges criss-cross the river. The Transportation Museum lies just outside the walls and can easily be combined with an exploration of the old town.
The
city walls
were 5 km long, with five gates: Laufer, Spittler-, Frauen-, Neu- and Tiergärtner Tor. From the 13th to the 16th century they were continually strengthened, and helped the city withstand all attacks during this era. Nearly 4 km are still standing, with the only major gaps being on the southeast side between the main station and Rathenauplatz. The city moat, which was never filled with water, still exists in good condition for about 2 km along the south side. You might want to swerve clear of the alley between Färbertor and Spittlertor (Plärrer), as it's the red light district. A complete walking circuit of the walls will take about 90 min, but there's no particular need to, as you'll see it from multiple angles wherever you wander in town. The most attractive sections are where the walls bridge the river on the west side ("Westtorgraben"), and the south entrance from the railway and bus stations at Frauentor.
Between the two halves of the old town, take time to follow the course of the
river Pegnitz
, crossing and re-crossing its charming little bridges, surrounded by half-timbered buildings. From east to west these include Heubrücke crossing the larger river island, Fleischbrücke, the smaller island with the flea market and Henkersteg, then Kettelsteg and the bridging walls as the river flows out of the old town. A riverbank walk continues west, eventually to St John's, see "Further out".
Get in
Nuremberg has historically been at the crossroads of important trade routes and was the site of Germany's first railway. Even today it is easily reachable by air, canal, road, railway and even walking or cycling.
By plane
Nuremberg (Albrecht Dürer) Airport
phone: +49 911-93700
The airport is comparatively close to the city centre and is well-connected within Germany and to some extent the rest of the EU. But for most intercontinental trips, e.g. from North America, it is often faster to fly into
Frankfurt Airport
and take the excellent train service. This may also work out cheaper and quicker even when there's a connecting flight into Nuremberg. While the airport is named after Albrecht Dürer (a Renaissance-era painter from Nuremberg) virtually nobody ever calls the airport that, least of all locals. The airport has no limit on night flights, but most public transport doesn't run at night (except for some limited bus service in nights to non-working days) so if you have a late flight you have to wait at the airport or arrange some form of transport.
There are two lounges at NUE, one operated by Lufthansa, the other operated by the airport. You can buy access to the latter for €16.50 at the main information (pre security)
German-speaking cities with flights to Nuremberg include Düsseldorf,
Frankfurt Airport
, Hamburg,
Munich Airport
,
Vienna Schwechat
and
Zurich Airport
, virtually all those flights are operated by Lufthansa or its wholly owned subsidiaries. Nuremberg is a focus city for the budget airline Ryanair. Their destinations from here include Budapest,
Copenhagen Airport
, Krakow,
London Stansted
, Malta, Bergamo, Athens, Rome, Kiev (KBP) and
Tel Aviv - Ben Gurion Airport
. The budget airline Wizz flies from here to Bucharest, Cluj-Napoca, Timișoara, Kiev (IEV), Sibiu, Skopje and Tuzla. Air Serbia flies to
Niš
.
Corendon
offers a bunch of flights to Mediterranean "sunny" destinations as well as flights to cities throughout Turkey aimed at German holidaymakers and Germans of Turkish ancestry visiting the "old country". Traditional airlines serve
Amsterdam Schiphol
,
Istanbul Airport
, Lyon and
Paris CDG
. While the airport is thus connected to a bunch of Star Alliance and Skyteam hubs, a few seasonal flights to
London Gatwick
which may or may not be on the schedule around Christmas are all there is in the way of connections to oneworld hubs. There are also seasonal holiday flights to resorts around the Med and in the Canaries. After a dip in passenger numbers caused in part by the Great Recession and the woes (and bankruptcy) of AirBerlin who once had a hub at NUE, the airport posted record passenger numbers for 2018. It is the tenth busiest in Germany behind Hannover.
The U2 underground line connects the airport with the central train station in about 13 minutes. When heading towards the airport, be careful to board a U2 with the destination "Flughafen/Airport" as many U2 trains terminate earlier, usually at
Ziegelstein
. U2s with destination "Airport" run once every ten minutes throughout the operating hours of the subway.
If you fly into
Frankfurt airport
, take the ICE express train direct from the airport to Nuremberg, with travel time of around 2 hr 25 min.
From
Munich Airport
you usually have to take the S-Bahn to Munich central station, 40 min, then the regional train from there takes another 2 hours. There are some direct buses from MUC to Nuremberg and some airlines allow rail&fly which includes the ICE (1 hr from Munich to Nuremberg). When using regional trains from MUC, you may also change in Neufahrn and
Freising
instead of doubling back all the way to Munich.
By train
Nuremberg Main StationNuremberg has excellent rail connections to almost everywhere, with ICE service to Munich (roughly one hour), Leipzig (just over 2 hours), Würzburg, Frankfurt (just over 2 hours) and all major towns along those routes. Berlin is usually 3 hr 30 min, but nowadays less than 3 hours on the fastest trains. One poor connection is Prague, 5 hours by train with a change at Schwandorf, so instead take the bus which takes 3 hr 30 min, runs more frequently, and is usually cheaper. This bus is run by Deutsche Bahn so it appears in their timetables and can be booked just the same as their trains.

Nuremberg is at the heart of a very extensive Verkehrsverbund or VGN - an integrated transport network stretching all the way to Bayreuth and Bamberg. Tickets are valid and allow transfers on virtually every bus, tram, U-Bahn, S-Bahn and regional train - but not on IC or ICE long-distance trains. Using discount fares such as day tickets, "Sparpreis" and group tickets, regional travel here is a real bargain. Single short trips in and around the city are somewhat more expensive, but see "Get around" for deals.

Munich isn't part of the VGN but regional trains to and from Nuremberg are quick and not expensive. IC and ICE trains are expensive for a last-minute ticket, but if you can book in advance and avoid peak hours they cost no more than regional trains on this route.

Nürnberg NordostbahnhofThis station is connected by rail to Hauptbahnhof but has no passenger service to it, though the serves both. It is the endpoint of the Gräfenbergbahn towards surrounding towns, ending at Gräfenberg. The non-electrified line is often cited as a poster-child of lines that were threatened with shutdown in the past but rebounded after investment and improvement. The line is especially popular in the summer with hikers or cyclists but also serves commuters who work in Nuremberg. The Gräfenbergbahn is an excellent starting point for the Fünf Seidla Steig.
By car
Nuremberg is well-connected to the Autobahn network. Major routes include:
A3 west to Wurzburg and Frankfurt, and south-east to Linz and Vienna
A6 west towards Heidelberg, Metz and Luxembourg, and east towards Pilzen and Prague
A9 south to Munich, and north towards Dresden, Leipzig and Berlin
The biggest drawbacks of course are traffic congestion, parking, and risk of theft or damage whilst parked. Options include:
It's great if your destination has designated parking - and edge-of-town sports arenas certainly do.
For a day trip, use Park & Ride. These facilities are signposted from the main approach roads.
For full day or overnight stays, there are 19 parking garages, with 5500 spaces.
Street parking is very short supply (most spaces are resident-only, even out in the burbs) and costs €2 an hour.
Information is available
online
on locations, prices and real-time availability. There are also indicator signs on streets.
By bus
Most
inter-city buses
are operated by
Flixbus
. Buses run round the clock, destinations from here include Amsterdam, Berlin, Dresden, Dusseldorf, Essen, Hamburg, Innsbruck, Koblenz, Luxembourg, Milan, Munich, Ostend, Pilsen, Prague and Vienna. For most of these the bus is slower than the train, but it's faster for Pilsen and Prague (operated by Deutsche Bahn), as the existing rail line is circuitous and non-electrified.
, the main bus station, is on Willy Brandt Platz opposite the main railway station, at the south-east corner of the old city walls.
Local buses link Nuremberg to surrounding towns and suburbs, including
Stein bei Nürnberg
and
Erlangen
and may be a better option for some origin/destination pairs than the S-Bahn. Lines 20, 290 and 30 take you from Erlangen to where you can change onto Tram Line 4 and which also serves as a bus hub. Line 30 is the most "express" of those and goes on to the airport and the Nordostbahnhof, while the other lines terminate at "am Wegfeld". Line 33 links
Fürth
with the airport and also serves am Wegfeld. Line 199 links
Herzogenaurach
via a single stop at Erlangen Paul Gossen Straße to am Wegfeld but its schedule is mostly oriented towards commuters.
By bicycle
Several long-distance cycle routes pass through Nuremberg, making use of the Pegnitz river bank and the Main-Danube canal to avoid traffic. These reach Bamberg to the north and Regensburg to the south.
By ship
Nuremberg lies on the
Main-Danube canal
, so relatively large ships can navigate south from here into the Danube, hence to Vienna, Budapest and beyond; and north into the Rhine and all the way down to Cologne and Rotterdam. However these are not point-to-point ferries, but scenic cruises, typically on a 7- or 14-day itinerary. So it's a slow but luxurious way to get in, and you'll notice the tourist sights suddenly get busy whenever a cruise ship is calling. The is southwest of the old town and railway station. Most arriving cruise ships are met by dedicated buses. The canal was primarily intended as a freight route but while that business has stagnated and shrunk, cruises show relatively consistent growth.
Get around
The old town is best explored on foot. To get from one part of the old town to another by car or public transport, you will often have to leave the old town and reenter it at a different gate.
By public transport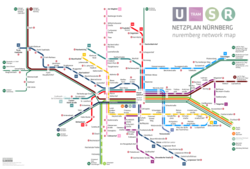 SMARAGT, RUBIN and the future of the U-Bahn
The Nuremberg U-Bahn is a child of the 1960s and early 1970s and this shows in the architecture of some stations as well as the rather grandiose plans that were drawn up back then and never fully built out. While virtually all other German cities either already had an U-Bahn (Hamburg and Berlin) or were converting an existing
Straßenbahn
into a
Stadtbahn
that went underground downtown and aboveground in outlying districts, Nuremberg decided to go against professional advice and follow Munich in building a fully fledged U-Bahn, with the plan at the time to shut down the Straßenbahn after construction was done. This decision which was taken no doubt in part because of generous financial aid promised by federal and state governments was not questioned for decades and the opening of new subway stops usually meant shutting down adjacent tram lines. By the early 1990s however it had become increasingly clear that the grandiose plans calling for 4 or even 5 fully fledged lines were impossible to build in the foreseeable future and some decision had to be taken on the future of public transit in Nuremberg. As 2 lines had already been mostly built by then, the question was where to build the third line and whether to shut down the Straßenbahn. Ultimately it was determined to use the existing tunnel of U2 for part of the new line U3 but as U2 was already operating at capacity, some means to increase capacity along the busiest stretch had to be found.
The solution came from automatic guided transit and a first study, the "
S
tudie über die
MA
chbarkeit und
R
ealisierung eines
A
utomated
G
uided
T
ransit (study on the feasibility and implementation of an automated guided transit) was commissioned to find out whether such a thing was possible, especially with the challenge of being unable to shut down service for long stretches of time along existing tunnels. That study determined the feasibility and desirability of the project and the next step came with the project
R
ealisierung einer automatisierten
U-B
ahn
I
n
N
ürnberg (Implementation of an automated subway in Nuremberg) which was ultimately completed after some delays in 2010 when U2 became the second line after U3 to become fully driverless. The lessons learned and especially the fact that driver operated and automatic trains have successfully operated along the same tracks is used by the company that developed the system as advertisement to sell similar systems elsewhere. While U1 is still driver-operated and there are no plans for automatization, the U-Bahn seems for now to have reached its endpoints in all directions except for ongoing works along U3. Meanwhile the Straßenbahn which had been planned to be shut down in the 1960s and had shrunk throughout the U-Bahn expansion era has seen new expansion in 2016 and there are intensive plans in conjunction with neighboring
Erlangen
and
Herzogenaurach
to have the Straßenbahn extend all the way there by the 2020s.
There are three U-bahn or underground lines , and ; five Straßenbahn or tram lines , , , , ; and four S-Bahn or suburban train lines , , and , with the S-Bahn lines all reaching far beyond the city limits. They all radiate out from the main railway station. The tram lines have two main hubs at and the main station which are linked by subway but only awkwardly and indirectly by tram. Public transit is particularly useful for reaching the airport (U2), the Museum of Industrial Culture (Tram 8), the Nazi party rally grounds (S2 or trams 6 or 8), and some of the outlying hotels, as well as nearby towns such as Bamberg (S1). They're all within the integrated VGN, as described in "Get in". A standard Zone A adult ticket is €3.10, a four-journey ticket (which can be split, so a couple could make a return journey) is €11. U1 links Nuremberg and Fürth, was the first line to be built and was actually built from the "outside" (Langwasser, a new housing complex built together with the U-Bahn) inwards, U2 links Röthenbach (almost but not quite
Stein bei Nürnberg
) and the airport and U3 shares its core route with U2 - between Rothenburger Straße and Rathenauplatz - but branches towards Nordwestring in the North and Gustav Adolf Straße in the South forming an overall U-Shape with both endpoints west of the city center. U3 is being extended with one more station scheduled to open 2019 and potential extensions likely to break ground after that, while lines U1 and U2 seem to have reached their endpoints for the time being. There was extensive talk of Tram extensions in the 2010s but apart from a project to link the Tram (current Line 4) to Erlangen and
Herzogenaurach
they seem to be all on hold until federal or state funds are forthcoming. As lines U2 and U3 are by now fully automated, they naturally have the newest trains and the place that would have to be used for a driver in normal trains is mostly equipped with a panorama window which enables a full view into the tunnel ahead which is worth the ticket price if you care about technology at all and certainly a nice treat for the kids, even though the tunnel is rather dark and you thus don't see all
that
much. U1 uses some trains that date to the opening of the system and even sometimes some that were originally built for the Munich U-Bahn (the first generation of rolling stock was designed to be swapped between Nuremberg and Munich and it often was in the 1970s and 1980s), but in 2019 the newest batch of trains built for U1 is to enter service. They have removable driver's cabins and can be used on automated lines as well.
All tram lines operator on ten minute headways which drop to twenty minutes during the latter evening and early morning. U2 and U3 overlap for 100 second headways on their combined route during the busiest time of day and branch out with a little more than three minute headways which increase during less busy times. U1 usually operates with five minute headways.
All buses are equipped with Wi-Fi, and starting August 2018, the newer trams are to be equipped with Wi-Fi as well. Virtually all vehicles are heated in winter, but only the newer ones are equipped with air conditioning in summer.
By car
In short: don't!
Firstly you don't need to, as public transport is almost always quicker. Secondly, the old town is not designed for driving, indeed it's positively designed against it. It's criss-crossed by pedestrian malls and ricketty medieval bridges, and the public roads are twisted into
Schleifenlösung
- loops. Whichever way you drive in the old town, the road will loop around and spit you back out, and you can't go across town within the walls. Even buses, emergency vehicles and drivers with accessibility permits can't get through.
By bicycle
The city's bikeshare system was relaunched in 2019 as
VAG Rad
. One minute of use costs €0.05 and there is a €10 cap per day. There is a "flexzone" in the inner city where you can drop off bikes pretty much everywhere but outside of this area stations can be somewhat sparse.
Accessibility
On the website "
Mobile in Nuremberg
" you will find information about the accessibility of various facilities in Nuremberg. The website
wheelmap.org
is also very helpful for finding wheelchair accessible places in Nuremberg (and Germany in general). A list of wheelchair accessible public toilets is provided
here
.
The public transport network in Nuremberg is mostly accessible for people with disabilities. All subway stations are equipped with elevators.
Here
you can find a list of elevators that are out of service. There is a small height difference of 8 to 13 cm between the subway trains and the platforms. On the lines U2 und U3, every train is equipped with an automatic ramp on every door, so boarding is easy for wheelchair users. On the line U1 there are mostly older vehicles in service, which do not offer ramps. Therefore wheelchair users should enter at the door next to the driver's cabin, so that the driver is able to help if assistance is needed. All tramway and bus lines are served exclusively by wheelchair-accessible vehicles. Further information about the accessibility of the public transport network is provided
here
.
See
For all but the briefest visits, you'll do well to buy the
Nürnberg + Fürth Card
. This is valid for two days and gives free admission to over 50 museums and attractions, and free travel on all public transport in Zone A of Nuremberg and Fürth. You also get discounts in many theatres, shops, and the IMAX cinema. The card price for adults is €28. Children aged 5 to 11 pay €5, children under 5 are free. See
city website
and tourist board for more details.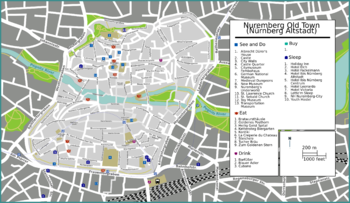 If so many museums sounds daunting, a
day-ticket just for the municipal museums
is €9 - worth buying if you only see two, as the individual adult entry price is €6. Buy them at the first museum you visit. So two such days would cost €18, cheaper than the N+F card and your days needn't be consecutive, but it wouldn't include public transport. As of early 2018, these museums (all listed below) include Albrecht Dürer's House, Fembohaus City Museum, Toy Museum, Museum of Industrial Culture, Documentation Center at the Reich Party Rally Grounds, and Memorium Nuremberg Trials. The day-ticket only includes the regular collection, not exhibitions, tours and events, and doesn't include the Kaiserburg.
The following listings are arranged geographically, north to south through the Old Town then beyond. But if you want to focus on buildings of a particular architectural style, visit
this site
.
Sebalder Altstadt
Top sights in
Sebalder Altstadt
, the northern half of town, include the Imperial Castle, the collection of old houses nearby, and St Sebald church. A suggested itinerary is to start with the castle, then admire the collection of old buildings around Tiergärtnerplatz and the Castle Quarter or
Burgviertel
. Some of these are original, having survived the war, others were rebuilt. Pilatushaus was home to a wealthy merchant. The street
Fuell
with its sandstone houses is a typical merchant's street. The craftsmen lived in timber-framed houses, many of which have been restored in
Weissgerbergasse
. More timber-framed houses can be seen in
Obere
and
Untere Kraemersgasse
. In
Untere Kraemersgasse 16
you can often look into the tiny courtyard. Near here are the Kunstbunker, and Albrecht Dürer's house, listed below. Continue south down Bergstraße to St Sebald and the old town hall, which remains a working building. (Its dungeons re-open to visitors in summer 2018.)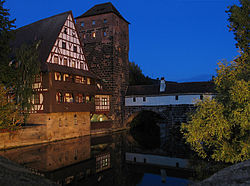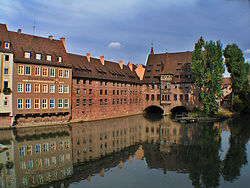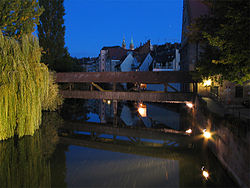 phone: +49 911 24 46 590

The Nuremberg Castle is the rambling fortification that dominates the old town from the higher ground at its north-west corner. It's actually three separate entities, with interior walls and gates built not against invaders but each other.
Imperial CastleThe Imperial Castle proper is grouped around the inner castle courtyard. This is where you enter and buy your ticket, which covers the entire complex. Medieval rulers – the Holy Roman Emperors – didn't have a fixed abode but held court from place to place. When in Nuremberg they used these buildings, which include the Palas, Chapel, and Bower (Imperial Castle Museum), all overlooked by the Sinwell (meaning "perfectly round") Tower. The Tiefer Brunnen ("deep well") can only be explored by guided tour.

Burgrave's CastleAdjacent east is the Burgrave's Castle, of which you can visit the Pentagonal Tower and the Walburgis Chapel. The Burgrave was a hereditary ruler who resided permanently here. He had wide-ranging powers over justice, tax, trade and so on, but these conflicted with the powers of the Emperor and of the growing city, so horrendous feuds were inevitable. (The Burgrave's other castle, Cadolzburg, some 25 km west, can be visited on a combi ticket.)

East again are buildings erected by the city itself. The Luginsland (watchtower) was built to spy into the Burgrave's Castle. Next door, the Imperial Stables were the city's corn granary; they're now a Youth Hostel, see "Sleep" listing. The gardens around the Castle complex, only open in summer, are free to enter.
phone: +49 911 2312568

address: Albrecht-Dürer-Straße 39

The house in which the painter Albrecht Dürer lived and worked from 1509 until 1528. Representative of a wealthy house of that period. Exhibition about life in the house and the way Dürer worked.
phone: +49 911 2313260

address: Karlstraße 13-15

Nuremberg was one of the centres of the German toy industry. The exhibition shows wooden and metal toys, dolls and doll houses, model railways and modern toys.
phone: +49 911 2312595

address: Burgstraße 15

A merchant's house built about 1600, in late Renaissance style. Exhibition about the history of the city.
Museum Tucherschloss and Hirsvogelsaal

phone: +49 911 231 5421 (information),+49 911 231 8355 (cashier)

address: Hirschelgasse 9-11

The Tuchers and the Hirsvogels were wealthy trading families. This castle built between 1533 and 1544 shows their life in that era, with several original features.
phone: +49 911 22 70 66

address: Obere Schmiedgasse 52

Part of the labyrinth of tunnels underneath the city, but separate from the Felsengänge tour (listed above). During World War II this and other bunkers were converted into safe storage for the city's art treasures, with temperature and humidity controls and extra security. Frequent tours in German, but tours can be organised for up to 25 in English, French, Italian, Spanish and Czech.
St Sebald ChurchBuilt in Romanesque style from the 13th century, with many later Gothic and Baroque additions, and now part of the Evangelical or Lutheran church of Germany, St Sebaldhus is the focus of the north-side old town. In the centre of the church a wooden monument stands over the saint's grave, carved with scenes of his life. The church organ is a modern replacement of the famous original, destroyed by bombing in WW2.
Lorenzer Altstadt
Top sights in
Lorenzer Altstadt
, the southern half of town, include Lorenzkirche, the Way of Human Rights, the Germanische Nationalmuseum and the Neues Museum.
Natural History Museum

phone: +49 911 227 970

address: 8 Marientorgraben

The ground floor is the ethnology collection: masks from the South Seas, Costa Rican culture, a Berber tent from Morocco, and strange garb of the Nivchi, a Siberian people. The upper floor covers geology, prehistory and archaeology.

phone: +49 911 944 3281

address: Westtor

Interactive science museum with emphasis on human perception

St Lawrence ChurchMostly built in the 15th century and now part of the Evangelical or Lutheran church of Germany, Lorenzkirche forms the focus of the south-side old town. It's dominated within by the 18m tall Tabernacle, a gothic spire made circa 1493 by Adam Kraft, with himself as one of three figures holding it up. (Find more of his work across the river in St Sebaldus, in the Germanische Nationalmuseum, and in Ulm.) Note also the stained glass windows, and Veit Stoss' "Annunciation" (Engelsgruss) suspended high over the altar.

NassauhausThe oldest building in the city - the cellars date back to the 12th Century, though most is later Gothic.

Fountain of VirtuesSix virtuous dames spout water from their breasts, guarded by the figure of Justice.

KunsthalleHas rotating art exhibitions, hours & prices vary.

phone: +49 911 13310

address: Kartäusergasse 1

One of the largest museum of art and crafts in the German-speaking countries, with a collection ranging from pre-historic artefacts to 20th century art. Allow at least half a day.

Way of Human RightsA monumental outdoor sculpture, opened on 24 October 1993. It is sited on the street between the new and old buildings of the Germanisches Nationalmuseum, connecting Kornmarkt street and the medieval city wall.

Neues Museum ("New Museum", State Museum for Art and Design in Nürnberg)

phone: +49 911 2402069

address: Klarissenplatz

Within Old Town but in a striking modern building, the museum shows art and design from 1945 to today.
Just outside the walls
and easily combined with a stroll around Altstadt is the Transportation Museum.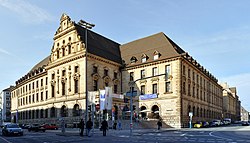 Verkehrsmuseum

address: Lessingstraße 6

This museum contains two collections: the DB Museum (DB National Railway Museum) and the Museum for Communication. The railway museum explores the history of railways in Germany from 1835 - when the first railway connecting Nuremberg and Fürth opened - to today. There's a large collection of locomotives and rolling stock, extending outside, and it's a good place for families with children. The museum includes full scale replicas or originals from all eras of German rail travel, including a replica of the first ever locomotive running over German rails and a mock-up of the ICE. There's thoughtful coverage of the railways' role in German society, including their role in warfare and in the mass deportation to death of oppressed civilians. Labelling is only in German but there are free audioguides in English and other languages. The Museum for Communication is small by comparison, yet attempts to address the entire theme of communications. Some interesting items but the overall effect is superficial, with important concepts mentioned but not explored.
Further out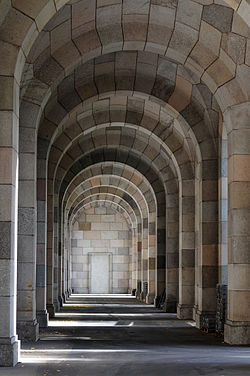 St Johannis Friedhof14th-century graveyard with many famous citizens, including Albrecht Dürer and Adam Kraft. In summer the gardens are a riot of roses and other colourful flowers. You can walk here along Johannisstraße but the street is mostly modern, busy and uninteresting. Alternatively follow the river walk west from Hallertor. This eventually leads into Lindengasse which curls north to the church. Continue the riverside walk west for a couple of hours to reach the town of Fürth. The main sights there are the old streets, the Jewish Museum, the Radio Museum, and Town Hall. You'll probably prefer to ride back to the city, on U-1 or S-1.

phone: +49 911 231 3875

address: Äußere Sulzbacher Straße 62

Set in an old screw factory, the last remnant of the sprawling Tafel metalwork complex. Tells the story from the Industrial Revolution into the early 20th century. Along a museum street you see how living conditions, social life and technology developed during that era . . . and, not least, the gingerbread industry.

Documentation Center at the Reich Party Rally Grounds

phone: +49 911 231 5666

address: Bayernstraße 110

Soon after they came to power in 1933 the Nazis chose Nuremberg as the place for their annual party rallies. They planned a set of gigantic buildings here, few of which were built. Start at the Documentation Centre for the story of how the Nazis rose to power, their grasp of modern media and propaganda techniques, the organisation of the party rallies and wider mass agitation, and the connections between that and their crimes against minorities and plunge into World War 2. The Documentation Center is in the north wing of the Congress Hall (Kongresshalle), one of the few planned constructions that did get built. Although the rally grounds cover a wide area, there's little else to see here other than the reviewing stand at the Zeppelin field. The "Große Straße" which was the spine of the rally grounds is now just a modern road. Note you can also get here on S-2 to Dutzendteich; other S-bahn trains run through this station but don't stop.

Memorium Nuremberg Trials and Courtroom 600

phone: +49 911 321 79372

address: Bärenschanzstraße 72

After World War II, this site was chosen for trials of the Nazi high command, partly for Nuremberg's symbolic role in Nazism, but chiefly because the Palace of Justice was undamaged and contained a prison block. Charges were brought both against individuals, and against entire organisations such as the SS and Gestapo. The permanent exhibition tells the story of this and subsequent trials, eg of collaborating doctors and judges, and of officers of the individual concentration camps. It shows how these trials established many present day principles of international law and morality, eg the legal concept of genocide, and the Helsinki Principles on medical experimentation. Courtroom 600, where the trials were held, is still used today for serious crimes, so it can only be visited if no trial is in progress.

Historic tram depot (Historisches-Straßenbahndepot)

phone: +49 911 283 4654

address: 1 St. Peter Schloßstraße

Trams since they began here in 1881. Several are in working order and when the museum is open, they make a leisurely grinding circuit of the city's public tramways.

phone: +49 911 54546

address: Am Tiergarten 30

The Nuremberg Tiergarten is one of the most beautiful zoos in Europe, set in forests and old quarries to the east of the city. Includes a Dolphinarium with regular shows.

Children's Museum (Kindermuseum)

phone: +49 911 600 040

address: Michel-Ende Str 17, Kachelbau

Hands-on museum, with two permanent exhibitions: everyday life of your great-grandparents, and treasure chamber earth.

Kraftshof Village Church

address: Kraftshof

In the Middle Ages, cities like Nuremberg were strongly protected by walls and castles, but villages lacked them. It was often impractical to build these around a straggling farm village, and the cities jealously guarded their rights to have walls - any others might be distrusted as a prelude to rebellion. So instead many villages fortified their church, and Kraftshof is a good example. See Wikipedia entry for other examples especially in Bavaria, Baden-Wurttemberg, Transylvania and the Dordogne.

Neunhof Manor, (Schloss Neunhof)

address: Neunhofer Hauptstraße

Nuremberg's patricians had numerous manor houses in the surrounding villages. This is a good example, built in the 16th century. Adjoining is a small baroque garden. The castle is closed for renovation in 2017.

phone: +49 911-8606-0

address: Messezentrum, D-90471 Nürnberg

The Exhibition Center is relatively new. It offers over 160,000 m² of display area in twelve halls grouped around the central park.
Do
Annual events
The big annual event in Nuremberg is the Christmas Market (Christkindlesmarkt), listed below. But there's a full calendar throughout the year – check what's on even if you don't plan to attend, as there may be street closures and crowd congestion.

January-May
June-August
September-December
Sport
Other
Buy
Nuremberg's main
shopping district
ist the
Lorenzer Altstadt
, the part of the old town south of river Pegnitz. There are three shopping streets running from the white tower (
Weißer Turm
) to the vicinity of St Lawrence church (
Lorenzkirche
): The cheapest stores can be found in
Breite Gasse
, in
Karolinenstraße
you find mid-priced stores and
Kaisserstraße
, next to the river, offers luxury goods. At their eastern end the three streets are connected by the street
Königsstraße
, which runs from the main station via St Lawrence church to the main market place. The biggest
department stores
,
Karstadt
,
Galeria Kaufhof
and
Breuninger
, are located here. On
Trödelmarkt
you find some small shops. At
Sebalder Altstadt
you find antiques, curiosities and designer shops.
As souvenirs you can by
gingerbread
(
Lebkuchen
). Several large manufacturers and a number of small bakeries produce this. The best quality is called
Elisenlebkuchen
. Alternatively,
sausages
(
Nürnberger Bratwürste
) are available in tin cans or vacuum-wrapped. Don't take them to countries outside the EU unless you've checked customs regulations on importing meat.
Malls
City Point

address: Breite Gasse 5, 90402 Nürnberg (City)

mercado

address: Äußere Bayreuther Straße 80, 90491 Nürnberg (North)

Franken-Center

address: Glogauer Straße 30-38, 90473 Nürnberg (South)
Outlets
Puma Sport

address: Klingenhofstr. 70, 90411 Nürnberg (North-West)
Clothing
Gothic, Dark Wave, Fetisch
:
Crazy Fashion (for Adults only), Schweiggerstr. 30, 90478 Nürnberg (South)
Mac's Mystic Store, Ludwig-Feuerbach-Str. 13, 90489 Nürnberg (South)
Underground, Königstr. 39, 90402 Nürnberg (City)
Vampiria, Kappengasse 10, 90402 Nürnberg (City)
Records
address: Untere Schmiedgasse 6

address: Färberstraße 44
Eat

Bratwurst: The city's own pork sausage, the "Nürnberger Rostbratwürste", is spicier than other sausages of the surrounding Franconia region, and half the size. So a serving in a restaurant is six Nürnberger (or three other Franconians), grilled or pan-fried, accompanied by sauerkraut or potato salad. A light bite on the street is three Nürnberger in a bread roll - ask for "Drei im Weggla". "Nürnberger Rostbratwürste" is a protected name and they may only be manufactured here.
Another way of cooking these sausages is to stew them in a broth of vinegar, onions and spices. This is called "Saure Zipfel" – "sour corners" - because of the broth stains in the corners of your mouth.
There are many other styles of sausage and ways of preparing them. "Pressack" is like salami, sliced and eaten with mustard. The "Nürnberger Stadtwurst" go well with farmhouse bread and beer. "Stadtwurst mit Musik" means they're sliced, and heaped with vinegar and raw onion . . . so guess where the "Musik" will be coming from, 30 minutes later.
Looking for places that serve sausages in Nuremberg is like looking for water in Venice. Three outlets (among many) that specialise in them are Zum Gulden Stern and Bratwursthäusle (both listed below), and Bratwurstglöcklein as you enter Old Town from the railway station.
Lebkuchen: if you want to eat it here, buy a package labelled Bruch: broken. It's cheaper, and the quality is fine, but it's second-run stuff that they can't market as souvenirs. Other confections are:
Eierzucker – delicate white biscuits, often in shapes, eg like a horse
Kirschenmännla - cherry casserole with loose dough
Schneeballen – "snowballs", thin dough baked in lard, with powdered sugar. Often handed out to guests at ceremonies such as baptisms, confirmations or weddings.

Budget

Many food stalls and fast food restaurants can be found along Königstraße leading from the main station into the old town.
One stand is in the middle of the street perpendicular to the front of the Lorenzkirche. Several are also in Lorenzstraße (coming from the pedestrian zone, that is the street starting strait after the roundabout behind the Lorenz square. Amonst others, good places are:

Mid-range
Splurge
Drink
"GoHo"
Nuremberg's most rapidly gentrifying neighborhood is very likely Gostenhof. The area which used to be nicknamed "Gostanbul" due to the high numbers of Turkish descendant residents. While it was spared World War 2 destruction almost entirely, the ageing urban fabric and the sub-par standards of many houses made rents cheap and allowed immigrants, poor people, students, artists, hipsters and malcontents to make a living. However, as so often happens with gentrification, somebody looked at a map and discovered how close to the center the neighborhood actually was, a catchy short-name "GoHo" - which sounds like "fancy" neighborhoods of New York or London to boot - was invented and rents rose rapidly, in part displacing those who had always lived there as renovation made once undesirable 19th century housing into
the
most desirable real estate. It's perhaps not as bad (yet) as
Berlin/Kreuzberg
and you can go out and have a nice time there, but the time of "Glosschermverdel" ("broken glass neighborhood" i.e. an undesirable part of town) are long gone.
Cafés
Beer
Many great beers are made in Franconia (
Upper Franconia
has the largest concentration of breweries world wide) and even in Nuremberg itself.
Beer gardens
On the city walls:
Gostenhof:
Wine
The Franconian wine is said to be a "man's wine". Analogous to "man's chocolate" this points to a rather dry taste. Furthermore the rather harsh climate and the soil structure definitely contribute to this fact. An extravagance of the Franconian wines is their bottle. In Germany the Bocksbeutel bottle shape is generally reserved for higher-quality wines from Franconia.
Cocktails
Clubs
Sleep
For a fast room reservation service in the Nuremberg-Fuerth-Erlangen-Schwabach area, please go to the on-line room reservation request of the
Nuremberg Convention and Tourist Office.
Budget
phone: +49 911 2309360

address: Burg 2

Note that DJH/YHA/HI membership is required (or an extra fee is paid) and, as in all YHA hostels in Bavaria, persons over 27 years of age are only admitted if the hostel is not full. Linen included in price.

phone: +49 911 5216092

address: Rathsbergstr. 300

Wheelchair-accessible rooms, barbecue, TV-lounge, English spoken.

phone: +49 911 931790

address: Don-Bosco-Straße 2

A house for young and young-at-heart people.
Mid-range
In the Old City
Near Plärrer
Just outside the southwest corner of the old city are several mid-range hotels within walking distance of many sights in the old city, and about a 20-minute walk from the Hauptbahnhof.
Next to the main train station
phone: +49 911 99990

address: Bahnhofstraße 17-19

Central, reliable and easy to find. There are a few other NH hotels in Nuremberg if this one doesn't suit your budget.

phone: +49 911 203147

address: Eilgutstraße 5
North of the Old City
phone: +49 911 34961

address: Schnepfenreuther Weg 1 (on the corner with Erlanger Straße (B4))

phone: +49 911 6505990

address: Leipziger Platz 22

Budget hotel.

Mövenpick Hotel Nürnberg-Airport

phone: +49 911 3501 0

address: Flughafenstraße 100

Hotel Metropol Nürnberg

phone: +49911324390

address: Fürtherstraße 338, Weststadt, 90429

Budget hotel. Spacious room with private facilities. Buffet breakfast with wide range of foods. WiFi €1 per hour. Free street parking.
South of the Old City
phone: +49 911 946690

address: Harsdörffer Str. 30

Family-run hotel.
Splurge
Stay safe
According to the state police, it has the lowest crime rate of the cities with more than 400,000 inhabitants.

Connect
Most city buses and some U-Bahn stops have free WiFi. U-Bahn vehicles and most trams do not, in part because they were built before free WiFi became a major concern and upgrading them would be prohibitively expensive.

Go next
Several interesting small towns lie very close to Nuremberg. You'd probably do them as a day trip, as it wouldn't be worth re-locating (unless you were hiking, knapsack on your back):
Well within a day-trip, but deserving longer:
You'll need your own transport to get around
Fränkische Schweiz
- "Franconian Switzerland" and
Fränkisches Seenland
- the lake district south-west of Nuremberg.
The western edge of Franconia is traversed by the
Romantic Road
, a tourist route through a series of shamelessly picturesque old towns. Closest to Nuremberg is
Rothenburg ob der Tauber
. The "Road" leads north to
Würzburg
, and south through
Nördlingen
and
Augsburg
to
Füssen
on the Austrian border, with its over-the-top Schloss Neuschwanstein.
And then there's the looming state capital, often disliked by Franconians that is
Munich
.