Nusa Penida
Nusa Penida
is the largest of
three islands
off the south eastern coast of
Bali
, the others being
Nusa Lembongan
and
Nusa Ceningan
.
Understand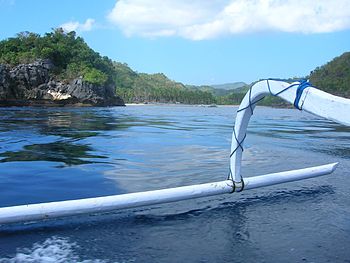 Totalling some 247 square kilometres, Nusa Penida is much larger than the better known
Nusa Lembongan
. However, tourist infrastructure is not as advanced as Lembongan. It is an island of outstanding natural rugged beauty. The north shore is the most densely populated part of the island and is where most tourism is based. This is also where the beaches are and where the seaweed farms are. Seaweed farming started on the island in the 1980s as a way for locals to get an income. Sadly prices are declining and so is production. Most locals still derive their income from subsistence farming.
The west and south side of the island is carpeted with limestone cliffs and magnificent views but not many beaches that can be accessed by land.
Due to a lack of natural fresh water, little is grown or produced on Nusa Penida outside of the rain season, and even a lot of produce comes in by boat.
Nusa Penida has also become an unofficial bird sanctuary for endangered Balinese and Indonesian bird species, including the critically endangered Bali Starling (
Leucopsar rothschildi
). In 2004 the
Friends of the National Park Foundation
(FNPF) started an introduction program onto Nusa Penida of the near-extinct Bali Starling.
The waters around Nusa Penida are part of a marine park authority (MPA) and are home to diverse corals and fishes. Nusa Penida is part of the coral triangle which is a massive area renowned to be "the amazon of the sea" as it provides habit for the many fishes to breed in. Nusa Penida is renowned as one of the best diving sites in the world and is also home to the giant manta ray and mola mola (oceanic sunfish).
Get in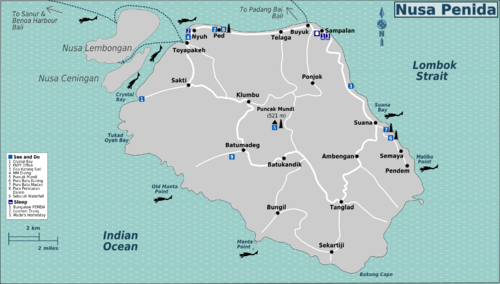 There are public boats from
Sanur
, Kusamba or
Padang Bai
in
East Bali
.
From Serangan
address: Jln. Setiabudi No.11 Kuta, Bali.

address: Jln. legian.Gang Bendesa Kuta, Bali.

is online booking fast boat ticket to Nusa Penida & Lembongan with safety selected boat provided only, transparent prices without hidden fee,
From Padang Bai
You can catch the daily public ferry - ro-ro (large boat that includes vehicles). The ro-ro departs twice a day from either direction. It is slower but much cheaper than the fast boats. In November 2017 only one departure a day at 10:00 am. Tickets can be bought from 09:00 am in a Building called "Loket" for 31 000 Rps per Adult.
Uptdate october 2018, buy ticket from 9:00am and departure between 10h30 and 13pm, depends quantity of passengers.
From Benoa Harbour
Quicksilver Runs daily cruises from Benoa Harbour in Bali to their monstrous pontoon which floats off Toyapakeh, Nusa Penida. The trip includes watersport activities centred on the pontoon. Rp 570,000 per person.
From Sanur
Caspla Bali Boat

phone: +62 361 7912299

address: Sanur Beach in front of Ananda Beach Hotel

Speed boat service, 3 times daily to Nusa Penida. Scheduled departure from Sanur Beach at 11AM, 2PM and 4:30PM. Departure from Buyuk, Nusa Penida at 8AM, 12:30PM and 4PM.

Maruti Express

phone: +62 819 1626 8871

address: Sanur Beach in front of Ananda Beach Hotel

The first and most reliable speed boat service to Nusa Penida. Safe, reliable and fast. Scheduled departure from Sanur Beach at 8.30am; 10am and 4pm and departure from Nusa Penida at 7.30am; 9.30am and 3pm.

Angel Billabong

phone: +62 853 333 99175

address: Sanur Beach Pelabuhan Rakyat

Angel billabong have 10 total departure time start from 7.00 AM. 5 time from Sanur and 5 time also from Nusa Penida. No need to worry left behind alone. Just 30 minutes then you're ready to explore Nusa Penida island. Enjoy the island by more time and freedom to get back to Sanur.

phone: +62-813-5330-4990, +62-813-5330-4990

address: Perum Bukit Pratama, Jl. Gong Kebyar No. 22 Jimbaran, Kab. Badung, Kuta Selatan, Bali. Indonesia.

phone: +62 878 62251815

address: Batununggul, Nusapenida, Klungkung Regency, Bali.

phone: +62 81337442555

address: Denpasar, Bali.

address: Matahari Terbit Arcade 5, Jl. Matahari Terbit, Sanur Kaja, South Denpasar, Denpasar City, Bali.

phone: +6285102555522

address: Nusapenida, Klungkung Regency, Bali

address: Jl. Pantai Matahari Terbit Pertokoan Arcade Kavling No. 8 Sanur Kaja.

Gangga Express
Mola Mola
Idola
Dwi Manunggal
Semaya One
Public boats depart daily at 6AM close to the suspension bridge between Nusa Lembongan and Nusa Ceningan and run to Toyapakeh or Buyuk Harbour in northern Nusa Penida. There are also services from the Jungut Batu area of Nusa Lembongan to Nusa Penida.
Charter boats are available, departing from and arriving at the same area as the public boats. If you are staying on Nusa Lembongan, ask at your hotel. If not, go to the shoreline close to Yellow Bridge or to the beach at Jungut Batu and ask around amongst the boatmen. Rates certainly vary but expect to pay around Rp 300,000.
Get around

Renting a motorcycle is the most practical option, and this will cost you about Rp 70,000. Look for vendors in Toyopakeh and Sampalan (or more likely, they will find you!). Car rentals are available but very expensive (about Rp650,000 per day).
Some visitors from Nusa Lembongan arrive with rented pushbikes - make sure you get permission to take the bike off Nusa Lembongan first. You should note that roads in Nusa Penida are rough, hilly away from the north coast, and in remote areas no more than stone-strewn tracks.
Local public transport is in small old bemos or on the back of a truck. These vehicles ply the north coast road with some regularity, but elsewhere on the island do not bank on anything.

See
There are many quiet and secluded white sand beaches along the north and northwest coasts of Nusa Penida. Other geographical highlights include limestone caves, spectacular high coastal cliffs with karst formations and offshore pinnacles in the south and east, and rugged hill tops in the high centre.
Crystal Bay

address: Sakti

A stunning white sand beach at Banjar Penida west of Sakti village on the north western coast facing Nusa Ceningan. Perfect clear waters and excellent snorkelling. Lovely white sand beach and a great place for a picnic. A truly idyllic spot and you are likely to have it to yourself apart for the odd local villager and maybe a diveboat offshore.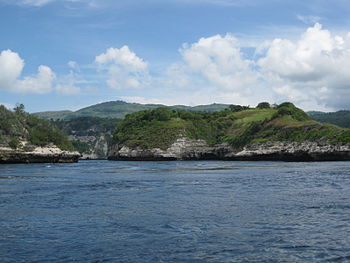 Pura Goa Giri Putri / Goa Karang Sari

address: Karangsari / Suana

Large limestone caves on the east coast about 4 kilometres north of Suana village, near the village of Karangsari. The entrance is a short, vertical climb from the road level, and leads ot the temple; you will need to be suitably clad in a sarong (can be rented for Rp 5,000 from the shop at the roadside), sign the visitor book, and make a donation. Of great religious and cultural significance, there are Hindu and Buddhist temples and worshippers may be present. Photography is allowed. Along with bats, various cave insects, and whipscorpions, the cave is the only known habitat in the world of two species of freshwater crab, Karstama emdi and Karstarma balicum. Both crab species are critically endangered and threatened by the increasing development of the cave for worship and tourists.

Pura Ped

address: Ped village

An extremely important temple to the Balinese Hindus many of whom make an annual pilgrimage to Nusa Penida specifically to pray here. Worth a visit especially at full moon for the ceremony which goes on into the night. Entry in full ceremonial dress (sarong and sash) for both men and women is required.

Puncak Mundi

address: Klumpu

The highest point of Nusa Penida at some 521 metres above sea level. Great views from here. This area is also home to now defunct alternative energy facility with wind turbines and a solar panel farm. Puncak Mundi temple perches high on the hill.

Pura Batu Medahu and Pura Batu KuningTwo interesting and stunningly located temples on the east coast road south of Suana. Instead of taking the main road from Suana heading south west, continue on the coast road towards the tiny village of Semaya. You will come to the two temples (Pura Batu Madan first) after about 1.5 km and before you reach Semaya.

Broken Beach & Angel BillabongStunning views from cliff tops show off the natural hole that encompasses Broken Beach. You can enter the infinity pool at low tide, but for safety reasons please do not enter at high tide when waves are crashing over the edge.

Tembeling Rainforest & SpringThe whole southern coast of Nusa Penida has spectacular, high white limestone cliffs which will simply take your breath away. Tembeling rainforest showcases the last remnants of rainforest that covered the island many years ago. Green, leafy and cool there are also two natural springs that you can bathe in. Continue your walk down to the beach for spectacular views.

Peguyangan SpringSet on the south side of the island the spring is at the bottom of 700 blue stairs. The spring at the bottom is small but the scenery on the way down and at the bottom is magnificent. Wear proper shoes as footings can be a little precarious. This climb down and up is not for everyone especially those that do not like heights as the steps are set at the side of the cliff.

Atuh Beach

phone: +62 818-793-913

address: Pejukutan

At the east side of the island Atuh beach welcomes the sun first every morning. Walk along magnificent limestone cliff tops and if you are up for a bit of exercise climb down the steps to the beautiful white sand beach. A photographer's delight. Food and refreshments are available, and there is good snorkelling for small fishes.

Suwehan Beach

phone: +62 822-3617-6345

address: Tanglad

Set in the south east corner of the island, Suwehan is one of the most remote beaches. The steps down (and up!) are a little strenuous but worth it for the beautiful, secluded white sand beach and magnificent scenery. The beach is not necessarily swimmable, depending on tides. The scenic drive to Suwehan takes one through farming communities, although the road is poor and quite steep in parts.

Kelingking Beach

phone: +62 818-793-913

address: Bunga Mekar Village

A hidden beach in the village of Bunga Mekar, with nice views over the hills. The sight features a limestone headland covered in green, against the deep blue waters of the ocean. This unique formation is reminiscent of a Tyrannosaurus Rex head, hence its nickname 'T-Rex Bay'. The secluded beach itself is down a rugged 400 m cliffside hike, recommended only for the fit and adventurous.
Do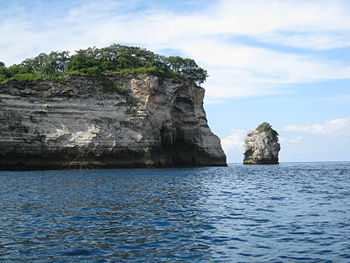 This is a wild, rugged and largely untamed island which offers plenty to those with an adventurous spirit.
Trekking and mountain-biking
are rewarding with amazing coastline views. The terrain away from the coast is hilly rising to nearly 521m and the vista back to Bali is stunning. Camping is a wise option for those who really want to explore this wild island away from the populated northern coast.
Absorb the culture
. The native people are Hindu as in Bali. Locals speak Nusa Penidan, an ancient dialect of Balinese no longer heard elsewhere, younger locals speak Bahasa Indonesia also. The architecture and dance is also distinct to the island. There is also a Muslim village situated in Toyapakeh on the north west shore which faces Nusa Lembongan.
Birdwatchers
who find themselves with the opportunity to visit Nusa Penida should know that a thriving population of the superb white-tailed tropicbirds breeds on the south and southeastern cliffs of the island. Keep your eyes peeled. Nusa Penida has been designated an island-wide bird sanctuary by Friends of the National Parks Foundation (FNPF). Various endangered Indonesian bird species have been released onto the island, including the Bali Starling, Java Sparrow, Mitchell's Lorrikeet, Lesser Sulphur Crested Cockatoo.
Island & SnorkellingTours
Tour the 200km square island or snorkel with giant mantas and dive with mola mola.
There are various tour operators on the island that will take you on private guided tours by car or scooter as you prefer. Packages can be tailor made to suit your budget and time schedule.
Nusa Penida Explorer
www.nusapenidaexplorer.com Ph +62 822 3681 4935
is a tour company based in Toyapakeh, they conduct island tours and snorkelling trips by boat as well. They are experienced and have a good, solid reputation.
Penida Aqua Blue
is another tour company providing island tours and snorkelling trips.
www.penidaaquablue.com
Diving
. Nusa Penida is best known as a world class diving destination. There are more than 20 identified dive sites around the island, the most notable including Crystal Bay, Manta Point, Toyapakeh, Suana Bay and Malibu Point. The rich waters around the three islands support no less than 247 species of coral and 562 species of fish.
Many dive operators based in Bali and neighbouring Nusa Lembongan offer specific dive trips to Nusa Penida. Special attractions include fabulous Mola Mola (Oceanic Sunfish) in season and large Manta Rays year round. Mola Mola are migratory fish and most likely from July to October although sightings are reported all year round. There is diving available here for beginners but most of the dives require a decent level of experience as currents are strong and unpredictable.
Freediving
the rich waters around the island is one of the most satisfying ways of exploring the underwater world. Several locations provide great opportunities to see the abundant corral and marine life. Going with a knowledgeable operator is important as the currents around the island are quite strong and in places unpredictable. Fancy to see sharks in Malibu point or dive with Mantas away from the snorkeling hotspots? Take a course with one of the freediving schools and learn more about your hidden abilities to dive deep without a tank.
Dive operators
Nusa Penida Watersport, Toyapakeh. http://www.nusapenidawatersport.com Ph +62 878 6226 4544. Locally owned and operated with a really good reputation. They have PADI certified instructors and also do snorkelling trips.
Octopus Dive, Ped

Penida Dive Resort

phone: +62 813 37077590

address: Toyapakeh

A Czech-run dive centre located on Nusa Penida.
Freediving
phone: +62 821 47417679

SSI & Molchanovs certified and led by one of only three instructor trainers in Indonesia. One minute walk to the home reef and regular guided trips including freediving gear.

phone: +62 821 46815129

Offers a variety of freediving classes suitable for any level of experience from total beginner to instructor. Also provides coaching and training sessions, freediving trips, and yoga classes. Offers courses from Apnea Total, AIDA, and Molchanovs.
Buy

There are two ATMs in Sampalan, one for Visa and one for MasterCard, there is one ATM is in Toyapakeh. However, it's best to bring enough Rupiah with you just in case the ATMs are out of order.

Eat

There are simple local warungs on Nusa Penida and since 2016, there are a few great western style places for a meal, music and sunset drink.
BFC & QFC are both fast food, fried chicken outlets. BFC is situated in Banjar Nyuh and QFC in Sampalan.
Ped has a few restaurants: try Warung Pondok (indonesian style cuisine) Penida Colada (cocktails and cafe style food), Penida Menang Restaurant or De-Ku - they are all down the main street along the beach front.
The Gallery is also situated in Ped, it serves all day english style breakfast, lunches and dinners. They also have a gift shop which sells locally produced arts and crafts.
Dapur Nusa, Ped. Close to Ped Temple. Locally owned, serves fresh grilled fish indonesian style.
Sampalan has several good roadside warungs and the night-market serves up satay and local delicacies.
Just 1km further east in Batununggal, you will find Ulam Segara, locally owned and operated it is a stylish cafe/restaurant serving upmarket western and indonesian style cuisine.
Warung Jungle is situated just outside of Toyapakeh in the hills. Sometimes hard to find, it is well worth it. They probably serve the best seafood on the island, they are locally owned and operated.
Warung Tu Pande is also just outside of Toyapakeh on the hill on the way towards Crystal Bay. This locally owned warung serves tasty western and indonesian dishes at warung prices.
Caspla Bali Beach Club in Buyuk has a restaurant with a high standard of both local and western cuisine, well worth the travel for night out.

Sleep
Most holiday accommodation is to be found between Toyapakeh and Sampalan although accommodation is opening up in other areas too.
Visitors wishing to explore the remote, rugged areas of the island in the high centre and south may be able to find informal accommodation with a local family by asking a head of village (
Kepala Desa
). The only other alternative away from the north coast is camping.
Friends of National Parks (FNPF)

phone: +62 361 977978

address: Ped

FNPF's centre offers simple accommodation.

Losmen Trang

phone: +62 852 37643649

address: Toyapakeh

Rooms are on the beachfront in Toyapakeh
Penginapan Jose Homestay, Toyapakeh. 6 rooms located right on beach road in Toyapakeh. Great views and affordable.
Ari La Casa, Toyapakeh.
Namaste Bungalows, thatched bungalows, Sakti Village, on the way to Crystal Bay.
Bintang Bungalows, thatched bungalows, Sakti Village. Locally owned.
Coco Resort, thatched bungalows, Sakti Village.
Full Moon Bungalows, Ped

phone: +62 812 39901421 (WatsApp & Tel)

address: Sampalan

Bungalows set across a nice garden complex are decorated in Balinese style, a 5-minute walk to the beach. The staff are very sociable and are happy to take guests to various interesting parts of the island (temples/waterfalls etc). Free Wi-Fi.

phone: +62 361 7853464, +62 821 46763612, +62 813 37985141, +62 813 51542596

address: Ped near FNPF

12 A/C rooms with hot-cold water shower/satellite LCD TV/restaurant/24 hr security, laundry service, wide parking area and garden.

phone: +6281239901421

address: banjar pelilit - Atuh

Mae Mae Beach House, Kutampi.
Caspla Bali Beach Club, Buyuk
Nusa Penida Beach Club, Buyuk

Hostel Nusa Penida

phone: +6281239901421

address: Br. Sampalan, Batununggul

Nice place, free WIFI, with a restaurant serving European food.
Connect
International phone operators: 101
International Direct Dialing prefix: 001, 007, or 008.
Directory inquiries
108 from a landline or 0361-108 from a mobile phone.
WIFI - there are more and more places offering free wifi but connection speed and reliability is still not fast as people would like.
Go next
The best advice is to get out from one of the northern points in the same way as you came in. A boat to
Nusa Lembongan
and then onward to
Bali
or
Lombok
is recommended. To get to Lombok or other points east you will have to travel to Padang Bai and connect with boats there.