Nuuk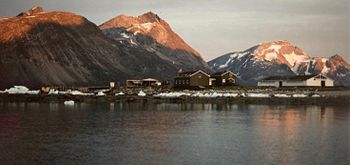 Nuuk
(
Greenlandic
meaning "The Headland"), also known by its
Danish
name of
Godthåb
(Good Hope), is the capital and administrative centre of
Greenland
, with a population of around 15,000 (about 1/4 of the entire population of the country). The city is sometimes accused of being rather soulless, with many high-rise blocks.
Understand
Climate
Nuuk, along with most of Greenland, has a subarctic climate. Being on the coast helps moderate temperatures somewhat, and winter temperatures are not unlike those of northern Europe or central Canada. However, in July the average temperature is only , with highs rarely above .
Autumn has the highest rainfall and snowfall, although it is fairly steady all year round.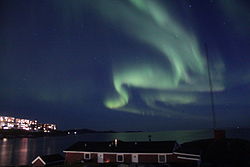 Get in
There are no roads or railways connecting cities within Greenland. The only practical means to travel is by boat or air. On foot is less practical and far more strenuous.
By plane
The capital has its own airport, but due to length constraints of its runway, it only accommodates small aircraft and domestic flights. Flying to Nuuk from abroad requires changing from a large airliner to a smaller aircraft on neighbouring airports like
Kangerlussuaq
.
Air Greenland offers connections to various destinations in Greenland, including Kangerlussuaq which has flights to Copenhagen, a major airport. During the summer months they fly to Keflavík Airport, Iceland, where there are flights to Canada, Europe and the United States.
Air Iceland flies year-round to Reykjavík (domestic airport), three times a week during the summer and twice a week during the winter months.
By boat
Arctic Umiaq Line has a passenger terminal to Maniitsoq-Sisimiut-Aasiaat-Uummannaq and Paamiut-Qaqortoq-Narsaq-Narsarsuaq.
Royal Arctic Line and Blue Water are cargo-boat companies operating out of Nuuk.
Get around

Nuuk has a small bus company (Nuup Bussii A/S), or you can rent a car.

phone: +299 342 300

Six bus routes. Ticket costs 15 kr for adults and is good for 90 min.

address: Industrivej 18 and at the airport
See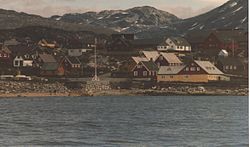 The old
colonial town
is on the east coast side of the town centre.
Here you will also find the
statue of Hans Egede
,
Hans Egede's House
and
church
.
Statue of Hans Egede

Hans Egede's HouseBuilt in 1728 and reputably the oldest house in the country. The former residence of Hans Egede and later used for the country's prime minister. It is now used for government receptions.

Hans Egede ChurchA wooden Evangelical Lutheran church.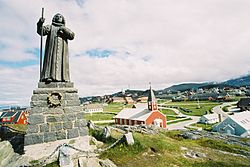 Do
Excursions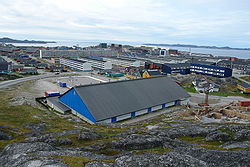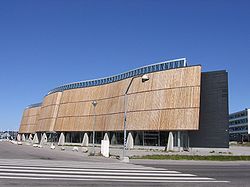 Whale watching by boat.
Helicopter ride to the inland ice, Norse ruins and kaffemik at a nearby village.
Several hiking routes start from Nuuk:
An easy hike from the Circuslake around the mountain Little Marlene follows a marked trail.
A unmarked trek goes up Big Marlene and offers a view over Nuuk from above. Parts of this trail is on mountain sides with large boulders or steep climbs up loose rocks.
Buy
Handmade seal skin gloves cost around 500 kr. Ask in shops near Colonial town.
Nuuk CenterFirst shopping mall in Greenland.

phone: +299 32 17 37
Eat
phone: +299 48 22 03

address: Aqqusinersuaq 6, 1. sal

Pasta, wrap, burgers, omelettes and sandwiches.

phone: +299 34 80 80

address: Imaneq 30

This brewpub has good beer and good food. Burgers and steaks, often serves muskox, reindeer and lamb.

SarfalikGourmet food at reasonable prices. They have both a global menu and a local menu with muskox, carabou, seal, whale, etc.

phone: +299 325759

address: Aqqusinersuaq 5

Good Thai food with a Greenlandic touch: mattag, halibut, whale and musk ox

phone: +299 34 80 80

address: Imaneq 30

A self-described Chinese-Greenlandic fusion restaurant, with a wide range of dishes.
Drink
Central Nuuk offers a variety of locations for the enjoyment of alcoholic beverages, all within quick walking distance of each other. Nearly all pubs offer the same selection of beer (Classic on tap and Tuborg and Carlsberg in bottles) at the same (expensive) price (60 kr for 40 cl of draught), but beer from Godthaab Bryghus is also available.
Greenlandic coffee is prepared with coffee, whisky, Kahlua, whipped cream and Grand Marnier. It is prepared at the table in a little show and if you ask, you also get the story.
Cafés
Barista

phone: +299 321114

address: Spindlers Bakke 10C

The place to get good coffee, slushies, and sandwiches
Bars
Kristinemut

phone: +299 348094

address: Aqqusinersuaq 7

The oldest bar in Nuuk. Very lively

Daddy's

address: Imaneq 30

Irish-inspired pub.
Sleep
Connect
Stay safe
Nuuk is only a small town, with a population of about 15,000. Crime rates are very low, there are no slums and no places you should avoid.

Go next
You can choose among the destinations served by the boats and planes leaving Nuuk. The very adventurous can travel inland by foot or dog sled.