Nuweiba
Nuweiba
is on the eastern coast of
Egypt
's
Sinai Peninsula
, 70 km south of
Taba
and 180 km north of
Sharm el Sheikh
, and only 120 km from
St. Catherine
.
Understand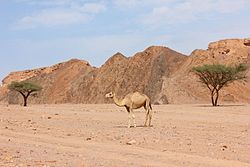 Nuweiba means, "bubbling springs" in Arabic. The 7-km-long stretched settlement developed from a barren isolated place with no infrastructure into a promising and attractive tourist destination. Nuweiba was recently discovered by tourist investors establishing hotels along the coastline connecting it with Taba in the north and Dahab in the south.
The city is divided into three parts. From southward you'll find the port, the city, and Tarabin, the Beduin camp and beach strip where most backpackers stay. Nuweiba city lacks a center, but has a small strip of cheap restaurants, an internet cafe, and some souvenir shops. Along the beach in the city some resorts and more upscale camps are located.
To the north, between Tarabin and Taba, you'll find even more basic camps than you'll get in Tarabin. All these camps were struck hard by the lack of Israeli tourism after the Taba/Ras Shaitan bombings in 2004 and the later Sharm and Dahab bombs. The places that used to rely on Israeli visitors can seem almost dead and you have a high chance of solitude by the beach in this area.
Get in
By boat
Ferries run regularly from Nuweiba across to
Aqaba
in
Jordan
, bypassing
Israel
and the sometimes complicated border arrangements. Generally there is no visa fee for entering Jordan through Aqaba since it is a part of the free trade zone. The line to Aqaba is operated by
ABMaritime
, see their website for the 'official' timetable and current prices.
There is more information about the boat crossing in the itinerary
Ferries in The Red Sea
By bus
Buses are operated by East Delta coaches. This is basically a shabby bus that goes to many places including Cairo, Dahab and Sharm el Sheikh. The prices are very cheap (about 50p) but the buses are really not that good. They are ok if you are going to sleep a lot of the way. It is not just a bus for tourists it is also a local bus service so ladies be sure to cover up to a certain amount.
The bus trip from
Cairo to Nuweiba
takes at least 7 hours. Don't believe the information about 5 hours - it's 670 km, two stops for toilets and tea, several stops for taking up and dropping passengers and at least two military checkpoints at the coastline where they check the passports and visas. So don't forget to bring it with you, identity cards will bring you into a short police interview (the bus will wait for you fortunately).
Tickets form Cairo should be booked in advance, the central bus terminal is called Turgoman and is near the Ramsis Railwaystation. Unfortunately you can only book one-way.
Tickets from Nuweiba are sold at the East Delta Company bus terminal. No reservation is possible.
If you stay at a camp between Nuweiba and Taba, you can simply wait by the roadside and wink the driver to stop. You will then be able to purchase your ticket during the short stop in Taba.
By bus to St. Catherine
: as of the end of October 2011, there is a regular, twice weekly, minibus service to and from St. Catherine. The
Bedouin Bus
runs on Wednesday and Sunday and costs LE 50 each way. Check the website for details on pick-up and drop-off points in Nuweiba and St. Catherine.
Get around

The majority of travellers arrive by ferry or bus to the port. If you are coming from Taba/Cairo you could ask the bus driver to let you off by the hospital. From the port you'll have to find a taxi to the city or Tarabin. It should not be more than LE 5-10, but as taxis are often scarce, prices will be inflated. Negotiate hard.
Between the city and Tarabin distances are coverable by foot. If you're let off by the hospital it's a twenty-minute walk to the beginning of Tarabin.
There are only a few ways that you can get around in Nuweiba. One is the blue and white taxis. Although you can get just white taxis, stick only to the blue and white and also try and make a mental note of the drivers taxi license, which should be on clear display, and his taxi number, which should be on the drivers side of the taxi. If the driver is good and charges a good price then try and take his number as taxis can sometimes be hard to come by in a small place such as Nuweiba.

See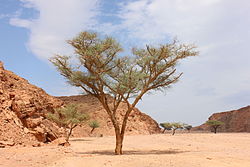 The sunrise in the east, rising over the Hijaz mountain range of Saudi Arabia and the Aqaba Gulf is probably the most spectacular sight in this area. Otherwise, the area is low on historic sights, but offers plenty of interesting mountain landscapes. Trekking with camels can be organised from the beach in Tarabin, otherwise, an early morning walk northwards to Red Rock (small red mountain clips by the sea) is possible (about 1 hr).
The city of Nuweiba is new and built in concrete. The Bedouin village in Tarabin holds little of interest except seeing how settled Bedouins live in modern Egypt. Apart from this, you might enjoy ship-spotting from the beach.
Do
Apart from hanging out at the beach, Nuweiba offers
diving and snorkeling
from the camps and hotels. There is a small reef south of Tarabin, otherwise better snorkeling and diving is found at Ras Shaitan (Devils Head), a short car ride north of Tarabin. Other great scuba diving sites just a short drive from Nuweiba include South Cove a few kilometers to the north.
Short or longer
camel treks
can be arranged from the Bedouins at Tarabin. You can just ride along the beach or go into the mountain interior. A fair price would be LE 25 per hour.
Most of the camps and hotels also organize
treks to the Colored Canyon
and a smaller Canyon trek closer to Nuweiba. If you are in a group the price should be about LE 50-100 per person, maybe LE 400-500 for a 4WD to the Colored Canyon. This is considerably much cheaper than Dahab and Sharm.
Reserve at least a few days before you arrive if you want to spend a day at
Castle Zaman
. On a hill just north of town, it serves as an oasis for trekkers and campers in the area. You can spend a relaxing day on a bean bag seeing an amazing view of the gulf and 4 countries. Some of the features are a sauna, a good bar with cocktails, lunch/dinner, and a swimming pool that blends nicely in the nature of the area.
Buy
There is a cluster of small shops along Tarabin beach selling souvenirs and artifacts. Items of special interest are handmade Bedouin rugs and silver, which are cheaper here than in the tourist shops in the larger cities.

Eat
The camps and hotels runs their own restaurants, and mostly serve the standard travellers diet of pasta, pizza, pancakes and some kebab and burger varieties. Fresh fish from the Red Sea are also served in most of these places.
Dr. Shishkebab. A kebab restaurant with a large menu offering small dishes and meat. It is a welcome alternative to the camping diet.

Little Prince Coffee Shop

phone: +20 124718011

address: near the central telephone

Owner Fuad of Little Prince Coffee Shop has delicious ice cream in many flavours, including mandarin, lemon, mango, vanilla, chocolate, guava, strawberry and pistachio. A nice place to drink Turkish coffee, tea, natural fresh juice, sahlab and karkade. On a quiet terrace, you can smoke shisha, listen to music from so many countries. A large choice of books is available in different languages.
Drink

Nuweiba is a bad place for discos and bars, but you'll find beer and Egyptian wine and liquors at a licensed store by the port. Otherwise, the resorts and some of the camps have alcohol.

Sleep
Travelers can choose from the resorts and upscale camps in Nuweiba Port, City and Tarabin or the more basic camps at the "hippie beaches" north of Nuweiba. Some cheap, dirty hotels are located by the port.
Tarabin
The places at the Tarabin beach strip all offer more or less the same concept: relaxed atmosphere, huts and beach access. Most camps are within a range of 500 m of each other. If you're tight on budget start comparing and bargaining, it's worth the hassle.
Petra Camp, LE 20-60 per person, is on Tarabine's beach, on the edge of the Red sea, at the foot of Sinai mountains. In a Bedouin-style camp, Petra is arguably the nicest camp you'll find around (well known for its restaurant). You also won't have any surprise as all prices are available at the desk and on the website (which is appreciable). Petra has a very tasty and beautiful restaurant run by Shabaan, built with wood recycled from a Cairo antique theatre (designed by the owner, a famous architect in Cairo). Petra camp offers rooms with two simple beds with and without AC. Mahmoud Sokar, the manager, also organizes trips in the area (Mount Catherine, the Colored Canyon). You can rent snorkeling material to discover the rich corals of the Red Sea right in front of the Camp. Contacts: Mahmoud Sokar +20 69-35-00-086, +20 10-47-22-001
Blue Bus , LE 30 per hut (1 or 2 persons, without breakfast). Blue Bus has excellent fresh food (take the fish), its cheap and the toilets/showers are clean. Contact the owners at info@blue-bus.de, or +20 10-98-838584
phone: +20 10-35 47 586 (Kamal Al-Deep), +20 12-63 44 756 (Christina Lehmkühler), +49 163-99 23 499
New Soft beach is run by Kammal and Christina from Germany. It has its own strip of beach, hammocks and small huts by the beach for relaxing in the shade. Has a painfully slow Wi-Fi, so use the local internet cafe.
Elsibaay Village

phone: +20 125968908

The hotel has comfortable beds, private baths, ceiling fans, an attached internet cafe, and excellent food for the price. The management are also very nice people, with a pet pelican and fin-less para-sail board, which is free of charge to take out. The seating area is comfortable and management allows you to hook up mp3 devices with speakers. They also staged impromptu Egyptian drumming sessions at night with their friends. A great place to stay if you want to relax and not people watch, but if you're there for the tourist social scene, then perhaps other places would be better.

phone: +20 69-3500879 or +20 12-2105906

At the northern end of the beach, this is the only resort along the Tarabin strip. Seems pretty empty these days. Has its own diving center and several packages are on offer on their website.

Ali Salam Atwa

phone: +20 10 614 3583

Cheap grass huts on the water about half-way along the beach. Nice areas to lounge around. The two men running the place are deaf, but understanding the sign language isn't much more difficult than understanding Arabic; perhaps easier, and a lot more fun!
Nuweiba City
The camps and resorts in the city are all located along the beach.
North of Nuweiba
Stay safe
Drugs, particularly marijuana, are widely available in Nuweiba and famously cheap. This does not make them legal, so consider very carefully if you want to risk at best large fines and at worst lengthy prison terms in Egypt's notoriously squalid prisons before indulging.
Women travellers are pretty safe in Nuweiba. As a matter of courtesy to the local customs, even though you will see quite a few girls with short skirts and tight t-shirts, please respect the fact that Egypt is a conservative country, and dress appropriately in the city (at the beach a bikini is no problem).

Go next