Nyíregyháza
Nyíregyháza
is the county seat and largest city in Szabolcs-Szatmár-Bereg county in Eastern
Hungary
.
Understand
Some of the most popular attractions can be found north of the city in the suburb of
Sóstó
. The city is mostly looked over by American and British tourists, though often visited by Polish, Ukrainian, Romanian, and certainly Hungarian visitors.
phone: +36 42 310-735

address: Kossuth tér 1.

phone: +36 42 411-193

address: Nyíregyháza-Sóstó Thermal Bath, Water Tower,Sóstói road ~75
Get in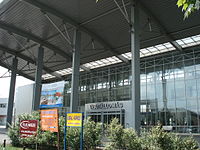 By bus
phone: +36 42 598177

address: Petőfi tér

More direct lines:Eger (2-3 per day), Fehérgyarmat (four per day), Kisvárda (four per day, 1hr 25min), Mátészalka (every half hour until ~19:00, 1½h), Miskolc (2-3 per day), Nyírbátor (16+ per day), Sárospatak (one morning, one afternoon), Tokaj (one morning, one afternoon), Vásárosnamény (16+ per day, 1hr 18min). Tiszafüred (Tisza Lake) via Debrecen (four per day).
By train
Train StationDirect international service to Kiev, Lviv, and Moscow. - Trains leave from both the Budapest Nyugati and Keleti stations (hourly, Ft 5200, 2nd cl., three hours ). With InterCity You will have to pay an additional fee for your seat reservation (automatically issued at the ticket counter), but the limited seats may disappear quickly, especially on weekends when many students are travelling to and from the capital. InterCity trains run either through Debrecen (hourly, Ft 1100, ~30min) or Miskolc (hourly until 23:00, ~Ft 1900, 1 hour). Szolnok (hourly until 23:00, ~Ft 3700, 2 hours). Mátészalka: there are a couple of direct trains, but buses better (prices 2nd cl., IC, 2014). Timetable
If you choose not to take an InterCity to Budapest, the journey will last closer to 4 hours as the train makes more stops. The train also will likely be less clean and less comfortable.
By car
M3 motorway connects Nyíregyháza directly to
Budapest
. Otherwise from Polgár take route #36. From
Miskolc
take #37 to #38. From
Debrecen
take route #4.
Get around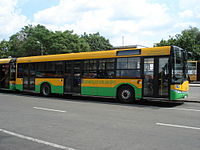 The train station is located about 15-20 minute walk outside of the town center. Szabolcs Volán runs bus service throughout the city and to small villages in the region as well. Nearly all the buses from the train station (except #6 and #16) run through the city center. If going to Sóstó, Bus #8 (but not #8A) leaves from the train station and town center.
All tickets can be bought from any newspaper kiosk or from the driver at an additional cost.
See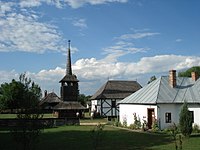 The city is mostly devoid of must-see attractions, though you can take many pleasant walks with the squares and parks or see an exhibit or two. You will most likely want to spend most of your time in Sóstó to see the excellent Open Air Museum and the lake.
Museums, galleries, and collections
phone: +36 42 500552

address: Nyíregyháza-Sóstó, Tölgyes utca 1

It wonderfully preserves the architecture and customs of rural life in the region from a hundred years ago. The museum also often holds festivals and events where visitors can step back in time and experience life the way it used to be.

address: Benczúr tér 21

The city's main museum and houses several permanent exhibits and occasional temporary ones. The permanent collection includes exhibits on local painter Gyula Benczúr, the life and works of local author Gyula Krúdy, the life of the museum founder Jósa András, the history of Nyíregyháza until World War I, the Hungarian calvary or huszárs, and the history of money.

address: Bethlen Gábor utca 5

Artistic relics of the Hungarian Greek Catholic church dating back as far as the 16th century.

Water Supply Historical Collection of the Upper-Tiszanian Region

address: Móricz Zsigmond utca 48

The collection contains items, photos, and portraits relating to water engineering in the county for the past 100 years.

Kállay Collection

address: Széchenyi utca 1

Items relating to and owned by former prime minister Miklós Kállay.
Places of Worship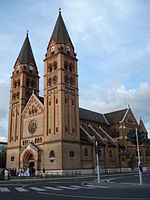 Nyíregyháza has long been a city of religious diversity and five different religions are represented in the downtown.
Greek Catholic Church

address: Bethlen Gábor u, 7

address: Kossuth tér, 4

Reform Church

phone: +36 42 507048

address: Kálvin tér

phone: +36 42 508770

address: Luther str., 1

Orthodox Synagogue

address: Sip u

This synagogue is no longer used, though it has been restored and can be visited.
Do
Nyírség Autumn and Fruit Carnival
(
Nyírségi Ősz- és Gyümölcskarnevál
). September is the best time to visit the city as the first weekend kicks off the Autumn and Fruit Carnival. Parade floats are made entirely out of fruits grown in the region. Besides the parades, free concerts are held in Kossuth square.
Nyíregyházi ZooConsidered one of the best zoos in the country behind the zoo in Budapest. The zoo has a wide variety of animals from all the regions of the world, including Africa (lions, giraffes, elephants), North America (buffalo, cougars, raccoons), and the polar regions (polar bears, penguins).

address: Bessenyei tér 13

Plays are frequently performed here in Hungarian.

City stadium

address: Sóstói út 24/a.

Nyíregyháza Spartacus is the local soccer team nicknamed "Szpari." They play here. The team plays in the NB I, Hungary's top professional league.
Hungarian Palinka Tasting (Zsindelyes pálinkakóstolás) Pamper your taste buds with a wide selection of different Premium Pálinkas, by Zsindelyes.
Bath houses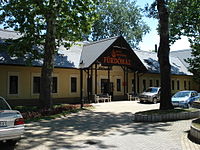 Thanks mostly to Sóstó (which is Hungarian for "Salt Lake"), Nyíregyháza has many opportunities to spend time in the water, for recreation or health.
Buy
MarketFor some fresh food.

Flea MarketThe real show is this: hundreds of stalls selling all sorts of items, mostly of Chinese origin. This market is often frequented by Ukrainians and Romanians, which only adds the adventure.

address: Szegfű u. 75

A small shopping mall and contains various shops, a food court, a bowling alley, and a multiplex movie theater.

phone: +36 (42) 410 437

address: Szent István u. 4.

Stationery and other office supplies.

phone: +36 30 337 5577

address: Hősök tere 15.

Shop for fresh roses, carnations and other flowers.
Eat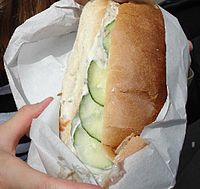 As with all of Hungary, expect to find lots of places to eat a
gyros
. However, in the Nyíregyháza region you shouldn't expect the gyros to be served in a pita. It is always served inside a large hot dog bun with chicken meat.
Anno 1366 restaurant

address: Damjanich utca 6

A medieval times-themed restaurant with a good variety of old-style Hungarian food. As a bonus, many foods are served to you on a sword.

Royal Restaurant

address: Zrínyi Ilona utca 1

They serve a large variety of pizza and pasta, but be warned: Ketchup is frequently substituted for tomato sauce.
Drink
John Bull Pub on Dózsa György u. 1., across the street from City Hall has a fantastic selection of Hungarian food and beer. Surprisingly, locals rarely come here and the restaurant is mostly frequented by foreign businessmen.
Sleep
Youth hostel
Kis Vakond Children - and Youth Camp

phone: +36 42 443526, +36 42 440179, +36 42 784075

address: Nyíregyháza-Sóstógyógyfürdő, Szódaház u. 4-6.

A peaceful environment, near to the forest, at the lake. Suggested for entertainment and sport, Services: suitable for disabled people, garden, children's playground, children's supervision, board games, conference facilities, Table Tennis, Games, BBQ Facilities. Two quadruple rooms, nine multiple bed rooms. Mobile: +3630/3228638 and +36 30 3228638.
Hotels
Go next
Balmazújváros - A few daily buses, more trains all via Debrecen (~Ft 1500, 1-2½ hours depend of connections. Local History Museum, Peter Veres Memorial Exhibition, Semsey Palace.
Debrecen (Take an IC train, hourly, Ft 1100, ~30min) — the second largest city in the country

EgerEger is best known for its castle, thermal baths, historic buildings (including the northernmost Turkish minaret), dishes and red wines.

address: Tiszafüred

Hungarians began to flock to the site for holidays, since it compared favorably with the crowded and expensive Lake Balaton, the traditional holiday site. The lake (or reservoir) has a new local ecology with a diversity of birds, plants, and animals.

Hajdúszoboszló- a very nice bath city, also excellent for a day trip.

Mátészalka (Buses, every half hour until ~19:'00, 1:30 h, also a few direct train), — a small town famous for it's early 20th century Jewish history and it's vibrant flea-market in modern times
Miskolc (IC trains, hourly until 23:00, ~HUF1900, one hour, 2014),- the third largest city in Hungary located near the Bükk hills.
Szolnok (Take an IC train, hourly until 23:00, ~HUF3700, two hours), - A small city on the banks of the Tisza river
Tokaj (Buses, one morning, one afternoon, ~ an hour) - Hungary's most famous wine region.