O.R. Tambo International Airport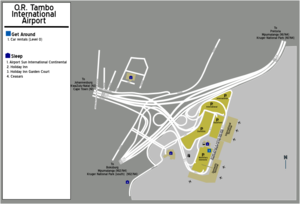 OR Tambo International Airport
(
JNB
) is located in Kempton Park, about 20 km east of downtown Johannesburg and serves as the major sub-Saharan hub. More than 40 airlines fly regularly to and from here. Everything you would expect from a large international airport is here: plenty of restaurants, shops and ATMs.

Understand
Opened in 1952, this airport has been renamed twice prior to being called O.R. Tambo in 2006. Older publications may still refer to it by its previous names of Johannesburg International Airport or Jan Smuts. It is also known by the abbreviation ORTIA.
The airport's location at around 1700m above the sea level combined with the sometimes high temperatures demand a longer takeoff run or a lower takeoff weight than average airports. Still the airport is accessible to all common airplane types.
Configuration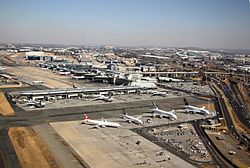 The arrival area is at the ground floor of the terminal. That's also where the passport control, the baggage claim and the customs are located.
The airport is organized into two main terminals, linked by a common landside atrium: Terminal A and Terminal B. Terminal A (the northern one) is for international flights and Terminal B (the southern one) is for domestic flights. The vast majority of international check-in counters are in Terminal A, but South African Airways international passengers must check in at SAA's counters in Terminal B even though their flights will depart from Terminal A.
Most airlines have their ticket counters in the departure hall at the second floor. There more than 100 E-Check-in counters, and if you're departing on a European airline, you will likely be using those with the higher numbers. After security you will get to the gates, just like at any airport.
OR Tambo's directional signage is notoriously vague and confusing, so ask for directions whenever you feel lost. For example, when you first approach the check-in counters, you will see many signs designating the counters by numbers, but no signs indicating
which
airlines correspond to which numbers. Some of the signs in Terminal A imply that the fastest way to the Car Rentals area is to walk
through
the parkade, which is incorrect.
Baggage
For anyone who arrives and looks lost, there are a large number of official and unofficial porters in the arrivals halls and outside the terminals in the area connecting the International Terminal and the Domestic Terminal. The official porters have bright orange uniforms and navy-blue shirts, and carry ACSA permits. They work exclusively for tips: a general guide is to give R5 (five
South African rand
) a bag.
Tourist information
There are several well-marked tourist information and help desk booths at the airport.
Flights
Domestic destinations within
South Africa
include:
Bloemfontein
,
Cape Town
,
Durban
,
East London
,
Kimberley
,
Port Elizabeth
and
Upington
.
Some of the local airlines are
South African Airways
,
British Airways (Comair)
and low-cost carriers
Kulula.com
.
OR Tambo International is one of the very few airports that have
nonstop flights to all inhabited continents
. There are connections from most important cities in Africa and worldwide including daily flights to and from
London
,
Paris
,
New York
and other major international destinations. Delta Air Lines runs flights from
Atlanta
to Johannesburg as the only major US carrier to fly to South Africa.
Connections
If you are transiting on a connecting international flight you do not need to collect your luggage or clear customs. Just ensure your luggage is checked through to your destination, and follow the transit signs directly to your departure gate. You'll need to pass through security again before you enter the departures area of the terminal.
OR Tambo does not have a direct link between the secure arrival area of Terminal A and the secure departure area of Terminal B. You will have to pass through customs and immigration if OR Tambo is your first stop in South Africa and you are transferring to a domestic flight. Also, note that Terminal B does not have jetways or aircraft parking spots within walking distance for the domestic E Gates. In other words, the E Gates are actually a tarmac-level bus terminal for buses that take you to aircraft sitting at very remote parking spots.
Thus, to be assured of a smooth connection from international to domestic SA flights, you need to incorporate a minimum of at least
two hours
to pass through immigration control upon arrival at Terminal A, retrieve your baggage and go through customs, check your baggage again at the Connecting Flights counter on your left after exiting Customs, walk over to Terminal B departures, pass through Terminal B security control, and then walk to your gate. Of course this does not apply in the case your baggage is already checked through to the final destination.
Then you may then have to take a bus ride if your aircraft was assigned to an E gate.
Finally, the Connecting Flights counter is small and understaffed and lines tend to accumulate quickly. It's not a mere bag drop. They will have to look at your papers just as when you checked in. Since you will have to pass through Terminal B security anyway, it may be faster to take your baggage over to the domestic check-in counters if the lines are long and your connection period is very tight.
Ground transportation
By car
The airport is located at the intersection of the R21 and R24 freeways. From
Johannesburg
, follow the R24 east and take exit 46, from
Tshwane
, follow the R21 south and take exit 46.
Car hire
Car hire companies are all located on level 0 in the multistory parking area opposite the domestic terminal.
Avis Car Rental

phone: +27 11 923-3660

Budget Rent A Car

phone: +27 11 390-1924

Europcar

phone: +27 11 394-8831

Hertz Car Hire

phone: +27 11 390-2066

Imperial Car Hire

phone: +27 11 390-1481

Khaya Car Rental

phone: +27 11 390-2347

National Car Rental

phone: +27 11 394-3580

Sizwe Car Rental

phone: +27 11 390-2340

Tempest Car Rental

phone: +27 11 394-8626

First Car Rental

phone: +27 11 390-2342
By train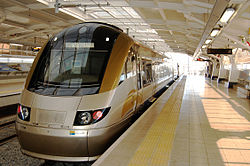 GautrainThe Gautrain connects the airport to Park Station in Johannesburg and Pretoria and a few other stations on the way. The Gautrain station is located in the terminal building. A prepaid Gold Card is required to make use of the train and these can be purchased with a credit card or cash at automated machines in the station. The Gold Card can also be used on the Gautrain buses at the destination stations.
By shuttle bus
Many tour operators offer transport/shuttles to and from the airport. In general shuttle buses have a fixed route stopping outside the arrivals hall. Major hotels operate their own shuttle buses that depart each 20-30 minutes during daytime. Most baggage carriers (uniformed) will carry your baggage to the right shuttle bus for a fee of R5-10.
Having someone who know the area drive you around gives you more peace of mind.
Scheduled services
Unscheduled services, book in advance
By taxi
There is a taxi stand outside the arrivals hall, and for departing passengers taxis can drive all the way to the departure hall at the upper level.
Alternatively you can choose to pre-book a taxi that will collect you from the Airport Terminal. Typically you'll find the driver waiting for you with a name board. The average price for an Airport Transfer from Johannesburg International Airport to Sandton is about R450-600 depending on the type Taxi your book (Executive or Standard Sedan). Some of the reliable taxi services providers include:
phone: +27 11 792-2017

Fixed price airport transfer service

Emzansi Cabs

phone: +27 11 039-4002

Pre-booked Airport Transfers & Shuttle Services.

Elias

phone: +27 76 834-0670

Friendly taxi driver based in the CBD.

phone: +27 11 548-0822

Offers shuttle services between OR Tambo Airport and Sandton. They also offer door-to-door transfers. A bit expensive for the single traveller but reasonable when traveling in groups.

phone: +27 11 648-1212

Reputable taxi firm based in Yeoville.

phone: +27 11 403-9625

Operates throughout the city.
Get around
The corridors, toilets and shops are accessible for disabled people too. Distances are in some cases long at the airport. According to the information signs, you should allow at least 10 minutes to get from the passport control to Gate 12.

Wait
Plane spottingThere are good views from the gate area towards the runways.
Lounges
Emirates Lounge

phone: +27 11 390 1215

Virgin Atlantic Clubhouse

phone: +27 11 929 6041

South African Airways Lounge
Eat and drink
There are more than 40 restaurants at the airport, and their menus mirror the cultural diversity of South Africa.

Buy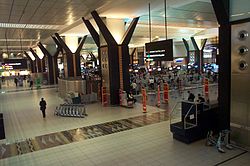 There are more than 100 shops offering pretty much what you would expect at an international airport at reasonable prices.
If you wish to claim back the South African VAT (14%), go to a counter in the departures hall with your receipts and goods. There you will receive a stamped document which you should bring to another counter in the gate area, where you will receive a check. Due to the fees incurred, it's not useful to claim back VAT for purchases less than about €30.
Connect
There's a post office in the arrivals hall. At the airport there is a Wi-Fi network available free for 50Mb or 30 minutes, whichever is the lesser, and thereafter for a fee. There are electrical sockets for passengers to use in most areas of the airport, but you might need an adapter.
phone: +27 11 575-2505

Simply connect to the access point and you will be given the opportunity to pay for access by credit card.
Cope
Airport Clinic and Travel Vaccination Centre

phone: +27 11 921-6609

GP, dentist, vaccinations and malaria prophylaxis

ATMsAll of South Africa's major banks are represented, including Standard, Nedbank, and ABSA.

Baggage storage

Baggage wrapping in plastic

Foreign exchangeABSA, American Express, Rennies and Master Currency has outlets here.

Post officeFor last-minute shipping and mailing needs. There is a small post box accessible 24 hours in front of the post office, but it is large enough only to accommodate letters and postcards; packages must be mailed at the counter when the post office is open.

phone: +27 11 394-1117

Prayer roomsThere are Christian and Muslim prayer rooms available at the airport.
Sleep
Emperors Palace

phone: +27 11 928-1000

address: 64 Jones Road, Kempton Park

Garden Court OR Tambo International Airport

phone: +27 11 392-1062

address: 2 Hulley Road, Isando

3km from the airport, transport to/from airport and shopping centres.
Stay safe

The terminals are heavily secured with 24-hour CCTV coverage and patrols by private security and by the South African Police Service. As with most international airports, the only major issues to worry about within the terminals are petty crimes like pickpocketing.
OR Tambo has a very serious problem with pilfering of personal belongings from baggage. Operators at the airport occasionally steal valuable objects such as iPods, laptops, digital cameras, cellular phones and jewelry while scanning the checked-in luggage of passengers. They may take advantage of the scanner machine to detect valuable objects and steal them. These events do occur and the stolen items include anything from electronic devices to designer perfumes.
Use a good baggage lock, consider using a baggage wrapping service in the terminal before you check bags, and do not check baggage unnecessarily early. Anything of value, like jewellery or electronics, should go in your carry-on bag whenever possible.
More than 100 mL of lotion and other liquids is not allowed
in carry-on luggage. When checking in at O.R. Tambo the check-in attendant will remind you not to place valuable items in your luggage. A service to wrap luggage in cling-wrap film is available at the airport, and others cable-tie the zip fasteners together to deter easy access to the contents of luggage.
Furthermore, OR Tambo has a history of gangs identifying suitable targets in the terminals, following them towards their destinations on the freeways, and then ambushing them either on the freeways or at their destinations. Watch out for suspicious people following you when you leave the terminals by any form of ground transport (even escorted tour bus) and be prepared to divert to a police station, petrol station, or other appropriate public facility to seek assistance.
Foreign tourists have been followed when leaving O.R. Tambo Airport by car to their place of residence where they have bern hi-jacked or robbed at gunpoint.

Nearby