OV-chipkaart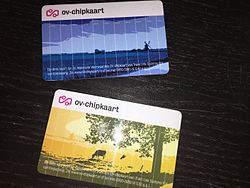 The
OV-chipkaart
is a contactless smart card system used for all public transport in the Netherlands. The OV-chipkaart is available in a disposable, single-use form (for occasional passengers, such as tourists) and reusable versions (for frequent travellers, either in anonymous or personalised forms) with a stored balance.
OV-chipkaart is short for
openbaar vervoer chipkaart
, meaning public transportation chipcard.
Types of cards
The OV-chipkaart comes in three versions:
Disposable OV-chipkaart is a single-use ticket. It can not be reloaded. Some public transport companies in cities offer 1-, 2- or 3-day tickets offering unlimited use in certain regions.
Anonymous OV-chipkaart is the most commonly used smart card. The purchase price is €7.50 (as of 2014) and is non-refundable. These cards are available at ticket offices and vending machines valid up to 5 years. This card is reusable and reloadable.
Personal OV-chipkaart is useful for anyone entitled to travel with a discount or monthly or annual season ticket. However, because this card requires a Benelux or German residential address or bank account, it is not usable for most tourists. This card features the holder's photograph and date of birth.
Disposable cards
The
disposable card
(
wegwerpkaart
) is for one-time or short-period usage. The card is in many ways like a normal ticket. Credit cannot be written to the card. The card is only valid from the origin to destination written on the card in the case of a one-time usage (though getting off and back on at intermediate stations is permitted), or is valid on the entire network for a single time period (day passes, etc.). Unlike for anonymous or personal cards, passengers cannot load a balance on the card once purchased.
Disposable cards for NS (
Nederlandse Spoorwegen
- Dutch national railways) are priced by distance, and cost €1 more per trip than if using an anonymous or personal OV-chipkaart or purchasing an e-ticket. NS also offers the Holland Travel Ticket which acts as a disposable OV-chipkaart but allows unlimited travel over the entire NS network and most local public transport operators for one day (i.e. until 04.00 the following day) from €41.
The primary operator of the metro / tram / bus system in
Amsterdam
(operator:
GVB
),
Rotterdam
(
RET
) and
The Hague
(
HTM
) each offer their own disposable cards. The products vary by operator with different conditions but are all priced by time period (hours or days) rather than by distance. The first tap on an OV-chipkaart reader would start the clock towards the ticket's expiry. These products are valid only for one transit system; they cannot be used for NS, Conexxion, Arriva, etc. Unless you plan to use public transit intensively for the period purchased, these disposable cards tend to be more expensive than paying by distance using an anonymous or personal OV-chipkaart (see next subsection).
For example, you could take a tram in The Hague to Den Haag Centraal station, take an NS train to Amsterdam Centraal station and then take a tram to your hotel in Amsterdam. Such a trip would require three separate disposable cards and the trip would cost €20.40.
Anonymous OV-chipkaart
The
anonymous OV-chipkaart
(
anonieme OV-Chipkaart
) is a reusable card the size of a credit or debit card. The card is definitely recommended should you wish to use the Dutch public transport system (i.e. not just NS but local transport operators) often. The €7.50 paid for a single anonymous card is cheaper than a disposable card after eight journeys. If you are visiting friends in the Netherlands, ask around if they have a spare anonymous OV-chipkaart lying around their house which they can lend you. The card can hold an amount of credit, which has to be loaded onto the card in advance. Prices are generally calculated per kilometre travelled, so this is in effect a 'pay as you go' (PAYG) system, but unlimited-ride day tickets offered by various transport authorities can also be loaded on to the card. Credit can be "topped up" at vending machines in stations and shops. The card is valid for five years from the day of purchase.
Going back to the example in the previous subsection, for travel with a tram from some point in the Hague to some point in the Amsterdam city centre, it could cost as low as €14 in total (including railway and local public transport fares) with an anonymous OV-chipkaart, more €6 cheaper than when three separate disposable OV-chipkaarts are used.
The pros and cons of an anonymous card depend on how you plan to use it. If multiple people are going to be using it, it is definitely an upgrade over the personal card. But do not try to travel with multiple persons on a single card at the same time, as this
will
result in a fine should you be caught. The downside here is that if you happen to lose the card, it can be used by anyone that happens to find it. Another downside of the anonymous card is that you need a minimum balance on your card to check, which may vary by transit operator or route. However, the difference between the minimum amount and the actual fare is refunded to you upon properly checking out.
Personal OV-Chipkaart
A
personal OV-Chipkaart
(
persoonlijke OV-Chipkaart
), which has most of the functions of the anonymous card, is only available to people living in the Netherlands, Belgium, Luxembourg and Germany. This is regardless of citizenship or nationality; all you need is proof of residence and a bank account in one of those countries. The card can be bought for €7.50 - the same cost as an anonymous card, but with a much more time-consuming and rigorous process. The personal card features your photo ID, the letters of your first name, your last name, as well as your birthday. The card is, like the anonymous card, valid for five years, though the personal card can be renewed, whereas the anonymous version cannot. The personal card, however, can be automatically topped up (
automatisch opladen
), once the credit drops below a certain amount. If the card is stolen it can be blocked. The personal card is useful or even required for travellers who are entitled to a reduced rate (students or elderly), yearly pass holders, etc.
Personal cards can only be obtained by filling in
the online form
. A permanent address and bank account in the Netherlands must be provided when applying, though residents of the
Benelux
and
Germany
may apply using PayPal.
Automatisch opladen
is, however, not available when using PayPal.
OV-fiets
OV-fiets
allows holders of a personal OV-chipkaart to rent bicycles from NS railway stations. However, one must be a resident of the Netherlands and acquire a season ticket (cost € 0.01 per year) to attach to a personal OV-chipkaart. (The Dutch word
fiets
means bicycle.)
Restrictions
Whilst the OV-Chipkaart can be used for most railway operators and local public transport operators in the country, they may not be used to pay for fares on services by the following operators:
Thalys
Eurostar
ICE (German segments)
IC Brussel and IC Berlijn (Belgian and German segments, respectively)
Flixbus
Other private coach operators
Buying and reloading
Anonymous cards and appropriate disposable cards are obtainable at ticket machines on train stations and the Amsterdam (GVB) and Rotterdam (RET) metro. Many supermarkets, tobacco shops and Bruna bookstores also sell anonymous cards. At Schiphol Airport, there are vending machines in the baggage claim area and the airport's train station. To view locations near to you, use the
checker on the OV-Chipkaart website
. At most places where cards can be bought, payment can be made by credit card with a PIN code. Bus and tram stops usually don't have any means to buy cards or load credit.
When checking or reloading the balance for an anonymous or personal OV-chipkaart at a ticket machine, first tap your card against the machine's card reader in order to display the balance and reloading options. Depending on the machine, you may get options to add €4, €5, €10 or €20. You may also get an option to set the balance to those amounts paying the difference from the old balance. Some small shops might be able to increment your balance by as little as €2.50.
Additional Products
The OV-chipkaart is capable of carrying various non-pay-as-you-go products (e.g. one-day ticket). Depending on the operator, these may need to be purchased separately, i.e. funds from the loaded credit may not be applied towards the purchase of such products. You will need to hold the card against the ticket machine reader, use the ticket machines to select the product you wish to purchase, and pay for the product using a separate payment method. If you purchase certain products online, you will need to use a designated ticket machine to ensure that those products are loaded on to your OV-chipkaart. Take note that some products (e.g. period-based subscriptions, discount schemes) are available only to personal OV-chipkaart holders so check the website of the transport operator before purchasing the products to determine what types of OV-chipkaarts are eligible.
Supplements
At the Schiphol Airport railway station (and the other stations served by the IC-Direct), there is a card reader with a sign saying "Rotterdam € 2,60". This is
not
a check in/out pole, but rather the means of paying the supplement (
toeslag
), with an anonymous or personal OV-chipkaart, to take an intercity direct train involving both Schiphol Airport and Rotterdam. (supplements cost €2.60). Alternatively, a supplement for the IC-Direct can loaded at the standard yellow NS ticket machines. If you are using this train, you must
also
check in/out on the regular card reader. Passengers travelling between Amsterdam Centraal or Schiphol Airport and Rotterdam Centraal but are using the (regular) Intercity or Sprinter service only do
not
need to tap their OV-chipkaarts on the supplement reader. The difference in opting for the regular Intercity instead of the Intercity Direct is about 30 minutes, making the Intercity Direct a more worthwhile investment here, being almost twice as fast as the regular Intercity service. Passengers holding a pre-purchased ticket to/from Belgium and are travelling on the IC-direct route en route there or vice-versa do
not
need to purchase a supplement as well if the pre-purchased ticket. Passengers taking an IC-Direct train along the Amsterdam Centraal-Schiphol Airport only or Rotterdam Centraal-Breda only stretches do
not
need to pay the supplement.
Supplements are payable by passengers taking the German InterCity Express for journeys within the Netherlands (i.e. Amsterdam Centraal, Utrecht Centraal, Arnhem), though there are no supplement posts for these journeys. The ICE supplement is paid for by getting an e-ticket, through a ticket machine, or from a service point and is not valid for travel to/from Germany. Passengers who wish to travel further to Germany need to purchase a separate ticket at Bahn.com (the national German railway operator's website) or NS International's website. The time savings gained from the IC-direct, however, cannot be said for the ICE, which travels on the same tracks as the regular Intercity trains, and is restricted to a maximum of for the entire length of its journey in the Netherlands (though 2nd class passengers can still enjoy the AC charging ports and on-board catering, amenities not offered on regular NS trains).
First class travel
Those who wish to travel 1st class will need to go to a ticket machine and select "Today 1st class" before checking in. To switch back to 2nd class rates at any time, passengers will have to go to a ticket machine and select "Today 2nd class" after checking out from the 1st class journey and before checking in for the 2nd class journey. Alternatively, passengers can choose to upgrade for a fixed cost whilst being charged 'pay as you go' 2nd class rates by selecting "Toeslag 2-1 Dag" (whole day upgrade for €25), "Toeslag 2-1 Daluren" (off-peak weekday upgrade for €9), "Toeslag 2-1 Weekenddag" (weekend upgrade for €5) at a ticket machine. These products are valid until 04.00 the following morning. They will need to hold their OV-chipkaart up against the reader to ensure their chosen product is loaded. Passengers caught sitting in a train's 1st class section without configuring their OV-chipkaarts for such are subject to a fine.
Minimum and Maximum balances
For train travel with an anonymous or personal OV-chipkaart, you must check in before entering the train station platform, and check out as you leave the platform at your destination. At check-in, a boarding fee of €20 will be deducted from your balance. This is the official minimum balance required for train travel. Unofficially, you only need a €16 balance since a negative balance of €4 is allowed. If you have an insufficient balance at your destination, you might need to top up your OV-chipkaart before checking out at the fare gates. When checking out, the boarding fee minus the actual travel costs will be refunded. If you forget to check out at a railway station, your card will be charged €20.
For local public transportation, the minimum required balance is €4 for most other forms of public transport. Some longer-distance buses (such as
Connexxion
) have a €6, €10 or €15 minimum depending on the route. If you forget to check out, your card will be charged that minimum amount.
All OV-chipkaart vending/uploading machines will display the balance on your OV-chipkaart. The remaining balance is also shown as you check out. There is also an internet
webpage
to check the balance.
A maximum of €150 can be loaded on to an anonymous or personal OV-chipkaart at any given time.
Checking in and out, and fares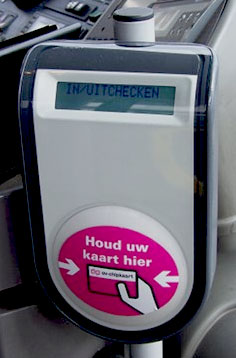 The OV-chipkaart must be held against a card reader both at the beginning and end of your journey in order to check in and out. At train and metro stations, card readers are located where the traveller enters/exits the station or the platform. At stations, there are one of two types of readers: free-standing card readers or card readers integrated into ticket gates. In stations served by more than one train operator, there are different coloured ticket gates where each colour stands for a particular operator; make sure to check in at the ticket gate of the operator whose train you are scheduled to immediately use. Likewise, upon arrival at a station served by more than one operator, be sure to check out at the ticket gate of the operator whose train you just used if you have no further journeys with them. You
cannot
check in/out on the train itself.
When travelling by tram or bus, the card readers are on the vehicles at each entry/exit door for travellers to check in and out when entering or leaving the vehicle.
The same card reader post can be used for both checking in and out. Tapping the card on the reader acts as a toggle. The first tap checks in, a second would check out, which may be useful if you change your mind. (To prevent an accidental check out, there may be a waiting time between check in and check out; if you are in a hurry try another card reader.) If you check in, the machine issues one beep. If you check out, you will hear two beeps. Pay attention to the number of beeps. If your card balance is too low, the machine issues a buzzer-like beep and displays the message
saldo te laag
(balance too low); in this case, you must reload your OV-chipkaart before retrying to check in.
For the anonymous or personal OV-chipkaart, fares are generally charged according to the distance between the locations where you check in and where you check out. If you take a long circuitous route rather than a shorter direct route on the same transit system between two points, you may find that you would be charged the same fare. The pay-as-you-go rate for local public transport consists of a boarding fee/base rate of €0.96 (charged once every 35 minutes) and a distance-based fare of €0.16 per km (pro-rated for every 50 m). For NS trains, the one-way fare depends on the number of tariff units (
tariefeenheden
) between the origin and destination station - the 2nd class fare starts at €2.40 for travel to up to eight tariff units and the maximum 2nd class one-way fare that can be charged is €26.50 (200 tariff units). The per tariff unit fare varies between €0.10 to €0.20. NS' website has a
map
showing the number of tariff units between possible origins and destinations; just add up the number of tariff units between your desired origin and destination and refer to the table on page 5 of
the NS' price list
to locate the corresponding price for the number of tariff units travelled. Apps and tools like the NS Reisplanner Xtra and
9292
can be used to show you the predicted cost of your journey.
For passengers travelling to a point outside the Netherlands and have used OV-chipkaarts for the domestic leg of their journey, they should check out at the last station in the country for which they do not have a pre-purchased ticket for. Likewise, passengers entering the Netherlands and do not have a pre-purchased ticket for the entire domestic segment need to check in at the first station not covered by their ticket. The check ins and check outs can be done at the yellow poles on the platforms. This step is not necessary if a passenger's pre-purchased ticket covers their entire train journey.
Transferring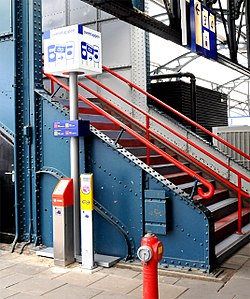 If transferring between two railway trains or two city metro trains
for the same carrier
, it is not necessary to check out for the first train before checking in for the second. However, when transferring between local buses and trams with an OV-chipkaart, you must always check out of the first vehicle and then check into the second. You may get the message "
overstappen OK
" ("transfer OK") which means that you completed the transfer within the prescribed period (35 minutes in Amsterdam) and thus your trip will be a little cheaper (i.e. €0.96 less for local public transport) than if you took longer to complete the transfer. In theory, this means that if you need to take public transport to visit a store and return after less than 35 minutes, you won't have to pay the boarding fee/base rate again on the return trip. Always remember to check out when leaving a local bus or tram; otherwise, your fare will be more expensive.
If transferring between different rail operators, do not forget to first "check out" at your current operator's card reader post,
before
"checking in" at the card reader of the operator you're switching to. For example, when travelling from
Arnhem
to
Almelo
, you will have to transfer from NS, which operates between Arnhem and Zwolle, to Arriva, which operates between Zwolle and Almelo. Therefore, at Zwolle's station, you will have to first "check out" at an NS card reader after which you "check in" at an Arriva card reader. It doesn't matter what platform you do this on. When you cannot check-out for the first operator (i.e. the check-out device is defective), you can claim costs with your public transport company.
Missed check-out
For users of the anonymous or personal OV-chipkaart: If you forgot to check out, you can apply for a refund of the difference between the minimum balance (the penalty fare) and the fare you would have paid had you not forgot to check out. You apply
online
to recover the money lost. You might have to wait up to 14 days before the transaction appears online. If your application is accepted, you must then go to an OV-chipkaart upload machine and press a button labelled "
bestelling ophalen
" or "pick up order" to complete the refund. You may recover from a missed check-out a maximum of 3 times per public transit operator per half-year.
Unused credit
It is possible to get a refund of unused credit on anonymous and personal cards at a ticket office for a €2.50 fee. The anonymous and personal OV-chipkaart have a validity of 4-5 years. Any credit that's still on an old card can be transferred to a new card or refunded directly to your bank account; for free if the old card is still valid, or for €2.50 if it isn't. Of course, you can always retain the card in case you wish to travel again to the Netherlands in the not-so distant future and the credit will be safe.

See also