Oakland
Oakland
is a port city in the
Bay Area
of
California
in the
United States of America
. Once overshadowed by San Francisco, its larger neighbor lying directly to the west, Oakland has begun to step out from under San Francisco's shadow with its notable natural and architectural features and its rise as the multicultural "hipster" city of the Bay Area. Visitors to the city notice that Oakland reflects its diversity and history.
Understand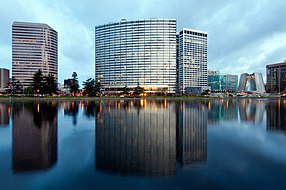 While Oakland has neither the concentration of tourist amenities present in its western neighbor,
San Francisco
, nor the suburban sprawl of
San Jose
to the south, the visitor can easily spend a few pleasant days here. From the mid-1960s through the early twenty-first century, popular media stoked American racial and class biases to generate negative perceptions about Oakland. Since the late 1990s, however, the actual basis for these often exaggerated portraits of Oakland life have receded, as the city is experiencing an economic and cultural revitalization, as well as the more controversial hyper-gentrification. Oakland is now the Bay Area's most diverse city. Although still an underrated cultural center, its heady arts and culinary scene and ongoing revitalization have generated enthusiastic coverage in the world media of record, including the
NY Times
,
UK Guardian
,
UK Independent
, NPR, and the
LA Times
. The city gets its name because it has an abundance of oak trees.
Since the 1960s, Oakland has been a hub of progressive politics and radical, sometimes outlaw organizations. For example, while Oakland gave rise to civil-rights-conscious labor movements in the mid-century, it was also the birthplace of the Black Panther Party and a crucial hub for the early era Hell's Angels.
Oakland's history in the arts and entertainment arena is notable as well, as Oakland has nurtured or been a second home to novelists Gertrude Stein and Jack London; actors Meryl Streep and Tom Hanks; architect Julia Morgan; environmentalist Julia "Butterfly" Hill; classical conductor Calvin Simmons; rappers MC Hammer, 2Pac, Messy Marv, and notables in the liberal arts and sciences.
Climate
Oakland, like San Francisco, has a Mediterranean climate with temperatures moderated by the San Francisco Bay and the nearby, greater expanse of the Pacific Ocean. Rain generally occurs in winter, not summer, since rains share more similarity to monsoons than they do to thunderstorms. Also, the effects of the San Francisco Bay and the East Bay's Mediterranean climate mean that below-freezing temperatures are unlikely, and if they do occur, the air will be dry.
Get in
By plane
Oakland or Auckland?
It's not just
Full House'
s Stephanie and Michelle Tanner that have ended up in
Auckland
,
New Zealand
instead of Oakland, California. Several incidents have been reported of tourists destined for Oakland ending up on the wrong side of the Pacific, either due to ticketing agent errors, or because they misheard an Air New Zealand flight attendant saying their London to Los Angeles flight was continuing to "Oakland". It may pay to double check your airline tickets and the destination screens before you board your flight; otherwise, it will be an expensive flight home.
Oakland International Airportis served by many domestic and international carriers. There is private shuttle service ($10–25) to hotels in Oakland and San Francisco. The airport is also served by the "BART to OAK" people mover to the Oakland Coliseum BART Station, from where you can continue onward to central Oakland or San Francisco, or transfer to the similarly named Amtrak Capitol Corridor station. The people mover runs every 5 minutes during the day, and ticket pricing is integrated at e.g. $7.85 to central Oakland or $10.05 to central San Francisco. This replaces the earlier AirBART buses, which have now been retired.
Other air travel options include the
San Francisco
(
SFO
) and San Jose (SJC) International Airports. SFO, with its BART station, is the more convenient of the two and also sits closer to Oakland. Those flying into SJC may have to battle significant traffic, pay for an expensive van or taxi ride, or take VTA's Airport Flyer (Route 10) to the Santa Clara Caltrain Station, then Caltrain to the Millbrae Intermodal Station, and then BART toward Oakland. (From SFO and Millbrae, BART provides direct service to West Oakland, Oakland City Center/12th Street, 19th Street, MacArthur, and Rockridge stations; those traveling to other Oakland stations, such as Coliseum, must change trains no later than 19th Street.)
For private pilots, Oakland Airport (OAK) has a separate General Aviation area "North Field", essentially the equivalent of another airport to the north of the commercial facilities, with separate tower, taxiways, and radio frequencies. Its long runway is frequently used for jet travel, and Oakland makes a far better GA destination than SFO's complex, heavily trafficked field.

By train
Amtrak has two stations accessible from Oakland, (At Alice and 2nd street, not far from the Square itself) and the much larger (At Horton and 59th Street, in Emeryville). It's always a good idea to get to your train at least 30 minutes early, to allow for lines, security and so forth.


By car
From San Francisco, Interstate 80 east leads over the beautiful Bay Bridge to I-580, I-880, and I-980, which go to east, west, and downtown Oakland respectively.
From Marin, Sonoma, and other counties along the northern coast of California, take US-101 to I-580 and cross the Richmond Bridge. I-580 leads directly into Oakland.
From Monterey, Salinas, and the Central Coast, follow US-101 to San Jose and connect to I-880, which leads to Oakland.
From Tracy, Modesto, and San Joaquin Valley's southern portion (Southern California, too), take the scenic I-580 over Altamont Pass.
From Stockton, either follow the Altamont Pass route or take California Route 4 through Contra Costa County to Route 242, then to Route I-680, which connects to Route 24.
From Contra Costa County, Route 24 leads to north Oakland through the Caldecott Tunnel.
From the northern East Bay, Vallejo, Fairfield, and the greater Sacramento, I-80 west leads directly to Oakland.
Alternatively, you can connect to Highway 123 and San Pablo Avenue in Richmond, and follow it to Oakland, if there is trouble on the parallel I-80. It's city streets, so will likely take extra time, and it will mean driving into and through everything between Richmond and West Oakland, including both El Cerrito and Berkeley.
Most northern entries to Oakland go through the heinous MacArthur Maze, a spaghetti-like mashup of four freeways trying to merge and pass each other. It's got terrible traffic during commute times (7AM-10AM, 4PM-8PM), so you might want to avoid driving on the freeways at these times.

By bus
phone: +1 510 832-4730

address: 2103 San Pablo Ave

At the western border of Uptown in a notorious location — be careful. There is regular local bus service to and from Downtown and in the opposite direction, Berkeley.

phone: +1 408-729-7885

address: bus stop at Banh Mi Ba Le's Sandwich Shop, 1909 International Blvd (E 14th St)

Travels between SoCal (San Diego, El Monte, Los Angeles, Westminster) and northern California (San Francisco, San Jose, Oakland and Sacramento).

address: W Oakland BART station at 1451 7th St

Service to and from Anaheim, Burbank and Los Angeles.
By ferry
The San Francisco Bay Ferry has departures from both Pier 41 and the Ferry Building in San Francisco, weekdays year-round and weekends except for mid-winter. Its Oakland terminal is at the foot of Clay St. in Jack London Square. (On summer weekends there are also trips to Angel Island, an island park in the middle of the bay, formerly an immigration station.)

Get around
Oakland is a good-sized city, with attractions more than a fair distance from the center of town. Car rentals tend to be more expensive than other locations in the country, and streets are frequently lined with meters, unless they're in completely residential zones. Some of the larger attractions have their own parking of course, and some of the more visitor-friendly neighborhoods have sizable parking lots - some paid and some not. Most residential areas allow parking for only a limited time for non-residents, so the wise traveler is best-advised to use public transit of some kind.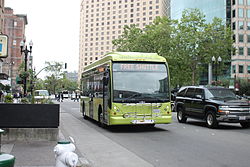 Clipper
The frequent and long-term visitor to the area may be best-advised to acquire a
Clipper
card, which is touted as an 'all-in-one' transit electronic flash pass. It allows much easier use of almost all of the entire Bay Area's public transit agencies, allowing the user to use simple cash value or a specific transit agency's monthly pass. Cash value may be added at any of BART's stations, as well as a certain stores in Oakland or throughout the Bay Area.
By bicycle
Oakland has a wide and increasing infrastructure of bicycle lanes. If you need a bike, rental shops are close to nonexistent. Oakland enjoys a pumping bike culture, with lots of bike parking, and especially at some "parklets" at many of the city's coffee shops. If you like mixing bikes with your nightlife, you can join the 300+ people that cycle together monthly at
East Bay Bike Party
.
Bike sharing
Bike sharing is a recent development in Oakland, so most of the action is through
Ford GoBike
and their trademark blue bikes and docking stations.
LimeBike
is a more recent appearance, mostly through their trademark lime green rental scooters. Both tend to be quite pricey. GoBike's machines allow only a limited time of use, 30 minutes at a time for a day-long access pass or 45 minutes a ride for an annual membership fee.
By bus
address: 1600 Franklin St

Bus service to most parts of Oakland and its neighboring cities and towns for $2.35 (one-way, $.25 for single-use transfer), transbay service to San Francisco is $4.50 (one-way, single-use transfer for AC Transit only is free). A Local Day Pass, allowing unlimited transfers at no additional cost is $5, and lasts until 3 AM the following day. Service for most routes ends at or around midnight. There are several all-night routes, designated by "8xx" numbers, such as the 800, which runs from Richmond BART/Amtrak, through El Cerrito, Albany, Berkeley and Oakland to and from San Francisco. (From Bay Area phones, dial 511, then say "AC Transit" for the AC Transit menu, then say, "Customer Relations".)

phone: +1 510 891-4777

The B is a free shuttle service operating along Broadway from Grand Ave. all the way to Jack London Square.

phone: +1 510 451-3862

address: 1300 67th St

Shuttle service that connects at MacArthur BART Station, providing frequent and free service from the early morning to around 10PM between Oakland and Emeryville
By car
Unlike the often-tightly packed and crowded streets of nearby San Francisco, many locations of Oakland are much more friendly to cars. Parking lots are a more frequent sight, some requiring a nominal fee, as well as larger parking structures near the airport, and some of the BART stations.
In addition to the freeways and route mentioned in the "Get In" section, there are a couple of smaller intraurban freeways in Oakland:
The
Warren Freeway
(CA 13) is a two-way narrow four-lane highway that intersects CA-24 near the Caldecott Tunnel at one end and follows the feet of the Oakland Hills, passing alongside the wealthy
Montclair
neighborhood, through a wooded valley until it merges with I-580. It's often used to bypass the often-circuitous route taken by I-580 and the MacArthur Maze, but its narrowness can turn it into a traffic jam far more easily.
Interstate 980
is a north-south freeway that becomes CA-24 when it nears the Cloverleaf merge with I-580. It meets I-880, passing around the western edge of Old Oakland.
Car sharing
Car sharing has been available since 2001 in Oakland, when City Carshare (absorbed by Getaround in 2016) opened its doors for the first time. Rates are usually by the hour or the day, depending on the individual service.
Getaround
,
Gig Car Share
,
Upshift
and
Zipcar
offer easily-accessible services to account holders city-wide.
Rental cars
Rental car facilities may be found scattered throughout the city, though Oakland International Airport has a dedicated facility; including a connecting rental car bus.
Alamo
,
Avis
,
Budget
,
Dollar
,
Enterprise
,
Fox
,
Hertz
,
National
and
Thrifty
all maintain offices and rental lots at the Rental Car Center at 7600 Earhart Road (Entrance is at the corner of Langley and Doolittle), outside of the Airport proper.
In addition,
Avis
,
Enterprise
and
Hertz
all operate smaller car rental facilities at various locations in the city itself.
Ride sharing
Uber and Lyft both do a bustling business in the entire Bay Area, including Oakland. As of August 2018, Uber offers services for a minimum fare of about $7.20 and $1.33/mile, and Lyft about $3.50 minimum and about $1.50/mile or $0.18/minute. Uber offers wheelchair-accessible services, and both offer SUV services. Both services have additional fees for rides beginning or terminating at
Oakland International Airport
. Surge pricing applies during certain heavy traffic hours with both services. Be careful - with heavy traffic during rush hours, surge pricing and mileage can result in a very hefty bill.
By subway
BARTConnections between Oakland to San Francisco, the Peninsula, Contra Costa County, and the far northeastern reach of Silicon Valley, usually at a cost between $2 and $4 each way. BART has stations in several major neighborhoods in Oakland, such as Downtown (City Center), West Oakland, Lake Merritt and Rockridge. Note that there is an extra $5 added to any fare beginning or ending at SFO.
By taxi
Taxi services in Oakland tend to be a very mixed experience. Prices tend to be high, and even the more reliable taxi companies can be very hit and miss for reliability and prompt response time. There are a large number of companies with "Yellow" and "Cab" in their name, without being the same company.
See
Oakland has many attractions to the eye and for the mind. Where some believe that it is a city of run-down Victorian houses or endless stretches of urban blight, this is very far from accurate. Oakland is a city with roots as far back as the earliest years of the admission of the State of California, and as such, it has architecture extant from many different eras. The Victorian architecture preserved and restored in Old Oakland, the Art Deco glory of Uptown, and the history of the Port of Oakland itself are among the many things to see. New York City has Manhattanhenge, towers of glass and steel; Oakland has the valleys of stone. Eight different walking tours are offered by the City of Oakland, with eight different paths to explore the city, from the historical landmarks of Jack London Square and the Waterfront, to the cultural sights and experiences of Chinatown, and the history of African Americans that grew and made their marks in civil rights and the history not only of the city but of the nation, just to give a small sample of three of the tours' itineraries.
Neighborhoods
The first place many visitors are likely to visit is
Downtown
, especially if they are in town on business, or simply do not know where to start. The center of transportation by BART and by bus is there, if you want to branch out. Only a few streets away is
Old Oakland
, along 10th Street, just west of Broadway. Just east of Broadway and continuing north and south is Oakland's famous
Chinatown
, where many of the buildings and streets of Chinatown reflect the diverse nature of its history, in architecture and in the bilingual signs seen throughout the neighborhood.
The curious traveler can venture to take a bus southwards along Broadway, and come to
Jack London Square
. The unlikely mixture of warehouses and very expensive restaurants and posh atmosphere alongside some of the landmarks of the city's waterfront makes the Square an interesting place to visit and explore, even for locals. It's the home of the
USS Potomac
and the site of the namesake author's residence, still preserved and humbly standing not far from a saloon from the same era.
Just west of Downtown and slightly north of the
Financial District
is
Uptown
. In the evening it buzzes with art galleries, theaters and residents and Bay Area visitors coming into the area to see concerts. A popular area on the weekend with a mixed vibe of hipster and hip hop. It's a burgeoning neighborhood of performing arts ranging from nightclubs to music halls, and some of the best in the city's vintage architecture, like the Gothic Revival
Cathedral Building
and the Art Deco
Fox
and
Paramount
Theaters, as well as several nationally renowned restaurants, including Flora, Duende, and Pícan.
North Oakland
is a sweeping term, referring to just about everywhere north of Uptown and
Lake Merritt.
Temescal
is a neighborhood that lies north-northwest from Downtown; it is home to a range of restaurant cuisines, from Korean to Ethiopian. Northeast of Temescal lies
Rockridge
, a picturesque and affluent neighborhood mixed with family friendly and artistic vibes. South of Rockridge lies
Piedmont Avenue
, a street home to many renowned eateries, close to the small, sleepy and wealthy town of Piedmont. East along I-580 are the
Grand Lake
and
Lakeshore
neighborhoods, which share a friendly, early twentieth century suburban ambiance. The
Grand Lake Theater
stands at the entrance to the neighborhood that bears its name, a matter of a few hundred feet from Lakeshore Avenue - both neighborhoods have a range of eateries no matter what your budget, be it burgers or a romantic meal.
West Oakland
was once a burgeoning working-class neighborhood with its roots tracing as far back as the opening decades of the 19th century. The neighborhood is a gritty paradox, featuring separate blocks of slums and industrial sites and on others, stately restored victorians and arts-rededicated warehouses. Marred by among the city's higher crime rates, West Oakland also boasts a growing number of stylish hipster cafés, drawing a clientele ranging from the port's dock workers to concept-conscious hipsters from around the Bay Area.
Museums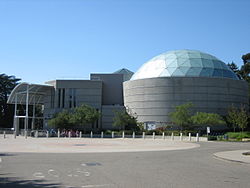 Parks & gardens
Public parks are a very common sight no matter what part of Oakland you are in. From green gardens to athletic fields and playgrounds to the massive open space of the Oakland Hills, if you want to get away from the hustle and bustle for a breath of fresh air or the like, there are plenty of places to relax in. A more complete list of the city's parks may be found at the
City of Oakland Parks and Recreation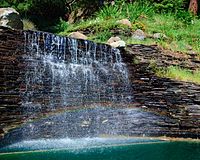 Art galleries
News on many of Oakland's fine arts exhibitions can be found at
Oakland Art Murmur
.
Do
Oakland is a city of passionate interests - among the strongest of them are the love of the performing arts. Theater, live DJs, nightclubs, concerts, dance and even more unusual avant-garde activities are common sights and experiences in the city. Not just the obvious locations like the convention center or the Oracle Arena are home to the passion of performance. The
Fox
and
Paramount
Theaters host live concerts; the Paramount in particular is home to Oakland's East Bay Symphony, but that is by no means the end of the list. The nightlife of Oakland swings to the beat too, with popular spots like the
Uptown
and
Yoshi's
(Found in the Bar/Nightclub section under Drink) keep the music moving far into the evening hours. And that is only the beginning.
Performing arts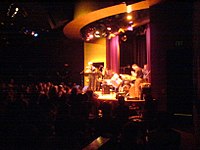 Events
Oakland is an amazingly diverse city, with roots in a range of cultures and traditions. Reflecting this, many annual events are held in Oakland usually but not always centered around Downtown.
Recreation and film
Visiting the Raider Nation
Things to know when in the city with some of the craziest football fans:
There is a long history of tension between Raider fans and San Francisco 49er fans.
Be careful. Wearing the wrong team colors in some places in Oakland can lead to confrontations with some of the more wild fans.
The Raiders' reputation as outlaws started during the 1970s and early 1980s, under John Madden, during which time they won three Superbowls, and then-manager Al Davis moved the team to Los Angeles.
The present-day 'Raider Nation' is associated with the Coliseum's 'Black Hole' section, and during games, many fans wear elaborate and bizarre outfits.
Maybe a night of dancing or shaking yourself to the beat isn't quite what you had in mind. Three major sports teams and a whole host of theaters offer a distinct alternative, or even a prelude to a dip into the city's diverse nightlife. Oakland's tradition of movie theaters goes as far back as the First World War, and most of the theaters are in preserved and carefully restored style that can take the breath away.


Just for the kids
Learn
California College of the Arts

phone: +1 510 594-3600

address: 5212 Broadway

As the name implies, a large art college with a variety of disciplines. One caveat - the school is split into two locations, this listing is for the Oakland campus. The other is in San Francisco.

phone: +1 510 444-0919

address: 1260 7th St

An industrial arts collaborative offering classes in everything from blacksmithing to welding.

phone: +1 510 834-5740

address: 900 Fallon St

South of Lake Merritt, one of the city's two community colleges through the Peralta Community College District.

phone: +1 510 628-8010

address: 401 15th St

A private university primarily focused on business, offering a modest variety of minors.

phone: +1 510 531-4911

address: 12500 Campus Dr

It's high in the Oakland Hills. Merritt is the other Peralta community college in Oakland.

phone: +1 510 430-2255

address: 5000 MacArthur Blvd

An all-women's liberal arts college.
Buy
Bike shops
Bike shops are a reasonably easy find in Oakland - used as an alternative means of transportation, to say nothing of exercise, throughout the city.


Bookstores
Music
Shopping centers
Though once a common sight in Oakland, with Eastmont Mall (the last operating fully enclosed mall) being used almost exclusively for other services, large enclosed malls are a thing of the past in Oakland. There are however a few open-air spots.


Eat
The third great passion after art and music that is shared by residents and visitors to Oakland alike is food. Oakland is foodie country. No matter what your budget is - if you want to find something to eat from a hamburger to a full-course meal, you're going to find both and just about everything in between. Though any city would look spartan and lackluster next to San Francisco, Oakland is not found wanting.
Adams Point
Budget
Ahn's Quarter Pound Burger

phone: +1 510 763-4328

address: 439 Grand Ave

Very no-frills burger stop that has all the basics and its own parking lot.
Mid-range
Chinatown
Budget
phone: +1 510 893-0383

address: 1301 Franklin St

A Vietnamese restaurant that does its best to serve 100% vegan and organically-grown dishes on a budget.

phone: +1 510 465-1940

address: 389 8th St

Decent to great Cantonese food with fast service, open late. A reasonable option after a late show or club night if you're already downtown. If you like duck, make sure to get some roast duck, and their BBQ pork is equally good. Excellent lobster, too.

phone: +1 510 839-2299

address: 328 10th St

Although California Governor Jerry Brown visited this place during his term as Mayor of Oakland (a framed picture of him and the restaurant owner is proudly displayed), this restaurant has the characteristics of a local, "dirty but delicious" gem. Noodles are made fresh, right in the restaurant. Often crowded with local Chinese, and so when busy one may have to wait a while to get a table.

Vien Huong Restaurant

phone: +1 510 465-5938

address: 712 Franklin St

This is the best restaurant in Chinatown for a mix of Chinese and Vietnamese cuisine. Be sure to order a noodle soup and fish cake(with a sweet and sour salad).
Mid-range
phone: +1 510 839-8815

address: 850 Broadway

Delicious Cambodian food in a quiet, clean, casual with white tablecloth environment.

phone: +1 510 625-8889

address: 369 12th St

Just as the name implies, spicy Szechuan food and hot pot, home of the Gangsta Casserole. Online ordering. Delivery.
Dimond
Budget
Ly Luck

phone: +1 510 530-3232

address: 3537 Fruitvale Ave

Big portions, low prices.

phone: +1 510 531-1172

address: 3434 Fruitvale Ave

A small Indian restaurant that delivers. Online ordering.

phone: +1 510 531-3660

address: 2105 MacArthur Blvd

Small taqueria with low prices and large portions. Try the wet burritos.

Tu Tai 3

phone: +1 510 482-6188

address: 2141 MacArthur Blvd

A small, clean and inexpensive Vietnamese restaurant with good noodle dishes and sandwiches. Vegetarian-friendly.
Mid-range
phone: +1 510 531-7750

address: 3411 Fruitvale Ave

A classic French bakery, La Farine is rich in crusty sourdough, flavorful sweet bread, tarts and numerous sweet treats. The sour batard, rustic baguette and morning buns are highly recommended for a first survey of their offerings.

phone: +1 510 530-8564

address: 3400 Fruitvale Ave

A full service Japanese restaurant and sushi bar that is a frequent stop for shoppers at Farmer Joe's.

phone: +1 510 336-2013

address: 2000 MacArthur Blvd

An up-market soul food spot that serves all the favorites, from fried chicken to chitlins. Live jazz and buffet Sundays.
Fruitvale
Budget
Los Cocos Salvadorean Restaurant

phone: +1 510 992-4768

address: 1449 Fruitvale Ave

A little hole-in-the-wall that serves up authentic Salvadorean food at excellent prices.

Mariscos La Costa

phone: +1 510 533-9566

address: 3625 International Blvd

A small, outdoor patio restaurant that features seafood but has the regular fare of typical Mexican restaurants. Authentically spicy, so make sure you request no salsa or jalapeños if that is your preference. A former burger joint turned-taqueria, this eatery is good for lunch and best enjoyed in fair weather with a refreshing agua fresca, as tables are exclusively on the outdoor patio.

Tacos El Gordo

address: 4201 International Blvd

Could be considered the best taco truck in Oakland, with fare that by far surpasses most restaurants. Their burritos are over 12" and unbeatable. Contrary to popular belief, taco trucks (especially this one) are sanitary and often have food as good or better than what one can find in standard restaurants. As there is no place to sit, people eat standing up next to the taco truck, or in their cars. There is a parking lot with free parking.

Taqueria San Jose

address: 3433 International Blvd

Authentic Mexican food, best known for its tacos, salsa bar and low prices.

phone: +1 510 606-0596

address: 3700 E 12th St Ste 1D

A friendly little vegan/vegetarian spot for breakfast, lunch or brunch. Full catering, no take-out.
Mid-range
phone: +1 510 533-7294

address: 1001 Fruitvale Ave.

This Fruitvale landmark is a full-service Mexican spot that serves from a gigantic menu that covers everything from simple salads to large seafood platters. There is on-site parking, a full tequila bar, vegetarian-friendly dishes and they even cater. If visiting during the later hours, be judicious.
Grand Lake / Lakeshore
Budget
phone: +1 510 268-8849

address: 3265 Lakeshore Ave

A worker-owned bakery well-known for cheap and delicious baked goods and pizza.

phone: +1 510 465-8854

address: 3260 Grand Ave

One of the best Japanese restaurants in the Bay Area. Usually a long wait for a table on the weekend.

phone: +1 510 835-3474

address: 3345 Grand Ave

Great family-run Vietnamese restaurant with good food at good prices, and a ridiculously good beer selection. Local delivery, but it's always better fresh out of the kitchen. Online ordering.
Mid-range
Jack London Square
Budget
phone: +1 510 836-4446

address: 444 Embarcadero West

The best chicken and waffles in the Bay Area. Cheap, open late, good drink specials (though the beer & wine is pretty standard, nothing to get excited about), it's a local institution. A diner style decor, lots of televisions (some tables even have televisions), and wonderful, attentive service. Full catering.
Mid-range
Splurge
phone: +1 510 835-8600

address: 1 Franklin St

The east bay location of this national chain of seafood and steakhouses. A nice dining room that makes Scott's Seafood look old and stuffy. They also have a great happy hour where frugal foodies can pig out on seafood and finger foods every evening in the bar. Online reservations. Virtual tour.

phone: +1 510 444-3456

address: 2 Broadway

Large, upscale, seafood restaurant on the waterfront, frequented for wedding receptions and business luncheons. They have a decent happy hour. Old school surf and turf. Full catering. Online reservations. Private space available. Full florist service.
Old Oakland
Budget
phone: +1 510 271-7965

address: 817 Washington St

Stylish Italian caffè where patrons line up patiently for capuccini, chorizo & eggs, polenta, fresh fruit granola, panini sandwiches & salads. Online ordering. Delivery.
Mid-range
Splurge
phone: +1 510 823-2050

address: 536 9th St

A small Japanese spot that does nightly omakase (chef's choice) with seasonal local ingredients. Reservations recommended. Online reservations.
Piedmont Ave
Budget
phone: +1 510 428-0588

address: 4060 Piedmont Ave.

A small gyro and souvlaki spot with very large portions and a flavorful menu. Try any of the gyros, and bring your appetite, especially when ordering the aptly-named Titan. Free Wi-Fi. Catering services available.
Mid-range
Splurge
phone: +1 510 653-3902

address: 3859 Piedmont Ave

Swanky, cramped spot well-known for their sommelier service and often-incredible combination of flavors. Online reservations.

phone: +1 510 879-7953

address: 3853 Piedmont Ave

A cozy and well-lit and ventilated place for French-American haute cuisine.
Rockridge
Mid-range
Temescal
Budget
phone: +1 510 594-7610

address: 4923 Telegraph Ave.

Friendly little place well-known for their fish tacos and mix and match frescas.

phone: +1 510 658-7788

address: 4919 Telegraph Ave

Cheap pizza that boasts a delivery area that includes Oakland, Alameda, Emeryville and Albany. Online ordering and delivery.
Mid-range
phone: +1 510 654-2000

address: 4869 Telegraph Ave.

Nice, modern Korean barbecue, best remembered for their bibimbop and fried chicken.

phone: +1 510 652-2900

address: 4721 Telegraph Ave.

A cozy restaurant that does proper Burmese cuisine, as well as several Chinese and Thai dishes. Vegetarian-friendly, no reservations. Catering available.

phone: +1 510 450-0522

address: 5004 Telegraph Ave

A rare Mexican restaurant that serves brunch, and authentic mole sauce and huitlacoche. Online reservations.

Kansai

phone: +1 510 658-7273

address: 4345 Telegraph Ave

Extensive sushi menu and good service. Has their own private parking lot - a rare sight in Oakland.
Upper Telegraph
Budget
Mai Banh Mi

phone: +1 510 788-5755

address: 6601 Telegraph Ave

A friendly Vietnamese place that specializes in banh mi - Vietnamese sandwiches, as well as some light standard entrees. Online ordering for pickup.
Mid-range
phone: +1 510 601-7999

address: 6427 Telegraph Ave

Ethiopian food served traditionally on injera, with an excellent selection of vegetarian dishes, friendly wait staff and excellent decor. Try the mitten shuro. Full catering services available. Online ordering. Third party online delivery.

phone: +1 510 547-6833

address: 6228 Telegraph Ave

This small dinner Japanese place does delivery only until 3AM, six days of the week.

Saysetha Thai Cuisine

phone: +1 510 653-2837

address: 6230 Telegraph Ave

A small Thai restaurant with simple decor, low prices and a massive menu. Take-out orders welcome.
Uptown
Budget
Mid-range
phone: +1 510 839-SOUL

address: 2295 Broadway

Once the pride of West Oakland, now located at the edge of Uptown with the same soul food specialties that they served for a decade prior to their move.

phone: +1 510 286-0100

address: 1900 Telegraph Ave

Expensive upscale art deco restaurant with an impressive cocktail and wine list. It's named Flora because it used to be a flower shop. Have a pre-dinner cocktail at their bar next door, Fauna. They also offer a vegetarian special (Flora) and a meat based special (Fauna), eat evening.

phone: +1 510 451-4677

address: 2221 Broadway

Excellent food with a great selection of Belgian Ales, a small dance floor in a separate room, and a pool table in the back. Popular for lunch and happy hour during the work week, and brunch on the weekend. Space for private events.
Splurge
West Oakland
Budget
phone: +1 510 645-1955

A cozy little cafe that offers New American breakfast and lunch fare all day. Full catering menu. Phone ordering.

Pretty Lady

phone: +1 510 832-1213

address: 1733 Peralta St

Go for breakfast, brunch, and lunch. Korean American diner with a friendly staff. Old-fashioned U-shaped counter and bar stools.
Mid-range
Etc.
Budget
Champa Garden

phone: +1 510 238-8819

address: 2102 8th Ave

It's in a residential neighborhood. This cozy restaurant that has a flair of Southern Asia flavors. The mix of Vietnamese, Lao, Thai and Mien cuisine makes this restaurant a unique one. Make sure to get an order of Pad Thai.
Mid-range
Drink
Pubs
Bars and nightclubs
The Alley

phone: +1 510 444-8505

address: 3325 Grand Ave

Sing along with pianist Rod Dibble as he plays the oldies. One of the last piano bars in town.

Bar Three Fifty-Five

phone: +1 510 451-3355

address: 355 19th St

Prohibition-era atmosphere bar with early-20s clientele, reasonable prices.

phone: +1 510 763-7711

address: 1621 Telegraph Ave

Artsy bar with live music. Greyhounds are the house drinktheir margaritas are good too. Vodka Greyhounds are the default; if you want gin, you must specify.

phone: +1 510 547-9374

address: 4044 Broadway

A neighborhood dive, full of interesting characters behind and above the bar. Allows dogs and food from the outside.

Heinold's First and Last Chance Saloon

phone: +1 510 839-6761

address: 48 Webster St

An old-fashioned saloon, dating all the way to the 1880s, purported to have been a frequent stop for a young Jack London.

phone: +1 510 654-7100

address: 4401 Piedmont Ave

Enjoy a tropical drink in this tiki bar, and lift up the grass skirt on the anatomically correct hula girl statue.

phone: +1 510 834-1517

address: 1517 Franklin St

A small, cozy lounge with frequent live music and a variety of mixed drinks.

The Libertine

phone: +1 510 735-9073

address: 3332 Grand Ave

Low lights and interesting art compliment the wide drinks selection at this spot opened in 2016.

Radio

phone: +1 510 451-2889

address: 435 13th St

A small hipster bar with a cool DJ. Shares an all-red lighting scheme (and an owner) with the Ruby Room. House cocktails are considerably more complex than you would expect, including early 20th century drinks, and most are worth trying.

Ruby Room

phone: +1 510 444-7224

address: 132 14th St

A larger bar with a similar ambiance to the Radio Bar (with which it shares an owner), this includes a pool (billiards) room.

phone: +1 510 451-8100

address: 1928 Telegraph Ave

Though named a nightclub and they do serve drinks, it's dominantly a performance venue for bands or singers of just about any kind of music.

phone: +1 510 652-3820

address: 6551 Telegraph Ave

Friendly gay bar in North Oakland, beware of the $25 minimum charge when paying with a credit card. Frequent stop for karaoke and live music.

phone: +1 510 238-9200

address: 510 Embarcadero West

Though they serve sushi and drinks, the real draw is the music - Yoshi's is among the most well-known jazz clubs on the West Coast. Online ticketing available for events.
Coffee, tea and chocolate
phone: +1 510 658-2744

address: 4045 Piedmont Ave

An old-school Italian coffeehouse that does all-day breakfast and desserts right from the old country. Meals can be a little above average, especially dinner.

The Coffee Mill

phone: +1 510 465-4224

address: 3363 Grand Ave

A nice, friendly little coffee shop and bakery that is in a good spot for having breakfast or lunch inside or outside, depending on the weather. Also has live jazz on Sunday evenings.

Gaylord's Caffe Espresso

phone: +1 510 658-2877

address: 4150 Piedmont Ave

A nice neighborhood coffeehouse that is usually crowded, also has an old organ for a countertop.

Hive The Place To Be

phone: +1 510 482-4483

address: 2139 MacArthur Blvd

A smart little breakfast and sandwich shop with many gluten-free options. Free wifi.

Peet's CoffeeBased in nearby Berkeley, Peet's is an East Bay favorite for coffee, tea and pastries.
Peet's Financial District

phone: +1 510 844-0061

address: 1111 Broadway

Peet's Dimond

phone: +1 510 842-0203

address: 3401 Fruitvale Ave

Peet's Lakeshore

phone: +1 510 832-6761

address: 3258 Lakeshore Ave

Peet's Latham Square

phone: +1 510 842-0203

address: 1615 Broadway

Peet's Montclair

phone: +1 510 339-6075

address: 2066 Antioch Ct

Peet's Piedmont Ave.

phone: +1 510 655-3228

address: 4050 Piedmont Ave

Peet's Temescal

phone: +1 510 899-6230

address: 5095 Telegraph Ave. Suite #1
phone: +1 510 922-1507

address: 440 Grand Ave

A friendly little coffeehouse, complete with hand-painted shades and a play area for kids.
phone: +1 510 985-1360

address: 4252 Piedmont Ave

An upscale coffeehouse and bakery known best for brunches and hand-made vegan pastries.
Sleep
Stay safe
Crime
Oakland has some problems with both property and violent crime, especially toward the eastern part of the city. The parts of the city with the most serious crime problems are unlikely to be interesting to tourists, but be careful when you venture into areas where there are not many people on the streets, keep your wits about yourself, and be aware of where you are at all times. At the same time, there is no reason to be paranoid, just judicious. The hills of Oakland are safe when it comes to violent crime but there is still property crime there. Think twice about going to West or East Oakland at night.

Connect
The area code for Oakland is 510. You only need to dial the seven-digit phone number for calls within the city. For calls within the US or Canada, dial 1+area code+number, and for international calls, dial 011+country code+city code(if applicable)+number. Pay phones are getting less and less common with the increasing popularity of mobile phones. Unfortunately, broken phones and empty phone booths are also a common sight. When you do find one, keep in mind that they only take coins and phone cards with a dial-to-use number. Local calls start at $0.50.
Internet access is available for free or with a fee in cafes and coffeehouses in several neighborhoods throughout the city, most notably the Financial District, Piedmont Avenue and Rockridge. Internet cafes, though once a common sight in Oakland, have dwindled down to nothing. The best bet for finding free Wi-fi Internet is to find one of the larger hotels, one of the branches of the Oakland Public Library, or one of the more well-known coffeehouses especially Starbucks or Peet's.

Cope
Parks
Parks are a common sight in Oakland, ranging from the small green with attached baseball field to the large wilderness of Redwood or Joaquin Miller in the hills. They are therefore easy to find, and if one needs some time away from the hustle and bustle of city streets and traffic, especially in the case of Lake Merritt, they may be a short walk away.
Publications
The Catholic VoiceA newspaper, as the name implies, aimed at the city's Catholic residents.

De Lauer's Super News Stand

phone: +1 510 451-6157

address: 1310 Broadway

Downtown's source for publications from around the world.

The East Bay ExpressA free newspaper distributed throughout the East Bay, as the title implies.

The East Bay TimesA newspaper consolidated from the Oakland Tribune, the Daily Review of Hayward, the Contra Costa Times and the Fremont Argus.

phone: +1 510 652-5700

address: 644 40th St #102

A magazine store that covers just about everything that can be imagined in magazine form.

The Joint Forces JournalA privately produced newspaper primarily with the armed forces in mind.

The MontclarionA free newspaper associated dominantly with Montclair and Piedmont Ave.

Oakland Post"The largest African American weekly newspaper in Northern California" is one of a group of minority-run professional newspapers in the region.
Smoking
As with the rest of California, tobacco-friendly venues are very rare in Oakland. State labor laws prohibit smoking in places of employment with only a few exceptions. Hotel lobbies may have a smoking section, and many hotels and motels have rooms and areas specifically for smokers. There are a handful of tobacco shops in the city, and the laws permit smoking in places such as privately-owned casinos and bingo halls and such, but by and large, smoking in public is very rarely permitted.
phone: +1 510 652-7473

address: 17 Glen Ave

A rare sight in the Bay Area, a full-service tobacconist. Very friendly service, and a large range of choices of cigars and pipes, and will even show you how to roll your own cigarettes.

19th Street Station

phone: +1 510 893-1919

address: 339 19th Street

A rare sight in the Bay Area, a bar that allows smoking. Limited hours.
Go next