Oatman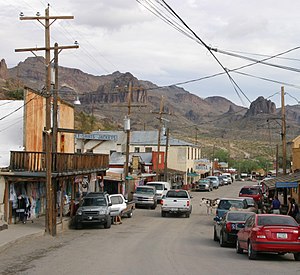 Oatman
is a former mining town on
Route 66
in
Western Arizona
. For visitors it offers equal parts touristy kitsch and real, honest-to-goodness Wild West atmosphere, complete with wood slat sidewalks.
Understand
Oatman was named posthumously for Olive Oatman (1837-1903). History tells that she was a young Illinois girl kidnapped by (presumably) Yavapai Indians and forced to work for them as a slave. Later, she was traded to Mohave Indians who adopted her as a daughter, had her face tattooed in the custom of the tribe, and eventually released her in 1855 near the current site of the town.
Gold was discovered in the nearby hills in the early 1900s and the town was home to a boom that lasted until the mines closed in the 1930s. The current population of 150 is down from about 23,000 in its boom years. The main street, lined with gift shops, looks like a set from a Hollywood Western, and with good reason:
Hollywood
dolled up the facades to film
How The West Was Won
here in 1962. A staged gunfight takes place every day at high noon. On the other side of the equation, if you show up after the tourists go home, you'll start to get a real feel for the place: a town of grizzled miners and dogged entrepreneurs determined to make a living at the far edge of civilization.
While the main street is known alternatively as "Main Street" and "Oatman Road", it is also the Historic Route 66.
Get in
Follow
Route 66
from Kingman or Laughlin. This portion of Route 66 is twisty and narrow and thus not appropriate for larger vehicles.
Another route from Laughlin and Bullhead City is to take Arizona State Route 95 South into Fort Mojave, and turn left onto Boundary Cone Rd. Oatman is about 13 miles (21 km) down the road.
Get around
Those expecting to find transportation available from the Oatman Metropolitan Subway System (OMSS), or even simple bus and monorail transportation, will be disappointed at the lack of options. For those able to put that disappointment aside, the tiny town is completely walkable; however, due to the frequent burro visits be careful where you walk. Parking is available in dirt lots at either end of the main street.

See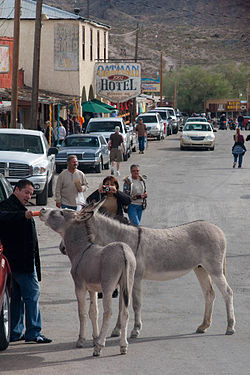 Local characters stage a gunfight on Main Street at high noon and donate the proceeds to the Shriners Hospital for Children. They're available afterward for photographs. Road traffic will be held up for the duration of the show.
A group of wild burros visits daily to munch on carrots that local shopkeepers are all too happy to sell. They have become obese from the practice and the U.S. Bureau of Land Management has requested shop managers stop selling carrots. Some are selling alfalfa cubes to offer the burros instead. Feeding baby burros is discouraged, and some may sport a "Do Not Feed" sticker on their foreheads, provided by the BLM. Feeding wild burros on the road outside the town of Oatman is not legal and causes a road hazard. Pull well off to the side of the road to watch them.
Although they roam the main street and will walk right up to passers-by, these are wild burros and will kick, bite, and otherwise behave like wild animals if they feel threatened. Keep dogs away from them as the burros won't distinguish a dog from a coyote and will attempt to kick and/or stomp it.
Also see the large number of Confederate flags that are flown and sold at many locations in Oatman.
Do
Gold Road Mine Tour

phone: +1 928-768-1600

address: Route 66 (Just east of Oatman)

Tour of century-old mine shaft lasts about an hour.

phone: +1 928-788-1764

address: Route 66

Horseback rides.

July 4th Sidewalk Egg Frying Contest

phone: +1 928-768-8595

An annual event, contestants can participate in groups or singly, originality is encouraged.
Buy
The downtown contains a large number of souvenir and other stores. Amidst the mix of t-shirts, burro-related novelty items, and Route 66 souvenirs are a handful of unique establishments run by grizzled locals.
Jackass Ron's

address: Main St

Jackass Junction

address: 219 Main St

Large selection of Native American pottery and other Indian items. Prices are very low compared to other Indian Galleries.

phone: +1 928-768-3833

address: 162 Main St

phone: +1 928-788-3298

address: 150 S Main St

Locally made hand-crafted items such as art and candles that you can watch being made.

phone: +1 928-768-3839

address: 194 Main St

Rock and gift shop. Large selection of Southwest area rugs.

United States Post Office

phone: +1 928-768-3990

address: 251 Main St

Postcards mailed from here will have a special postmark featuring a cartoon of a bearded prospector and a donkey.
Eat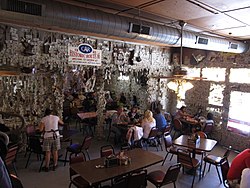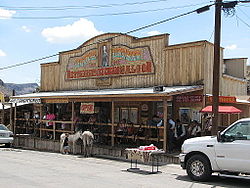 phone: +1 928-768-4408

address: 181 Main St

Former two-story, eight-room inn built in the early 1900s and supposedly haunted by several ghosts. Now a restaurant/bar and museum, no longer taking overnight guests. The restaurant has a wall papered with dollar bills. The suite where Carole Lombard and Clark Gable spent their honeymoon may be viewed; there's also fudge and souvenirs for sale.

Olive Oatman Restaurant and Saloon

phone: +1 928-768-1891

address: 171 Main St

Prospector Café

phone: +1 928-768-2555

Route 66 Deli & Expresso Shop

phone: +1 928-788-2661

address: 134 Main St
Drink
Judy's Pool & Saloon

phone: +1 928-768-4463

address: 260 Main St
Sleep
There is no innkeeper in Oatman.
Bullhead City
, a little over away, is the closest lodging. On route 66, try
Kingman
or head west to the
California
border.