Oaxaca (city)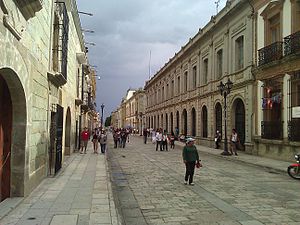 Oaxaca
(
Oaxaca de Juárez
) is a city in the state of
Oaxaca
in Mexico. It lies at an altitude of 1555 meters, so in winter nights are cold and days are warm. In summer it's always hot and dry.
Understand
There's been a settlement here since earliest times, and the current name derives from Aztec "huax yacac", meaning "in the nose of the squash". The Spanish laid out a colonial town in the present grid pattern in the 16th century, and in the 19th century, it grew rich from the export of cochineal, the red dye. Later development didn't much touch it, so today it makes for a charming old-time city centre.
The TIC is at Alameda de León. Free maps, info, and other places of interest in Oaxaca state.

Get in
By plane
Xoxocotlán International Airport

phone: +52 951 511 5088

address: Carretera Oaxaca-Puerto Angel Km 7.5

A small airport which mainly has flights to Mexican cities, with most flights to Mexico City, but there are also direct flights to Tuxtla Gutiérrez, Villahermosa, Monterrey. Most major airlines can offer cooperative service to Oaxaca through Mexico City via AeroMexico. United flies directly from Houston to Oaxaca on regional jets. American begins direct service from Dallas/Ft. Worth in December 2018. Volaris flies thrice weekly direct to Los Angeles LAX
From the airport, you will need to find transportation into the city. The ubiquitous yellow taxis in the city do not seem to take arrivals from the airport to the city. There is a booth as you leave the airport where you can purchase a ticket on a
colectivo
, a small van that will leave when full and which will drop you off right at your desired address. The order is determined based on the other passengers in your van and the price is M$85 (
pesos
) per person (for Zone 1 - Centro). You may also purchase a taxi 'especial' which is just for you or your party. The cost is M$300.
To get to the airport via colectivo, get your ticket the day before at the office near the Zocalo at the Alameda de Leon. Take your airline ticket and they will book you a seat on the colectivo that will get you to the airport in time for your flight. A taxi from the historical center to the airport should run between M$170-200.
Transportacion Terrestre Aeropuerto
phone: +52 921 511 5453, +52 921 514 1071
This shuttle company offers probably the most reliable transportation to the airport, and will pick you up directly from your place of stay. Tickets are best purchased one day ahead.
By bus
The more adventurous traveler can fly directly from the United States to Mexico City,
Huatulco
or
Puerto Escondido
and then take a bus to Oaxaca (6½ hr from Mexico City or 8 hr from Huatulco or Puerto Escondido). The services are excellent and usually run on time.
1st Class Bus Station

address: Calz Niños Héroes de Chapultepec 1036

ADO (M$552), OCC (M$422-470), and Fypsa (M$270) buses all travel between Mexico City's TAPO station and Oaxaca. Tickets can be purchased online or directly at the station. Catch the bus at TAPO bus station near the airport in Mexico City. Food and drink are available at the station. The bus has a bathroom & makes at least one stop.
:Another possibility, in order to skip the chaotic TAPO bus station in Mexico city, is taking the frequent Estrella Roja bus directly from Airport Terminal 1 to Puebla and then transferring to Oaxaca.
By shuttle van
If you are arriving from
Puerto Escondido
, two shuttle van companies do multiple daily runs between Puerto Escondido and Oaxaca (City) and are a faster alternative to the bus. The very scenic route winds directly through the mountains with hairpin curves and takes about 6-7 hours depending on road conditions. Passengers who are inclined to get car sick should definitely take motion sickness tablets. There is a toilet and snack break about midway.
Servicio Express

phone: +52 951 516 4059, +52 951 226 1523 (mobile)

address: Calle de M Arista 110

Offers daily service in 15-seat vans.

Transporte Villa del Mar

phone: +52 951 513 9262

address: Calle Galeana 322

Offers daily service in 15-seat vans.
Get around

The central, tourist-oriented part of town is well signposted and easily walk-able by foot, although taxis are somewhat plentiful and buses numerous and cheap (M$7). You can pick up a free city map from one of several information booths, including one right outside the cathedral. No one local seems to know the bus routes or where the collectivos (buses to the pueblos) stop but you can get a good bus map for M$40 at the Oaxacan Lending Library.
There are also plenty of taxis found in the Centro Histórico, including a taxi rank near the Zocalo. Make sure to settle on a price before heading off to your destination.
Buses stop running around 21:00.
As with other Mexican cities, there may be more than one road with the same name (Mexicans often use the nearest corner to navigate) and a road's name may change from one end to the other. This is particularly true for the city's downtown, which is divided into north and south by Independencia Avenue. All streets crossing it change its name except for two other main streets running along with Independencia: Morelos Avenue and Hidalgo Avenue. From east to west street names change when crossing Macedonio Alcalá (north of Independencia) and Bustamante Street (south).

See
Oaxaca's streets have a very tranquil and organic feel to them. Much of the joy of a Oaxaca trip comes from simply strolling the downtown streets, sitting in a sidewalk cafe on the Zócalo, and soaking up the atmosphere. On your strolls, try to see a few of the outstanding local landmarks.
Downtown landmarks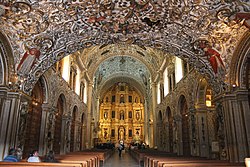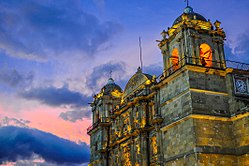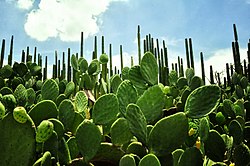 ZócaloCatch a street act, watch a clown entertain children, buy a souvenir or just people watch from a sidewalk cafe as time passes by. Most tourist attractions are near here. Since summer 2014, the square has been occupied by teachers protesting government changes to state education. As a result, the square is full of tents and dozens of vendors have set up booths around the square. This has changed the entire nature and function of the square. There is no indication when this will end. The protests have been sporadic since 2006.

Templo de Santo Domingo

phone: +52 951 516 2991

A spectacular church built in 1570-1608, with subsequent Baroque renovations. It has undergone a recent restoration. Particularly noteworthy on the south side is the elaborate Capilla de la Virgen del Rosario, as well as the Capilla de la Cruz de Huatulco, which contains the legendary pre-Hispanic cross of Huatulco.

Catedral MetropolitanaOaxaca's largest church dates from 1533 and is known for its unique interpretation of baroque style architecture. Located next to the Zocalo.

phone: +52 951 516 5325

address: Reforma s/n

A former army base, converted to a large botanical garden in 1993. The garden, designed by Oaxacan artist Francisco Toledo who led the project to create it, has the largest collection of living cacti and agave plants in Oaxaca. Paths take visitors though the constantly growing collections that show the rich biodiversity of Oaxacan plant life. Entrance to the garden is through guided tours only. Sign up in advance at the entrance.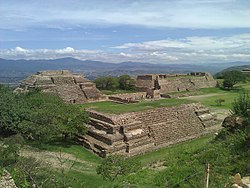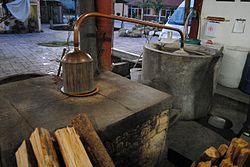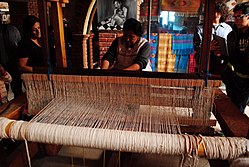 Just east of town, you just have to see Monte Alban - Monte Albán - UNESCO World Heritage List, one of the most impressive ruins in Latin America. The Zapotec built this site in the early centuries AD; it was in decay long before the Spanish arrived. Bus to the site from 501 C d Minas hourly, at half past the hour outbound and at the top of the hour coming back, M$60. Site entrance M$50.
Museums and galleries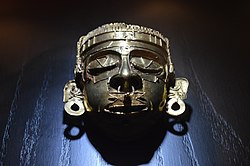 Museo de las Culturas de Oaxaca

phone: +52 951 516 2991

address: Alcalá s/n

This is a museum of regional history and culture, with exhibits on Zapotec, Mixtec, and Olmec civilizations, as well as colonial and revolutionary era history. Its most stunning highlight is the collection of treasure excavated from Tomb 7 at Monte Alban by archaeologist Alfonso Caso in the 1930s. The Museo is well worth a visit, it occupies most rooms of the convent of Santo Domingo, so is huge and impressive: you will need a few hours to visit it! It also offers nice views over the plaza St Domingo and on the botanical garden on the other side.

phone: +52 951 516 1860

address: García Vigil 609

Historic childhome home of former Mexican President Benito Juarez. It's an unassuming home fitting for a man of humble roots.

Museo de Arte Prehispánico de México Rufino Tamayo

phone: +52 951 516 4750

address: Av Morelos 503

Inaugurated in 1974, this museum contains about 1,000 pieces of pre-Hispanic Mexican art that was collected by artist Rufino Tamayo. The works are beautifully displayed in five exhibition rooms. The colors for each room were chosen by Tamayo, who frequently used them in his paintings.

phone: +52 951 501 1104

address: Hidalgo 917

In an 18th century mansion restored in 2007, the Museo Textil de Oaxaca provides exhibits featuring the designs, techniques and creative processes used for the production of Oaxacan textiles. In addition, the museum regularly runs conferences and workshops.

phone: +52 951 516 9648

address: Porfirio Díaz 115

Features exhibitions devoted to architectural styles, historical photographs and urban art. Two aerial photographs taken of Oaxaca in 1990 and 2006 are embedded in an underlit floor so that visitors can walk over them and explore the changes in the city that occurred during those 16 years.

Centro Fotográfico Álvarez Bravo

phone: +52 951 516 9800

address: C de M Bravo 116

Established by Mexican photographer Manuel Álvarez Bravo and housed in a beautifully-restored colonial building, this center hosts changing exhibits of work by Mexican and international photographers.

phone: +52 951 516 6980

address: Macedonia Alcalá 507

A smaller venue which hosts rotating exhibits of work by national and international artists.

Museo de Arte Contemporáneo de Oaxaca

phone: +52 951 514 1055

address: Macedonio Alcalá 202

Housed in a building known as the Casa de Cortés, this museum hosts exhibits of local and nationally recognized modern artists.

Museo de los Pintores Oaxaqueños

phone: +52 951 516 5645

address: Av de la Independencia

This late 17th-century building houses a collection of historic and modern Oaxacan art on two floors.

phone: +52 951 501 1662

address: Plaza de la Constitucion

This 19th-century building houses a mural by Mexican painter Arturo Garcia Bustos, and hosts rotating exhibits about the history of the city.
Do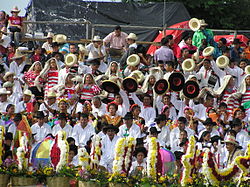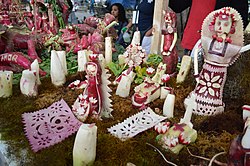 Events
Guelaguetza festivalThe Guelaguetza highlights the traditional practices of the various indigeneous cultures from the state of Oaxaca. The main days are the Mondays following July 16 (Feast Day of Saint Carmen). The term Guelaguetza, the most important custom of the Oaxacan people, derives from the Zapotec term "guendalezaa" which means "offering, present,fulfilment" because, during colonial times, the wealthy Spanish elite had the legal right to receive the first and best of the harvest collected by the indigenous people.

Día de MuertosA Mexican holiday that takes place in candle-lit city cemeteries.

Noche de RábanosIf you happen to be in Oaxaca on December 23, you won't want to miss this unusual festival. Competitors create scenes using carved radishes. It's a long-standing tradition in Oaxaca, and was started as a formal competition in 1897.
Sports
Baseball Oaxaca has a popular and successful baseball team, the Guerreros, who play from March through late August at the Estadio del Beisbol. Tickets start at M$10.
Rugby Rugby is played on Saturdays with the Zinacantli and Jabalies Rugby Clubs, which host the annual Torneo de Dia de los Muertos.
Learn
Spanish lessons
Cooking lessons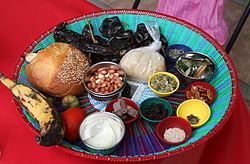 Buy
Chocolate. Mina Street smells of chocolate and the city's most famous warm beverage is hot chocolate.
Mezcal. The state of Oaxaca also is well known for its Mezcal and there are several tours that visit the distilleries.
Markets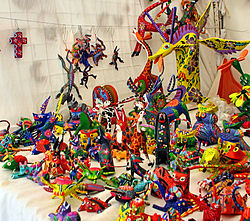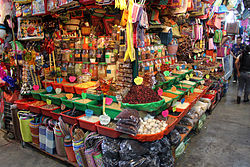 Mercado de Artesanías

address: Gral Ignacio Zaragoza

A colorful handicrafts market focusing on hand-woven textiles, with additional shops selling alebrijes (wooden carvings) and alfarería (pottery).

Mercado Benito Juarez

address: Calle Cabrera

Everything from clothing and leather goods to mole, fresh fruits, flowers, and bulk grains. For meats, prices are a bit high for being unrefrigerated, you might want to try a supermarket instead. One of the few places in town to find brown rice (ask the bulk grain vendors for arroz integrál) or cigarette lighters (check the sidewalk vendors in the area).

Mercado de la Merced

address: Insurgentes 104

This traditional market has a focus on food products and produce, much of it organic. Specialties include bread, cheese, and tortillas. It also has a number of food stands and restaurants, for eating in or take-away.

Pochote Xochimilco

address: Calle Marcos Pérez 217, Colonia Centro

Handmade tortillas, tlayudas, pastries, fresh-squeezed juice, mezcal, vegetables and woven goods. The delicious prepared food makes a great breakfast or lunch and there's a sitting area to enjoy it.

Mercado 20 de NoviembreAnother large, mostly covered, market just south of the Mercado Benito Juarez. Many vendors with food and places to sit and eat. The south street side of the market has a number of chocolate vendors.

Mercado at El Llano ParkAn active market on the sidewalks surrounding the park. This market has been driven out by the authorities and relocated to just north of the Pantion. (Updated Jan 2019)
Grocery stores
Gigante

address: C. Independencia and Periferico West

One of the few places to buy fresh refrigerated meats. Other supermarket staples are of course there as well, but you may get better prices at Mercado Juarez on some items. Has lots of other stuff, like a small department store.

Soriana

phone: +52 951 514 4519

address: Calzada Madero 115

A large chain which carries all the basics.

phone: +52 195 151 47189

address: Av Periférico 300

A large hypermarket (supermercado) with better selection and quality than Soriana. Has a well-stocked pharmacy as well as a bakery and a deli.
Eat
Oaxacan food is justifiably famous, and the city's many restaurants offer both traditional and creative dishes to suit many tastes and budgets.
Budget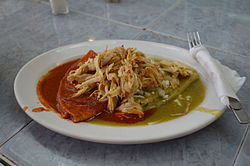 Mercado de la Merced

address: Insurgentes 104

There are several excellent eateries in this traditional market. La Güerita, located on the northeast side of the market, is well-known for its memelas and huitlacoche, but has only a few seats. La Florecita (no. 37), with many more seats available, is particularly popular for its tlayudas and hot chocolate.

Mercado Benito Juárez

address: Calle Cabrera

One huge market of fresh fruits and vegetables, meats, leather goods, and numerous other items. There are a few stalls offering ready-to-eat hot meals, and a place to sit and eat them; there are however more places to eat in Mercado 20 de Noviembre (listed below).

Mercado 20 de NoviembreAnother huge market – food stalls line the streets outside the market serving up hot, savory tlayudas and tostadas. Local women offer up chapulines (grasshopper), and you'll find countertops inside that serve up moles, soups and desserts. There are 4 entrances, at the center of each street that surrounds the market. The east-side entrance, facing C. Cabrera, has meat vendors who will cook your purchase for you right there; arguably one of the best deals on ready-to-eat meat in town.
Mid-range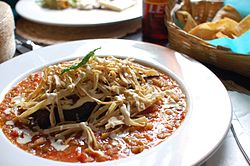 Andariega Restaurant

phone: +52 951 514 9331

address: Independencia 503

Serves a good selection of mole dishes, and a very good four-course comida corrida.

phone: +52 516 6668, +52 514 9359

address: Calle de Reforma 402

Serves well-presented and tasty variations on Oaxacan cuisine, as well as a good range of soups and salads. It's best to dine upstairs to avoid the street noise.

La Casa de la Abuela

phone: +52 951 516 3544

address: NW corner of the Zócalo

Offers a good selection of regional cuisine, with great views from the balcony.

La Casa del Tío Güero

phone: +52 951 516 9584

address: Calle de Manuel García Vigil

Typical Oaxacan cuisine. A good deal with good food, all made with purified water.

Comala

phone: +52 951 114 2747

address: Allende 109

Serves a good selection of Oaxacan fare, and international favorites including burgers and sandwiches. Has a good comida corrida.

Restaurante María Bonita

phone: +52 951 516 7233

address: C Macedonio Alcalá 706 B

Serves traditional Oaxacan dishes, and offers 2-day cooking classes. Free Wi-Fi available.

phone: +52 951 516 4752

address: Portal de Mercederes

Pleasantly situated, with outdoor seating downstairs as well as indoor seating upstairs, this reliable restaurant offers a range of traditional Oaxacan dishes. Excellent service.

phone: +52 951 516 4747

address: Carlos María Bustamante 200

Serves fabulously fresh seafood for lunch fixed in dozens of different styles. Another location is just south of Merced Market.
Splurge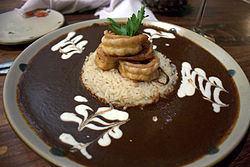 Drink
Oaxaca is famous for at least two drinks: Mezcal and hot chocolate. The state also has a thriving coffee industry. With a few exceptions, most of the cafes are closed on Sunday.
Mezcalerias
Casa de Mezcal

address: Miguel Cabrera, south of the Zócalo

A local bar serving several mezcales, bottled beer and other drinks
Cafés
Café Kioo

address: 409-D Garcia Vigil

Has wifi and electical outlets and is open on Sundays.

phone: +52 951 514 8259

address: Labastida 115

Good coffee, free Wi-Fi, friendly staff, good atmosphere. Try the Café Oaxaqueña (slightly sweet, with cinnamon. Yum!

Coffee Beans

address: 5 de Mayo

A cosy cafe and bar selling various beers and a good selection of coffees including various flavours in both hot and cold at decent prices M$16 for a beer, M$12 for a coffee and a little more with flavour). Doesn't have Wifi.

phone: +52 951 501 0335

address: Armenta y López 120

Popular with students, with walls covered with revolutionary posters. They roast their own coffee beans and also serve excellent breakfasts and lunch, including a number of vegetarian options. Free Wi-Fi.
Chocolate
The eastern end of Mina Street (2 blocks south of Zócalo) are several chocolate shops where you can taste samples. Some of these also have cafes in the back where you can drink several types of hot chocolates. Some have free Wifi.
La Capilla

address: Carretera Oaxaca-Zaachila

Excellent place to eat, They have mole and various typical meals worth the trip to Zaachila.
Sleep
A lot of accommodation is available through the on-line booking agency Air BnB. It is likely that this practice has resulted in somewhat higher prices than before, but if you have not been to Oaxaca before and have no recommendations from friends, it's a good place to start. Once you get to know the city better you might decide that some areas are more desirable to you than others and you can search in those neighbourhoods for places to stay. Some areas are more busy and have more noise and some involve a bit of a walk to the city center where you might be spending some of your time.
Rates can go up significantly during the high season and rooms are difficult to reserve during that time. National holidays and religious holidays are also very busy. Budget hostels can be found for around M$70 per night.
Budget
phone: +52 9515142224

address: Tinoco y Palacios 610

Casa Angel is a restored downtown house, creating a stylish backpackers hostel 4 blocks from world-famous Santo Domingo Church, and close to Oaxaca's main attractions. It offers inexpensive and stylish accommodations for their guests in 3, 4, and 10 bed dorm rooms. Casa Angel also has a rooftop terrace (BBQs every week), a common area with a TV and DVDs, a full kitchen, free computers and Wi-Fi, lockers, and a delicious free breakfast every morning.

Hostal Santa Isabel

address: C. Mier y Teran between Aves. Hidalgo and Independencia

Friendly staff, kitchen, warm showers, drinking water and Wi-Fi included. No electric sockets in rooms. Armadillo Bar adjoining. Not the cleanest place, as one room had a strange smell and bedbugs (Dec 2013). Locker M$10 per day, you can use that service while you're scouting around instead of schlepping your backpack all over town. If you then decide to spend the night at Santa Isabel, you might even get your M$10 back.

Hotel Eclipse

address: Calle Valeria Trujano

Shares a wall with an identical hotel. Shared baths. Some rates by the hour, to give you an idea of how budget it is. Not clean at all!

phone: +52 951 518 6217

address: Felipe Angeles, 204

A family-run property, a well done eco-construction, relaxing environment and a great view of the surrounding mountain ranges with large swimming pool.

phone: +52 951 216-5426

address: Camino Villa Alta, San Francisco Lachigolo

The campground is gated and safe with level campsites, clean restrooms and hot showers. Free WiFi. Full and partial hookups for any size RV. Pets are welcome and petsitting available leaving you free to explore. Within walking distance is a water park complete with Olympic size swimming pool.
Mid-range
phone: +52 951 5152856

address: Aldama 404, Colonia Jalatlaco

Run by great family. Lots of parrots in a wonderful garden. Nice terrace overlooking the San Matias church. Breakfast in common area (extra).

phone: +52 951 516 1165

address: Reforma 402

Nine-room bed and breakfast that is also home to La Olla Restaurant. Free long distance calls to many destinations including USA, Canada, and Western Europe (except mobile phones). Wi-Fi and guest computer.

phone: +52 951 515-9609

address: 2a. Privada de M. Alcala #207

A small and intimate family-run guest house offering bed and breakfast. Convenient, quiet location, excellent food and warm hospitality.

phone: +52 951 513 6670

address: Constitución 203, Col. Centro

Air-con suites equipped with cable TV, private toilet and bath. Some of its facilities and services are fitness room, terrace, cafe, wake-up call and Internet access.

phone: +52 951 515 56 45

address: Pino Suarez 508

A small bed and breakfast with a lovely courtyard and delicious meals. Many rooms are on the street so bring earplugs.

phone: +52 951 514 3788

address: Manuel Sabino Crespo, 313

In an 18th-century building with traditional fittings.

phone: +52 951 516 4900

address: Murguia 104 Col. Centro

All rooms equipped with Wi-Fi, double/king bed, and strongbox. Restaurant/cafe, business center, meeting room, laundry, and dry cleaning service.

phone: +52 951 516 2673

address: Av. Morelos #601 Col. Centro

A former 16th-century convent.

Hostal los Girasoles

phone: +52 951 516 0518

address: José María Morelos 905, Centro

Just like renting a room with an Oaxaqueño family. Mom, dad, grandpa & son run this small hostel. Private rooms (with private bath) & dorms. Shower is common. Eat with the family for M$30 (she can cook!) Wi-Fi in all rooms. An absolute steal considering you are treated like a family member

phone: +11 52 951 501 5400

address: Av. Hidalgo 918 Centro

Offers 24 air-conditioned rooms, all of which have a cable television, private toilet and bath, and coffee/tea maker. Some of its amenities include Wi-Fi in reception area, guided tours and car rental, and Asuncion Restaurante (serves local dishes, open 07:00-23:00).

Hotel Hacienda Los Laureles-Spa

phone: +52 951-5015300

address: Hidalgo 21, San Felipe del Agua Residential Area

In a quiet residential area. It offers air conditioned rooms, all of which have a satellite TV, a luxury bathroom with mirror and hair dryer, and two telephones and a data port. Petit Spa, a swimming pool with Jacuzzi, and a business center with Wi-Fi.

phone: +52 951 515-5852

address: Pino Suarez 517

Family-owned hotel, B&B and studio apartments only 2 blocks from the Santo Domingo church. Rooms off the back courtyard are extremely quiet, unusual in Oaxaca. Includes continental breakfast with excellent coffee.

phone: +52 951 501 7400

address: Avda Eduardo Mata 1918

Has an onsite restaurant and outdoor pool, free Wi-Fi in public areas.

phone: +52 951 501 5300

address: C/ Hidalgo 21

A historic luxury hotel with 23 rooms and suites, traditional Mexican architecture, a spa and restaurant. Has an outdoor pool, gym, and free Wi-Fi.

phone: +52 951 514 1900

address: Vicente Guerrero 117

A colonial residence converted to a hotel which offers pueblo-style accommodations and a pool, as well as an onsite restaurant. Pets accepted, free Wi-Fi in public areas.

phone: +52 951 516 2022

address: Armenta y Lopez 215

Luxury hotel with an onsite restaurant and free parking.

phone: +52 951 518 7000, +52 951 518 6998

address: Curtidurías 721-A

Single room, standard double, standard king and master suite with air conditioning, satellite TV, and telephone. Swimming pool, free Wi-Fi, room service, and tour desk.

phone: +52 951 514 5939

address: Abasolo 103

It offers six rooms, a restaurant, and a florist shop around a patio in which one can enjoy a small token of the regional flora, the cacaloshuitl tree, flowerpots with colorful flowers that contrast with the green of cactus plants of the region and the green stone that is characteristic for construction in the old town.

Suites Bello Xochimilco

phone: +52 951 132 4212

address: 2A Cerrada de Alcalá 223

Five three-bedroom suites and one two-bedroom suite. Free Wi-Fi throughout the hotel, pets accepted.
Splurge
Quinta Real

phone: +52 951 132 4212

address: 300 Cinco de Mayo

In former convent around 5 gracious courtyards. It can feel a bit corporate, with wedding parties and other functions, and mariachis strumming relentlessly over your breakfast eggs. But simply lovely, and within a short stroll of all city attractions. Valet parking M$175 per day or part.
Connect:
Good 4G and LTE connectivity throughout the city.

Cope
Consulates
Canada

phone: +52 951 513-3777

address: Pino Suarez # 700 - 11B, Colonia Centro, 68000, Oaxaca, Oax.

Consular Agency of Canada; Provides assistance with lost passports, medical emergencies (communication) and legal difficulties in Mexico.

phone: +52 951 514 3054, +52 951 516 2853

address: C/ Macedonio Alcalá 407, Office 20
Libraries
phone: +52 951 518 7077

address: Pino Suarez 519

One of the oldest continuously operating English-language libraries in Mexico with a collection of 20,000 books and over 450 members, the library offers classes, tours and volunteer experiences. Visitors can purchase a very helpful bus map for M$40, and can also join on a monthly basis to enjoy full library privileges.

Biblioteca Pública Central de Oaxaca

phone: +52 951 516 1853, +52 951 516 4128

address: Macedonio Alcalá 200

In a beautiful remodeled 17th century building holding publications about Oaxaca (in Spanish). Also has many Spanish-language newspapers in its reading room. The library also hosts many cultural events.

Biblioteca Infatil de Oaxaca

address: Jose Lopez Alavez 1342

A children's library with a very interesting architectural design worth visiting just to see.
Money
The currencies of other countries can be exchanged into Mexican (
pesos
) at banks or various currency exchange booths, both of which are quite common in the central part of the city. It might pay to look around for the best rates of exchange. You may find that the banks offer a better rate but they might be slightly less convenient to deal with. For example, the banks might require a photocopy of your main passport page, which you will have to get at a copying shop for a peso or so, and they might have longer lineups. Their better exchange rate might make that worthwhile, especially if you are exchanging larger amounts.
People working in these businesses are quite likely not to speak English. This shouldn't be a problem once you figure out what the process is. So, make sure you have your passport with you and realize that you may need a photocopy of your passport that they will keep.
ScotiaBank

phone: +52 951 501 5720

address: Independencia 801

A fairly busy place close to the Zocalo that seems to have favourable exchange rates.
Go next
Further afield
Arbol del Tule. This tree has the largest base of any tree in the world. Legend has it that it is over 1400 years old. It is 13 km from the city of Oaxaca on the road to Mitla. M$10 entrance fee.
Mitla is approximately 40 km from the city of Oaxaca and was a very important Zapotec city and religious center. Famous for its pre-Columbian Mesoamerican buildings. Inside Tomb 1 there is the famous "Column of Life" that you can embrace to find out how many years you have left to live. Spanish is helpful here as the ruins officials can explain how to use the column correctly.
Yagul Although frequently overlooked in favor of more extensive ruins at Mitla and Monte Alban, the ruins at Yagul are more pastoral (and therefore more similar to its original setting) and much less overrun with tourists.
Hierve el Agua is a two hours drive from Oaxaca by bus or taxi. Natural, almost warm, springs at an altitude of about 3000m near a massive petrified waterfall. From the plateau you have a breathtaking view over the mountain ranges. Travel advisory this site is sometimes closed due to conflicts between neighboring villages. M$25 entrance fee + M$10 unofficial 'road maintenance' fee.
San Agustín Etla is located about 30 minutes away and the site of the Centro de las Artes - San Agustín (CASA), a former factory that has been transformed to an arts center. To arrive, one can take a shared taxi from the Central bus station in Oaxaca. The cost is M$13.50 and it drops you off two blocks from CASA.
Llano Grande is one of 8 mountain villages within the region of Sierra Norte. Besides a small wood industry, they provide so-called ecotourism. Tours to phantastic scenic points are bookable at the Zokalo and range from M$400-1000 for a one day tour depending on the number of guests. Trips over several days are available, providing accommodation at the village (elevation: approx. 3,000m = 10,000'). The altitude makes hiking exhausting but not impossible even for unpracticed participants. Hints: Speak Spanish and try to tramp back down instead of waiting several hours for the bus. More Information:
Teotitlan del Valle - famous for its weaving, this village is approximately 30 minutes outside of Oaxaca city. You can book a longer stay here at the Casa Sagrada. Be sure to check out the Vida Nueva women's cooperative in Teotitlan (one block east of the main square) that is striving to use and instill organic methods in its dyes.
Santiago Matatlán - self-proclaimed "World Capital of Mezcal", about a forty-minute drive southeast down Highway 90. Many fábricas de mezcal you can visit. Especially recommended if you like mezcal, have also visited Tequila, Jalisco, and have access to a vehicle.
San José del Pacífico - a small town high in the mountains famous for its psychedelic mushrooms
Pacific Coast Beaches Oaxacas Pacific coast is one of its best kept secrets. With a new road to Puerto Escondido travel time has been drastically reduced and tourism increased along the whole coast. The Pacific Coast Backpacker Route starts in Puerto Escondido, and goes through Mazunte, Zipolite, and Huatulco. From the regional hub San Pedro Pochutla, you can also catch a bus to Tapachula] and on to Guatemala
Along Macedonio Alcala street are many tour operators with a range of destinations. Prices are from M$150 and offer full day trips to a selection of places such as wool rug makers, mezcal producers,
Mitla
,
Monte Alban
and
Hierve el Agua
. The tour cost doesn't include entrance fees or the often pricey restaurant lunch, so you may want to take your own food.