Oberammergau
Oberammergau
is in the
German
state of
Bavaria
. It is famous for its Passion Play every 10 years as well as the "Luftmalerei" (when they paint
mural
-type illustrations on their houses and buildings).
Get in
You can reach Oberammergau by train from Munich central station (München Hauptbahnhof): take the train headed to Innsbruck (a regional train that departs on daily basis) and switch trains at Murnau train station (the train to Oberammergau is the only other train in the station). The trip from Murnau to Oberammergau shouldn't be a problem, since Oberammergau is the last station to be reached.
You can also reach Oberammergau by car: go south from Munich and take the Autobahn A-95 south to the Ettal exit. From there on the B-23 to Oberammergau.

Get around
Getting around Oberammergau shouldn't be a problem since it's a relatively small town. You can get around (as most locals do) walking, but you can also take the bus (there are a couple of bus stops in town); you could also get around by car, and like most of youth by bicycle.

See
Most of the buildings in Oberammergau have beautifully detailed murals on them, mostly of Biblically significant tableaux.
There is one beautiful Catholic church in Oberammergau built in a baroque style. Although Oberammergau is known for being a Catholic town there's also an Evangelical Church.

phone: +49 8822 740

address: Kaiser-Ludwig-Platz 1, Ettal

A beautiful Abbey, School, Boarding School, and believe it or not a brewery.

phone: +49 8822 92030

address: Linderhof 12, Ettal

one of King Ludwig II's dream castles. Known by being one of the few finished castles the King actually used (at least as a holidays residence).

Kreuzigungsgruppea monument in the Oberammergau Mountains. The monument was a present from King Ludwig II, after witnessing the town's Passion Play in 1870.
Do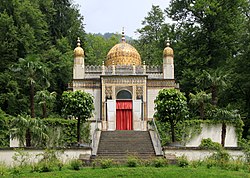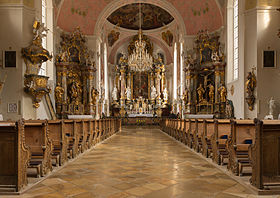 Take a tour near Oberammergau in Linderhof Castle.
Walk the 7km walk to the village of Ettal to visit the fantastic, working monastery that still operates its own brewery.
Events
Every 10 years, the is performed. The next performance will be in 2020, but you can also visit the Passion Play theater where you can take a tour, in which many different aspects of the play are explained. The tour is usually available from May to October, Tu-Su 10AM, 10:30AM, 11:30AM, 12PM, 12:30PM, 2PM, 3PM, 3:30PM, 4PM, 4:30PM, 5PM. The tour is also available on Mondays during the Holidays.
Buy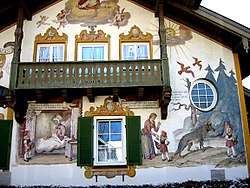 If there is something that anybody who has been to Oberammergau should have it is a wooden souvenir. Wood carving is an ancient art practised in Oberammergau (there's even a couple of schools in town), a usual Oberammergau souvenir is a wooden crucifix. The best place where you can find fully handmade wood carvings is at Lang seel. Erben in the Dorfstraße. It is the oldest woodcarving company in Oberammergau where toys for King Ludwig II and Sissi has been produced. Also you will find here handmade nativity sets which will give an unique Christmas decoration.
There are two kinds of wooden clocks that can be purchased, the first is a cuckoo clock (which may vary in size and price) and the second one is a Bavarian clock, which goes in the opposite sense of conventional clocks with the inscription "In Bayern gehen die Uhren anders" (In Bavaria the clocks run differently).
Eat
For a small town Oberammergau offers a great variety of places to eat. If you don't wish to spend too much money in food you can try eating at one of the
Imbiss
(bars in which food is also served). You can also eat at one of the many hotel and guest houses (where among international food, local food is also served). Desserts are to be found not only in the restaurants but also in some cafés.
phone: +49 8822 945777

address: Daisenbergerstraße 3

a Mexican restaurant
Drink
Hot beverages are served in the small cafés in town. There are also cafés/ice shops in which coffee and ice creams are sold all year round. But if you'd like to have a nightcap then you probably would want to go to some of the town's bars.
Kino Cafea movie theater with a café. If you're young and just want to relax among young people you should go, you'll find any kind of cocktail you want and also some good food.
Sleep
For such a small town Oberammergau presents quite a variety of hotels, with prices between €45 per night to €200 per night. Location is really irrelevant since the town is quite small. Some of the hotels are pretty basic in what the offer. You can stay in places like bed and breakfasts (which have a more "family oriented" feeling) or you can stay at a 5 star hotel. You may also want to consider which hotel is adequate to your needs - for instance if you're traveling alone, if you're bringing children or even pets - because some hotels are more suited than others.
phone: +49 8822 4114

address: Malensteinweg 10

Backpacking travelers may want to check out. It has 29 rooms, conference rooms, winter sport equipment rental, and you can have breakfast (buffet), lunch (buffet), dinner and packed lunches in the hostel (they will take into consideration the nutritional requirements of different cultures and religions, if such requirements are cleared when the booking takes place). The hostel closes over the winter, so check whether it is open when you plan to go.

phone: +49 8822 948740

address: Ettaler Str. 5

5 star hotel. restaurants with local food, has a very nice atmosphere too.
Go next