Oboke and Koboke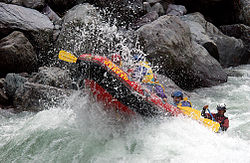 Ōboke
(大歩危) and
Koboke
(小歩危) mean, respectively, "big steps dangerous" and "small steps dangerous" — an apt description of the perils of traversing on foot through these steep gorges in
Shikoku
. The river views and awesome white water rafting are the big draws here.
Orientation
The Yoshino River which forms the Oboke and Koboke Gorges flows from Kochi Prefecture in the south up to the town of
Ikeda
to the north. Oboke is a bit larger and near the prefecture border, and Koboke is just to the north (its hard to really tell where one gorge ends and the other begins, as they more or less merge together.) The main access road of Rt 32 follows the river and runs entirely through the gorges from Ikeda to Kochi, and the JR Dosan train line also follows this route.
Get in
The
Iya Valley
page lists a variety of car rental options and other area access info.
By road
It is recommended to travel in this area by car. If you get there by train, you'll have a long walk along a noisy road without sidewalks to many places, but some services (accommodations, rafting) offer station pick-ups if booked ahead. It is also hard to find entry points for hiking trails without a car. The nearest major car rentals are located quite far away:
Marugame
,
Takamatsu
, and
Kochi
, however for those entering the area via
Ikeda
, there is a small car rental service in Ikeda at the main station (
JR Rental Car
), and near to Ikeda is
Miyoshi Rental Car
. Within Oboke, there is also a small car rental service operated via the
Mannaka Hotel
which is located a 10 minute walk from Oboke Station, just past the Michi-no-Eki.
National Highway 32 winds along the Yoshino River through the pristine valley of Koboke and Oboke. Coming from
Osaka
,
Kobe
or Tokushima, take the toll highway and exit at Ikeda (Ikawa-Ikeda IC). Then follow Route 192 west about 5 minutes to Route 32, then southward towards Kochi. Along Route 32 the valley gets increasingly narrow from here, first passing through Iyaguchi after about 10km (turn here at the sign for 'Deai' if accessing the Iya Gorge area of the Iya valley via 'old' Route 32). Continue another 10 kilometers to first reach Koboke and a little further along through the gorge to Oboke. Route 32 goes south to Kochi from here and the Oboke gorge continues on for a while to Iwahara in Kochi Prefecture.
A tunnel also connects Oboke to the western
Iya Valley
along Route 45.
From the south (Kochi area) head north on Route 32 (about 1 hour and 15 minutes from Kochi City on this road), or take the toll highway north to the Otoyo IC and head north on Route 32 from here (about 30 minutes to Oboke from Otoyo). Iwahara would be about 10 minutes closer.
By train
Both Oboke and Koboke have stations on the JR Dosan Line from
Kochi
to
Takamatsu
via
Ikeda
. Stops in Koboke are by local train only, though. Nearly all trains (including express) stop in Oboke. Taxi's are available from Oboke, and some places offer station pick-up if booked ahead.
Iyaguchi Station
,
Awa-Kawaguchi Station
and
Koboke Station
to the north and
Tosa-Iwawhara Station
(for Iwahara in Kochi) further south are only accessible by local train.
By bus
Buses that come from
Ikeda's
Awa-Ikeda Bus Terminal (阿波池田BT) to Koboke and then Oboke (and then on to the Iya Valley) run sparsely. Weekends and high season offer increased services if going from Oboke to the Iya Valley. See the
Iya Valley
page for more access information if going there.
Understanding the buses can be a bit confusing. There are two bus services, one offered by Shikoku Kotsu (Yonkoh) and one offered by Miyoshi City (municipal buses). The Yonkoh buses operate out of Ikeda and run through the main areas and on to the Iya Valley, while the municipal buses in Oboke/Koboke do not connect to Ikeda but are based in Awa-Kawaguchi and service some additional local areas. Some bus times are arranged to allow connection between the two systems, but sometimes they do not (the main purpose of the municipal bus is to also act as a school bus, so do look to see if they are weekdays only).
Caution:
Throughout 2018 many of the bus schedules and routes have changed for both the Yonkoh buses and the local municipal buses. There are many printed scedules available in the area (at hotels, rest stops, etc) which may have the old times, so do not trust anything printed before December 2018.
The
Yonkoh
website has times in Japanese only for their buses (but not for the many local buses).
See
Oboke and Koboke GorgeThe gorge formed by the Yoshino River is quite spectacular. The steepest and most rugged sections lie in the area between JR Koboke Station to the north and Tosa-Iwawhara Station to the south (with JR Oboke Station in the middle). Aside from rafting, pleasure boat tours are operated out of the Hotel Mannaka, offering views from withing the gorge but without the need to get wet. The gorges can also be viewed by either walking or driving along Rt 32. A fairly decent sidewalk is set up along the road between the Oboke Michi-no-Eki (10 minute walk north of JR Oboke Station) and the WestWest rest area, through which the sheer rock cliffs blast up from the river. This walk takes about 30-40 minutes one way. The JR train line follows this route too (on the opposite side of the river). The train's views are occasionally obstructed by small tunnels, but it doesn't necessarily reduce the impressive sights too badly.

YoukaiJapanese youkai (mythical monsters) are known to all, with their quirky ways and unique characteristics. Some are fun, some spooky, and others just plain weird, they are the sources of popular legends and have greatly influenced manga (comic book) and animation sub-cultures. As it goes, the area around Oboke/Koboke is actually the original home to many of these monsters (there are hundreds if not thousands of these throughout Japan), particularly some of the most popular ones. Supposedly the monsters have traditionally been lured to the danger of the area (rapids, steep gorge, etc) making the area the home to the highest concentration of monsters in Japan.

Monster MuseumA monster museum. Large carvings of various monsters can be seen along roadsides in the area. More information, including maps, is available at the Michi no Eki.

Youkai FestivalThis popular festival is held every November, with lots of costumes and events. It's great for kids and serious otaku.
Do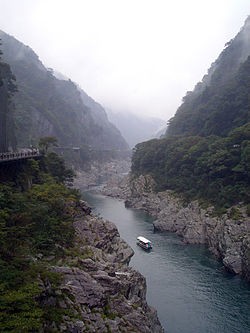 There's one big reason for most people to visit the area: the
rapids
rushing through the gorge below. There are observation platforms on the highway and near the train stations if you're content to gaze from a distance, but more daring types will venture down onto the Yoshino River for a
sightseeing pleasure cruise
, and even more adventurous types yet will try their hand at
white-water rafting
in the class 4 rapids.
White-water rafting
The rapids are Japan's biggest and most exciting, with amazing rock formations and crystal clear waters. There are several rafting operators available in the area and this is by far not a complete list.
Canyoning
(splashing down through streams and waterfalls with rope) is also available with most rafting companies.
phone: +81 887-75-0500

Arranges half/full-day rafting trips from ¥5500/10000, mostly mid-spring to mid/late autumn (lunch included for full day). Canyoning is offered as well. A very chilled out group of experienced guides are here who seem to like having a good time. Good English is spoken by all the staff. Located just near Tosa-Iwahara station. Station pick-up from Oboke is also available. Cafe and accommodation services are also available as well.

phone: +81 883-86-2334

Operated in conjunction with the Momonga Village Guesthouse, half and full day rafting trips are available either with or without lunch. Prices for half day start at ¥4000, and full day starts at about ¥9000
Mont Bell in WestWest also offers rafting trips, as does Lion Adventure in Iyaguchi (near The Woody Rest), as well as Kenmi Rafting via Kenmi Hotsprings Hotel, however English service is limited with these and most other rafting companies in the area.
Pleasure boat cruise
This 30-minute boat cruise can be a more tranquil way to experience the Oboke Gorge from the water if one is not looking for the extremes of rafting. Operated via the Hotel Mannaka from their rest area across from the hotel, boats run daily from 09:00 to 17:00 and cost ¥1080/540 for adults/children. See
here
for more information.
Hot springs
If you survive the rafting experience without developing acute hydrophobia, or if you wish to get wet in a more heated manner,
Kenmi Hotsprings Hotel
,
Hotel Mannaka
and the
Sun River Oboke
hotel have hot springs offering more bubbling water to soak in, all with day-use bath only options. If one drives 15-20 minutes up from Oboke into the
Iya Valley
, there are also several hot springs on offer there, with the closest one being at
Hotel Hikyo-no-Yu
.
Buy
There are several rest areas along Route 32 between Iyaguchi to the north and the Oboke intersection to the south.
WestWestThe largest and newest of the rest areas, it includes a 7/11, a cafe & ramen restaurant, a souvenir shop, and a Mont Bell outdoor store with various hiking, camping, and rafting gear. Adjacent to the main building is a soba noodle restaurant (see section "Eat").

Oboke-kyo River Cruise Rest AreaThis large rest area is operated by the Hotel Mannaka and has a vast range of local souvigners across the road (beside the river) from the hotel. This is from where the river cruises depart (See Do for river cruise information).

Oboke Michi-no-Eki(Road Station rest stop) This large curvy wood building has 24-hour bathrooms, lots of local souvenirs, a cafe, and plenty of travel information. It also holds a paid museum about traditional Japanese mythical monsters (called "Yokai"), many of which have their origins in this area. Local travel information and brochures are available.
Furutani Food ShopA fairly well stocked grocery store with fresh food, packaged goods, and alcohol. Convenient to anyone staying near or passing through the center of town.

Boke-MartIt is a small, normal grocery store, and probably the best place to stock up in the area, especially if heading into Iya Valley.
Eat and drink
The local specialties are
ayu
and
amego
, delicious river fish salted and barbecued on a stick.
The Woody RestLocal soba and udon are served along with a variety of Japanese sets. The menu is in English and the owner's charming wife speaks English decently as well. Lots of good travel info available.

WestWestIn this large rest area are a 7-Eleven convenience store, and two restaurants:
Tokushima Rāmen NishiriA cafe serving various lunch meals.

Momiji-teiA soba and noodle restaurant housed within a beautiful restored thatched roof farmhouse with garden, offering views of the river and gorge.
Sleep
Camping
phone: +81 883-86-3077

The only campground in Yamashiro Town (home to Oboke and Koboke) is at Shiozuka Highlands, which is on the far western edge of the town near the border of Ehime Prefecture. The view from this large, neat facility is splendid and stars are plentiful on clear nights, and on some mornings the valley fog (unkai) can be quite spectacular. But it is a bit far from Oboke and not really convenient for rafting or hotsprings (but this pretty place is worthy of a day on its own). Tent sites start at about ¥2500, through a variety of bungalows and cabins can also be had (from ¥11,000-, paid per building, not per person). BBQ, showers, and camp equipment is available for rental. The campground is not accessible by public transportation. Note: outside of the main summer months it can be chilly at night due to the 800m+ elevation and the exposed, often windy plateau, so bring proper gear. Accordingly, it is closed in winter.
There are closer camping options for the area located in the Iya Valley. About 15-20 minutes from Iyaguchi is the Iya-kei Campground, and about 15 minutes from Oboke are the Iya Fureai Park Campground and Kazurabashi Campground. All of the campgrounds are accessible by public bus. See the Iya Valley page for more details.
Guesthouses
Cabins and bungalows are available at the
Shiozuka Highlands Campground
at affordable prices, especially if not staying alone. See above.
phone: +81 90-9778-7133

A hostel set in a traditional farmhouse in Oboke — the name means literally "eat, sleep and have fun". The owner is friendly and speaks great English. The communal vegetarian meals that are served are highly regarded. It's located within an old-style hillside community and is a little hard to reach if without a car, but the view down into the Oboke Gorge is lovely. Bathing is done at a nearby hotel (free rides given), which has outdoor baths that overlook the river. Free pick-ups given from Oboke Station.

phone: +81 0883-86-2334

address: Yamashiro

In a tranquil side valley up from the Yoshino River and central Yamashiro, this hostel-style guesthouse is set aside from the busier river area. International staff can help explain things and the place is connected with one of the rafting companies if you are looking for river thrills. Though a bit inconvenient if without your own car, the homely relaxed feel of the guesthouse more than makes up for the location. Pick up services to a few different bus stops. Free WiFi.

phone: +81 887-750-500

address: Iwahara, Otoyo-cho, Kochi

Overlooking the Yoshino River, four different guesthouses are on offer set in traditional-style homes, each with private rooms and self-contained kitchens. Very friendly staff will pick you up and drop you off from the train station and drive you to your guesthouse. You will need to bring your own food as there are no shops nearby or meals served. The owners also run a rafting company (see Happy Raft above) but you don't need to book a rafting trip to stay at the guesthouse (but lodging discounts are given for those who go rafting).
Hotels
Sun River ObokeA large hotel with hot spring baths overlooking the Yoshino River Gorge.

phone: +81 0883-84-1216

address: Yamashiro, Oboke

Convenient to Oboke Station and at the start of the side valley which leads to the Yokai statue course, this hotel has both Japanese style and Western rooms. Meals are excellent, with various courses of local food available. A hot spring bath overlooks the river here. The hotel also offers car rental and river boat cruise services.

phone: +81 0883-86-1099

This hotspring hotel has a variety of affordable rooms on offer with different plans that either do/don't include meals. Its worth checking some of their set plans due to the value they offer.
Go next
Ikeda, the access hub for the Oboke, Kobobe, and Iya region.
Iya Valley, with more scenic views, historic vine bridges, hot springs, and some great hiking too, it is just up the mountain and through the tunnel from Oboke.
Kochi, head down south for beaches, bars, and barbecue fish.