Ocean City (New Jersey)
Ocean City
is a city in
Cape May County
, in the
Southern Shore
region of
New Jersey
. It has a reputation for being a family-friendly city and is referred to as "America's Greatest Family Resort".
Ocean City, New Jersey is a world famous seashore community located in the heart of the Jersey Shore. At the northern tip of Cape May County, it is perfectly situated for a vacation; just 20 minutes from Atlantic City, 70 minutes from Philadelphia, and two hours from New York.
The two and a half mile boardwalk is the central focus of Ocean City's attractions. It is lined up with shops and restaurants of every kind, movie theaters, amusement rides, miniature golf courses, and a water park like no other.
Since the late 1800s, the population of Ocean City has grown rapidly. It remains a premier summer destination for all ages who enjoy the 8 miles of guarded beaches along the coast.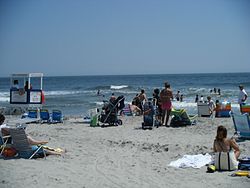 Get in
By plane
Atlantic City International Airport (ACY

) is the nearest large airport.

Philadelphia International Airport (PHL

) is about 65 miles away. It is significantly larger than the Atlantic City airport and has more flights.

Ocean City Municipal Airport (FAA:26N) is a small, regional airport with no scheduled commercial flights. Private planes park within walking distance of beach access, outdoor showers, restaurant, and golf course. Parking Fee applies.
By bus or train
There are also buses and trains that will take you to
Atlantic City
, which is approximately 20 minutes away by car. The buses that run from China Town in
Philadelphia
take you to
Atlantic City
and from
Atlantic City
, the buses will then take you to your specific New Jersey Shore Location. There is an Ocean City Transportation Center located on 10th Street and Haven Avenue that drops off and picks up.
By car
Most visitors arrive by car via the Garden State Parkway southbound exits 30 or 25, or northbound exits 25 & 29 which can be reached from the New Jersey Turnpike exit 11 or the Atlantic City Expressway (New Jersey Route 42) exit 7S There are bridges at 34th Street and 9th Street that provide access into town. There is a third bridge on the northern end of the island as well which links it to Somers Point, Longport, Margate, Ventnor, and Atlantic City.
Get around

Either by car or bicycle. It is a very small city and most destinations can be reached reasonably by bike or on foot. If using your car, drive cautiously because there are tons of bicyclers and pedestrians at all hours of the day. Bike can be rented at various locations along the Board Walk as well as a few other locations on the island, such as the 34th Street Bike Shop at 34th Street and West Ave. Rental rates vary by location, with the spots closest to the Board Walk often being the most expensive. Rentals can be made by the hour or if desired, by the day.

By car
During the summer season, parking in Ocean City can be expensive. The general rule is the closer you are to the ocean and/or to 9th Street, the more expensive it is. Parking meters and parking fees for municipal lots in Ocean City are in effect from early May to early October.
The rate for on-street parking meters vary from 25 cents per hour in the downtown area along Asbury Avenue to $1.50 per hour near the beach and boardwalk. Time limits for metered parking vary from 1 hour to 8 hours depending on the spot. Payment at parking meters in Ocean City can be made with coins, credit card, or the Parkmobile app.
There are several municipal parking lots in Ocean City that serve the downtown, beach, and boardwalk areas. Municipal parking lots are either regulated by parking meters, staffed by an attendant, regulated by permits, or in some cases may be free. Manned municipal parking lots include the Alpha Lot at 9th Street and Boardwalk south, the Beta Lot at 9th Street and Boardwalk north, the Delta Lot at Moorlyn Terrace and Boardwalk, the Baker Lot at 8th Street and Boardwalk south, the Echo Lot at 8th Street and Boardwalk north, and the Foxtrot Lot at 5th Street and Boardwalk. Permit municipal parking lots include the Charlie Lot on Atlantic Avenue between 9th Street and Moorlyn Terrace. Manned/metered municipal parking lots include the Golf Lot on Atlantic Avenue across from Ocean City High School. Metered municipal parking lots are located at the Longport Bridge, 7th Street and Central Avenue, 8th Street and Central Avenue behind City Hall, 9th Street and Asbury Avenue behind Mark Soifer Park, the Alpha A Lot at 9th Street and Boardwalk, 12th Street and Asbury Avenue, 14th Street and Ocean Avenue, and 59th Street at the ocean. Free municipal parking lots are located at 5th Street and West Avenue near the firehouse and at the Ocean City Transportation Center at 9th Street and Haven Avenue. The rates for municipal parking lots vary but are never higher than $20 per day. Metered permits are valid at the parking lots at 7th Street and Central Avenue, the Ocean City Transportation Center, and 12th Street and Asbury Avenue and cost $150 for the season. Permit parking costs $1,100 at the Alpha A Lot and $800 at the Charlie Lot. Payment at municipal parking lots can be made with cash or credit card.
There are several private parking lots in Ocean City including Beach and Boardwalk Parking at 1327 Ocean Avenue, Park America Inc. of NJ at 1101 Ocean Avenue and 1111 Ocean Avenue, Jilly's Parking at 1168 Boardwalk, S&T Amusements Inc. at 1020 Boardwalk, Tahiti Inn Public Parking at 1115 Ocean Avenue, Waterpark Parking at 840 Plymouth Place, and Beachside Parking at 3336 Wesley Avenue.
There are some spots around the city, for example on Wesley on the South side of 9th street, where there is free all day or night parking. This is usually used by year round residents to park, but if you get lucky you may find a spot only a few blocks from the boardwalk. Be careful though, many of these areas have time restrictions, such as a 2 hour limit between 9AM and 6PM. In front of the post office it's 15 mins, and they really do enforce that.

See
Gillian's Wonderland Pier
on 6th St. and Boardwalk boasts a massive ferris wheel, which offers breathtaking views of the whole city and the ocean. If you like sunsets, rent a house on the bay for some of the best views you will find anywhere.
The town, where many historical sites and beautiful homes are around every corner.
The bay, where Ocean City offers every water sport imaginable, including water skiing, surfing and para sailing.
The many historical museums Ocean City offers that features all of Ocean City's history and the adventures of the city's past.
address: 2721 Asbury Avenue
Do
Beach Tags
Most shore towns in southern NJ require tags to be on the beaches during the regular season. The money goes toward lifeguard fees, lifeguard equipment, and also helps pay for beach replenishment. You'll see them in most shore towns except for Atlantic City and Wildwood (check and make sure!), which have their own ways of raising money. For Ocean City in 2019, tags cost...
5$ / Day
10$ / Week (new ones every Thursday)
20$ / Seasonal. They can be bought at a discount if you buy them early enough.
For more information, see http://www.ocnj.us/beachtags/
During the day, the beach is your best option (weather permitting). You will need beach tags, which can be purchased upon entering the beach. Most house rentals will provide beach tags. In the mornings, the boardwalk is packed with bicycles and surreys, which can be rented from a variety of places including Ove's and Bob's. However, make sure you go early because after 12:00PM, bicycles are not permitted.
Take a ride down Bay Avenue and you will find jet ski and kayak rentals in addition to charter fishing boats, parasailing, and even speed boat rides.
Another fun family activity is to rent a bike or surrey for a few hours! Ocean City offers a ton of bike rental companies that all offer different rates, so make sure you compare them to get the best! During the summer,you can ride bikes and surreys on the boardwalk from 5AM to 12PM. The boardwalk accommodates all of the activities by having designated lanes for runners, walkers, surreys and bicycles. Both are a fun activity that take place on the boardwalk in the middle of all the fun! The staff are very accommodating and are always there for your service!
The 9th Street Music Pier is host to many concerts and other events.
For those of you who are interested in Ecotourism, Ocean City is a perfect destination of choice. It has beautiful nature, scenery and wildlife on a perfect little island. Many Ecotourism activities are available in Ocean City including: Atlantic Flyaway, a bird watching facility with a view of shore birds, wading birds, and water animals like whales, dolphins and seals. Also, along the beaches there are areas that are barricaded for more protected species such as piper plovers, black skimmers and northern diamondback terrapins. Along with all of the animal sites, there are several locations in Ocean City that are great for Ecotourism! These areas include: Corson's Inlet State Park, Howard Stainton Wildlife Refuge, Cape May Coastal Wetlands Wildlife Area, and the open waters of Peck Bay and Great Egg Harbor. For tourists who are "green", there is hiking trails, bike trails, boating, photography and sun bathing available for everyone.
Boardwalk - The Boardwalk is the most popular attraction, where there is something for people of all ages to do. Activities include theme parks, a water park, shopping, mini-golf, and a variety of dining options. Join walkers, joggers and bike riders who flock to the boardwalk during the early morning hours for their daily exercise in the fresh ocean air. If you are not a morning person, you can also shop til you drop mid afternoon to nighttime. The boardwalk isn't just for summer anymore...experience a wide variety of yearlong special events. There are parades, car shows, seafood festival, art festivals, and the Miss New Jersey Pageant. The boardwalk closes at 11:00PM. On a typical night, all is quiet by about midnight. There are 2 movie theaters on the boardwalk as well as several arcades.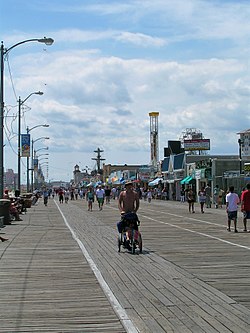 Mini Golf-one of the greatest family oriented activities in the summer. There are many well-known facilities such as Castaway Cove, Gillian's Island, and Congo Falls, all located on the Boardwalk. The great thing about Congo Falls is that there are 3 different courses you can choose from and one is underground! On a rainy day/night, this is the perfect place to golf while staying dry.
Farmers Market – the freshest of local produce, flowers and specialty items. Tabernacle grounds between 5th & 6th Streets, every Wednesday, throughout the summer months.
Evenings on Asbury Avenue – offering a fun-filled night of music, dancing, shopping, prizes and art. Between 6th & 11th Streets, Wednesday from 6-9PM, throughout the summer months.
Funtastic Tuesdays – Every Tuesday from 10AM-1PM, throughout the summer months.
Family Film Night
Market Days – offering free pony rides, face painters, magic, puppet shows and live music to entertain the old and young. Thursdays from 10AM–1PM, throughout the summer months.
Hospitality Night – each December kicks off the holiday shopping season
Downtown - Consists of over 100 mostly family-owned businesses feature both merchandise and ambiance unlike anything you will find in other malls. Shop for everything from hardware to fine furnishings; apparel, jewelry, books, and music. There are also antique shops, florists and art galleries.
Inn to Inn tours - Weekly Inn to Inn Tours that commence at 7th Street and Central Avenue on Thursdays. Beginning at 2:00PM, an old-fashioned trolley winds its way through center city neighborhoods for an intimate visit to four or five bed and breakfasts. Afternoon refreshments are offered at the conclusion of the tours.
Friends of Ocean City's Historical Museum, 17th and Simpson Avenue. Summer hours: 10AM-4PM. Hours change during the winter months. The Museum offers rooms that display Ocean City's early history with a wide range of artifacts from past years.
The Bayside Center, +1 609-525-9244. is a 1910 vintage home with a 1.9 acre of land and the perfect spot to watch a sunset. Open everyday during the summer, the house has an education center, a lifesaving museum, a display of classic ship models and an all around relaxed atmosphere. It offers a picnic tables area, a pavilion for shade, docks for short-term docking, restrooms, and a butterfly garden round out the outdoors amenities. This relaxing, hide-a-way is a great spot for children as well as adults. The Bayside Center also offers a summer camp for children as well.
Ghost Tours of Ocean City is a candlelight tour where "fun in the sun" turns into "FEAR IN THE DARK". This guided walking tour takes you through the historic town at night, telling you the many mysteries, folklore, and ghosts that haunt Ocean City. This tour is for all ages and is great if you are into historical facts about the town and mythological tales. Tours generally run from June to October and different times throughout the seasons. For ticket information call (+1 609-814-0199).
If you're interested in all the shells you find along the water on Ocean City's beaches, take a Beachwalk! This is a guided tour that give you knowledge about the sand and water and offer a different perspective of Ocean City's beaches. Beachwalks are given in July and August on Tuesday and Thursday at 9:30AM and on Wednesday at 6:PM. The walks start at the south end on Central Avenue, where Corson's Inlet State Park begins. This is a great activity to do with young children, not to mention how inexpensive it is! The cost is $1.00 for adults and $.50 for children. The tours last for about an hour.
Glazed Over is a great place to go with family and friends! This artistic hideaway is a great place to come if you want to make your own pottery and mosaics. All you have to do is pay for the ceramic or mosaic piece you would like to use and the painting time is free! This place is kid friendly and hosts private parties and events by reservation.
If the weather isn't up to par look no further on a rainy day, one can visit the Ocean City Music Pier (Boardwalk and Moorlyn), Seashell Museum (2721 Asbury Avenue), Congo Falls golf course, Glazed Over and of course downtown and boardwalk shopping (between 6th and 14th streets on Asbury)!
Buy
There are many shops on the boardwalk offering a variety of goods. Some notable attractions include the 7th Street Surf Shop (which also offers surfing lessons), Cloud 9 (offering a huge variety of t-shirts), Air Circus (which sells all kinds of toys and gag gifts), and the Surf Mall (which sells anything you can think of from beach toys to palm readings).
address: 900 Asbury Avenue

A small, fashion forward boutique. Offers casual and special occasion dresses, as well as shirts, jeans, shoes and accessories.

Surf Mall

address: 1154 Boardwalk

The Surf Mall offers a variety of stores ranging from clothing to collectibles such as posters and jewelry. It also offers palm readings.
Eat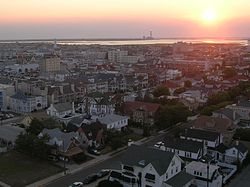 There are many high quality food options including the world famous Mack N' Manco's Pizza, Prep's Pizza, Voltaco's (great Italian food), Sack O' Subs (good sandwiches and cheesesteaks), Express Pizza (great pizza), The Chatterbox, Ove's Beach Grill, Brown's (for outstanding donuts), Bagels by the Beach (best in town), Yesterday's (over the 34th street bridge, so it serves alcohol), Tory's (GREAT ice cream),the Island Grill, and many other restaurants. If you are in town and looking for somewhere great to eat, just ask.
Bashful Banana Bakery and Cafe. Offers a healthier option for food or desert. This quaint cafe located at 946 Boardwalk has banana whips, which are frozen bananas turned into a frozen 100% fruit dessert. They also have a full menu of vegan, vegetarian and meat options for lunch or dinner, like sandwiches and wraps.

address: 947-49 Asbury Avenue

Casa Del Dolce is an Italian restaurant with a breakfast, lunch and dinner menu. This restaurant specializes in homemade pasta, sauces and pastries. Take-out is also an option.

Chatterbox Restaurant

address: 500 9th St

This big pink restaurant goes by the logo Where the town meets, and rightfully so. It is very family oriented and serves breakfast, lunch and dinner all year round. You can order your standard American breakfast and lunch foods until 5PM, when a wide variety of dinner entrees become available. The menu offers everything from burgers to pasta, seafoods, and steak.
Hobby Horse Ice Cream Parlor. Offers over 50 different flavors of ice cream or you can create your own. The staff is very friendly and even with a wait, the line moves very fast. There is a big seating area and the decors of the store are very cozy and amusing for children.

address: 1034 Boardwalk

Fresh cut french fries, funnel cakes, fresh-squeezed lemonade, "peanut butter and Jilly" sandwiches, fried oreos, fried Snickers, fried peanut butter cups, & fried cookie dough.

Johnny B Goode Ice Cream Parlor

address: 1363 Asbury Ave

Johnny B Goode is a 50s themed ice cream parlor with plenty of family entertainment. Provides live karaoke, dancing and magic shows three times per week (seasonally). Serves Breyer's ice cream paired with cones or waffles.

Laura's Fudge Shop

address: 11th and Boardwalk, 34th & West, 9th & Asbury

Laura's Fudge Shop has three family owned locations in Ocean City. They feature award winning fudge and hand made chocolates. They also have a new downtown year round location at 9th and Asbury.

Luigis Italian Restaurant

address: 300 9th st

Family owned and operated since 1958 by the Esposito Family. Kid friendly with a friendly staff.
Ma France Creperie, or "Little French Cafe" is located at 506 9th Street in Ocean City. This small restaurant or cafe offers anything from sweet to savory crepes at their very best.
Mack N' Manco's, 12th and Boardwalk, (609) 398-0720. Ocean City's most popular pizza parlor. New York style: the slices are large and you watch them make it right in front of you. Certainly expensive, but worth the price.

address: 822 Ninth Street

Periwinkles Restaurant is a very casual, family oriented spot to dine. Offers an extensive kid's menu and early bird specials, as well as patio dining.

address: 1348 Boardwalk

Planet Ice offers over 50 different flavors of "Real" Shave Ice, Thick Shakes, Frozen Slush Drinks and Smoothies. They make on site Italian water ice, some of the coldest ice cream on the planet, mini melts (served at -40 degrees), old-fashion rootbeer floats, and classic sundaes.

The Promenade Food Court

address: 744-48 Boardwalk

The Promenade Food Court is an International food court which offers anything ranging from pizza to tacos.

address: 601 Ocean Ave

Rojo's is a great off the boardwalk eatery. Entree prices are under $10, and that is for a large plate full of fine Mexican food. The menu is extensive, able to please even the most picky diner. Service is fast and atmosphere is authentic. Closed on Sunday.

Uncle Bill's Pancake House

address: 2112 Asbury Avenue

As one of eight family owned restaurants at the Jersey Shore, Uncle Bill's Pancake House has been viewed as a family tradition for over 46 years. The food is always fresh, and the service is nothing to complain about. If you're looking for anything from an omelette to pancakes, Uncle Bill's Pancake House is probably where you'll want to go.
Drink
There is not much in the way of nightlife, being that it is a very family oriented town. Ocean City is a dry town, meaning alcohol cannot be sold there, but you need not look further than across the 9th Street Bridge in
Somers Point
where you will find the Circle Liquor Store, D'Orio's Bar, and several other establishments serving alcohol, including Charlie's Bar and Gregory's. These two bars offer a great atmosphere with the friendliest staff and customers.
It is also a short drive to Atlantic City, Sea Isle, and other shore points where alcohol is available.
Sleep
There are a few hotels in town, but the majority of visitors rent houses or condos for periods of one week or weekends.
Atlantis Inn Bed and Breakfast

address: 601 Atlantic Ave

Offers a European feel for a romantic getaway.

address: 719 E 11th Street

A luxury hotel located on the boardwalk.

address: 1510 Boardwalk

This pink, beachfront hotel provides its guests with seasonally decorated rooms and a sundeck/pool.
Go next
Being as most house rentals go from Saturday to Saturday, avoid the traffic by either staying until Sunday night or leaving very early in the morning.