Odsherred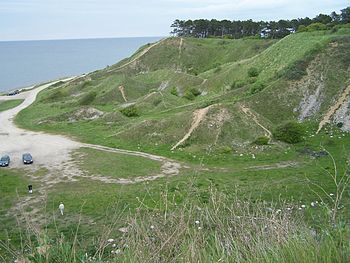 Odsherred
is a peninsula and municipality stretching northwards between the Isefjord and Sejerø Bay on the island of
Zealand
in eastern
Denmark
.
Get in
See
Historical sites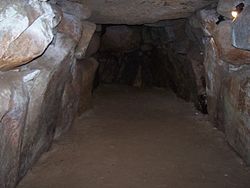 BirkehøjOne of the largest passage graves in Denmark, 12 m long and 2 m high. It was built in the stone age ca 3200 BC, and was used for burials for mora than 1000 years. Bring a flashlight.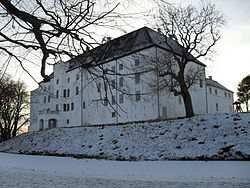 phone: +45 59653300

address: Dragsholm Alle

One of the oldest castles in Denmark (ca 1215).

Rørvig KirkeThis yellow church is located in Rørvig near the beach.
Parks and nature
Esterhøj

address: Høve

Hill next to Høve 89 meters above sea level. On clear days you will have a great view over most of Odsherred and the beautiful Sejrøbugt. On the top of the hill you will find the Reunion Stone. A 25 tonnes stone taken from the beach and placed on the top to celebrate that some of the territories Germany captured in 1864, was returned to Denmark after the 1st world war.

GnibenThe tip of "Odden" and the westernmost point of Zealand. here is a navy base, but you can follow a small path down to the water. Note the monuments honoring the swimmers crossing Kattegat in the 1030-ties

Klintebjerglooks like a crater but is the result of excavation of hydraulic lime (the only one in Denmark). You can walk to for a good view over the sea. Is a popular place for fishing.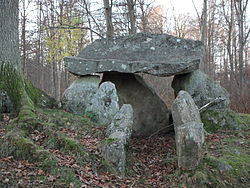 Passage graves in Grevinge Skovsmall forest with 7 passage graves

Veddinge BakkerBeautiful hills formed during the last ice-age. Enjoy the nature and the view of the water in Sejerøbugten

Vejrhøj

address: Vejrhøj, Kolåsvej, Fårevejle

Not to be missed if you are interested in geology.
Museums and galleries

phone: +45 5991 3800

address: Annebjerg Stræde 1

Annebjerg Stræde 2. Collections of glass and porcelain. Other local museums have been moved to locations on Anneberg. There is a cafe and restaurant.

phone: +45 5965 0861

address: Storegade 31, Asnæs

Art museum

address: Swanernes Hus, Plejerupvej 10, Plejerup

phone: +45 21653224

address: Industrivangen 12, Asnæs

phone: +45 59652423

address: Hvide Hus, Rødhøj 11, Asnæs

Permanent and changing collections of paintings in beautil old building

Ole Olsen MausoleumOle Olsen founded the Nordic Film company, and made a huge mausoleum for himself at the top of a big hill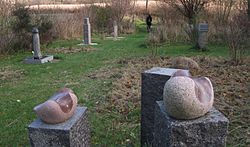 phone: +45 5932 8747

address: Sølvagervej 18, Unnerud

Exhibition of rock sculptures in a nice garden.
Other attractions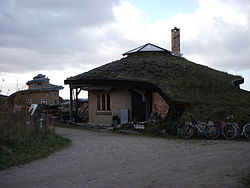 phone: +45 4197 2944

address: Under Himlen 1-17, Egebjrg

Eco-friendly village of interesting houses build using straw, clay, seashells and second-hand materials.
Do
Buy
Lammefjorden is reclaimed land used for growing vegetables. Many small farms that put up signs offering fruit, potatoes, carrots, leeks, eggs, etc.
phone: +45 59 32 82 06

address: Sidingevej 39, Vig

Locally produced apple juice, mustard, rapeseed oil, marmalade. Also sell the local Perle wine from Gislinge
Eat
The town of Rørvig has a speciality called
Rørvigspegepølsen
(the Rørvig sausage).
phone: +45 59918133

address: Toldbodvej 81, Rørvig

Seafood and fast-food at the harbour

phone: +45 59918043

address: Toldbodvej 55, Rørvig

Good small restaurant in a nice setting

phone: +45 59653300

address: Dragsholm Allé, Hørve

There is both a restaurant and an eatery in the old castle. The food is based on Danish traditions and the history of the place. They use many interesting local herbs and vegetables, often from the gardens of the castle or the nearby woods

phone: +45 59931727

address: Algade 44, Nykøbing S

phone: +45 59910441

address: Rørvigvej 217, Nykøbing Sjælland

Good traditional Danish food in nice straw roof house from 1795.

Høve SkovpavillionThe place to enjoy your afternoon coffee in the woods

phone: +45 59321800

address: Vestre Havnevej 34, Sjællands Odde

Seafood. The specialty is a plaice filled with scrimps

phone: +45 59318848

address: Lyngvej 199, Jyderup Lyng

Catering to the cottages along the coast this a calm, relaxed place and child friendly place, that still has a nice dining room. It serves smørrebrød, steaks, sandwiches, pizza, etc. Also a good place to have a drink on the outside terrace on a warm day.

Anneberg Café & Restaurant

phone: +45 5991 3517

address: Annebjerg Stræde 1, Nykøbing Sj

Restaurant with great view over the fjord. Seafood and sandwiches.
Sleep
Oddsherred has a huge amount of summerhouses, so if you are staying for more than a day or two, it might be a good idea to rent one. Most newer summerhouses (build in the last 20-30 years) are insulated so they can also be used during wintertime. Some of the most popular booking sites are: Dancenter, Dansommer and Novasol
Go next