Oga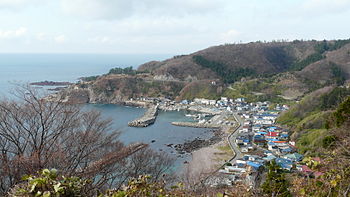 Oga
(;
oga-shi
) is a city in western
Akita prefecture
. The city is actually a large peninsula the Oga Peninsula (男鹿半島;
oga-hantō
).
Get in
The JR Oga train line connects
Akita
and Oga, by way of Katagami City.
Get around
Like most of Akita, a car very convenient. While there are some buses, they run infrequently and may be impractical.

See
GoshadoThis set of five shrines overlooks the coastline.

Akagami ShrineThis shrine is the starting point for the hike to Goshado.

address: 北浦真山字水喰沢9999

This is a museum about namahage, the demons that scare children in Akita every New Year's Eve.

address: 戸賀塩浜字壷ケ沢93

Akita's only aquarium.
Do
Shinzan TrailThis hiking trail goes from the Akagami Shrine to the Namahage Museum. It goes near the summit of Mt. Honzan (本山), which makes for a short side venture. The trail takes around 4 hours, one way, and bus service at either end is infrequent.

Namahage SedoThis namahage performance involves demons coming down from the forest to scare children. There is also dancing, drumming, and mochi throwing.
Sleep
Miyazawa Kaigan Auto Campground

phone: +81 185-22-8222

address: 野石字大場沢下1−78

This resort and campground is rather expensive, but it is well-situated on the beach in northern Oga. There are campsites and cabins, and also an onsen for bathing.
Go next