Ogaki
Ogaki
is a small/mid-sized city located 10 minutes by train from
Gifu City
, the capital of
Gifu Prefecture
. The population of Ogaki in 2012 was 164,000.
Get in
Most travelers will arrive via the
Tokaido Main Line
. The line runs from
Maibara
to the west through Ogaki and onward to
Gifu
,
Nagoya
, and
Toyokawa
. Although Gifu-Hashima Station is within Gifu Prefecture, those traveling by Shinkansen can get here faster by transferring at Maibara (from the west) or Nagoya (from the east). The
Moonlight Nagara
night train which starts in
Tokyo
actually terminates in Ogaki, providing an additional option and an affordable way to reach here from Tokyo if you have the Seishun 18 Ticket.
The
Yoro Line
runs from the northern city of
Ibigawa
(Ibi Station) to
Kuwana
down in
Mie Prefecture
. The
Tarumi Line
connects Ogaki with
Motosu
, although if you're in Motosu, you probably already went through Ogaki to get there.
Get around
Ogaki is a city divided into three disconnected areas thanks to city mergers. Most travelers will be coming to Ogaki Station. This area is the city center and original Ogaki. The castle and Matsuo Basho museum can be reached on foot. Akasaka Station is within walking distance of Akasaka-juku, the 56th station of the Nakasendo.
The merged districts are Sunomata and Kamiishizu. Neither of these areas has a train station, so you'll have to take a bus to reach them. Ogaki City Community Bus has lines to the Kamiishizu area. Meishin Kintetsu Bus connects Ogaki with the Sunomata area (buses bound for Shotoku Gakuen Daigaku).


See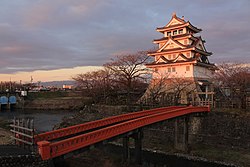 Ogaki Castle

phone: +81 58-474-7875

Ogaki Castle is an important historic site. The Battle of Sekigahara actually began here before moving west to Sekigahara, where the battle ended. The original castle was destroyed in World War II, so the current castle was reconstructed in 1959. Inside it is a museum with information about the castle and the Battle of Sekigahara.

Oku no Hosomichi Haiku Journey MuseumA museum dedicated to the famous poet Matsuo Basho's journey from Edo (Tokyo) to the Tohoku Region, known as The Narrow Road to the Deep North (Oku no Hosomichi). While Ogaki is obviously not in Tohoku, the museum is here because his journey ended here. There is a 3-D video theater that shows a few different videos throughout the day, and the rest of the museum features exhibits on Basho's travels from the beginning of his journey to the end. There is also a room featuring other historic figures connected to Ogaki.

Moriya Tadashi Art MuseumBorn in Ogaki, Tadashi Moriya was a well-known nihonga artist. The museum features his works with permanent and special exhibits.
Sunomata Castle

address: 1742-1 Sunomata, Sunomata-cho

Nickanamed "Sunomata Ichiya Castle" (墨俣一夜城), the castle is famous for the tale that it was built in just one nigh (ichiya). It was indeed built very quickly, but took a couple days rather than a single night. It was not actually a castle with a donjon like you see today. The original site was built as a fortress with wall and towers by Toyotomi Hideyoshi as part of the campaign to overtake Gifu Castle (Inabayama Castle). The modern structure was built in the 1990s as a museum with information about the former castle, a diorama depicting what it looked like and information about famous castle battles in other parts of the country. It's a popular place to visit in the spring when the cherry blossoms bloom.
Buy
Aqua WalkA shopping mall just outside Ogaki Station. It contains most of the same shops as Morera (the largest mall in Gifu Prefecture) but is much easier and cheaper to access by train.

Aeon TownAeon Town is a small mall with a variety of clothing shops, a sports shop, the large Sleeping Factory, and various entertainment and specialty shops along with some restaurants. Aeon Town consists of two buildings with Korona World between them.

TsuchiyaA local sweets shop that has been in operation since 1755. The original shop sold persimmon sweets which Mino Province (southern Gifu Prefecture) was known for and is still renowned for today. The shop continues to sell various persimmon sweets but also sells a variety of other goods. The shop is located along the historic Minoji Road which connected the Nakasendo and Tokaido Roads long ago. The building is old and has unique architecture. For those walking along the Minoji Road it is hard to miss.
Sleep
phone: +81 0584-73-4111

address: 1-150 Takaya-cho

A nice hotel outside Ogaki Station.
Go next