Okazaki
Okazaki
() is midway between
Nagoya
and
Toyohashi
, in the center of
Aichi
prefecture. It has a long history, but is best known for being the birthplace of Tokugawa Ieyasu. Okazaki Castle is the focus of the city, which was an important Tokaido post town and river port.
Get in
Okazaki has two primary train stations:
JR Okazaki station, on the Tokaido Main Line, is in the southern part of the city. The station is close to the Yamasa Institute, and the Aichi Kanjo line for Toyota can be accessed here.
Higashi-Okazaki, on the private Meitetsu Line, is in the central part of the city. This station is convenient for the main tourist sites, such as Okazaki Castle, Rokusho Jinja, Iga Hachimangu, and Daijuji temple. It also connects to the Chubu Centrair International Airport (65 min, ¥1,210).
Naka-Okazaki station, on the Aichi Loop Line, is an alternative for Okazaki Castle and the adjacent Ieyasu Museum, which are in Okazaki Park. Take the Tokaido Main Line train from Nagoya to Okazaki (detailed below), then change to the Aichi Loop Line to Naka-Okazaki, two stations and four minutes away (¥220). Okazaki Castle is an easy 10-minute walk from the station.
From
Tokyo
, the easiest method of reaching Okazaki by train is to take a shinkansen train to the transit hub in
Nagoya
, then backtrack over to Okazaki. It takes approximately 2½ to 3 hours to reach Okazaki; the approximate one-way cost is ¥11000.
Tokaido Main Line trains reach Okazaki from Nagoya in 30 minutes (¥ 600), and from Toyohashi in 20 minutes, (¥570) by
shin-kaisoku
train. Meitetsu trains reach Higashi-Okazaki from Nagoya in 40 minutes (¥650), and from Toyohashi in 25 minutes (¥540) by
kyuko
train. Faster Meitetsu "Myu" trains shorten the run with an added surcharge.
All of the above can be used with the Japan Rail Pass,
except
the Meitetsu and Aichi Loop Line trains.
Get around
There is an extensive bus network (Meitetsu and JR buses) that is difficult to use unless you can speak and read some Japanese. The central and southern parts of the city are fairly flat, and pretty ideal for exploring by bicycle.

See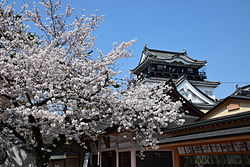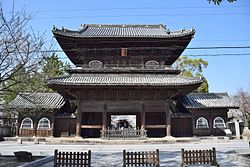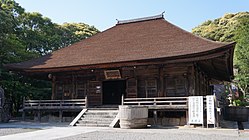 phone: +81 564-22-2122

Okazaki Castle is surrounded by a park with its many statues, including a bronze one of Tokugawa Ieyasu. It's also a popular place to view cherry blossoms in April.
Takisan Temple (滝山寺), built in the 7th century, and the adjoining Takisan Toshogu shrine (considered to be one of the top 3 Toshogu shrines in Japan, together with Nikko and Kunozan).
The hatchō miso grounds, situated west of Okazaki Castle near the Yahagi river. The old tile-roofed buildings are heritage listed and one company (Kaku) has been a family business for 18 generations. Tours are available every 30 minutes and free samples are provided.

Toyama KofunSeveral burial mounds from the Kofun period are still visible at this archaeological site.
Do
Okazaki has a wide variety of festivals that shouldn't be missed, including:
The large fireworks festival, which people from all over Japan come to see, that is held annually on the first Saturday in August in the area surrounding Okazaki Castle.
The fire festival held in the main hall of Takisan Temple each February on the closest Saturday to the lunar calendar New Year.
Learn
Buy
Hatchō miso (八丁味噌), a dark red fermented soybean paste favored by, among others, the Meiji Emperor, originates from Okazaki and is the most famous local delicacy.

Eat
There are many places to eat in Okazaki, such as:
Kitsutsuki (啄木鳥), which translates to "woodpecker" in English, a small, quiet and fairly cheap coffee shop located right next to the Yamasa Institute. Their "curry and rice" (ライスカレー Raisu karee) is excellent. Unfortunately, the menu is in Japanese and the staff don't speak English.
Beverly Hills (ビバリー・ヒルズ), a coffee lounge (喫茶店 Kissaten) with a serene atmosphere. It can be found by walking north from the Yamasa Institute, past the highway, if you look carefully for the sign. It's a bit expensive, but the food is delicious. There are also a large variety of cakes, cookies and other sweets available gift-wrapped, which make excellent presents. The menu is in Japanese and the staff don't speak English.

Maya Indian and Nepali restaurant

address: onishi cho higashi okazaki

Lots of curry and all types of naan. Take out also available
Peppers, a tex-mex restaurant near Higashi Okazaki that offers a good mix of tacos, quesadillas, and wraps. It's fairly inexpensive, but the menu is in Japanese and the staff don't speak English.

Welcome Nepal

address: 愛知県岡崎市南明大寺町1-20

A curry and naan restaurant that offers Nepalese and Indian cuisine with a nice atmosphere and reasonable prices. The spiciness of the curry can be chosen from a scale of 0 "mild" to 4 "very spicy" and they make really delicious naan. English speaking staff and menus.
Sleep
Okazaki New Grand Hotel - Close to the castle and is the most comfortable hotel in the city. The facilities are about 3-star standard (the city doesn't have a luxury hotel). Rooms start from about ¥8100 per night (single).
Okazaki Dai-ichi Hotel - A popular business hotel next to the Sugo river near the castle and about five minutes walk from Higashi Okazaki station. There are several good restaurants and bars nearby. Starting from ¥5500/single.
There are several other business hotels near the castle starting from ¥5500 per night (single).
Go next
Nagoya
- The bright lights of Aichi's main city are only a short express train ride away.