Okinawa City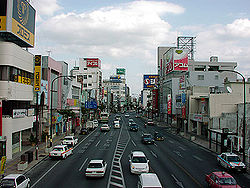 Okinawa City
(沖縄市
Okinawa-shi
) is the second-largest city on the island of
Okinawa
, second only to capital
Naha
.
Get in
Route 330 runs right through the area.
By bus
From
Naha
, the highway bus goes
Motobu
and
Nago
via Okinawa City. Local bases from
Naha Bus Terminal
to Koza, Via Route 329 and Route 330.
Do
Reef EncountersAll instructors are fluent in both English and Japanese. Ask to drift dive Ugan or get lost with the sharks in the Kamiyama labyrinth. PADI and NAUI courses are available, with a discount for combined open water/advanced open water courses. For the experienced or adventurous ask about technical courses or diving Yonaguni.
Music Town is home to dozens of restaurants, music halls, recording and editing studios, entertainment halls, money exchanges and retail businesses. Located only a short drive from Kadena Air Base Gate 2.
Eat
King TacosKing Taco is hands down the authority on the local creation "taco rice and cheese", a mouth watering dish that will make any night in Kin something special to remember.

SukiyaThis is a national beef-on-rice chain. It is a cheap late night eating choice.

CoCo's. Route 58 (near Gate 5 of Camp Foster). A Japanese-style curry house. This place is especially popular with United States Marines stationed on the island.
Yoshihachi. A famous sushi place. Any taxi will know how to get to Yoshihachi's, but beware: Yoshihachi's is only open daily after 16:30, and it is closed on Tuesdays.

Jiro Cho

address: Chatan

Recognizable with the Iron Horse in front, this is probably the best restaurant on Okinawa. Jirocho's sushi, sashimi, tempura and sake are world-class. They also serve some excellent Okinawan dishes, often as specials. The seafood is as fresh as you will find on Okinawawhat truly distinguishes this restaurant is the emphasis on fresh and seasonal ingredients. All of this is served in an elegant atmoshphere with a very friendly staff. Yoshihachi can be fun but is very overrated. Jirocho is the place!

Kastamandap

address: Araha Beach

The best curry on Okinawa and maybe anywhere else outside of London or Bombay. The owner takes great care to make authenic Nepalese curry from scratch and the results are well worth it. Kastamandap is small and no-frills but the delicious curry and ice cold beer make it one of the most satisfying dining experiences around. Although it is just a shack, the homey but exotic atmosphere and friendly service just steps from the East China sea create a winning combination.
Drink
In Kadena (嘉手納), Gate 2 Street outside the back gate of Kadena Airbase has many bars and restaurants. Most of the Military Officers on the island tend to hang out in the bars on "the Seawall", which is located right outside Gate 1 of Kadena. Some of the most well known bars on the air force base are Eclipse and Plan C.
Italiano

address: Araha Beach

Italian restaurant with Japanese/Italian cuisine; but visitors beware, the chef is drunk most of the time, and may make you the wrong dish. It has good service, although it helps to know a little Japanese. Seafood pasta is done well, especially the squid ink sauce. The local beer, Orion, is served fresh on tap at rock bottom prices and will make you forget that wine normally goes best with pasta.
NiCHE Martini Lounge

address: Between Hamby and Mihama

The only place to get a real martini on Okinawa. Tokyo/London/New York vibe with Okinawa charm and service. Come here a few times and the staff will really know your name (and your drink!). The special events can be lively (especially New Years).