Oklahoma City
Oklahoma City
is the capital and principal city of the state of
Oklahoma
, located in the central
Frontier Country
region of the state. The sprawling city and its suburbs offer multiple sports venues, museums, regional food, and a mix of Native American and cowboy culture.
Districts
Understand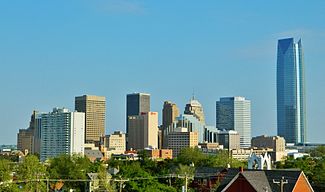 Oklahoma City is the largest city in the state, as well as its political, cultural, and economic engine. The city is the nation's third largest city in land area (608 sq miles), just behind
Jacksonville
, Florida (759 sq miles) and way behind
Anchorage
, Alaska (1698 sq miles). The city is the 29th largest city in population in the nation (506,132 in the 2000 census), and the largest city in the 5 states on the Great Plains (Oklahoma,
Kansas
,
Nebraska
, and
North
and
South Dakota
).
After decades of suburban sprawl and attempts at "urban renewal", a burst of investment during the 1990s gave it additional big city attractions and a pleasant quality of life that often surprises visitors from other cities, making Oklahoma City more of a tourist destination in itself.
Oklahoma's state capitol building is the only capitol in the world with an oil well under it. Although its legal description is Capitol Site #1, it is referred to as Petunia #1 because it was drilled in the middle of a flower bed.
Geography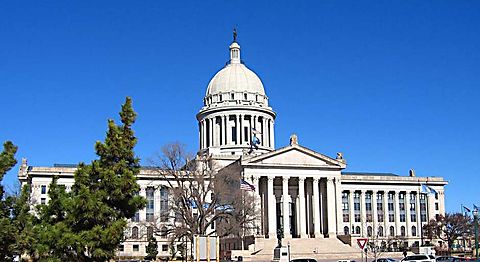 Oklahoma City is in the
Frontier Country
region of central Oklahoma, in the
Southern Plains
of
North America
. Contrary to popular belief, the geography is not flat and treeless (like in the true high plains) but rather gently rolling hills covered in places by dense low trees, shrubs, and grasses. The weather ranges from cold and windy in the winter to hot and windy in the summer, with a chance of
flash floods
and
tornadoes
in between.
The city is roughly bisected by the North Canadian River, which has been partially renamed the Oklahoma River in a flight of civic exuberance. The North Canadian is not very impressive as rivers go. It was once substantial enough to flood every year, wreaking destruction on surrounding homes, until the 1940s when the Civilian Conservation Corps dammed the river and turned it into essentially a wide ditch for the next 50 years. In the 1990s, as part of the citywide revitalization project known as MAPS, the city built a series of low water dams, returning water to the portion of the river that flows near downtown. The city also has three large lakes. Lake Hefner and Lake Overholser are in the northwestern part of the city. The largest, Lake Stanley Draper, is in the far southeastern corner of the city.
Get in
By plane
Will Rogers World AirportThis airport offers over 180 flights a day, including non-stop service to over 30 cities such as Los Angeles, Chicago, New York, and Washington, DC. The international airport (built in the 1960s) has completed the first phase of a major expansion and modernization project and is attracting additional non-stop flights to the city.

Wiley Post AirportIf you want to fly in yourself, this is the place to go. Nine runways handle more than 200 private planes and corporate jets arriving and departing each day. After you land, taxi over to the Oklahoma Museum of Flying in Hangar 24, and then go to the Runway Café in the main terminal for a huge cinnamon roll, or to find out what the lunch special is. Open to the public, including people who arrive by car.
By train
Amtrak
offers daily service from
Fort Worth
,
Texas
via its
Heartland Flyer
train, which can be boarded at , along E.K. Gaylord Blvd between Sheridan Ave and Reno Ave in the Bricktown neighborhood of
downtown
. The Heartland Flyer has connections to other regional Amtrak lines in
Fort Worth
. Plans have been proposed to expand the line north to
Wichita
, KS, and eventually onward to
Kansas City
.
By car
Oklahoma City is at the intersection of two of the nation's longest continuous interstate highways, I-40 and I-35, as well as I-44. It is also on historic
Route 66
.
By bus
Greyhound
moved the in downtown Oklahoma City to 1948 E Reno Ave, in the Bricktown neighborhood. Bus service is also provided to the suburbs of
Guthrie
,
Edmond
,
Norman
,
Shawnee
,
Midwest City
,
El Reno
, and the airport.
Get around
Getting around Oklahoma City is easy by car. If you're coming to OKC, you will likely want to either rent a car or plan on staying around downtown, because public transportation is rather limited. There is pretty good bus service around downtown, to the airport, and to the cluster of museums and attractions in the northeastern part of the city, but if you want to explore the rest of the city without renting a car, you'll either have to use the not-too-stellar parts of bus system or call a
cab
. A streetcar system operates in dowtown.
If you happen to have or rent a car, then getting around OKC is very simple. The streets are laid out in a grid, with named streets running north and south and numbered streets running east and west. The main thing to remember when driving the city is that when you're on the north side, the numbered streets increase from south to north, while on the south side they increase from north to south. (NW 23rd street is a very different place from SW 23rd street, and you don't want to get them confused.) Aside from that minor issue, navigation is a breeze: there are very few one-way street mazes or "Texas Turnarounds" to worry about, and the interstates in town are usually not congested, except during rush hour and construction.
The city is reasonably bicycle-friendly in the Midtown areas of Oklahoma City due to the numerous through residential low-traffic streets. In other areas of the city, bicycle travel is more difficult due to the lack of low-traffic through streets.
By bus
:
Embarkok
provides local bus service. The most helpful bus routes for tourists are:
Route 050 Downtown Discovery runs from the Oklahoma City National Memorial & Museum to Bricktown, with stops near the downtown transit center, Red Earth Museum, Myriad Gardens and Amtrak station.
Route 003 N Kelly goes to the zoo and science museum from the downtown transit center.
See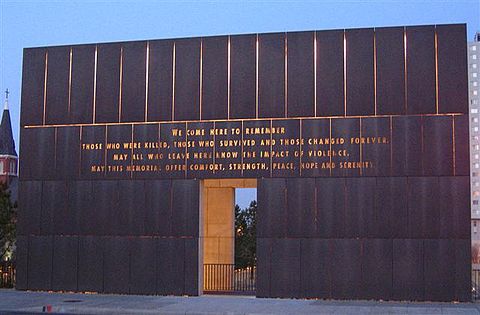 Many of the attractions are near downtown or on the north side of town. Highlights in downtown are
Bricktown
, the city's fast growing entertainment district and tourist showpiece, the new
Oklahoma City Museum of Art
, home to the largest collection of Chihuly glass in the world as well as an arthouse/revival theater and a restaurant, and
The Myriad Gardens
, an impressive urban park with a 7 story botanical garden. North of the museum is the
Oklahoma City National Memorial and Museum
. The memorial is both one of the most visible attractions in the city as well as its saddest, which has posed some problems for the city's tourism department. The outdoor symbolic memorial is free and open 24 hours a day, while the very well done Memorial Museum (located in the former Journal Record Building next door) can be visited for a small fee.
Many of the neighborhoods in the immediate vicinity of Downtown are textbook examples of urban blight, but to the northwest of downtown is a cluster of interesting early 20th century neighborhoods near the campus of
Oklahoma City University
. The most notable are
The Paseo
, a ramshackle artist colony in a 1930s-era urban neighborhood, and
"Little Saigon"
or as it's officially known,
Asia District
, home to the city's large Vietnamese and East Asian community. The Paseo was built in conscious imitation of Kansas City's Country Club Plaza in the early 20th century, but has since developed a gritty bohemian character that can feel like a breath of fresh air. Dozens of art galleries, restaurants, clothing stores and other related businesses are clustered in the area. The Paseo is actually only a single street lined with Art Deco Spanish revival buildings, but theme had been applied to much of the surrounding neighborhood, including a stretch of storefronts on NW 23rd street, sort of the main street of the Northwest side.
West of the Paseo along Classen Boulevard is the
Asia District
, home to the city's majority Vietnamese Asian community. After the fall of Saigon in 1976, one of the cities picked by the US government for the relocation of refugees was Oklahoma City. Since then, these refugees have been joined by later immigrants from Vietnam and other southeast Asian nations, and by Vietnamese Americans from elsewhere in the country. The district is home to many great restaurants, and to
Super Cao Nguyen Supermarket
, the largest Asian market in the state.
Just West of Asia District is
Oklahoma City University
which features a small art museum and a variety of cultural events and programming.
To the North of Oklahoma City University is the
"NW 39th Street Enclave"
the largest GLBT neighborhood in the state,
Crown Heights
and the Western Avenue District, which are home to businesses and restaurants catering to young urbanites (Sushi Neko, a fine sushi bar and Will's, a coffee shop, both inside the restored art deco Will Rogers Theater complex, are worth a look).
On the Northeast side of the city is the capitol complex, which is interesting in itself, and the
Oklahoma History Center
. There is a medical research cluster northeast of Downtown centered on the
OU Health Science Center
that is large and growing, but unless you're a patient, a doctor, or a scientist, you're unlikely to spend much time there. (However the historic
Lincoln Terrace
neighborhood that is between the OUHSC and the state capitol is worth looking at if you enjoy historic architecture.) The Harn Homestead is also located nearby on NE 16th street.
North of the capitol is the
Adventure District
with the highly ranked
Oklahoma City Zoo
, the
National Cowboy and Western Heritage Museum
, and the
Kirkpatrick Center
(which features a children's science museum, an air and space museum, a photography museum and more),
Remington Park and Casino
a thoroughbred and quarter horse racing track with a Casino and off-track betting.
The Southside is notable primarily for
Capitol Hill
, a large Hispanic district, and the Stockyards, a neighborhood built around one of the largest cattle markets in the world. Cattle are still bought and sold there every Monday morning, much to the dismay of PETA and other local activists who can sometimes be spotted protesting nearby. The Stockyards resembles in some ways a Wild West-themed amusement park,
sans
rides. There are stores selling just about anything western themed that you could imagine, from saddles to belt buckles to truly giant hats. One of the few places in the city where your newly purchased giant hat will go mostly unremarked upon is the venerable
Cattleman's Steakhouse
, which has been serving up hearty steaks and
lamb fries
(a polite term for fried bull testicles) for over a century.
Capitol Hill to the east is one of the city's great contradictions; rife with poverty and violence, it can also be one of the liveliest and most welcoming neighborhoods in the city. Capitol Hill's main street along SW. 29th Street is full of bustling Mexican owned shops and restaurants, as well as the somewhat out of place seeming
Oklahoma Opry
.
Performing arts
Do
Learn
phone: +1 405-208-5000

address: 2501 N Blackwelder

Small university associated with the United Methodist Church

Oklahoma State University–Oklahoma City

address: 900 N Portland Ave

Large satellite campus for one of the two main state universities

Downtown College Consortium
Buy
The Colonial Art Gallery and Co.

address: 1336 NW 1st St

Open since 1919, Colonial is a full-service gallery, buying and selling investment-quality artwork, as well as framing, restoring, and appraising art.

address: 8915 N Western

Oklahoma City's best independent record store.

Guestroom Records

address: 3701 N Western Ave

Another good independent record store

address: 5028 N May Ave

Modern furniture, unique gifts, and vintage clothes.

address: 50 Penn Pl

A great local independent book seller. They have great service and a very decent selection of everything from children's books to the latest news.

30 Penn BooksA great used book store.

Book Beat and CompanyDescribes itself as "an independent bookstore. specializing in Beat Generation And Counter Culture Books, High & Low-Brow Art Books, Political Thought, Radicalism, Anarchism, Communist & Socialist Literature, Poetry, Philosophy, Sci-Fi, Metaphysical Studies, Classics, Avant-Garde Literature, Fiction, Eastern Religion, T-Shirts, Compact Discs, Vinyl, Videos & DVDs, Posters & Prints, as well as unique handcrafted gift items from the local artists of Oklahoma."

Route 66

address: 50 Penn Pl

Rare and hard to find gifts and personal care products as well as several lines of women's clothing. Also located at (Penn and North West Expressway)

Bohemian Spirit Vintage

phone: +1 405-885-5994

address: 913 W. Britton Rd

Miss Amy provides locals with vintage wearables and wares and art. 1900s-1980s.

Wilshire VillageLocated on Western, north of 63rd, at the intersection of Wilshire and Western. Has a great variety of shops, such as:
The Learning TreeToy store offering lots of educational toys.

The Makeup BarGood makeup that you might not be able to find in Dillard's at any of the malls. Very popular for boutique buyers.

Gil'sHip, modern clothing. Great jeans selection.

The Lingerie StoreCarries good brands of lingerie, very soft bathrobes, and good pajamas.
Village Park SouthOn North May Avenue, between Hefner and Britton. It has the best resale shop in the village, a local Curves, Hi Performance Sporting goods, and many other shops.
Jo Ann's Classic ConsignmentGreat clothing and accessories. Say Hi to Jo Ann!
Hi PerformanceScuba Diving Gear, and other high performance sportting goods.
Mail RoomSend mail, and pick up your drivers license and tags at one location.
ModeWomen's clothing, accessories and gifts boutique in the heart of Midtown.
Eat
American
Beef & Bun-Mr Catfish

address: 2741 NE 23rd St

Awesome locally owned joint.

Bunny's Onion Burgers

address: 2409 North Hudson Ave

Specializing in American cuisine with Southwestern influences.

address: 1309 S. Agnew

Listed in Patricia Schultz's 1,000 Places To See Before You Die.

The Haunted House

address: 7101 N. Miramar Blvd

address: 1035 N.W. 63rd St

The Museum Café

address: 415 Couch Dr

Nichols Hills Drugstore

address: 6411 Avondale Dr

phone: +1 405-755-3501

address: 3000 W. Britton Rd

address: 6432 Avondale Dr

address: 4203 N. Western

Chuck House

address: 4430 NW 10th St

The best chicken fried steak in town.
Barbecue
Banta's Ribs & Stuff

address: 1200 N. Meridian

Big D's B-B-Q

address: 1701 W. Britton Rd

address: 6816 N. Western

A local favorite, voted Best BBQ by readers of Daily Oklahoman and Oklahoma Gazette

Leo's Bar-B-Q

address: 3631 N. Kelley Ave

Swadley's Smokehouse

address: 824 SW 89th St

Rib CribVarious locations. Excellent BBQ.
Brazilian
phone: +1 405-525-9779

address: 440 NW 11th St

Brazilian bakery and deli with live jazz on Saturdays.
Chinese
Dot Wo

address: 3101 N. Portland Ave

Great Chinese restaurant specializing in seafood.

address: 2701 N. Classen

A classy and authentic Chinese restaurant in the heart of the Asia District. Features Dim Sum on the weekends.

Fung's Kitchen

address: 1500 Nw 23rd St

Across from Oklahoma City University, has become very popular for the college crowd.

address: 2410 W. Memorial Rd

Snow Pea

address: 6600 N. Western Ave

Chen's BuffetWindsor Hills Shopping Center, N.W. 23rd and Meridian. A full buffet.

Golden Dragon

address: 5934 NW 122nd St

Authentic Chinese Restaurant.
Delis
Gourmet Deli

address: 7300 N. Western Ave

Someplace Else Deli and Bakery

address: 2310 N. Western Ave
Ethiopian
Queen of Sheba

address: 2308 N. MacArthur Blvd

Great selection of vegetarian options.
Fine dining
address: 820 N. MacArthur Blvd

The Grill

address: 2824 W. Country Club Dr

address: 6418 N. Western

Rococo Restaurant and Fine Wine2824 N. Pennsylvania, also new location in Northpark Mall at NW 122nd & May Ave

address: 3401 S. Sooner Rd

Unique atmosphere, with large, shared tables and live Bavarian music.
French
La Baguette

address: 7408 N. May Ave

Le Cep Bistro

address: 231 S. Coltrane
German
Ingrid's Kitchen and Delicatessen

address: 3701 N. Youngs Blvd

address: 15920 SE 29th

address: 3401 S. Sooner Rd
Greek
La Greek Restaurant

address: 2839 S Douglas Blvd, Ste 102, Midwest City

Akropolis Greek Restaurant

address: 1809 S. Air Depot Blvd

Mediterranean Imports and Deli

address: 5620 N. May Ave

Ole'Town Gyros & Kabob

address: 402 E. Main St, Norman, OK

Zorba's Mediterranean

address: 4621 N. May Ave

Sweis' Gyros & Pita

address: 1901 NW Expressway ST

Gyro City Cafe

address: 7300 NW Expressway
Ice cream
Indian
Ajanta Cuisine of India

address: 11921 N. Pennsylvania Ave

phone: +1 405-948-7373

address: 4559 NW 23rd St

Indian cuisine, themed dining rooms, and belly dancing.

KhaZana

address: 4900 N. May Ave

Excellent buffet with many vegetarian options. North and South Indian cuisine.

Taj Indian Cuisine

address: 5801 NW Expressway

Tandoor Indian Cuisine & Indian Grocery

phone: +1 405-270-0379

address: 1901 E Reno Ave
Irish
McFinn's Pub

address: 902 Straka Te

address: 1100 Classen Dr

address: 9610 N. May Ave

Great pub food, beer, and live music!
Italian
Italian Jim's Pizzeria

address: 342 S. Mustang Rd. South

Of I-40 on Mustang Rd about 3 blocks - Great Pizza and pasta - Lots of Blown glass!

address: 13810 N. Pennsylvania Ave

Caffè Pranzo

address: 9622 N. May Ave

address: 801 Signal Ridge Rd

Mama Lucia's

address: 12325 N. May Ave

Othello's

address: 1 S. Broadway, Edmond

Papa Dio's

address: 10712 N. May Ave

Sophabella's

address: 7628 N. May Ave

A great local Italian restaurant.

Vito's Ristorante

address: 7521 N. May Ave

address: 5801 N. Western Ave

Zio's Italian GrillSouth of Reno and Meridian or in Bricktown

Nomad II

address: 7301 N. May Ave
Japanese
address: 4315 N. Western Ave

address: 4318 North Western

Tokyo Sushi Bar

address: 7516 N. Western Ave

Yamato Japanese Restaurant

address: 7101 N. W. Expressway

I Love Sushi

address: 1900 NW Expressway St Ste R

Shogun Steak House of Japan

address: 11900 N. May Ave

address: 214 S Sante Fe Ave
Korean
Bwon Korean Restaurant

address: 4517 S. Sunnylane

Korean House

address: 4813 S. E. 29th St

Bon-Jom Korean Restaurant

address: 4428 SE 44th St

Seoul Garden Korean Restaurant

address: 6012 SE 15th St
Mexican
Adobe Grill

address: 5102 North Shartel

Birriera Aguascalientes

address: 601 S. Western Ave

Casa Juanito

address: 4718 S.E. 29th St

Chelino's Mexican Restaurant

address: 5900 N. May Ave

1 of 10 metro locations.

Los Palomas

address: 2329 N. Meridian

Los Mariachis

address: 3655 NW 39th St

Margarita's Mexican Restaurant

address: 7800 N May Ave

Not the fanciest dining experience in the city, but it's an absolute hidden gem. Quality, delicious food with a friendly staff.

San Marcos Mexican Restaurant

address: 12201 N Rockwell Ave

Includes live music on some Fridays and Saturdays.

Tacos San Pedro

address: 2301 SW 44th

This is real Mexican food, not Taco Bell.

Ted's Cafe Escondito

phone: +1 405 848-8337

address: 2836 NW 68th St

You may have to wait to get into Ted's, but it is worth the wait. Some of the best Mexican food in Oklahoma City.
Pizza
Sauced

address: 2912 Paseo

Joey's Pizzaria

The Wedge PizzeriaGourmet Pizza in a brick oven style
Seafood
Fish & Pies

address: 1309 NE 23rd St

Great family-owned place.

phone: +1 405-848-8008

address: 5641 N. Classen Blvd

Pelican's

address: 291 N. Air Depot Blvd
Thai
Bangkok Restaurant

address: 7906 N. MacArthur Blvd

Sala Thai

address: 1614 N.W. 23rd St

This is one of the city's finest restaurant, and is completely vegetarian-friendly.

Tana Thai Bistro

address: 10700 N. May Ave

Thai Garden

address: 3913 S Western Ave

Thai Garden II

address: 1801 S Air Depot Blvd

Thai Kitchen Cafe

address: 327 Dean A Mcgee Ave

Lai Thai

address: 7419 NW 23rd St

Thai House

address: 4548 NW 23rd St

Serves the best crab fried rice in town.

Thai House II

address: 500 NW 23rd St
Vietnamese
Banh mi Bale

address: 2426 N. Classen Blvd

Lang Bakery

address: 2524 N. Military Ave. #110

Lido

address: 2518 N. Military #110

Minh Deli

address: 2800 N. Classen Blvd Suite 104

Pho 89 Café

address: 2800 N. Classen Blvd

Mr. Pho Noodle House

address: 1133 NW 25th St

Next to Super Cao Nguyen asian grocery in Asia District.

Pho Hoa

address: NW 23rd St

You will find this spot crowded with local Vietnamese.

Pho Thai Nguyen

address: 3221 N Classen Blvd
Drink
"Last call" is 2AM in Oklahoma City and its environs. Also, until new alcohol laws take effect in October 2018, strong beer (i.e., greater than 3.2% alcohol by weight, or 4.0% by volume) and wine can only be purchased in liquor stores, and liquor stores are open M-Sa 10AM to 9PM (closed every Sunday and every major holiday, such as Christmas, New Year's Day, Memorial Day, July 4th, Labor Day, and Thanksgiving). Also, by state law, all alcoholic beverages sold for off-premises consumption, except for "3.2 beer", must be sold at room temperature. Wine
cannot
be purchased in grocery stores or convenience stores, so if you need wine, strong beer, or hard liquor you must purchase it before 9PM or you will be out of luck (at least until October 2018 for beer and wine). On the plus side, Oklahoma's prices for spirits and wine tend to be lower than that of nearby states, including Texas.
From October 2018 forward, any establishment with a license to sell alcohol for off-premises consumption will be allowed to sell beer of up to 9.0% alcohol by volume, plus wine, under refrigeration. This includes supermarkets and convenience stores.
Bin 73 Wine Bar

address: 7312 N. Western Ave

address: 3009 Paseo

Henry Hudson'sLocations throughout OKC and surrounding suburbs offers a casual bar atmosphere with occasional karaoke. Also, monthly drink and appetizer specials.

address: 1221 NW 50th

Edna's

address: 5137 Classen Cir

Known for their 'lunchboxes' and for the owner's dance moves.

address: 1100 N Broadway

Junior's

address: 2601 N.W. Expressway St

Tramps

address: 2201 NW 39th St

Strongest drinks on the gay strip (and likely the entire city), with pool, great jukebox and drag shows. Lots of fun!

address: 100 East Fifth St

address: 4200 N. Western Ave

Great place for a pint of Guinness, and listening to live music.

TapWerks Ale House & Cafe

phone: +1 405 319-9599

address: 121 E Sheridan Ave

5 stars. Want to try a new drink or an unsual beer, this is the place for you.
Coffee houses
address: 9018 S. Pennsylvania Ave

Coffee, tea, bubble teas, and Vietnamese sandwiches, po' boys, red beans & rice from their New Orleans family recipes. Proudly serving fine, locally roasted, certified organic fair trade espresso & coffees. Also featuring a selection of teas and a bubble tea bar. They also serve vacuum brewed siphon pots of coffee. Free Wi-Fi.

Cafe Oasis

address: 1135 NW 25th St

Next to the Super Cao Nguyen Asian grocery. This cafe is really more of a bubble tea house although they serve coffee as well. They also serve a variety of Chinese food. It feels like you are stepping into a modern Japanese hot spot. Free Wi-Fi.

address: 1015 N Broadway

Coffees roasted in-house, espresso bar and french pressed coffee 7 days a week

address: 727 NW 23rd

Great coffee and tons of cupcakes.

address: 1900 NW Expressway

Nice cafe with free Wi-Fi inside an excellent independent bookstore.

address: 10 NE 10th St

6025 W. Reno Ave. Suite C., 7936 N. May, 9101 S. May. Big, with a diner atmosphere. Free Wi-Fi.

phone: +1 405-525-3430

address: 3122 N. Classen Blvd

Funky atmosphere, veggie food and free Wi-Fi. An OKC gem.

address: 815 N Hudson

High quality coffees roasted in-house, espresso bar, pour overs, vegan pastries, breakfast and lunch served 7 days a week

Will's Coffee Shop

address: 4322 N. Western Ave

Inside the art deco Will Rogers Theater complex. Features locally roasted fair trade and organic coffee. Serving Breakfast, lunch and dinner. Free Wi-Fi.
Microbreweries
phone: +1 405 840-1911

address: 50 Penn Mall

Free Wi-Fi

address: 4745 Council Heights Rd

Tours available
Connect
Stay safe
A little bit of common sense goes a long way. On the whole, the city is quite safe, but you shouldn't take that as a cue to be careless. If you're downtown or in what looks like a sketchy neighborhood, nothing will probably happen to you, but you should still lock your car door, keep your valuables secure, and not put yourself in potentially dangerous situations. Some of the worst areas are in the inner-city districts just surrounding downtown, particularly parts of Mulligan Flats (SE-SW 15th Between I-35 and Western), NE 23rd St., NE 36th Street, Martin Luther King Boulevard, NW 10th Street, South Central Avenue, South Shields Boulevard, and South Robinson Avenue; you might want to avoid being there
especially
after it gets dark. Also steer clear of particularly seedy-looking bars, although not all are created equal. Keep your wits about you and you'll be fine almost anywhere in Oklahoma City.
You might want to check the
Tornado safety
page if you are visiting Oklahoma City, as it sits in the heart of "Tornado Alley", but the local media are always all over any developing severe weather. Peak tornado season is in the spring, with April and May being the months with the most severe storms.
Summertime heat is also a concern, as average high temperatures during July and August are typically in the mid 90s °F though humidity levels are usually not as high as parts of the adjacent deep south. Temperatures over 100 °F are also very common during the summer months, but all businesses are air conditioned, as well as hotel rooms and other public places. While snow is not uncommon in the winter, it typically falls only a few times and in small amounts, but just a few inches of snow can be enough to cause much more havoc than in more northern locations... drive safely!
Cope
Consulates
phone: +1 405 842-0100

address: 5801 N Broadway Ste 120
Go next