Okotoks
Okotoks
is a town of 29,000 people (2016) in
Alberta
.
Understand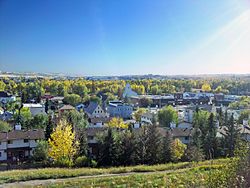 Okotoks is a town on the banks on the Sheep River, approximately 18 km (11 mi) south of the City of Calgary. Okotoks has emerged as a bedroom community of Calgary.
History
The town's name is derived from "ohkotok", the Blackfoot First Nation word for "rock". The name may refer to Big Rock, the largest glacial erratic in the Foothills Erratics Train, about 7 km (4.3 mi) west of the town.
Before European settlement, journeying First Nations used the rock as a marker to find the river crossing situated at Okotoks. The tribes were nomadic and often followed large buffalo herds for their sustenance. David Thompson explored the area as early as 1800. Soon trading posts sprang up, including one established in 1874 at the Sheep River crossing on the current Okotoks townsite. This crossing was on a trade route called the Macleod Trail, which led from Fort Benton, Montana to Calgary.
In 1879, the area was the site of the killing of the last buffalo. Government leasing of land for one cent per acre ($2.47/km²) began in 1880. This created a major change in the region. The first settlers arrived in 1882.
A community grew up around a sawmill that was established in 1891, and it would grow in size. The last stagecoach stopped in Okotoks in 1891 when rail service between Calgary and Fort Macleod replaced horse-drawn travel. By 1897 the community name had changed three times: from Sheep Creek to Dewdney to Okotoks, assigned by the Canadian Pacific Railway. The rail line is still a main line south to the U.S. border, but the last of the passenger service ended in 1971.
Okotoks has experienced three major flooding events, in 1995, 2005 and 2013. The 2005 event, which affected much of southern Alberta, flooded virtually all lands adjacent to the Sheep River, including the central business district, were at least briefly flooded, with the most serious damage being inflicted to riverside pathways, parks and campgrounds. Okotoks was also affected by the 2013 Alberta floods.
The sawmill that was established by John Lineham along the Sheep River in 1891 operated for 25 years and was a major part of the local economy. At one time it employed 135 people, producing an average of 30,000 feet (9,000 m) of lumber per day. The growth of the Canadian Pacific Railway created a demand for railway ties and the mill helped meet that demand. Logs were brought down from the west via the Sheep River. The mill has long since disappeared but one building (one of the oldest remaining in the township) still stands. It houses a law office and restaurant.
Oil was discovered west of Okotoks on October 7, 1913. Okotoks became the supply centre. In its heyday, from 1913 to the 1960s, Okotoks was busy with horses, wagons, and transports hauling all types of equipment to the oil fields, and crude oil back through town to refineries in Calgary.
Climate
Okotoks visitors can count on mild weather from Spring to late Fall, and 330 days of sunshine each year.
Get in
By car from 45 km south of Calgary.
Like other communities in the vicinity of Calgary, it is served by the Calgary International Airport. It has its own airport for private planes.


See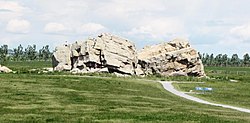 The Big RockThe largest known glacial erratic, being transported by an ice sheet about 15,000 years ago from what is now Jasper National Park

Epcor Environmental Education CentreTo learn about the local ecosystem.
Since 1974, Okotoks has been hosting a collector car auction in late May. It is the longest running collector car auction in Canada.
Do
Okotoks had 99 parks and over 85 km in walking, hiking and biking trails,
The MaxMan's Mini Golf18-hole mini golf course.
Buy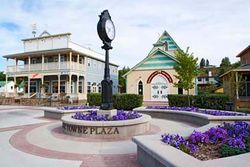 Eat
Sleep
address: 15 Westridge Crescent

In a quiet neighbourhood, this Okotoks property offers full breakfast. All rooms feature 4-poster beds. Free Wi-Fi. Rooms at Harmony Bed and Breakfast are decorated in a Victorian style with dark wood furnishings. A family friendly garden and a wraparound patio with seating area are offered at this property. The common room features a piano. Special diets can be accommodated upon request.

phone: +1 403 938-4282

address: 99 Woodhaven Drive

55 sites with full service hookups (30 amps), 6 tent sites (15 amps power). All sites have firepits. Dump station privileges are included with camping. Open from May 1st to October 1st.

Best Western Plus Inn & Suites

phone: +1 403 995-6265

address: 100 Southbank Road

Exercise facilities, Wireless internet connection in public areas, 100% smoke-free hotel, complimentary full breakfast, indoor pool, with waterslide, hot tub, is located adjacent to the pool, laundromat.
Go next