Oku-Hida Onsen Villages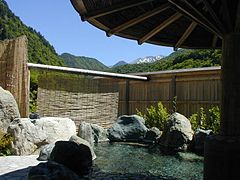 The
Oku-Hida Onsen Villages
(奥飛騨温泉郷
Oku-Hida Onsengō
) are a group of 5 remote hot spring (Jp.
onsen
) villages, nestled deep in the
Japan Alps
of
Gifu prefecture
.
From north to south, the five villages are
Shin-Hotaka
(新穂高),
Tochio
(栃尾),
Shin-Hirayu
(新平湯),
Fukuchi
(福地) and
Hirayu
(平湯).
Get in
The easiest option is a direct bus from
Shinjuku
in
Tokyo
(4½ hr, ¥5700). Alternatively, take a train to the nearest stations
Matsumoto
(if coming from the east) or
Hida-Takayama
(if coming from the west), then hop on a bus for the final leg (1½ hr and ¥2300-2800 from Matsumoto, 50 min from Takayama).
Get around
Infrequent bus services connect the villages, but to free yourself from limited bus schedules, this is one of those few places in Japan where renting a car may be a good option. The mountain roads, while often scenic, are slow, twisty and tiring to drive, and are not a good place to learn to drive on the left.

See
Every village has an open-air bath (露天風呂 rotenburo) open to the public for free or a token fee. Note that these are communal and mixed, ladies wishing to retain their modesty may wish to bring a bathing suit.
Hirayu Waterfall (平湯大滝 Hirayu ōtaki). A 64-meter-high waterfall a few minutes south of Hirayu by car. Well marked and easily accessible along a short path, in winter the frozen waterfall is illuminated. Occasional buses, but check schedules carefully so you don't get stranded.
Do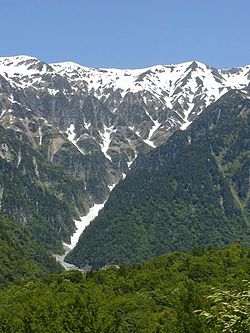 Being located in the heart of the northern
Japan Alps
, there are copious opportunities for
hiking
in the area, but do your research beforehand as many of the mountains are quite tough and the climbing season is very short — many peaks will still be covered in snow in June. A popular, if fairly challenging, three-day course is to scale all three peaks listed below in a row, crossing over from Oku-Hida to
Kamikochi
(or vice versa).
Mt. Yarigatake (槍ケ岳, 3180 m), which means "Spear Mountain" for a reason, is occasionally dubbed Japan's Matterhorn.
Mt. Okuhotakadake (奥穂高岳, 3190 m) is the third-highest mountain in Japan.
Mt. Nishi-Hotakadake (西穂高岳, 2908 m) is easier than most thanks in no small part to the cable car from Shin-Hotaka which takes you halfway up (¥1500/2800 one-way/return, plus ¥300 for large packs).

Shinhotaka RopewayThe :WikiPedia:Shinhotaka Ropeway, from its lower terminal in Shin-Hotaka Onsen, the ropeway climbs 1,033 m, the greatest altitude change of any ropeway in Asia, in two stages to its upper terminal at Nishihihodaka-guchi. The trip takes 20 minutes, during which you'll travel over 3 km before being deposited at the top. From here, stunning views of the Japanese Alps open in every direction, with hiking paths leading on into the mountains for the more adventurous.
Eat
The Hida region is well known for its fatty, well marbled beef and you are practically guaranteed to get a taste of it at dinner. Prices tend to be fairly stratospheric though.

Sleep
There are plentiful accommodation options in the villages, but most of it is distinctly high-end. Pretty much the only budget option is
camping
... but, then again, if you're going to splurge one on your Japan trip this is quite possibly
the
best place to do it. Unless otherwise noted, all prices listed below are
per person
with two meals included.
address: 726 Hirayu Onsen

Established 1923 and thus one of the older operations around. Gasshozukuri-style building with outdoor rock baths and an indoor hinoki tub.

phone: +81 578-9-3434

(槍の郷), Shin-Hotaka. An outstanding little inn featuring no less than 2 indoor and 3 outdoor baths, with all outdoor baths reservable for private use for you and yours. Unlike most lodgings in the area, the rooms here are Western style (beds, not tatami) and the lodge is a Japanese fantasy of a Swiss chalet. ¥13000 and up.
Budget
phone: +81 577-37-1515

address: Yubinbango 506-1433 Takayama, Gifu Prefecture Okuhidaonsengo Hirayu

It's in the centre of Hirayu village and a 5-minute walk from Hirayu bus terminal. Hotakasou-Club has a 'nap room' which can be used for overnight stays for ¥1900 per night. The nap room is actually fairly comfortable as each guest is provided with a mattress (on the floor), blanket and pillow. Included in the price is access to the main public bathing area which includes 2 indoor baths, 1 outdoor bath and a wet sauna. There is also restaurant where you can order Japanese food (extra cost). The food is quite nice however expect to pay approximately ¥1000 for a meal. Hotaksaou-Club is not listed on the main accommodation booking websites so if you would like to make a reservation you can call ahead (most staff spoke English) or visit their website