Olango Island
Olango Island
is in
Cebu Province
, just offshore from (east of) Mactan Island and
Lapu-Lapu
city. It is known mainly for its wildlife sanctuary but also has some fine beaches and dive sites. The Olango Island Group includes Olango and six smaller islands nearby. The main town and main port is
Santa Rosa
on the west coast.
Much of the terrain is mangrove swamp, home to large numbers of birds and also, unfortunately, to many
mosquitoes
.
Understand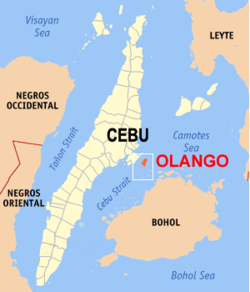 Olango is fairly densely populated — 30,000 people as of 2010 in about 10 sq km (4 sq miles) — and it is part of
Metro Cebu
, the country's second-largest urban region. However, it feels distinctly rural; there are no roads wider than two lanes and many are not paved, there are few buildings higher than two storeys and many one-storey nipa huts, quite a few homes lack running water, and various sorts of livestock run loose.
Despite the rural impression, Olango is probably not a destination for backpackers on a tight budget; the accommodation open to tourists is all resorts. These are not as expensive as resorts in some other areas, but still more than cheap hotels elsewhere.
The island lacks things like shopping malls or even a large market; residents generally go to Lapu-Lapu for those. There are sari-sari shops, fruit stalls and barbecue places, and Santa Rosa has a pharmacy and a small hospital with an ambulance, but facilities are generally quite limited.
Administratively the Olango Group is split like
Mactan Island
to the west; the larger northern part is included in
Lapu-Lapu
municipality while some of the south is in
Córdova Municipality
.
Get in
There are several ferries, only a few of which carry vehicles. The most-used route is from a pier next to the Hilton Hotel on the Lapu-Lapu side to Santa Rosa on Olango. Officially, it is the Punta Engaño Pier but locals call it the and taxi drivers may know the destination as Movenpick. The resort hotel next to it was Hilton but is now Movenpick. An important pier on Olango island itself is the .
There are also boats from the Hilton pier to
Getafe
on
Bohol
.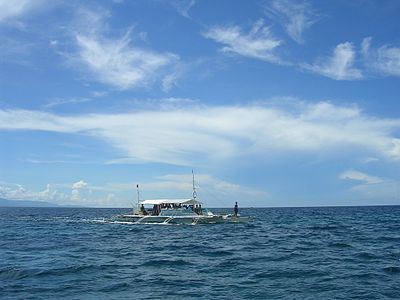 Getting to and from the pier is easiest by taxi, about from downtown Cebu.
Mactan-Cebu International Airport
is located in Lapu-Lapu, not far from the pier; a taxi to or from there is only about . There are also
jeepney
that run between the pier area and the airport or Lapu-Lapu and
Mandaue
cities.
These boats carry passengers, bicycles, motorcycles and freight, but not cars. They seat about 40 people, have outriggers, and look like the photo. Cost is plus a terminal fee and the ride takes about 20 minutes. Boats run every half hour or so during daylight hours, but there are fairly often delays while freight is loaded or unloaded. The boats do not run in bad weather and are small enough that those with sensitive stomachs may be uncomfortable with even a mild swell.
Boarding one of these ferries is an interesting experience; the gangplanks are narrow, they move because one end is on the boat, not all have a railing, and on some the railings or even the floor have gaps. However, crew members are very helpful about reaching out with a stabilizing hand where needed, and sometimes two of them will hold up a long bamboo pole to provide a railing. There are porters moving freight on and off the boat; one of them will be happy to handle your luggage for a few pesos.
There are lots of other boats, mostly smaller than the ferries, around the pier. Many offer "island-hopping" trips to some of the smaller islands in the area. Boats direct to resorts on Olango can also be arranged, either by contacting the resort ahead of time or just
haggling
with boat men around the pier.
There is occasionally a small RoRo ferry between the Hilton and Santa Rosa piers, mainly carrying freight and trucks loaded with freight.
Get around
The commonest mode of transport on the island is a motorcycle plus sidecar rig known as a
pedicab
. These are more expensive on the island than elsewhere; most rides cost .
Bringing your own bicycle or motorcycle would be practical; the ferries can carry those, traffic on the island is light, and the main roads are mostly paved though often quite narrow. You need to drive slowly and watch for potholes, wandering animals, and children playing in the street. At night, beware of motorcycles running without lights.
See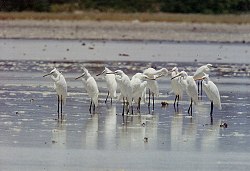 Olango Wildlife SanctuaryA wetland area with many water fowl, very popular with bird watchers; close to a hundred species are found here, about half of them migratory and half permanent residents. It is the only site in the Philippines listed by the Ramsar Convention on Wetlands of International Importance, especially as Waterfowl Habitat. Facilities are minimal; the sanctuary office sells coconut juice and provides a bathroom, but there are no restaurants or accommodation on-site.

Olango ReefA government-protected fish sanctuary with good snorkelling, located south of Olango around the smaller islands of Nalusuan and Hilutungan. It is one of the largest reef areas in the Visayas, about 4.5 km².
Do
The main dive sites around Olango itself are Mabini Point at the northern tip of the island (be cautious; currents here are tricky), Baring on the northwest side, and Santa Rosa near the middle of the west side.
It is also possible to hire a boat to get to various smaller islands nearby; some of those have good diving.
The Lapu-Lapu city government organizes a tour they call
OMG, Olango my Getaway
at a person; it includes transport, some meals, and a night at Triponia Homestay, listed under
#Sleep
.
Buy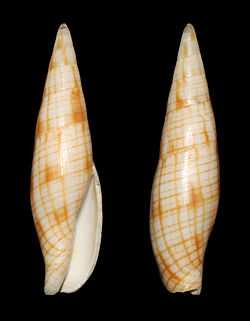 There are some handicrafts and shells available from street vendors and in shops at the ferry terminals, but this side of tourism is not well developed.
Eat
There are a few small places serving Filipino food in Santa Rosa, worth trying if you feel adventurous or are on a backpacker budget.
The only places with an extensive menu including western food are in the resorts, listed at
#Sleep
below. Prices there are not outrageous, but they are noticeably higher than in areas with more competition in western restaurants such as
Cebu City
or
Dumaguete
. Expect about a person for a meal and drink.
There are also a number of places billed as "floating restaurants" that are actually built on pilings in shallow water. They are only accessible by boat; many of the island-hopping boats or dive trips bring their clients here. Prices are high by Philippine standards but the seafood is very fresh and often excellent.
Caw Oy Floating Restaurant
Drink
Any of the restaurants, either in the resorts or the small Filipino places, can provide beverages but there are no bars, pubs or discos.
Many of the small roadside stores have soft drinks and beer, and these are generally cheaper than the resorts. At Sagastrand, for example, either the restaurant or the minibar in your room will provide a bottle of any of San Miguel's three main beers — Pilsen, Light or the stronger and darker Red Horse — for , and the restaurant has other beers as well. The little shop across the street sells a liter (1000 ml) of Red Horse for , but that is the only beer they offer.
phone: +63 995 826 9788

address: Santa Rosa
Sleep
It is common for people with a generous budget to stay on the Lapu Lapu side; the area just opposite the island is called
Mactan New Town
and has many high-end resorts such as Movenpick (formerly Hilton) and Shangrila. A short boat ride from there gets you to the dive sites or wildlife sanctuary on Olango.
Budget
There is no really cheap accommodation, such as backpacker dorms, on the island; prices start around .
Olango Star Inn

phone: +63 942 553 8986

Triponia's HomestaySomewhere between a normal homestay and a small resort hotel; guests are in a separate wing but the rest of the compound is inhabited by locals. Rooms on land have solid walls, a/c, & private bathroom with cold water shower. Others are built over the water with woven bamboo walls, electric fan, shared bathroom, & the sea visible through gaps in the bamboo floor at high tide. Some travellers find the sound of waves very relaxing Not much else except a large patio area; no restaurant but they can provide Filipino food if asked. Nearby shops have drinks and snacks.
Mid-range
Sagastrand Beach Resort & Restaurant

phone: +63 929 883 7704

A pleasant establishment between Santa Rosa and the Wildlife Sanctuary. Nice swimming pool, not-very-nice beach, tennis court, a small playground with swings etc., restaurant with both western and Filipino food. Rooms all have a/c, shower, hot water, fridge, TV. Apartments available for long-term stays.

phone: +63-922-8513360

address: Talima barangay

A large place with a swimming pool, massage service, dive center, reasonably good but expensive food.

Nalusuan Island Cebu Resort and Marine Sanctuary

phone: +63 32 492-4388

address: Olango Reef

Aqua sports activities like wave runners, jet skiing, scuba diving, and water skiing.
Splurge
phone: +63 32 406 7738

As the name implies, this is a white building. It is large and looks rather like an antebellum plantation from the American South.

phone: +63 32 2381878, +63 32 2363343, +63 32 2363344

address: Gilutongan

25 rooms, 25 villas, all A/C with cable TV, refrigerator, bathtub, private toilet and hot and cold water.
Connect
There is good cell phone service in most places on the island. The resorts have Wi-Fi, but the connection is often slow.

Go next