Olbia
Olbia
(Sardinian:
Terranòa
; Gallurese:
Tarranòa
) is the major city of the Gallura sub-region in northeastern
Sardinia
.
Understand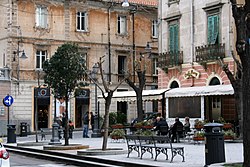 Olbia is the 4th largest settlement (by population) on the island. Since 2016 the whole Gallura sub-region including Olbia is a part of the province of
Sassari
.
The name Olbia is from the Greek
happines
. These days the city rarely attracts visitors who usually arrive there by a plane or a ferry port, and than rush out to the beauties of the coasts of the Gallura including the most expensive one
Costa Smeralda
.
Tourist information
Ufficio Informazioni turistiche
phone: +39 39 0789 52206
address: Via Dante/Corso Umberto I
Get in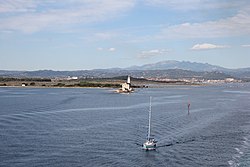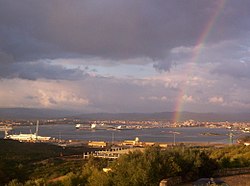 By plane
Aeroporto Olbia Costa Smeralda
phone: +39 0789 563 444
;Services
By boat
There are two ports close to Olbia.
Land сonnections from the Golfo Aranci:
Get around
By bus
ASPOProvides urban bus services in Olbia. Check the map of the bus lines in the city and their schedules for more details.
phone: +39 0789 52206

address: Via Indonesia, 9
See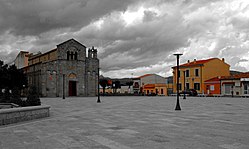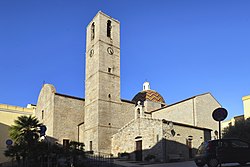 Basilica di San Simplicio

address: Via San Simplicio

This austere Romanesque basilica minore was built in 11-12th centuries. It is considered as one of the most important monuments in the Gallura region.

Chiesa di San Paolo

address: Via Cagliari

Built in the middle of the 18th century. It has a characteristic tiled polychrome dome added in 1939.

Palazzo ColonnaA villa in a Liberty style was designed by architect Bruno Cipelli for Colonna family. It now hosts the Town Hall.

address: Via de Filippi

A Lyberty villa in pseudo-Gothic style by the same architect. It's a private property, which belongs to a religious college. Still reportedly visitors are able to pass the gates and see the building from outside.

Teatro MichelucciAn open-air theatre designed by the famous Italian architect Giovanni Michelucci.
Archeological sites
Pozzo sacro di Sa TestaThe remains of a Nuragic temple built around a sacred well.

Acquedotto romanoSome very modest traces of the Roman aqueduct and the cisterns.

Cabu AbbasSome remains of nuraghe.

Castello di PedresRemains of the 13th-century castle.

Tomba di giganti di Su Monte 'e S'AbeOne of the so-called tombs of giants, a Nuragic tomb on the South of Olbia. This one is considered to be one of the largest ones and better preserved in Sardinia.
Do
phone: +39 0789 28290

Some remains of the sunken ancient ships are of a particular interrest there.

Parco "Fausto Noce"It's a nice and the largest urban park in Sardinia. Some say though that at times it looks rather deserted, so you may not feel quite safe yourself there then.
Buy

Olbia has the only mall and the only McDonalds for hundreds of miles – for many people there that is a good thing.

Eat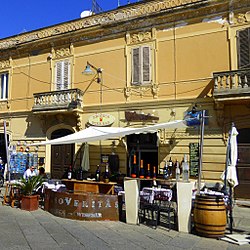 Trattoria da Leo e Lina

phone: +39 3346667784

address: Via Sarcidano, 7 Olbia

Great family-run restaurant with friendly service and typical Sardinian dishes. Cheap with plentiful helpings.
Zaza Doner Kebab, Piazza Regina Margherita. Turkish restaurant with many dishes such as Kebab, Falafel, Borek, desserts and vegan recipes.
Sifen Wok, Chinese Self-Service Restaurant with prices remaining the same, no matter the quantity of the food eaten.
Sleep
phone: +39 0789 39094

address: Via Mare Adriatico 34 - Golfo Aranci - 07026 Pittulongu Olbia

4-star beach hotel in front of the sea, with restaurant, panoramic terrrace and swimming pool."

Residence Sardegna Baia dei Delfini

address: Loc Porto Pollo Palau

Residence Sardinia at Porto Pollo Palau in front Maddalena island
Stay safe

You may encounter poor road conditions, with potholes and open grids. Also the skill of some drivers leaves something to be desired. For women, it's better not to walk alone late at night, just to avoid the possibility to meet drunk homeless people (who are usually harmless though).

Go next
Oschiri — a village of 4000 people.
Tempio Pausania — a former mountainous co-capital of the Gallura subregion.