Oldham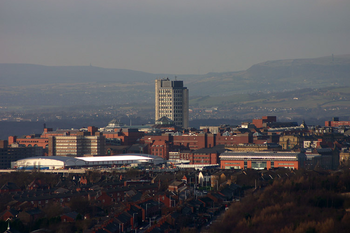 Oldham
is the chief town in the metropolitan borough of the same name, in
Greater Manchester
. It is located high in the Pennines and, at its peak in the 19th century, was an international centre in the textiles industry.
Get in
By plane
Manchester Airport
(
MAN
). in South Manchester is the nearest airport to Oldham. Nearly 100 operators fly to and from hundreds of locations worldwide, including most major cities in Europe.
Direct trains run from the airport station to Manchester Piccadilly run throughout the day while travelling by car is only 30-45 minutes away via the M60 and M56 motorways.

By train
There is no train service from the town centre of Oldham. The only train station in any of the boroughs is in Greenfield, which is about a 15-minute drive out of the town centre or around 25-minute bus journey on First Manchester services 180 and 184.

By tram
A Metrolink Tram service through the town centre offers travel between Manchester Victoria and Rochdale.

By car
Oldham is close to two motorways, with the town centre 15 minutes away from the M60 and M62 motorways. Oldham can be accessed via J22 (A62 Hollinwood) and J21 (A663 Broadway) of the M60 and J20 (A627(M)) of the M62 motorway. The M60 and M62 provides Oldham with links to several other towns and cities within a short drive of the town, including Halifax, Huddersfield, Leeds, Liverpool, Rochdale, Stockport, The Trafford Centre and Warrington.
Manchester is a 25-minute drive from Oldham town centre with the two places linked by the A62, which continues on to Huddersfield and Leeds.
Places that are within 2 hours of Oldham include Blackpool, the Lake District, the North Wales coast, the Peak District and the Pennines.

By coach
National Express is the major coach operator running several services to places across the country. Coaches depart from the main bus station, located at Cheapside.

Get around
Transport in Greater Manchester is overseen and co-ordinated by the
GMPTE
(
Information: 0870 608 2 608
) . GMPTE sells a number of tickets which are valid for multiple operators, such as the
any bus day ticket
or the
Wayfarer
. If you are planning to do a lot of travelling in one day, these might be your cheapest option. Information can be also obtained from the GMPTE Travelshop next to the Civic Centre at Oldham bus station.
By bus
The main bus operator in Oldham is
First Manchester
, whose main headquarters are in Oldham. They provide frequent bus services to Manchester with the
82
and
83
routes providing a 5 minute frequency service and the
180
and
184
providing a 10 minute frequency service. The services are usually distinguished by their
Overground
route branding, which is similar to London's
Underground
network. Buses 82 and 83 are the Orange Line service while the 180 and 184 are the Purple Line service.
There are several buses serving all areas of Oldham. They include the following (Service destinations in brackets):
Chadderton - Bus 56 (North Manchester General Hospital), 58 (Middleton/Bury) and 59 (Middleton/Manchester)
Delph - Bus 350 (Ashton-under-Lyne)
Denshaw - Bus 407 (Denshaw)
Derker - Bus 81 (Derker) and 410/411 (Oldham East circulars)
Diggle - Bus 184 (Diggle/Huddersfield)
Dobcross - Bus 184 (Diggle)
Failsworth - Buses 82, 83, 180 and 184 (Manchester)
Fitton Hill - Bus 425 (Fitton Hill)
Garden Suburb/Hollins - 76/78/180/184 (Manchester) and 183 (Limeside)
Clarksfield and Glodwick - Buses 410/411 (Oldham East circulars) and 425 (Holts)
Greenfield - Bus 180 (Greenfield) and 350 (Ashton-under-Lyne) (service runs via Delph & Uppermill)
Grotton - Bus 180 (Greenfield), 184 (Grotton/Uppermill/Diggle/Huddersfield) and 343 (Mossley/Hyde)
Hathershaw - Buses 409/S49 (Ashton-under-Lyne) and 425 (Fitton Hill)
Hollinwood - Buses 82, 83, 180 and 184 (Manchester)
Holts Estate - Bus 415 (Holts (via Greenacres and Lees) and 425 (Holts)
Lees - Bus 180 (Greenfield), 184 (Grotton/Uppermill/Diggle/Huddersfield), 343 (Mossley/Hyde), 415 (Holts) and 418 (Waterhead)
Limeside - 76/78 (Manchester) and 183 (Limeside)
Mills Hill - Bus 56 (North Manchester General Hospital), 58 (Middleton/Bury), 59 (Middleton/Manchester), 64 (Middleton/Manchester) and 406 (Mills Hill/Middleton)
Moorside - Bus 83 (Sholver) and 407 (Denshaw)
Royton - Bus 64 (Middleton/Manchester), 402 (Royton), 408/428 (Buckstones/Shaw) and 409 (Rochdale)
Shaw - Bus 56/58 (Rochdale), 59 (Rushcroft) and 408/428 (Buckstones/Shaw)
Sholver - Bus 83 (Sholver)
Thornham - Bus 409 (Rochdale)
Uppermill - Bus 184 (Uppermill/Diggle/Huddersfield) and 350 (Ashton-under-Lyne) (via Delph)
Waterhead - Bus 81A (Waterhead), 82 (Waterhead/Uppermill), 350 (Ashton-under-Lyne) and 418 (Waterhead)
Werneth - Bus 81 (Manchester) (via Moston) and 82/83 (Manchester) (via Failsworth)
Other places outside of Oldham are served by buses from Oldham bus station:
Ashton-under-Lyne - Bus 409/S49 (Ashton) and 350 (Ashton) (via Saddleworth)
Bury - Bus 58 (Bury)
Cheetham Hill - Bus 59 (Manchester) (via Middleton) and 149 (Manchester) (via Moston)
Huddersfield, Marsden and Slaithwaite - Bus 184 (Huddersfield)
Hyde - Bus 343 (Hyde)
Manchester - Bus 59 (Manchester) (via Middleton), 76/78 (Manchester) (via Limeside and Failsworth), 81 (Manchester) (via Moston), 82/83/180/184 (Manchester) (via Failsworth) and 149 (Manchester) (via Moston)
Middleton - Bus 56 (North Manchester General Hospital), 58 (Middleton.Bury), 59 (Middleton/Manchester) 64 (Middleton/Manchester) (via Royton) and 406/415 (Middleton)
Mossley - Bus 343 (Hyde) (via Lees and Grotton) and 350 (Ashton) (via Saddleworth)
Rochdale - Bus 56/58 (Rochdale) (via Shaw) and 409 (Rochdale) (via Royton)
Stalybridge - Bus 343 (Hyde) and 408 (Stalybridge)
By train
Northern Rail provide the train services in the Oldham area (although not to Oldham town centre, with the line being replaced by Metrolink), running trains to Manchester Victoria. From there, passengers can transfer on the Metrolink to Piccadilly, which they can travel on services to the south of the country or to Scotland.
From Mills Hill (Catch bus 56, 58 and 59 from Oldham town centre):
Bolton
Bradford
Halifax
Leeds
Manchester
Southport
Wigan
From Greenfield (Catch bus 180 and 184 from Oldham town centre):
Ashton-under-Lyne
Huddersfield
Manchester
Stalybridge
See
Oldham ColiseumA full programme of repertory theatre and an annual pantomime. The theatre enjoys an enviable reputation for ambitious productions and excellent performances with appearances from many famous actors. The Coliseum is a short walking distance from the shops in Oldham town centre down Yorkshire Street.

Oldham MuseumIn a former 'Friends Meeting House,' on Greaves Street. The Museum has a programme of changing exhibitions as well as a permanent display, "Going up Town" where visitors can step back in time to the days when the town was dominated by the cotton industry. The museum is a 5-minute walk from the town centre, with plenty of bus services heading into Oldham town centre stopping nearby on Union Street.

Tandle HillPark is a mixture of magnificent beech woodland and open grassland with a wide panorama of the surrounding countryside. There are several walks around the park and links to Crompton Moor. The 409 service provide frequent links from Oldham via Royton with the park a short walk from the main road, the A671 Rochdale Road.

Alexandra ParkSouth of Oldham town centre. It is a vital link between town and countryside for people and wildlife. The visitor centre contains displays and information on the history of the park as well as countryside events. These are held both in the park and in other areas. The centre is open by prior arrangement. Please contact if you would like to visit. The 408 is the closest bus service to the park running hourly from the bus station. The 425 service runs close to both the north and south sides of the park. Services heading from Oldham towards Holts Estate will serve the north side of the park, while services towards Fitton Hill serves the south side.

Daisy Nook Country ParkA beautiful area offering people of all ages the chance to enjoy a peaceful walk looking at wildlife amidst varied countryside. The park includes beautiful woodland areas, a lake, a canal and flower filled meadows with bridleways and footpaths, which link to other countryside areas. At the John Howarth Countryside centre there are activities for children and a souvenir shop. There is also a cafe and toilets with access for wheelchairs and pushchairs. The 409 provide frequent links from Oldham travelling towards Ashton-under-Lyne.

Saddleworth Museum and Art Gallery

phone: +44 1457 874093

Housed in a former textile mill in the village of Uppermill, which is now part of the Oldham Metropolitian Borough but was part of the West Ridings of Yorkshire. Exhibitions feature local archaeology, handicrafts and customs, from the Romans the present day. There are preserved looms and other items of textile machinery, from some of the many mills in the area. The museum gallery features work by contemporary artists and travelling exhibitions. Guided tours are available by prior request. A shop and Tourist Information Centre provide an opportunity to acquire a souvenir of the visit.

The Huddersfield Narrow CanalIt runs through the Saddleworth area of Oldham. It re-opened in May 2001 following a £30 million restoration project funded mainly by the Millennium Commission and English Partnerships. It is more than 50 years since the waterway was last open to through navigation. The waterway runs for 20 miles between Ashton-under-Lyne and Huddersfield - passing through the scenic Saddleworth villages of Greenfield, Uppermill and Diggle - before entering the Standedge Tunnel through the Pennines. The 180 and 184 provide a 10 minute frequency towards Saddleworth from Oldham with the 184 running near to the canal through Diggle, Marsden and Huddersfield.

Hollingworth Lake Country Park and Visitor CentreA popular location for visitors outside the Oldham area, but is visited by plenty of Oldhamers. It was known as the "Weighvers' Seaport". Again visitors can enjoy many outdoor attractions and an excellent Visitor Centre. Spanning 118 acres with the dramatic backdrop of Blackstone Edge, the lake is one of the most popular days out in the area. With boating, nature reserve, trails, events, guided walks, visitor centre, community arts, environmental exhibitions, play and picnic areas. The car is the best way to travel there but parking is limited. The 452 service runs an hourly service from Rochdale via Milnrow. The 452 can be connected with the 409 at Rochdale or the 58 service at Milnrow.
Do
Watch football ie soccer at

address: Boundary Park

They play in League Two, the fourth tier of English football.
Buy
Oldham has two main shopping centres,
Town Square Shopping Centre
and
The Spindles
. The two centres are connected to form one big shopping centre. There are several big-name shops based in the two shopping centres.
In Town Square shopping centre, there are:
River Island
TJ Hughes
WH Smith
Boots
Top Man
Bank
Thorntons
The Spindles has:
Debenhams
Argos (who moved from Town Square shopping centre after taking over Index's store in The Spindles)
JJB Sports
Superdrug
Game
Waterstone's
Next
Other stores are on High Street, including Gamestation, Home Bargains, Poundland, Primark, Sports Direct and Top Shop. There is a Sainsbury's and a TK Maxx on Union Street. There is also Tommyfield's market, which is to the north of the town centre, offering an indoor modern market hall and an outdoor market, which is steeped in history, character and tradition. Tommyfield is Oldham's best-known market and was established over 140 years ago, Tommyfield prides itself on being one of the largest open air markets in the North West. It is also a highpoint among English markets, as it's literally the highest market in the country, nestling in the centre of Oldham amidst the impressive backdrop of the Pennines.
For those who find that Oldham doesn't offer everything they need, a short trip to Manchester and The Trafford Centre provide more options.
Eat
There are several good restaurants in and around Oldham Town Centre:
Italian
Chinese
Indian
British

Drink
There are several locations scattered around Oldham town centre with the majority of pubs and clubs on Yorkshire Street, which is between Oldham town centre and Oldham Mumps.

Sleep
Stay safe
Oldham, like many other areas in Greater Manchester, has its rough bits and more rundown areas where crime is higher. Avoid drug dealers and users as there is a gang war in Oldham mostly in Glodwick and St. Mary's and rival drug gangs are carrying out "Hits" and it is best to avoid this as you may get caught up in this.
Glodwick Glodwick is a fairly notorious area of Oldham, paticurly as this is where the race riots where. Although this can be a vibrant community, and a multicultrual area, it is best to avoid Glodwick at all costs as it is known as a "No-Go Area", because there have been incidents where gangs would turn hostile to people they don't like.
Fitton Hill Although this area is getting better, there is still quite a lot of crime. Just use your common sense and avoid trouble.
Sholver This area is still quite rough but is now under redevlopment. Avoid Top Sholver at all cost as this area especially the Flats are run down and boarded up.
Yorkshire street Oldham town centre at night can be rough as there are a lot of intoxicated groups of males wandering around looking for trouble. It's getting a reputation for stabbings and violent assaults.
Go next