Olean
Olean
is a city in the
Southern Tier
of
New York
.
Understand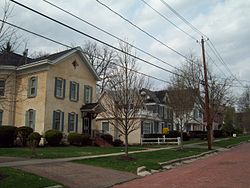 Olean is the largest city in
Cattaraugus County
and serves as its financial, business, transportation and entertainment center. It is one of the principal cities of the
Southern Tier
region of
New York
.
The city is surrounded by the town of Olean and is located in the southeastern part of the county. The population was 14,452 at the 2010 census.
Get in
By car
Olean is located along Interstate 86 at exits 25 and 26. Known as the Southern Tier Expressway west of I-81 in
Binghamton
, Interstate 86 connects to Interstate 90 in the west near
Erie
and Interstate 81 in
Binghamton
to the east.
New York State Route 16 runs through Olean as Union Street, the main north / south thoroughfare. New York 16 connects to Pennsylvania Route 646 to the south and to New York State Route 5 in Buffalo to the north.
By plane
The nearest airport with scheduled flights is
Bradford Regional Airport
(
BFD
) in Bradford, Pennsylvania, which is served with daily commuter flights from Pittsburgh via Southern Airways Express: four on weekdays, two on Saturdays, and three on Sundays.
Also, if you happen to be flying your own plane, Cattaraugus County-Olean Airport (OLE), located at 5420 Hatch Hill Rd. in the nearby town of Ischua, is open to the public for general aviation purposes.
In practice, however, arriving in Olean by plane usually means flying into Buffalo Niagara International Airport.

By bus
Coach USA buses arrive and depart from the parking lot of the Olean Center Mall at 400 North Union Street.
Get around
As a smaller city a car is a benefit for travelling. However there are options available for those who are unable to drive.
By public transportation
The
Olean Area Transit System
(OATS) provides public transit in
Cattaraugus County
. The system provides 6 routes serving Olean and the surrounding area.
By taxi
phone: +1 716 372-7171

address: 718 E State St.

phone: +1 716 373-1717

address: 718 E State St.

phone: +1 716 372-4646

address: 3421 Route 16 N
See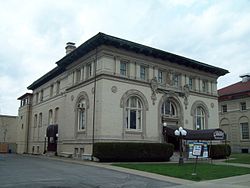 Historic buildings
For a city of its size, Olean has a number of historic properties and districts.
Beardsley-Oliver House

address: 312 Laurel Ave

Beardsley-Oliver House is a 2 1⁄2-story, wood-frame dwelling built in about 1890. It exhibits a late Victorian blending of Shingle Style and Queen Anne styles.

Conklin Mountain House

address: 304 E. State St.

Conklin Mountain House is a Second Empire style wood frame dwelling built in 1886. The front facade features a three story tower with mansard roof and a wraparound porch. The interior features elaborate and extensive woodwork. It was constructed by the owners of Conklin Wagon Works, one of Olean's most important industries in the late 19th century. It was subsequently owned by the Mountain family, who operated the Mountain Clinic Infirmary.

Oak Hill Park Historic District

address: Roughly along Laurens, N. Second, Third, Fourth, and W. Sullivan Sts.

The 32.5-acre (132,000 m2) district encompasses 89 properties including 82 residences, two churches, one school (the Olean High School), and a landscape design. There are 76 contributing buildings. The structures reflect a variety of mid-late 19th-century and early 20th-century architectural styles including Queen Anne, Italianate, and Gothic Revival styles. The structures were constructed between about 1849 and 1937.

Olean Armory

address: 119 Times Sq.

Olean Armory is a historic armory building. It was designed by State architects Isaac G. Perry (1890 structure) and Lewis Pilcher (1919 structure). It consists of a two-story, Tudor inspired administration building constructed in 1919, with an attached Romanesque drill shed constructed in 1890. The building features a number of castellated style features such as turrets and buttresses.

address: 116 S. Union St.

The Olean Public Library is a historic beaux arts library. It is located in the Union and State Streets Historic District.

Olean School No. 10

address: 411 W. Henley St.

Olean School No. 10, now known as Ivers J. Norton School, is a historic school building. It was designed and built in 1908-1909, in the Prairie School style.

St. Stephen's Episcopal Church

address: 109 S. Barry St.

St. Stephen's Episcopal Church is a Gothic Revival style church building designed by upstate New York architect Robert W. Gibson (1854–1927) and constructed 1889-1890. The complex also includes the Ashton Parish House, constructed 1922-1923, and the rectory, known as the Watson Wing, built about 1885. It is home to Olean's oldest continuously operating congregation, established in 1830.

Temple B'Nai Israel

address: 127 S. Barry St.

Temple B'Nai Israel is a historic synagogue. It was built in 1929, and is a three- to four-story tall, light brown brick structure with terra cotta decorative details. It measures 85 feet long, 42 feet wide, and 50 feet tall. The front facade features a massive arched terra cotta portal encircling a large, round stained glass window. The congregation was established in the 1880s.

Union and State Streets Historic District

address: Roughly 101-133 N. Union, 110-114, 116 W. State & 102, 116, 120 S. Union Sts.

The district encompasses 17 contributing buildings in the central business district of Olean. The district developed between about 1866 and 1939, and includes buildings in a variety of architectural styles including Beaux-Arts, Queen Anne, and Art Deco. Located in the district are the separately listed Olean Post Office and Olean Public Library. Other notable buildings include the Former First National Bank, current Manufacturers Hanover Building by Mowbray and Uffinger (c. 1915, 1938, 1950), Original First National Bank of Olean (c. 1866-1869), Masonic Temple by Warner and Brocket (1893), Olean House (c. 1889, 1893), and W.T. Grant Building (c. 1873-1878, Façade Update c. 1935-1940).

United States Post Office

address: 102 S. Union St.

US Post Office—Olean is a historic post office building. It was designed and built in 1910-12 and is one of a number of post offices in New York State designed by the Office of the Supervising Architect of the Treasury Department, James Knox Taylor. It is a two story masonry and steel frame building. Its Renaissance Revival design compliments the adjacent Olean Public Library. It is located in the Union and State Streets Historic District.
Other attractions
phone: +1 716 790 7000

address: 1040 E. State St.

Cutco, one of the world's largest manufacturers of direct-marketed knives, cutlery, and kitchenware, was founded in Olean in 1949, and this small museum tells the company's story. Interpretive exhibits cover company history and the manufacturing and marketing process, and antique kitchen, military, and pocket knives are displayed. This is also one of the only retail outlets for Cutco and Ka-Bar brand products. For knife enthusiasts, the Center pairs nicely with the Zippo/Case Museum in Bradford, PA, and/or the American Museum of Cutlery in Cattaraugus.

phone: +1 716 933-6637

address: 1048 Portville-Obi Rd., Portville

Modern facilities open year round to enjoy maple syrup in the restaurant, shop in the gift shop or hike to the old fashioned maple sugar shanty along the trails out back of the facility.
Do
Arts
Outdoors
Sports
Other
Buy
The majority of Olean's retail businesses are located on North Union Street.
phone: +1 814 375-2602

address: 400 North Union St

Over 20 stores including Bon-Ton, JCPenney, Sears and Kohl's.

phone: +1 716 373-4367

address: 175 N. Union Street

The largest selection of certified diamonds and bridal jewelry in the Southern Tier. Custom designs, engraving & jewelry repairs.

phone: +1 716 373-5638

address: 172 North Union Street

Locally-made decor, re-purposed furniture and barn wood decor, Amish goods, etc.

Chic-tiques & Florals

phone: +1 716 372-5256

address: 1080 Richards Rd. Allegany, NY

Refurbished shabby-chic antiques. Handmade wreaths, topiaries, swags and arrangements made from dried and silk flowers.

phone: +1 716 307-7517

address: 317 West State Street

Unique painted or etched glasses and many other unique custom or personalized gifts for sale. Weekly painting classes are also offered.

phone: +1 716 379-8095

address: 701 East State Street

Country inspired clothing brand started by two brothers in their grandmother's basement.

phone: +1 716 373-1411

address: 711 W. State St.

The Southern Tier's largest selection of sports equipment, apparel and jerseys.
Eat
Drink
phone: +1 716 373-2337

address: 202 East Green St.

Four Mile Brewing is a microbrewery located in a historic pre-prohibition brewing complex close to downtown Olean. Also serves a variety of sandwiches, munchies and a Sunday brunch.

phone: +1 716 372-8779

address: 1302 West State Street

Legal beverages, Quick Draw, pool tables. They also serve wings, burgers, philly steak sandwiches & finger food items.

Brickhouse Bar & Grill

phone: +1 716 318-0283

address: 181 West Main Street, Allegany, NY 14706

Full service bar/restaurant serving burgers, pizza, wings, as well as daily specials.

phone: +1 716 373-2924

address: 901 E. State St.

Neighborhood sports bar. Enjoy the cold beer, warm atmosphere & friendly bartenders.
Sleep
Bed & Breakfast
phone: +1 716 373-7493

address: 1759 Four Mile Road, Allegany, NY

An 1896 restored historical Victorian home with original family photos and heirlooms displayed throughout the B&B. Located in the picturesque Allegheny foothills in Southwestern NY, 2 miles from exit 24 on I-86 (formerly Rte 17), across the river from Olean but near St. Bonaventure U.

The Old Library Inn A Victorian Bed & Breakfast

phone: +1 716 372-2226

address: 116 South Union Street
Hotel / Motel
Connect
Olean is primarily served by area code 716. However due to Olean's proximity to the 716/585 line, some Olean exchanges use the 585 area code.
Olean LifeOlean Life operates a website promoting nightlife and entertainment in the Olean area. Their focus is restaurants, nightclubs and live entertainment venues and events such as concerts and festivals appealing to a wide demographic.

Greater Olean Area Chamber of Commerce

phone: +1 716 372-4433

address: 120 North Union Street

The leading business organization in the greater Olean area since 1906. Your Chamber Connection to the Olean area visitor information, resident information, business services and membership directory.
Cope
Hospitals
Olean General Hospital
, is a member of the Upper Allegheny Health System. The campus includes 186 patient rooms, together with comprehensive patient, administrative and physician services and accommodations to meet the diagnostic, treatment, administrative and educational needs of its patients and medical staff.
Newspapers and print media
The
Olean Times Herald
is a daily newspaper serving the western Twin Tiers region, based in Olean. The afternoon newspaper, one of the few remaining afternoon papers in the nation, is published by Bradford Publishing seven days each week.
Television
Television stations serving Olean include:
WVTT-CD Channel 25: Youtoo America.
W30BW Channel 30: Retro TV.
Go next