Olinda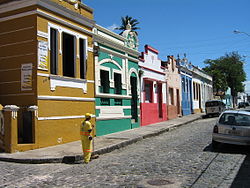 Olinda
is a city in the north-eastern
Brazilian
state of
Pernambuco
. It hosts one of Brazil's most famous carnivals and is listed as a
World Heritage Site
by UNESCO due to its XVI and XVII-century buildings. Many bars, restaurants, artist and craftspeople studios add charm to the old-town setting.
Understand
Olinda was founded in 1537 by the Portuguese Duarte Coelho Pereira. It owed its rapid rise to the sugar cane cultivated in the Pernambuco area. From the 16th century onward, religious missions built many churches and convents. The city was, however, pillaged by the Dutch in 1631. One of the few surviving buildings is the Church of São João. The Portuguese returned in 1654. Most of the buildings at Olinda date from the 18th century.

Get in
By plane
The nearest airport is
Recife Guarapes Airport
. A taxi to/from the airport will cost some R$ 40.
By bus
Olinda is approximately 7 km from the center of
Recife
, with plenty of local buses running in between. The main bus stop in Olinda is
Praça do Carmo
, which is easy to miss.
By taxi
Taxis from the center of Recife to Olinda take about 20 minutes.
Get around
The historic center is compact and can be explored on foot.

See
In poetry
Olinda is all for the eyes
it's not tangible, it's all desire.
No one says, "That's where I live."
They just say, "That's where I see."
Celebrated Brazilian poet Carlos Pena Filho,
in his poem
Olinda
.
Olinda's beautiful scenery and architecture make for a pleasant sightseeing all around. Colonial architecture, belvederes and the blue sea paint a relaxed environment that is second to none among Brazilian traditional cities.
Churches
Igreja Nossa Senhora do Carmo

address: Praça do Carmo

Convento São Francisco

address: Praça do Carmo

The Mosteiro de São Bento (1582) and Convento São Francisco (1585) are very important buildings of baroque Brazil. The Convento São Francisco is a large building containing the convent proper, the Capela de São Roque chapel and the Igreja de Nossa Senhora das Neves church.

Igreja Nossa Senhora da Graça and Seminario de OlindaBuilt in 1549.

Igreja da Sé

address: Alto da Sé (Cathedral Heights)

Also known as Church of São Salvador do Mundo, this was the first church built in Brazil. It was built in 1540 and was briefly a Protestant church during the Dutch occupation in the 17th century.

Igreja Nossa Senhora da Conceicao

Igreja da MisericórdiaBuilt in 1540, with fine azulejos (ceramic tiles) and gilded carvings.

Igreja Nossa Senhora do Amparo

address: Rua Saldanha Marinho

Restored church dating from 1613.

Mosteiro de São BentoThis huge monastery was built in 1582 and housed Brazil's first law school. In the chapel are exceptional woodcarvings. Holy mass is celebrated on Sun at 10:30AM with Gregorian chant.
Museums
Others
Belvedere Alto da Sé, located at the yard of Church of Alto da Se. To the east, one can see the Atlantic Ocean; to the west, the urban scenery.
Mercado da Ribeira is an 18th century building which now houses art galleries and souvenir shops.
Rua do Amparo - restaurants, museums, hotels and art studios.
Serenades - groups of singers and musicians play old traditional songs through the city streets on Friday evenings.
Do
Outside of
Carnaval
season, Olinda boasts a lively culture, featuring mostly forró and maracatú in the clubs and town squares, as well as year-round, Saturday night serenades.
Angola Mae Capoeira School

address: Rua Ilma Cunha 243
Carnaval
Quite different from those of
Rio
and
Salvador
this is a lively street party, where
blocos
parade accompanied by
frevo
and
maracatu
music. There is a certain activity during the weeks before (and some after), but the party itself explodes on the official dates, from Friday evening until Wednesday morning. Its most famous representative are the giant dolls carried on the shoulders of the people. The parties are non-stop, 24 hours, but the bulk of the crowd fills the streets daytime. When looking for accommodation, bear in mind that the most central streets get very noisy.
Beaches
The beach in Olinda proper is polluted. Local buses can take you north to
Pau Amarelo
and
Maria Farinha
.
Buy
Local crafts and artwork. Be wary of making your purchases in or near Alto da Sé, as prices there tend to be inflated due to the constant flow of tourists. The Mercado da Ribeira houses a variety of shops.
Musical instruments, such as those used in maracatu and forró.
Eat
Sargação, near Praça do Carmo near the beachfront, serves sandwiches and burgers until the late night hours.
Alto da Sé hosts a variety of food vendors, with a lively environment in the early evening.
Mourisco, Praça João Alfredo, offers self service at a reasonable price.

Oficina do Sabor

phone: +55 81 3429-3331

address: Rua do Amparo 335

If you wish to splurge, Oficina do Sabor offers a privileged view of Recife. Try the baked pumpkin stuffed with shrimp or fish, cooked in coconut sauce (R$18).
Drink
Olinda's
prefeitura
(mayor's office) publishes a monthly nightlife guide, available in tourist offices and hotels.
Mercado Eufrasio Barbosa often hosts cultural presentations and live music shows.
Xinxim da Bahiana (Avenida Sigismundo Gonçalves, near Praça do Carmo) hosts live bands and DJs throughout the week. Especially interesting are forró on Wednesday and Saturday nights.
Every other Saturday, the neighborhood of Amparo (adjacent to the Historic Center), hosts a street party featuring the local rhythm of samba de coco.
Casa da Rabeca do Brasil (Rua Curupira, 125), in Cidade Tabajara(outside of town, accessible by bus or taxi), hosts a forró party every Saturday night.
Maracatu nations often hold open rehearsals throughout the year.
Sleep
Olinda has a wide range of options when it comes to lodging. Reservations could be wise in January and February. During
carnival
prices triple (literally!!!) and you will have to pay for the five nights from Friday to Wednesday no matter what. Private rooms (R$ 500-1000/5 nights) and apartments/houses (R$800 and up) are mostly cheaper, but standards vary greatly, and they are hard to book ahead. If you arrive on Thursday, there is still time.
Budget
phone: +55 81 3429-1592

address: Rua do Sol, 333

Hostel.

Pousada Alquimia

phone: +55 81 3429-1457

address: Rua Prudente de Morais, 292

Charming pousada with a bit worn, but very clean rooms. Excellent location close to the main square! The owner, Djair, is a very friendly sailor-like guy who makes a great breakfast (included). Small book-exchange (a few non-portuguese) and cool decorations.

phone: +55 81 3439-1163

address: Praça Conselheiro João Alfredo, 128

phone: +55 81 3429-0220

address: Rua Prudente de Moraes, 441

Former colonial weekend house, a delightful place to stay.

Casa do Hilton

address: Rua do Sol, 77

Pousada do Fortim

address: Rua do Sol, 151

phone: +55 81 3493-2617

address: Rua da Bertioga, 93

A ventilated room with a view of Olinda, Recife and Atlantic. Owners speak Portuguese, English and German. Internet Wi-Fi, refrigerator, TV, independent entrance and proper bathroom.

phone: +55 81 3439-1749

address: Rua do Amparo 191

phone: +55 81 3439-2171

address: Rua do Amparo 215
Mid-range
phone: +55 81 3439-6055

address: Ladeira de São Francisco, 307 - Centro
Cope
See list of foreign consulates in the page for the neighboring city of
Recife
.
Tourist Information

phone: +55 81 3305-1048

address: Praça do Carmo 100

Prontolinda Medical Services

phone: +55 81 3431-8000

Post Office

address: near Praça do Carmo

Telemar telephone office

address: Praça do Carmo

Olinda Internet Cafe

address: Praça do Carmo 5-B

Internet access.

Olind@.com

address: Praça Joao Pessoa 15

Internet access.

Banco do Brasil

address: Av Getulio Vargas
Go next
Visit Recife, only 7km away, worth a visit.
Take a local bus to Igarassu and visit the oldest church in Brazil.
Take a bus through Igarassu to Ilha de Itamaracá. There are beautiful beaches, as well as the Centro Cultural de Lia, a cultural center that specializes in the local rhythm called ciranda. If in Itamaracá, do not miss the famous Coroa do Avião (a small, beautiful, sandy island), the IBAMA Centro Peixe Boi (a center for the preservation of the manatee) and the Forte Orange (a 17th century Dutch fortress).
Local buses also make the trip to beaches north of Olinda, including Pau Amarelo and Maria Farinha.